The global fatty acids size was estimated to be worth USD 31.1 billion in 2018 and is estimated to grow at a CAGR of 5.2 % during the forecast period. Fatty acids are organic compounds that are formed by a combination of carbolic acid and carboxylic group. They can be easily distinguished by their long aliphatic chain which is either saturated or unsaturated. Fatty acids are of various types with a long list of applications in end-user industries.
Fatty acids are obtained from coconut, soybean, palm kernel oil (PKO), hydrolysis of tallow and fractional distillation of crude tall oil. Fatty acids are obtained from plants as raw materials. That explains the uniformity in price. Fatty acids have a broad array of applications on account of their long run with derivatives. Fatty acids have three types which are saturated, monounsaturated and polyunsaturated. Saturated products include stearic acid, palmatic acid and myristic acid. Monounsaturated products include palmitoleic acid and oleic acid whereas polyunsaturated includes linoleic and linoleic acid.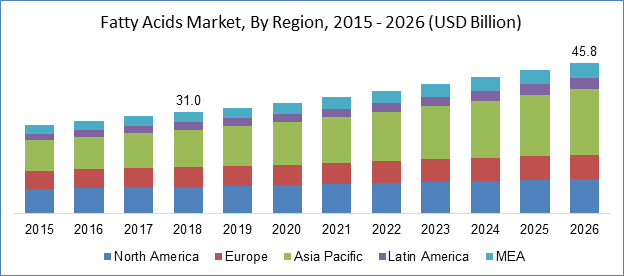 Know more about this report: request for sample pages
The main factors towards growth of fatty acids include the plastics and rubber industries especially in developing nations of the world. Fatty acids are also enriched in human nutrition. Fatty acids in the forthcoming years will depend upon improvements in supply chain management, constant rise in demand and liberal government policies.
The growing personal care industry is attributable to market size growth. The applications spring from cosmetics and toiletries. Stearic acids, lauric acids and oleic acids are suitable for cosmetics and toiletries applications. Stearic acid is notably identified by its high stability, mild color and white color. The U.S. market for Oleic acid has observed strong growth of late driven primarily by oil field and drilling applications. High lauric acid content got from coconut oils is an excellent foaming agent for shampoos and shaving creams. White olein is also of particularly significant for its usage in skin creams and cleansing creams.
Increasing functional foods and dietary supplements are expected to drive market growth during forecast period. Consumers are decided upon turning their backs towards higher price medicines and rather opt for dietary supplements in order to maintain their health regime.
Availability of raw material and shift in consumption trends will impact the market in forecast period. Restraints in market include the deficit that give rise to biological effects which may restrict growth of market.
Fatty Acid Market Report Scope
By Type

By Application

By Region

Saturated
Monounsaturated
Polyunsaturated
Trans fats

Dietary Supplements
Food and Beverage
Animal Feed
Cosmetics
Lubricants
Others

North America (U.S., Canada)
Europe (UK, France, Germany)
Asia Pacific (India, Japan, China)
Latin America (Mexico, Brazil)
MEA
Know more about this report: request for sample pages
Type Analysis
The growth for fatty acids comes from increasing consumption of sustainable products and a healthy demand for natural fatty acids. The industry that is having a long and healthy run is health supplements and nutraceuticals. Governments coming to the rescue of the underprivileged lot have sought help from medical aids that promotes fatty acids market.
The increasing awareness among consumers in particular to increasing health welfare, rising cost of hospitalization along with growing disposable incomes in developing nations has significantly contributed to the growth of dietary supplements. Lifestyle changes attributed to rich and employed are also accountable for dietary supplements intake.
They have driving growth pronounced by its usage in emulsifiers, defoaming agents, plasticizers, stabilizers and lubricants. Food and beverage is one of the largest growing industry which also cannot do without fatty acids and that translates into growth for fatty acids. Food industry is prominent in applications including fatty acids in margarine, bakery products, cooking oil, candies, ice-creams and chewing gums.
Furthermore, monounsaturated fats have witnessed significant growth in the past due to presence of omega-3 and omega-6 fatty acids in dietary supplements. Other kinds of fatty acids are used in various industries in large supplements for different end-user industries.
Application Analysis
On the basis of applications, fatty acids are classified into dietary supplements, food and beverages, animal feed, personal care products and lubricants etc. Some of less memorable but important industries include greases, rubber manufacturing, leather, paints and coatings and metal works.
Textile industry is likely to witness substantial growth in fatty acids. The derivative called fatty acid ethoxylate find use in textile industry with applications ranging from wetting agents, emulsifying softeners, dispersants and scouring agents. They seek additional growth with use as finishing agents in various textile formulations.
Regional Analysis
Asia pacific remains till date the most thriving market for fatty acids. This is so because of extract of various quantities of vegetable-based raw materials such as coconut oil and palm kernel oil present in large quantities. The nations include Malaysia, Indonesia and Philippines. The region taps fatty acid market growth by presenting lustrous growth for food and beverage and health care end-user industries.
United States is the most forthcoming market in North America after Asia Pacific due to its lower-end potential industries which are expected to gain substantially in forecast period.
Competitive Landscape
The key industrial players include BASF SE, Eastman chemical Corporation, Ashland Inc., Vantage Oleochemicals, Godrej Industries, Oleon, Akzo Nobel and Arizona Chemicals.