The global dietary supplements market was valued at USD 164.98 billion in 2022 and is expected to grow at a CAGR of 8.7% during the forecast period. The global market has been experiencing significant growth in recent years, driven by increasing consumer health awareness, a growing aging population, and rising demand for natural and organic products. The market is highly competitive and fragmented, with many players operating in different segments.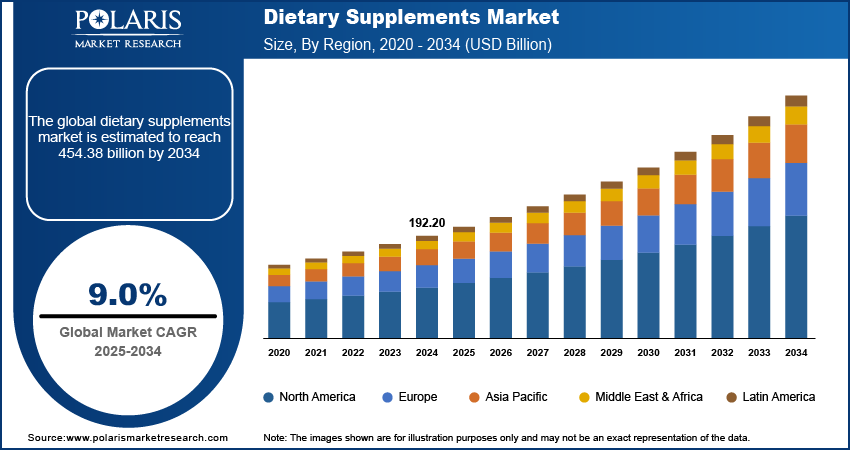 Know more about this report: Request for sample pages
The dietary supplements market refers to the industry that produces and sells products designed to supplement the diet with additional nutrients, vitamins, minerals, and other substances that may need to be obtained in sufficient quantities from food alone. Dietary supplements are characterized by products containing one or more nutritional ingredients taken orally.
The growth of the global market is driven by the increasing demand for supplements that enhance sports performance and athletic ability. Additionally, consumers are increasingly seeking supplements to meet their daily requirements for micronutrients, and the market is benefiting from rising consumer spending on health and wellness products.
Dietary supplements come in various forms, including capsules, tablets, powders, liquids, and gummies, and are taken orally. They can be used for multiple purposes, such as improving overall health, supporting specific bodily functions, aiding in weight loss, and enhancing athletic performance.
The COVID-19 pandemic has positively impacted the industry, as consumers seek products that can boost their immune function and reduce the risk of infection. However, the long-term effects of the pandemic on the global economy and supply chain are still uncertain. Despite this, there is a high demand for dietary supplements in both developed and developing regions, as they provide immune support and help to reduce health risks. This demand is expected to drive growth in the market over the forecast period.
Additionally, the availability of a wide range of supplements through e-commerce platforms and the affordability of basic products such as mineral and vitamin supplements contribute to the market's overall growth.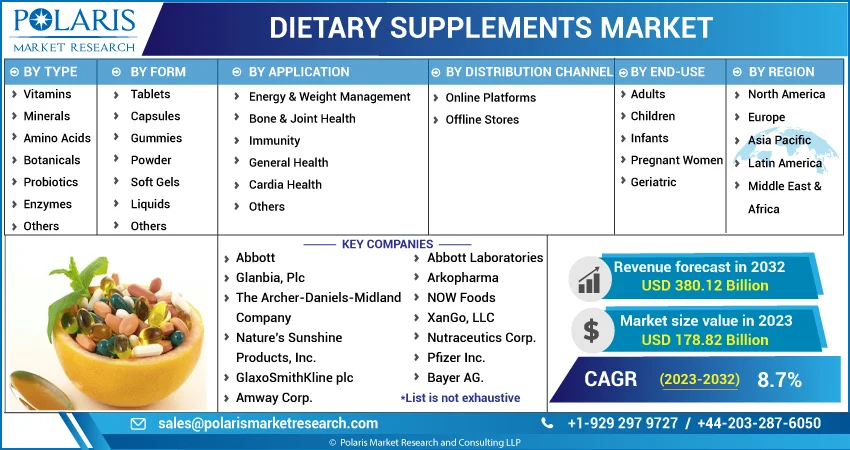 Know more about this report: Request for sample pages
Industry Dynamics
Growth Drivers
The dietary supplements market is expected to benefit from the growing trend of consumers seeking preventive healthcare measures, driven by the increasing prevalence of age and lifestyle-related diseases. Consumers are becoming more health-conscious and seeking products that provide specific health benefits, including food additives that can support various aspects of health, such as digestion, immunity, and heart health.
The human dietary supplement market is expected to benefit from regulatory initiatives to promote the sale of high-quality and safe nutritional and food supplements. The Food and Drug Administration of the U.S. (USFDA) and other regulatory bodies ensure that only safe and effective supplements are available to consumers. In addition, the increasing use of clean-labeled, organic ingredients in producing food nutritive additives are expected to boost demand for these supplements in the coming years.
Another factor driving growth of the market is consumers' growing interest in sports and bodybuilding. Athletes and sports enthusiasts increasingly use sports nutrition products and supplements to improve their endurance and performance. The popularity of sports nutrition products and vitamin supplements for their performance-enhancing properties is expected to drive market growth in the years ahead.
Report Segmentation
The market is primarily segmented based on type, form, application, distribution channel, end-use, and region.
By Type

By Form

By Application

By Distribution Channel

By End-Use

By Region

Vitamins

Minerals

Amino Acids

Botanicals

Probiotics

Enzymes

Others

Tablets

Capsules

Gummies

Powder

Soft Gels

Liquids

Others

Energy & Weight Management

Bone & Joint Health

Immunity

General Health

Cardia Health

Others

Online Platforms

Offline Stores

Adults

Children

Infants

Pregnant Women

Geriatric

North America (U.S., Canada)

Europe (France, Germany, UK, Italy, Netherlands, Spain, Russia)

Asia Pacific (Japan, China, India, Malaysia, Indonesia, South Korea)

Latin America (Brazil, Mexico, Argentina)

Middle East & Africa (Saudi Arabia, UAE, Israel, South Africa)
Know more about this report: Request for sample pages
Vitamins segment accounted largest revenue share in 2022
The vitamin segment dominated the dietary supplement market and accounted for the largest revenue share in 2022 and is likely to continue its dominance over the forecast period; this was due to the high demand for energy and weight management from working professionals and sports athletes. Multivitamins were commonly consumed in tablet, powder, and liquid form for convenience.
In addition, Botanicals are expected to dominate the market over the projected period. The increasing adoption of a vegan diet globally, driven by growing environmental concerns, is expected to drive demand for botanical ingredients.
Tablet segment dominated the market in 2022
The tablet segment dominated the overall dietary supplement market in 2022. Many consumers prefer taking their supplements in tablet form for convenience and ease of use. Tablets are portable, easy to swallow, and can be formulated with various ingredients.
Additionally, tablets can be manufactured with a controlled release mechanism, which can help ensure the supplement is delivered to the body over an extended period. This can be particularly useful for supplements that must be absorbed slowly or may cause irritation if taken in large doses. The tablet segment is expected to become favored as consumers seek convenient and effective ways to supplement in diets.
Energy & weight management segment is projected to grow at the fastest rate
Many consumers seek supplements to help them manage their weight and boost their energy levels. Several factors, including the increasing prevalence of obesity, sedentary lifestyles, and high-stress levels, drive this trend.
The energy & weight management segment is expected to grow in the coming years as more consumers seek effective and safe ways to manage their weight and improve their energy levels. However, it is important for consumers to be cautious when selecting supplements in this category and to consult with a healthcare professional before starting any new supplement regimen.
Offline stores segment held the highest market revenue
The offline store segment holds the highest market revenue. Offline stores, including supermarkets, hypermarkets, convenience stores, pharmacies, and specialty stores, play a significant role in the dietary supplement market. These brick-and-mortar establishments serve as a crucial link between manufacturers and customers, offering a diverse array of products all in one convenient location. In recent years, offline stores have witnessed an uptick in dietary supplement sales as consumers have been drawn to the heavy discounts, extensive product variety, and frequently available promotional offers in these establishments.
Moreover, consumers may feel more confident purchasing supplements from physical stores due to the ability to examine products before buying and receive personalized advice from in-store staff. As a result, offline stores are expected to continue to be effective distribution channels for dietary supplements.
Adult segment expected to dominate the market in 2022
The adult segment is expected to dominate the market iis due to the growing prevalence of chronic diseases among adults, which has resulted in an increased demand for supplements to support their health. Furthermore, factors such as rising disposable incomes, lifestyle changes, and sedentary work styles have led more adults to turn to dietary supplements to ensure they obtain the necessary nutrients for optimal health. As a result, the adult segment is expected to maintain its dominance in the dietary supplement market in the coming years.
North America dominated the market and has a largest revenue share
North America dominates the dietary supplement market and has the largest revenue share. It is projected to grow steadily over the forecast period due to the growing use of high nutritional value and low-calorie products. The market in Mexico is also expected to drive demand for dietary supplements due to new product launches.
In addition, in Asia Pacific, the market is expected to grow significantly, becoming the fastest within the forecast period, driven by increasing expenditure on health-enhancing products, growing per capita income, and rising awareness in countries such as India, China, and South Korea.
Competitive Insight
The leading players in the industry include Abbott, Glanbia, Plc, The Archer-Daniels-Midland Company, Nature's Sunshine Products, Inc., GlaxoSmithKline plc, Amway Corp., Abbott Laboratories, Arkopharma, NOW Foods, Herbalife International of America, Inc., XanGo, LLC, Nu Skin Enterprises, Inc., PharmaNutrics Himalaya Global Holdings Ltd., Nutraceutics Corp., Pfizer Inc., and Bayer AG.
Recent Developments
In September 2022, Abbott has launched a new formulation of their popular nutritional supplement, Ensure. Ensure contains 32 essential nutrients, including protein, calcium, and vitamin D, crucial for improving muscle and bone strength. Additionally, the new formulation now includes HMB or hydroxy-methyl butyrate.

In March 2022, PharmaNutrics has introduced five new dietary supplements in the US market: SerotomixPlus, GlucanPlus, Gaba 600, CurcumixPlux and EnergixPlux. Each of these supplements is designed to serve a specific purpose, such as reducing fatigue, managing stress, supporting musculoskeletal health, and providing anti-inflammatory benefits.
Dietary Supplements Market Report Scope
| | |
| --- | --- |
| Report Attributes | Details |
| Market size value in 2023 | USD 178.82 billion |
| Revenue forecast in 2032 | USD 380.12 billion |
| CAGR | 8.7% from 2023 – 2032 |
| Base year | 2022 |
| Historical data | 2019 – 2021 |
| Forecast period | 2023 – 2032 |
| Quantitative units | Revenue in USD billion and CAGR from 2023 to 2032 |
| Segments Covered | By Type, By Form, By Application, By Distribution Channel, By End-Use, By Region |
| Regional scope | North America, Europe, Asia Pacific, Latin America; Middle East & Africa |
| Key Companies | Abbott, Glanbia, Plc, The Archer-Daniels-Midland Company, Nature's Sunshine Products, Inc., GlaxoSmithKline plc, Amway Corp., Abbott Laboratories, Arkopharma, NOW Foods, Herbalife International of America, Inc., XanGo, LLC, Nu Skin Enterprises, Inc., PharmaNutrics Himalaya Global Holdings Ltd., Nutraceutics Corp., Pfizer Inc., and Bayer AG. |