The global lubricants market was valued at USD 132.44 billion in 2022 and is expected to grow at a CAGR of 3.5% during the forecast period. The increasing automation of processes and the growing manufacturing industry. The market is benefiting from rapid industrialization, the rise in automobile production, and the modernization of industrial machinery. The market is also expected to grow due to the increasing application of lubricants in mining activities and the growing need for high-quality industrial lubricants.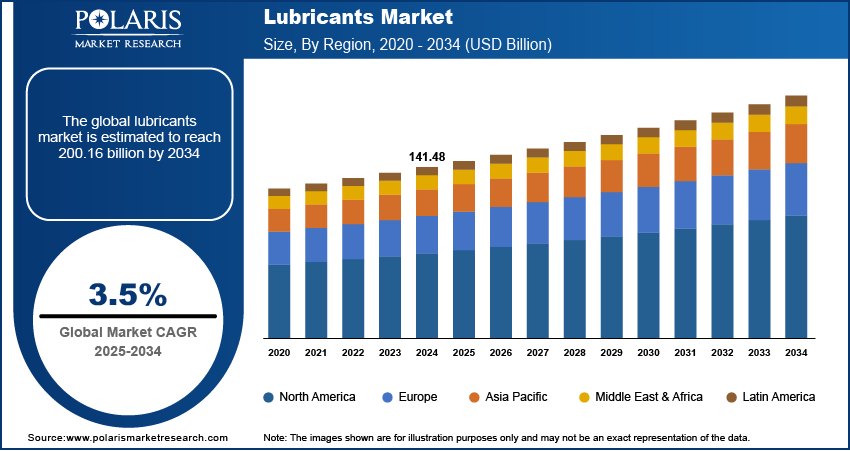 Know more about this report: Request for sample pages
However, the development of the market is being restricted to a certain extent by stringent government regulations and the high prices of bio-based and synthetic lubricants. Despite these challenges, the market is expected to provide numerous growth opportunities in the coming years, driven by the growing demand from emerging economies and increasing trends in bio-based lubricants.
Lubricants are substances utilized to minimize friction and heat generation between two surfaces. They facilitate smoother motion between two moving surfaces while reducing wear and tear, corrosion, and overheating. Lubricants serve various purposes, such as power transmission, gas sealing, contaminant, and debris removal. Different types of lubricants include oils, greases, dry lubricants, and gases.
Lubricants are widely used in various applications, such as in the production of antioxidants and antifoaming agents, emulsifying and demulsifying agents, engine oils, compressor oils, gear oils, piston oils, hydraulic brakes and gear box fluids, and soap and paint industries, among others.
Furthermore, the lubricant market is expected to continue its growth trajectory due to the increasing demand for lubricants in various industries, including automotive, manufacturing, and mining, and the rising focus on sustainable and eco-friendly lubricants. The market will likely witness significant growth in the coming years, driven by technological advancements and the growing need for high-performance lubricants.
The COVID-19 pandemic has had a significant impact on the lubricants market. It caused supply chain disruptions, reduced demand for lubricants due to the slowdown in industrial and transportation activities, and lowered oil prices, affecting lubricant manufacturers' profitability. Additionally, the growing adoption of bio-based lubricants and the increased demand for electric vehicles contributed to market growth. Consumers have also shifted towards cleaner and more sustainable products, prompting lubricant manufacturers to invest in innovative bio-based lubricants.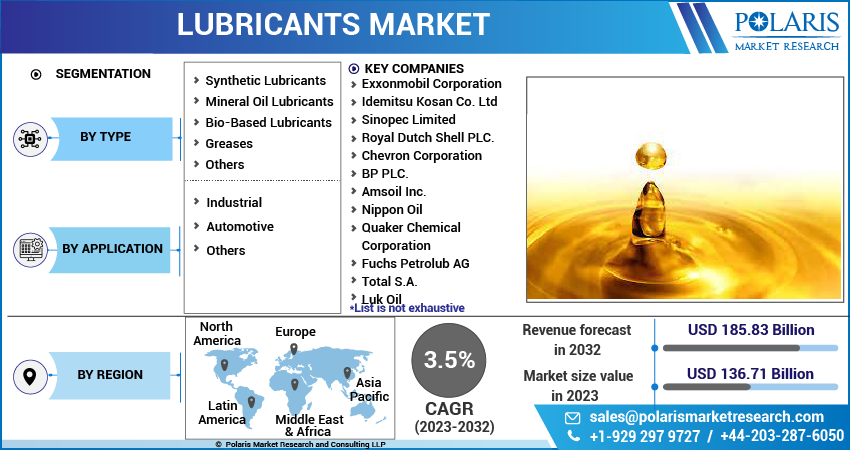 For Specific Research Requirements, Speak With Research Analyst
Industry Dynamics
Growth Drivers
With the increasing demand for lubricants in the automotive industry, lubricants are essential for reducing friction and wear in automobile engines, which helps to improve performance and efficiency. As the global population and income levels continue to rise, the demand for automobiles also increases, driving the need for lubricants. Lubricants are used in various industrial applications, including manufacturing, mining, and power generation. With the global economy growing, the demand for lubricants in these industries is expected to increase, further driving market growth.
In addition, an increasing focus on energy efficiency and sustainability. High-performance lubricants that reduce energy consumption and carbon emissions are in high demand as companies strive to meet environmental regulations and reduce their carbon footprint. Additionally, there is a growing trend towards bio-based lubricants, made from renewable resources and biodegradable, making them more environmentally friendly than traditional petroleum-based lubricants.
Furthermore, the increasing adoption of advanced technologies such as additive manufacturing and robotics drive the need for high-performance lubricants to withstand high temperatures and pressures. These technologies require lubricants with specific properties. As their adoption continues to grow, the demand for high-performance lubricants is expected to increase, further driving the growth of the lubricant market.
Report Segmentation
The market is primarily segmented based on type, application, and region.
By Type

By Application

By Region

Synthetic Lubricants

Mineral Oil Lubricants

Bio-Based Lubricants

Greases

Others

Industrial

Automotive

Others

North America (U.S., Canada)

Europe (France, Germany, UK, Italy, Netherlands, Spain, Russia)

Asia Pacific (Japan, China, India, Malaysia, Indonesia, South Korea)

Latin America (Brazil, Mexico, Argentina)

Middle East & Africa (Saudi Arabia, UAE, Israel, South Africa)
Know more about this report: Request for sample pages
The synthetic lubricants segment accounted for a significant revenue share in 2022
The synthetic lubricants segment accounted for a substantial revenue share during the forecast period. The rising demand for synthetic lubricants as base oils for producing lubricants is driven by their compatibility with automotive hardware, reduced vehicular emissions, and lower costs. Polyalphaolefins are a type of lubricant obtained from Group IV synthetic base oils. They offer a wide range of temperature tolerance, making them an ideal lubricating agent for automotive parts exposed to extreme temperatures.
Synthetic oils exhibit superior chemical and shear stability and improved viscosity index, which will boost demand for synthetic oils in the manufacture of lubricants, resulting in revenue growth for the segment.
The automotive segment accounted for holds largest shares of the market
Lubricants find varied applications in vehicles like brakes, engines, clutches, and gears, leading to heightened demand in this sector. Engine oils, brake fluids, and gear oils help reduce friction between surfaces in contact and prevent damage to automotive parts, thereby gaining more acceptance. The number of vehicles owned has surged notably across Europe and Asia.
As per the European Vehicle Market Statistics 2021/22 by the International Council on Clean Transportation (ICCT), Germany emerged as the leading vehicle market, accounting for 25% of the total EU and U.K. markets in 2020. The ASEAN Key Figures 2021 statistics reveal that Brunei Darussalam had the highest number of registered motor vehicles in 2020, with Malaysia and Thailand following closely with 997.8, 993.7, and 608.7 registrations per 1,000 population, respectively. The continuous use of gasoline and diesel-powered vehicles is projected to drive up lubricant demand, propelling market revenue growth in the forecasted period.
Asia Pacific dominated the market in revenue share
The Asia Pacific region dominated the lubricants market in revenue share. The rising ownership of vehicles, coupled with the fast-paced industrialization of several countries in the region, have been significant drivers of revenue growth in this market. Furthermore, the increasing demand for high-quality lubricants with advanced features, including better fuel efficiency, longer lifespan, and improved performance, has boosted the market's expansion. Additionally, the surge in construction and infrastructure development activities in Southeast Asian countries such as Vietnam, Indonesia, and the Philippines has led to a significant uptick in lubricant consumption, further fueling the market's growth.
However, North America is expected to register the highest growth. The booming aerospace industry in the region, coupled with an uptick in crude oil production, has been a crucial driver of the market's growth. Additionally, the surge in automobile production and the steady growth of the manufacturing sector have increased the demand for high-quality lubricants, thereby boosting the market's expansion. The growing adoption of eco-friendly lubricants and the implementation of stringent environmental regulations in the region are also driving the market's growth.
Competitive Insight
The leading players in the lubricants market include ExxonMobil Corporation, Idemitsu Kosan Co. Ltd, Sinopec Limited, Royal Dutch Shell PLC., Philips 66 Company, Chevron Corporation, BP PLC., Amsoil Inc., Zeller Gmelin Gmbh & Co. KG, Nippon Oil, Quaker Chemical Corporation, Fuchs Petrolub AG, Total S.A., and Lukoil.
Recent Developments
In July 2022, ExxonMobil Lubricants Pvt. Ltd. launched its latest range of advanced lubricants for passenger vehicles in New Delhi, which feature cutting-edge technology and comply with the Indian government's BS-VI specifications. The new lubricants provide notable fuel economy benefits and offer enhanced wear protection and engine cleanliness via their Mobil Super All-In-One Protection and Mobil Super Friction Fighter series.

In February 2021, FUCHS Group acquired a 70% stake in the lubricant business of Vietnam-based specialty distributor STD & S Co. Ltd.
Lubricants Market Report Scope
| | |
| --- | --- |
| Report Attributes | Details |
| Market size value in 2023 | USD 136.71 billion |
| Revenue forecast in 2032 | USD 185.83 billion |
| CAGR | 3.5% from 2023 – 2032 |
| Base year | 2022 |
| Historical data | 2019 – 2021 |
| Forecast period | 2023 – 2032 |
| Quantitative units | Revenue in USD billion and CAGR from 2023 to 2032 |
| Segments Covered | By Type, By Application, By Region |
| Regional scope | North America, Europe, Asia Pacific, Latin America; Middle East & Africa |
| Key Companies | ExxonMobil Corporation, Idemitsu Kosan Co. Ltd, Sinopec Limited, Royal Dutch Shell PLC., Philips 66 Company, Chevron Corporation, BP PLC., Amsoil Inc., Zeller Gmelin Gmbh & Co. KG, Nippon Oil, Quaker Chemical Corporation, Fuchs Petrolub AG, Total S.A., and Lukoil. |