The global carrageenan market was valued at USD 761.2 million in 2020 and is expected to grow at a CAGR of 5.8% during the forecast period. Carrageenan is a natural additive used as a thickener, emulsifier, and to preserve food and drinks. It is extracted from red seaweeds also known as Irish moss and is a common ingredient in yogurt, nut milk, and meat products.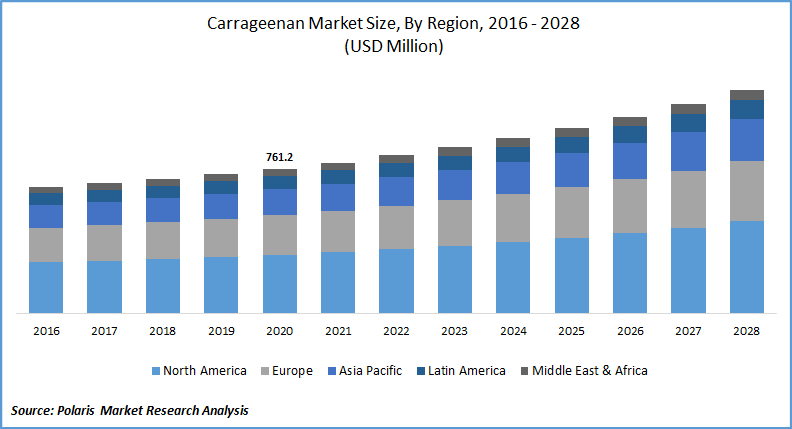 Know more about this report: Request for sample pages
Key factors responsible for the carrageenan market growth include rising demand for thickeners and gelling agents in cosmetics, pharmaceutical, food, personal care industries, particularly in emerging nations, and growing consumer shift towards carrageenan as a substitute for gelatin, owing to its vegan origin.
Product is being used in several food sectors such as meat products, sauces, stabilizing agents, dairy products, and bakery and confectionery. Moreover, the growing preference of consumers towards natural ingredients also favoring the uptick in market demand for carrageenan.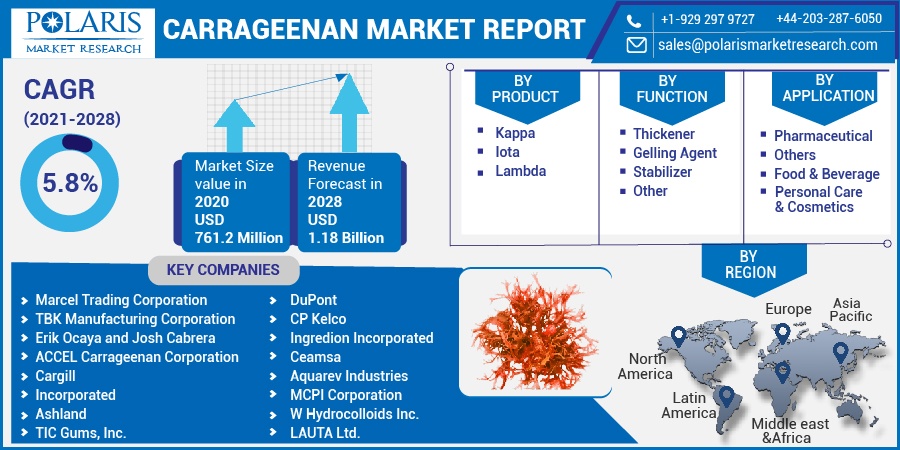 Know more about this report: Request for sample pages
Carrageenan Market Report Scope
The market is primarily segmented on the basis of product, function, application, and geographic region.
By Product

By Function

By Application

By Region

Thickener
Gelling Agent
Stabilizer
Other

Pharmaceutical
Personal Care & Cosmetics
Others
Food & Beverage

North America (U.S., Canada)
Europe (France, Germany, UK, Italy, Spain, Netherlands, Austria)
Asia Pacific (Japan, China, India, Malaysia, Indonesia. South Korea)
Latin America (Brazil, Mexico, Argentina)
Middle East & Africa (Saudi Arabia, UAE, Israel, South Africa)
Know more about this report: request for sample pages
Insight by Product
Kappa market segment accounted for the largest revenue share, in 2020 and likely to witness the highest growth rate over the carrageenan market forecast period. This is one of the natural extracted from red seaweed species, which are later processed and farmed at the refining facilities. It is used as a thickener, gelling, binding, stabilizer, and emulsifier agent. Majorly, it is used in cooked ham, poultry rolls, and turkey breast.
It was estimated that more than 70 percent of the global carrageenan production comprises of kappa type and majorly utilized in the food and beverage industry, where acts as a binder and emulsifying agent in cheese, chocolates, and ice-creams. It also forms a gel with calcium salts. It is also known for its gelling capacity.
The Lambda market segment is projected to witness a lucrative market growth rate over the study period. It is cold, water-soluble, and used as a thickener, which develops a creamy sensation in dairy products. This is the type that requires high temperature for hydration, having more than 35 percent of ester sulfate and a small proportion of 3.6 percent anhydro galactose, which makes it more viscous and denser.
Insight by Function
In 2020, the thickener market segment accounted for the largest share. These are the substances that are used to enhance viscosity without damaging other properties and classified as food and non-food-grade thickeners. Also used as an additive in the food & beverage industry and is approved by concerned administrative institutions.
The growing adoption of natural food-grade thickeners is also one of the prominent factors boosting the market growth for carrageenan. A surge in healthy, nutritional food products, sustaining demand for carrageenan as a thickening agent is also likely to support market growth. Moreover, a growing trend towards clean label products also opening few opportunities for novel food formulations in the food & beverage industry thereby driving carrageenan market demand.
Gelling agent market segment is projected to witness the highest growth rate over the assessment period. All three major types of carrageenan possess excellent gelling properties. Lambda forms less rigid and more elastic, and kappa makes stiff gel.
Growing applications of these agents in the bakery & confectionary industry to have desired texture also favoring its market growth. Moreover, growing consumption and changing eating patterns in developing nations also anticipated boosting the market demand for carrageenan.
Geographic Overview
In 2020, the North America carrageenan industry accounted for a significant share of the global market. The U.S. is the largest contributor, followed by Canada, owing to its high agricultural activities seeking high productivity, leading to the high demand for bio-stimulants products in the region, which majorly prefers agar and carrageenan, offering high productivity. These factors are likely to fuel the region's growth prospects.
This high carrageenan demand is mostly driven by the food & beverage industry, as there is a growing inclination towards ingredients-based food formulation products. However, rising consumer awareness regarding toxicity led to more use of natural additives. Moreover, rapid research and development to find new natural additives in the industry benefiting market growth for carrageenan.
Competitive Insight
The prominent players operating in the market for carrageenan are DuPont, CP Kelco, Ingredion Incorporated, Ceamsa, Aquarev Industries, MCPI Corporation, W Hydrocolloids Inc., LAUTA Ltd., Marcel Trading Corporation, TBK Manufacturing Corporation, Erik Ocaya and Josh Cabrera, ACCEL Carrageenan Corporation, Cargill, Incorporated, Ashland, and TIC Gums, Inc.