The cell-free protein expression market was valued at USD 230.09 million in 2021 and is expected to grow at a CAGR of 8.5% during the forecast period. The crucial factors for the growth of the cell-free protein expression market include the increase of R&D in proteomics and genomics, higher prevalence of cancerous and infectious diseases, and structural modification. Nowadays, different cell-free protein expression systems are available, including E. coli, rabbit reticulocytes, wheat germs, insect cells, and human cells.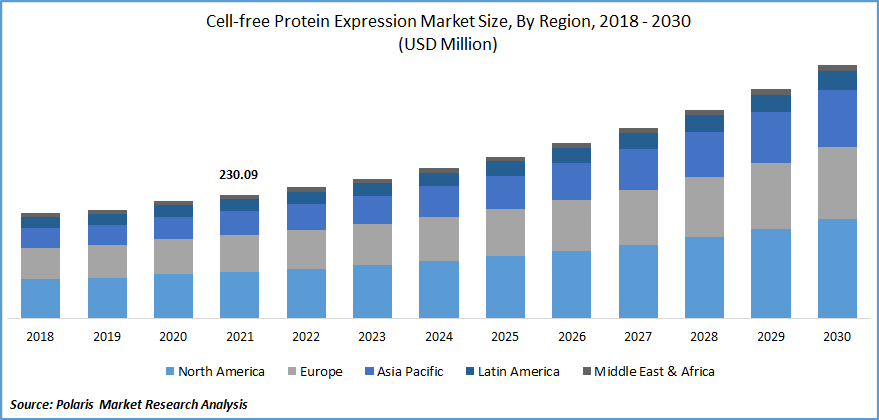 Know more about this report: Request for sample pages
The main application of this technique is the aversion to workflow obstacles in maintaining cell culture. Various species of cell lysates are used for cell-free protein synthesis, leading to the relevance of cell-free protein expression. Cell lysates are assembled by the breakdown and utilization of cellular constituents of eukaryotic or bacterial cells.
In vivo production systems and cell-free protein synthesis can overcome loopholes. Its acts as a tool for both primary and applied scientific research. It is used to expand genetic code, metabolic engineering, and the assembly of viruses for producing toxic and complex proteins, leading to a powerful technology for the high-throughput production of membrane proteins, enzymes, and therapeutics.
A shorter process duration, isotopic labeling of proteins, optimization of protein complexes, and incorporation of non-natural amino acids are essential advantages of in-vitro protein synthesis over living cell-based protein expression, which is anticipated to accelerate the growth of the industry.
Additionally, the ability to facilitate massive production, more research in personalized medicine, and the increasing need for biological therapies to manage cancer is the crucial factor driving the cell-free protein expression technique in the biotechnology and pharmaceutical sectors.
Biologists at Toronto University removed enzymes that were required for transcription and translation from E. coli to develop a cell-free expression system that identifies the parts of the SARS-CoV-2 genome and activates a molecular shift to generate a reporter protein, which eradicated the purification of RNA from sample replacing RT-PCR for additional rapid diagnostic testing. This development increased the acceptance of CFPS in the diagnosis of Covid-19, leading to a growth curve. Thereafter, the Covid-19 pandemic positively impacts the cell-free protein expression market.
Know more about this report: Request for sample pages
Industry Dynamics
Growth Drivers
Increasing demand for constant exchange CFPS is enormous production of complex prokaryotic and eukaryotic protein, leading to a steep growth of the cell-free protein expression market. This approach has extended the reaction time and increased protein yield compared to conventional batch reactions. The process also commits outlook for applications in large-scale industrial setups, which have driven the industry's growth.
Producers and manufacturers are engaging in cost-effective and rapid protein expression methods. Also, cell-free protein synthesis companies focus on developing high-yield protein expression systems. Several pharmaceutical companies are initiating research in the domain of protein synthesis, which has given momentum to the CFPE industry.
Labeling of protein with stable isotopes for structural analysis, rapid and high-throughput expression of mutant protein for functional analysis, production of functional virons or toxic polypeptides, expression to mammalian protein with proper glycosylation and native post-translational modifications, analysis of component required for protein folding, protein stability or protein degradation, and experiments to characterize protein-protein interaction and protein-nucleic acid interaction are some significant applications leading the growth of the industry.
Report Segmentation
The market is primarily segmented based on products, applications, methods, end-use, and region.
By Products

By Applications

By Methods

By End-Use

By Region

Expression system

E. coli
Wheat germ
Rabbit reticulocytes
Insect cells
Human
Other

Reagents

Enzyme engineering
High throughput production
Protein labelling
Protein-Protein interaction
Protein purification

Transcription and translation system
Translation systems

Pharmaceutical and biotechnology companies
Academic and research institutes
Others

North America (U.S., Canada)
Europe (France, Germany, UK, Italy, Netherlands, Spain, Russia)
Asia Pacific (Japan, China, India, Malaysia, Indonesia. South Korea)
Latin America (Brazil, Mexico, Argentina)
Middle East & Africa (Saudi Arabia, UAE, Israel, South Africa)
Know more about this report: Request for sample pages
Expression system accounted for the largest market share in 2021
On the basis of product, the cell-free protein expression market is categorized into expression systems and reagents. The expression system accounts for the largest market and is further classified into E. coli, wheat germ, rabbit reticulocytes, insect cells, and human cells. Increasing demand for constant exchange CFPS, easy, simple, efficient protein production, and increasing R&D in genomics and proteomics are leading the expression segment in the cell-free protein expression market.
coli lysates are without endogenous genetic messages and have advantages, such as high protein yield and suitable for many additives. Additionally, it finds cost-effectiveness, which makes it leads over other segments. E. coli-based systems are used in recombinant techniques for manufacturing several biological therapeutics and insulin. In this system, the codons used are unique, some being eukaryotic specific.
The rising risk of cancer and infectious diseases has raised research intensity in pharmaceutical, and biotechnological sectors, with the rise in expenditure on bio-similar development, have propelled the industry's growth. Also, Wheat germ cell-free protein expression is expected to grow over the forecast as it offers high translation efficiency among the eukaryotic CFPE and has an excessive success rate for expressing the soluble protein of exceptional quality.
Enzyme engineering application is accounted for the largest market share
The enzyme engineering segment accounts for the largest market share in 2021, as it plays a vital role in bio-manufacturing synthetic biology and medicines.As cell-free synthetic biology approaches for enzyme engineering, it has been used as an alternative strategy, having no constraint on the cell membrane and does not need to maintain cell viability, and each of the biosynthetic pathways is highly flexible.
The high throughput production system is supposed to propel the fastest growth. The utilization of CFPS for high-throughput enzyme screening is a suitable technique for discovering improved enzyme variants and novel biocatalysts. The incorporation of cutting-edge high-throughput technologies boosts the application of a cell-free protein expression system for speedy prototyping to fast-track the screening procedure of enzymes with growth characteristics.
Transcription and Translation system is expected to hold the significant revenue share
The transcription and translation system segment accounted for the largest market share. It is also the fastest-growing segment during the forecast period as it consumes investigators' time. Additionally, it connects the eukaryotic in vivo transcription and translation procedure in a single tube format. This system is used for various low- to high-throughput functional genome and proteome analyses.
Also, the translation method segment is supposed to grow as it expresses single and multiple proteins in high-throughput applications, including display technologies. Cell-free translation systems are essential for functional and structural RNA analysis or studying translational machinery aspects.
Academic and research institutes segment is accounted the largest growth rate
Academic and research institutes account for the largest cell-free protein expression market share. Many governmental-funded institutes are operating on protein purification research activities and protein synthesis. Additionally, they are working more in the protein synthesis field by using cell-free protein expression techniques.
Many technological advancements have raised the adoption of novel expression elements such as specially designed promoters, allowing for more effective genomic engineering and translation, resulting in enhanced translation efficiency, now software-controlled algorithms that can help get a higher yield, leading to the growth of the market.
North America is projected for largest market share
North America accounted for the largest cell-free protein expression market share due to the growing prevalence of chronic diseases, including cancer, the aging population, growing demand for targeted and personalized medicine, major R&D facilities, and favorable government initiatives in the United States.
In North America, the United States holds the largest market share due to the country's increasing burden of cancer cases, which is anticipated to stimulate the demand for the cell-free protein expression market. The growing trend of cell-based research in this region has driven the growth of the market in this region.
The Asia Pacific is expected to account for the largest market share over the forecast due to an increase in the number of end-users, such as pharmaceutical and biotechnological industries, and growing academic and research institutes across the region.
Competitive Insight
Some of the major players operating in the global market include Biotechrabbit GmbH, CellFree Sciences Co., Ltd., Cube Biotech GmbH, GeneCopoeia, Inc., Jena Bioscience GmbH, Merck KGaA, New England BioLabs, Promega Corporation, Takara Bio Company, Thermo Fisher Scientific, Inc.
Recent Developments
In February 2020, Max Planck researchers from the Institute of Biochemistry, Germany, summarized the development of an in vitro translation system which enables self-encoded replication and expression of large DNA genomes under well-defined, cell-free conditions.
In December 2019, CellFree Sciences Co., Ltd. collaborated with Proteo-Science Center, Ehime University, developing a new technology that identifies proteins for binding to target antibodies. It utilizes a protein bead array technology developed by CellFree Sciences Co., Ltd. named 'CF-PA2Vtech'.
Cell-free Protein Expression Market Report Scope
| | |
| --- | --- |
| Report Attributes | Details |
| Market size value in 2021 | USD 230.09 million |
| Revenue forecast in 2030 | USD 470.45 million |
| CAGR | 8.5% from 2022 - 2030 |
| Base year | 2021 |
| Historical data | 2018 - 2020 |
| Forecast period | 2022 - 2030 |
| Quantitative units | Revenue in USD million and CAGR from 2022 to 2030 |
| Segments covered | By Product, By Application, By Method, By End-Use, By Region |
| Regional scope | North America, Europe, Asia Pacific, Latin America; Middle East & Africa |
| Key companies | Biotechrabbit GmbH, CellFree Sciences Co., Ltd., Cube Biotech GmbH, GeneCopoeia, Inc., Jena Bioscience GmbH, Merck KGaA, New England BioLabs, Promega Corporation, Takara Bio Company, Thermo Fisher Scientific, Inc. |