The cell reprogramming market was valued at USD 312.08 million in 2021 and is expected to grow at a CAGR of 8.0% during the forecast period. Cell reprogramming is the process of including the desired cell fate by converting somatic cells from one lineage to another without transitioning through an intermediate multipotent state.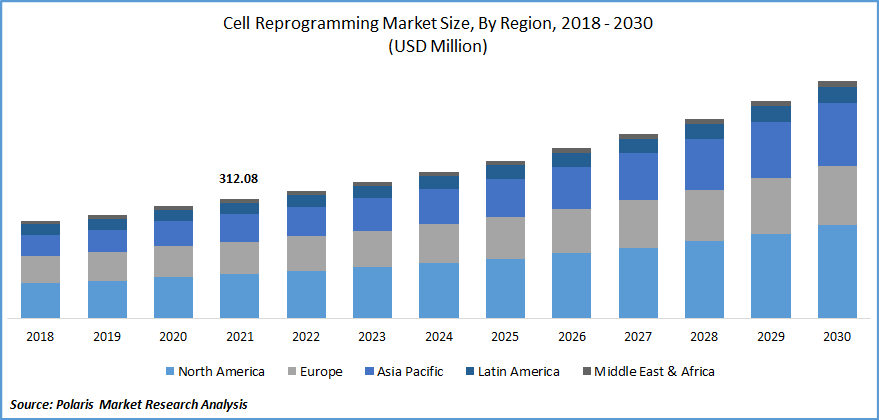 Know more about this report: Request for sample pages
Cell reprogramming has become possible in recent years due to various advancements in genetic engineering, where cellular DNA can be managed and re-engineered with mechanisms such as transgenes, transcription activator-like effector nucleases (TALENs), zinc finger nucleases (ZFNs), and CRISPR/Cas9.
These cells can be patterned according to the patient's genotype. The tools used for cellular reprogramming have the potential to regenerate old cells, and it is effective and proven. Cellular reprogramming tools are also used for understanding human development early, thus offering an opportunity to expand rejection-proof, customized cells, and tissues for effective transplantation.
Various factors, including regenerative medicine for providing a viable treatment, advancements in stem cell biology, and increasing relevancy of cell reprogramming in the healthcare sector, are anticipated for the growth of the cell reprogramming market. Increasing adoption of stem cell therapies for several disorders and growing demand for reprogramming for stem cell or cell-based drugs are supposed to propel the market's growth.
In ISCRM labs, reprogrammed induces pluripotent stem cells that are used for advanced detection in multiple research areas, including Alzheimer's disease, kidney disease, heart disease, autism, and muscular dystrophy, and to analyze the problem of early-stage human development.
The Covid-19 pandemic positively impacted the cell reprogramming market as the researchers were involved in developing novel medications and treatments to fight against Covid that led to the increased use of cell reprogramming methods to produce personalized drugs. Additionally, in 2021 the UCLA bioengineers and associates recognized and established an essential stage in cell reprogramming enabling safe drug screening and other tailored illness therapy, which increased the development of new medications and personalized medicine, driving the market's growth.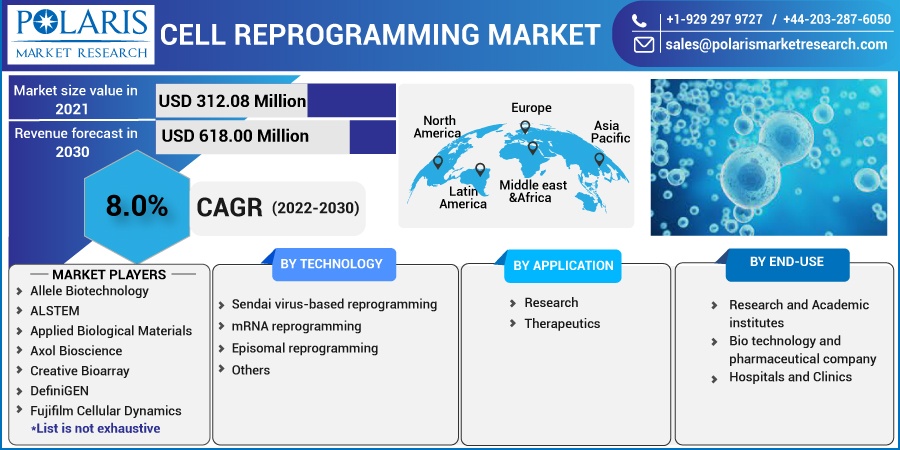 Know more about this report: Request for sample pages
Industry Dynamics
Growth Drivers
Advancements such as reprogramming somatic cells into ES-cell and the direct conversion of cell types offer to reprogram, to a large extent, on over-expression of particular genes by induction of overall epigenetic network changes, anticipating the market's growth. Regulatory networks play an essential role, such as Oct4 is generally considered the master gene for maintaining the pluripotent state of ES cells.
The creation of physiologically-specific human-cell models which imitates the pathophysiology of COVID-19 using iPSCs is essential for facilitating drug testing and has stimulated the attention of pharmaceutical industries in delivering medicines. Some increased investments from governments and private players are showing a positive impact on the industry expansion.
Cellular reprogramming includes cell fusion, somatic cell nuclear transfer, embryonic stem cells and pluripotency, genome editing technology, single-cell technologies, bioinformatics, synthetic and system biology, cell and gene therapy based on cell reprogramming paradigms, and others increasing the availability of cell programming in various sectors propelling the growth of the market.
Report Segmentation
The market is primarily segmented based on technology, application, end-use, and region.
By Technology

By Application

By End-Use

By Region

Sendai virus-based reprogramming
mRNA reprogramming
Episomal reprogramming
Others

Research and Academic institutes
Bio technology and pharmaceutical company
Hospitals and Clinics

North America (U.S., Canada)
Europe (France, Germany, UK, Italy, Netherlands, Spain, Russia)
Asia Pacific (Japan, China, India, Malaysia, Indonesia. South Korea)
Latin America (Brazil, Mexico, Argentina)
Middle East & Africa (Saudi Arabia, UAE, Israel, South Africa)
Know more about this report: Request for sample pages
mRNA reprogramming technology accounted for the largest market share in 2021
Based on technology, mRNA reprogramming accounted most significant market share in 2021. Due to the smaller size of mRNA, it becomes easier to transfect than other reprogramming vectors. The mRNA molecules encrypt multiple pluripotent factors, which have been applied in reprogramming somatic cells for generating pluripotent stem cells such as mesenchymal stem cells, fibroblasts, and amniotic fluid stem cells, improving the inconvenience of conventional mRNA and has better stability and immunogenicity.
Additionally, it can be directly used in the terminal differentiation of stem cells and fibroblasts into functional therapeutic cells, exhibiting in disease modeling, drug screening, cell transplantation therapy, and regenerative medicine, which has driven the growth of the cell reprogramming market. mRNA-based reprogramming has proven to be the only non-viral, non-integrating method for reliable, safe, and efficient generation of clinically relevant human iPS cell lines. It produces reprogramming efficiency more significantly than 1% without the use of virus or DNA vectors.
Research is expected to grow at the highest rate during the forecast period
Based on applications, the research application segment accounted for the largest market share in 2021. It is also estimated to be the fastest-growing segment during the forecast period. Ongoing research in the field of cell reprogramming with stem cells is anticipated for the growth of the research segment.
Moreover, people support federal financing for chronic disease research using stem cells from human embryos. Governments and private groups are investing in stem cell research studies, enhancing industrial participants and creating a secure position for themselves in the global sector by treating various chronic conditions.
Cell reprogramming has already opened up possibilities for therapeutics, including new drug treatments inhibiting degenerative changes or encouraging stem or progenitor cells to distinguish in stimulating lineage in a particular condition, which are both possible resulting in reprogramming research. Several disorders can be treated using cell transplantation. These developments are anticipated to drive the growth of the market.
Research and Academic Institute account for largest market
Based on end-use, the research and academic institute accounts for the largest market share and is expected to grow fastest during the forecast period. Researchers have now transferred cell programming from the laboratory to the clinic. Several academic research and clinical projects such as disease modeling, medication toxicity/drug discovery studies, regenerative medicine, and others utilize cell reprogramming driving the market's growth.
The clinical application of this technology is highly simplified by using cell reprogramming in regenerative medicine. The growing number of strategic efforts for research and method for innovative products from cell reprogramming has driven the research and academic institute growth. The California Institute for Regenerative Medicine has recently encouraged several research groups to contribute investments for cellular reprogramming's transition to therapeutic applications and a clinical focus.
North America is projected to grow at the highest growth rate during the forecast period
The ongoing iPSC technological advancements and the availability of functional cells for pre-clinical drug testing in North America is likely to be the factor leading to the highest growth during the forecast period. Additionally, expanding knowledge of the iPSC platform and high throughput drug toxicity analysis contributes to the region's growth.
Activities in medical research have increased in the U.S., resulting in the increased need for innovative treatment options, in which stem cell research is crucial. These activities and innovations for cell reprogramming have propelled the market's growth.
The Asia Pacific is expected to be the fastest-growing region due to the therapy landscape's effectiveness and production development. The large patient population base in this region and currently no effective treatments for various infections have driven the market growth in this region.
Competitive Insight
Some of the major players operating in the global market include Allele Biotechnology, ALSTEM, Applied Biological Materials, Axol Bioscience, Creative Bioarray, DefiniGEN, Fujifilm Cellular Dynamics, Lonza, Mogrify, REPROCELL, Stemnovate, Thermo Fisher Scientific.
Cell Reprogramming Market Report Scope
| | |
| --- | --- |
| Report Attributes | Details |
| Market size value in 2021 | USD 312.08 million |
| Revenue forecast in 2030 | USD 618.00 million |
| CAGR | 8.0% from 2022 - 2030 |
| Base year | 2021 |
| Historical data | 2018 - 2020 |
| Forecast period | 2022 - 2030 |
| Quantitative units | Revenue in USD million and CAGR from 2022 to 2030 |
| Segments covered | By Technology, By Application, By End-Use, By Region |
| Regional scope | North America, Europe, Asia Pacific, Latin America; Middle East & Africa |
| Key companies | Allele Biotechnology, ALSTEM, Applied Biological Materials, Axol Bioscience, Creative Bioarray, DefiniGEN, Fujifilm Cellular Dynamics, Lonza, Mogrify, REPROCELL, Stemnovate, Thermo Fisher Scientific |