The global chitosan market was valued at USD 2.12 billion in 2021 and is expected to grow at a CAGR of 14.7% during the forecast period. The market is expected to increase as a result of rising product demand from the cosmetics industry and expanding product application opportunities in waste-water treatment.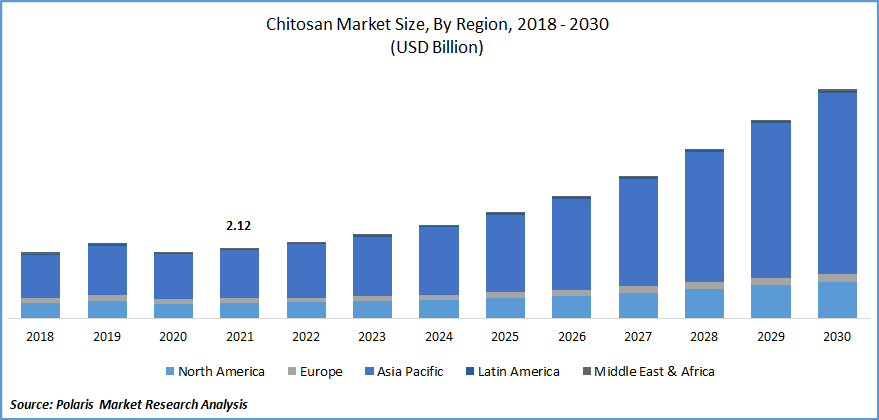 Know more about this report: Request for sample pages
Additionally, it is employed in agriculture as a biopesticide to prevent pathogenic effects on trees and plant growth. Additionally, it is utilized as a food preservative in polyurethane paints & coatings and the biomaterials of organs. An amino polysaccharide polymer called chitosan is manufactured for use in the market from the shells of crab, shrimp, lobster, and crayfish.
It is produced by deacetylating the chitin exoskeletons or shells of insects and fungus using an alkaline material, such as sodium hydroxide. Because the amount of chitosan in each raw material varies, they are crucial in commercial manufacture. Since shrimp contains between 25 and 40 % chitin and crab shells only contain between 15 and 20 %, shrimp is thought to be the main source of the product.
Growing concerns about overweight and obesity, as well as a general increase in health consciousness, present the chitosan market with a considerable opportunity. For instance, as per the World Health Organization, the majority of people on earth reside in nations where being overweight or obese kills more people than being underweight.
In 2020, there were 39 million under-fives who were obese. The chitosan industry is being driven by the rising trend of choosing natural remedies for weight reduction and beauty. Nowadays, people prefer healthier alternatives over exercise and diets, such as dietary supplements, capsules and tablets, meal replacement bars and drinks, and slimming creams.
It provides weight loss that isn't reliant on special diets or exercise routines. Given that it is a safer option than stimulant-based products, which are regarded as being harmful to human health, it does not react with the majority of pharmacological agents.
The COVID-19 pandemic is anticipated to have a negative effect on the market. A decrease in demand for cosmetics and toiletries, together with nationwide lockdowns in various economies, has had a detrimental effect on the market as a whole. The chitosan market in other significant nations in the region, like Japan, India, etc., will increase slowly over the short term.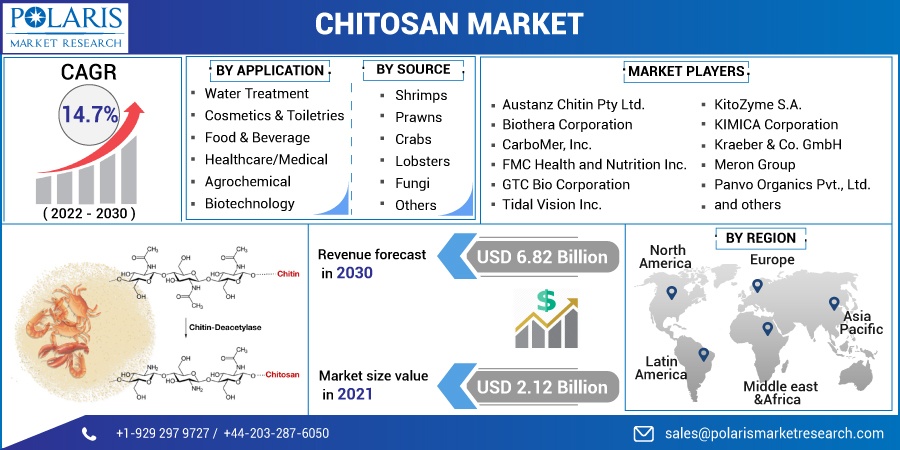 Know more about this report: Request for sample pages
Industry Dynamics
Growth Drivers
It has various benefits for a large number of applications across the globe, boosting the market growth over the forecast period. It is non-toxic, biodegradable, bioactive, and compatible with living things. It is employed in water treatment, cosmetics, medical & pharmaceuticals, food & beverages, and agrochemical applications due to these qualities.
They are used in the water treatment process to remove iron, harmful compounds, metals, and other contaminants from wastewater through their adsorption ability. Chitosan is a cost-efficient, efficient, and sustainable method of treating water.
It is beneficial in a variety of medical and pharmaceutical applications due to its characteristics, including bioactivity, antibacterial activity, and anti-oxidative activity. It is utilized in medical device coatings and wound ointments. It is utilized in contact lenses and as a drug delivery mechanism in pharmaceutical applications. It is utilized as a dietary supplement, preservation, and anti-cholesterol addition in the food and beverage industry. It is an ingredient in care and personal care items for cosmetic purposes.
Report Segmentation
The market is primarily segmented based on application, source, and region.
By Application

By Source

By Region

Water Treatment
Cosmetics & Toiletries
Food & Beverage
Healthcare/Medical
Agrochemical
Biotechnology
Others

Shrimps
Prawns
Crabs
Lobsters
Fungi
Others

North America (U.S., Canada)
Europe (France, Germany, UK, Italy, Netherlands, Spain, Russia)
Asia Pacific (Japan, China, India, Malaysia, Indonesia, South Korea)
Latin America (Brazil, Mexico, Argentina)
Middle East & Africa (Saudi Arabia, UAE, Israel, South Africa)
Know more about this report: Request for sample pages
Wastewater segment is expected to witness the fastest growth
The requirement for these water treatments from residential, industrial, and municipal waste treatment plants led to the greatest application category among them. It can be used as a flocculating, coagulating, and chelating agent in the purification of wastewater due to its excellent capacity to remove pesticides, surfactants, phenol, and polychlorinated biphenyls from it. The benefits of the product in wastewater treatment are being promoted by governments of many nations. In developing nations, the treatment of wastewater is subject to strict laws. This reason also fuels the expansion of the chitosan market on a global scale. As a result, it is more in demand in regions with a high percentage of contaminated water bodies.
The expansion of wastewater treatment facilities worldwide as a result of the rising demand for freshwater is anticipated to benefit the chitosan market. It is utilized in a variety of applications, including water treatment, coagulants, and flocculants. This is due to its biodegradability, bioactivity, biocompatibility, non-toxicity, and fiber-grade qualities.
Cosmetics and toiletries industry accounted for the highest market share in 2021
The cosmetics sector has experienced rapid expansion as a result of rising consumer expenditure in emerging economies. The product is utilized in the production of dental care, hair care, and anti-aging lotions. It has the capacity to create an elastic coating on the hair, giving the fiber physical strength and tenderness.
Shampoos, hair colorants, hair sprays, styling gels, and shampoos all include it. Due to its anti-plaque and anti-decay qualities, it is also used to make toothpaste, chewing gum, and mouthwash. Additionally, during the anticipated period, the need for organic ingredients in cosmetic products would increase the market share.
Shrimps are expected to hold the significant revenue share
Chitosan, polyelectrolyte biopolymers obtained from shrimp shells, has a wide range of uses as an antibacterial, biocompatible, and environmentally friendly polyelectrolyte biomaterial, utilization in chromatography, water treatment, cosmetic ingredients, and textile treatment for antibacterial activities. Additionally, chitosan derived from shrimp is used to make microcapsule implants for sustained release in drug delivery, biodegradable films, photographic sheets, and new fibers in textiles and medical technology.
The demand in North America is expected to witness significant growth
Market expansion is anticipated to be fueled by a significant presence in the North American pharmaceutical sector. It is a material used in the pharmaceutical business to make pharmaceutical pharmaceuticals, specifically as a filler and carrier in controlled-release medications. To disguise the unpleasant medicinal taste, it is also applied as a coating to pharmaceutical items.
The market size may potentially be impacted by significant expenditures made in the healthcare and medical sectors by important firms already operating in the area for new advancements. Due to the product's great flocculant applications, strict rules and policies created by the EPA to protect the environment from the negative effects of wastewater generated from the industrial sector will also continue to spur market demand.
The Asia Pacific region's demand for chitosan is anticipated to be driven by rising market demand for biobased goods and a supportive political climate in these areas. Due to the availability of an ample supply of raw materials and its early understanding of the advantages the product offers, Japan has been one of the largest manufacturers and consumers of chitosan in the Asia Pacific region. The growth is anticipated to be positively impacted by rising market demand for the production of artificial skin and wound dressing over the predicted period.
Growing R&D expenditures for the use of chitosan in biomedical applications, together with expanding water treatment operations in the Asia Pacific, present profitable potential for chitosan market trends. Threats to both human health and the environment are posed by the major problem of heavy metal ion pollution caused by industrial water wastes and discharge into freshwater sources.
Competitive Insight
Some of the major players operating in the global market include Austanz Chitin Pty Ltd., Biothera Corporation, CarboMer, Inc., FMC Health and Nutrition Inc., Golden-Shell Pharmaceutical Co., Limited, GTC Bio Corporation, Heppe Medical Chitosan GmbH, KitoZyme S.A. KIMICA Corporation, Kraeber & Co. GmbH, Meron Group, Panvo Organics Pvt., Ltd., PT Biotech Surindo, Qingdao Haijia Biology and Technology Co. Ltd., Tidal Vision Inc., and Xianju Tengwang Chitosan Factory.
Recent Developments
In September 2021, KitoZyme will display updated varieties of its vegan chitosan. Chitin and chitosan made from fungi may now be produced on an industrial scale according to a method developed by KitoZyme. This ground-breaking invention significantly altered how people thought about and used this class of biopolymers.
Chitosan Market Report Scope
| | |
| --- | --- |
| Report Attributes | Details |
| Market size value in 2021 | USD 2.12 billion |
| Revenue forecast in 2030 | USD 6.82 billion |
| CAGR | 14.7% from 2022 - 2030 |
| Base year | 2021 |
| Historical data | 2018 - 2020 |
| Forecast period | 2022 - 2030 |
| Quantitative units | Revenue in USD million/billion and CAGR from 2022 to 2030 |
| Segments covered | By Source, By Application, By Region |
| Regional scope | North America, Europe, Asia Pacific, Latin America; Middle East & Africa |
| Key companies | Austanz Chitin Pty Ltd., Biothera Corporation, CarboMer, Inc., FMC Health and Nutrition Inc., Golden-Shell Pharmaceutical Co., Ltd., GTC Bio Corporation, Heppe Medical Chitosan GmbH, KitoZyme S.A. KIMICA Corporation, Kraeber & Co. GmbH, Meron Group, Panvo Organics Pvt., Ltd., PT Biotech Surindo, Qingdao Haijia Biology and Technology Co. Ltd., Tidal Vision Inc., and Xianju Tengwang Chitosan Factory |