The global clinical trials outsourcing market was valued at USD 38.11 billion in 2021 and is expected to grow at a CAGR of 6.7% during the forecast period. The clinical-trials research outsourcing market is expected to rise rapidly throughout the forecast period, owing to increased funding for small to medium-sized pharmaceutical, biotechnology, and medical device firms.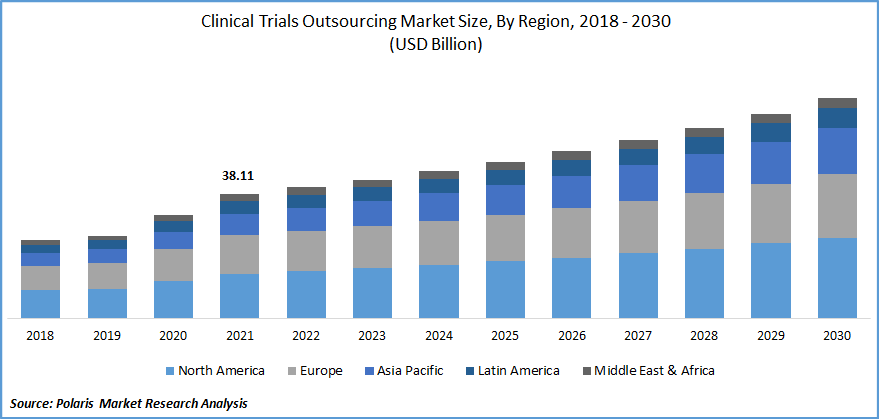 Know more about this report: Request for sample pages
This has driven them to seek CRO services focused on specific markets. Based on the analysis of the Life Sciences strategy group in the US alone, there are 120 decision makers. As a result of the COVID-19 pandemic, industry professionals are making critical strategic changes to maintain their clinical trials outsourcing market dominance.
Trials in clinical drug development are essential, requiring higher costs and top-notch facilities and knowledge. Because the trials processes are so complex, sponsors are continuously under pressure from governmental authorities, insurance companies, and the healthcare sector to reduce prices by expanding their pipelines, increasing the volume of research initiatives, and enhancing the quality and safety of their products while adhering to regulatory criteria.
For various reasons, including cost reduction, the pursuit of innovation, access to specialized expertise and technology, and enhancing speed and agility, pharmaceutical companies are urged to increase the amount of outsourcing they do. The primary drug development steps division into high-speed screening, generation, optimization, and hit confirmation, enabling participants to focus on their most vital skills.
Outsourcing between 75% to 80% of the biopharmaceutical industry's R&D costs is expected to accelerate market expansion and open doors for contract research organizations. Artificial intelligence (AI) is a new technology rapidly utilized in clinical trials by respected CROs. A speedy study of AI applications was shown during the COVID-19 pandemic phase in recent years, speeding up clinical studies for a quicker pandemic cure.
Artificial intelligence (AI) enhances the effectiveness of every stage of clinical trials design, patient recruitment, and retention. This is similar to the trials outsourcing services offered by contract research organizations. Additionally, it allows companies to manage enormous amounts of data and reach conclusions accurately.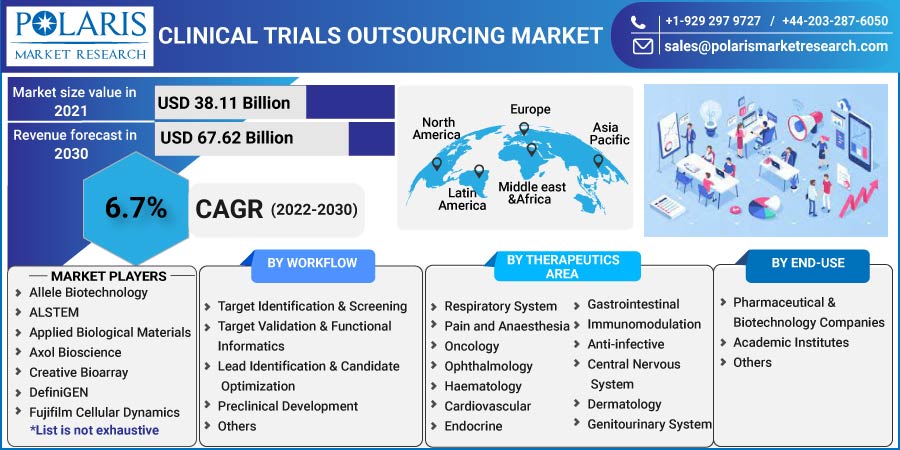 Know more about this report: Request for sample pages
Industry Dynamics
Growth Drivers
Outsourcing large molecule development, specialized treatment for rare diseases, tailored medicine, and medical devices is the most significant factor driving the market for clinical CROs. The widespread availability of dependable single-use technologies is partly responsible for this expansion.
A growing trend in the biopharmaceutical industry is virtual clinical trials. It is a revolutionary trials methodology that is remarkably underutilized for clinical trials and research. Virtual clinical trials are more convenient for participants, less expensive, and more time-consuming.
Through the use of the trials software and virtual collaboration techniques, businesses are able to operate more quickly and effectively, do not need to share documents with other offices, and bear less of the load, all of which contribute to the expansion of the clinical trials outsourcing industry.
Report Segmentation
The market is primarily segmented based on workflow, therapeutics area, end-use, and region.
By Workflow

By Therapeutics Area

By End-Use

By Region

Target Identification & Screening
Target Validation & Functional Informatics
Lead Identification & Candidate Optimization
Preclinical Development
Others

Respiratory System
Pain and Anaesthesia
Oncology
Ophthalmology
Haematology
Cardiovascular
Endocrine
Gastrointestinal
Immunomodulation
Anti-infective
Central Nervous System
Dermatology
Genitourinary System

Pharmaceutical & Biotechnology Companies
Academic Institutes
Others

North America (U.S., Canada)
Europe (France, Germany, UK, Italy, Netherlands, Spain, Russia)
Asia Pacific (Japan, China, India, Malaysia, Indonesia, South Korea)
Latin America (Brazil, Mexico, Argentina)
Middle East & Africa (Saudi Arabia, UAE, Israel, South Africa)
Know more about this report: Request for sample pages
Lead Identification & Candidate Optimization accounted the largest revenue share
With the highest market share, lead identification & candidate optimization topped the process segment. A critical phase of early drug discovery is the iterative process of lead identification, commonly referred to as hit-to-lead. It has a history of helping medication developers achieve more significant economies of scale and efficiency. Segment expansion is supported by introducing cutting-edge In-silico methods to enhance the lead identification procedure, such as Computer-Aided Drug Discovery and structure-based drug designs.
Lead identification services are being outsourced more frequently as a result of the growing demand for experienced workers who possess a combination of understanding of analytical chemistry, metabolism, and computer software and the expensive expense of integrating the most recent computing technology.
Respiratory systems segment dominated the market in 2021
The market for respiratory systems accounted for a significant share in 2021. The growing incidence of respiratory illnesses such bronchitis, tuberculosis, chronic obstructive pulmonary disease (COPD), and asthma, as well as the rise in drug resistance, have had an impact on the segment's growth.
According to estimates, 1.2 million people in the UK have COPD. A strategic research alliance was created in 2018 between The University of Nottingham, GSK, and The University of Leicester as a result. The partnership aims to hasten the research and creation of cutting-edge COPD medicines. Over the forecast period, both the oncology and anti-infective segments are expected to experience sizable CAGRs.
Oncology also dominates the market as a result of advances in technology and research, as well as greater awareness of serious global diseases like oncology. Due to the stringent regulatory requirements and severe consequences for non-compliance, clinical studies have also increased in time, price, and intricacy. The CRO's most active and quickly growing therapeutic area is oncology, which is also where the majority of clinical development attention is presently directed.
Pharmaceutical and biotechnology businesses segment dominated the market in 2021
As pharmaceutical sponsors raise their R&D investment and outsource more of their R&D to unaffiliated companies, biotechnology and pharmaceutical companies hold the largest market share. It is anticipated that CRO partnerships contributed significantly to the pharmaceutical and biotechnology industries in 2021. It aims to discover more practical answers to the rising complexity and cost of development in a demanding regulatory and reimbursement environment. Additionally, CROs that produce medical equipment are growing faster.
Asia Pacific is expected to witness significant growth over the forecast period
Asia Pacific is projected to register significant growth rate over the study period. The region's prominence can be attributed to a number of factors, including the significant pharmaceutical companies that are based there, their extensive drug research activities, and their superior healthcare infrastructure. The outsourcing of clinical trials to treat various health problems has become more important to pharmaceutical companies. Furthermore, these companies are spending more money on R&D projects.
In comparison to 11% growth across the rest of the world, the predicted number of clinical sites developed by biotechnology companies in the Asia Pacific is expanding by rapidly as compared to the other regions. Asia is a preferred place for clinical trials as well because it has 59% of the world's population. The rest of the globe market is predicted to have a tiny market share during the anticipated period. The rise of CRO services will likely be fueled by the rising expense of healthcare in other parts of the world.
Competitive Insight
Some of the major players operating in the global clinical trials outsourcing market include Albany Molecular Research, EVOTEC, Laboratory Corporation of America, Genscript, IQVIA, ICON, LabCorp Drug Development, Paraxel, Charles River, Wuxi Apptec, Merck, Thermo Fisher Scientific, Dalton Pharma, Oncodesign, Jubilant Biosys, Discoverx, QIAGEN, Eurofins, and Syngeneic International.
The rapid adoption of modern technologies for enhanced healthcare is a major factor impacting the competitive nature. This was the outcome of its intense concentration on R&D to increase the range of its product offerings and solidify its global presence. To improve the effectiveness of their service offerings, businesses are increasingly concentrating on integrating emerging technology like artificial intelligence.
Recent Developments
Syneos Health, leading healthcare-focused data analytics, data management, and Artificial Intelligence (AI) firm, announced the acquisition of Data Science, in October 2021.
In order to maximise market insights, IQVIA launched a data aggregation plan in November 2021. The business was able to optimise the patients by utilising the appropriate data and services. As a result, the company's services were more effective.
In April 2021, Thermo Fisher Scientific, successfully completed the USD 17.4 billion acquisition of PPD, a significant global provider of clinical research services to the biopharmaceutical and biotech industries.
Clinical Trials Outsourcing Market Report Scope
| | |
| --- | --- |
| Report Attributes | Details |
| Market size value in 2021 | USD 38.11 billion |
| Revenue forecast in 2030 | USD 67.62 billion |
| CAGR | 6.7% from 2022 - 2030 |
| Base year | 2021 |
| Historical data | 2018 - 2020 |
| Forecast period | 2022 - 2030 |
| Quantitative units | Revenue in USD billion and CAGR from 2022 to 2030 |
| Segments covered | By Workflow, By Therapeutics Area, By End-Use, By Region |
| Regional scope | North America, Europe, Asia Pacific, Latin America; Middle East & Africa |
| Key companies | Albany Molecular Research, EVOTEC, Laboratory Corporation of America Holdings, Genscript, IQVIA, ICON, LabCorp Drug Development, Paraxel, LLC, Charles River, Wuxi apptec, Merck & Co, Thermo Fisher Scientific, Dalton Pharma Services, Oncodesign, Jubilant Biosys, Discoverx Corp., QIAGEN, Eurofins SE, and Syngeneic International Limited |