The global colorants market size was estimated to be worth USD 52.74 billion in 2018 and is anticipated to grow at a CAGR of 5.3% from 2019 to 2026. Colorants demand has been increasing significantly owing to rising demand from several applications. Some of these primary application segments include packaging for food & beverages, pharmaceuticals, healthcare items, consumer goods. Its use in paper colors, printing inks etc., for fabric coloring, leather, printed fabrics, coatings, paints textiles and most importantly for plastics.
Plastics are the most dominant material and is used in every industry in one way or the other. With expanding applications for plastics, demand for colorants have been getting stronger for enhancing visual effects for attracting customers and differentiate products. The chemicals manufacturing industry has helped meeting these ever-increasing demands with the creation/production of wide range of over a thousand different types of dyes and pigments. Nevertheless, with the progressive maturation of several industry segments the deluge of new colorants has diminished to a trickle.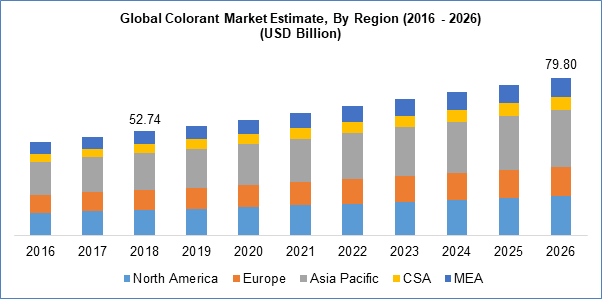 Know more about this report: request for sample pages
The colorants have always been a significant factor in boosting sales of plastic materials in the highly competitive retail markets of preset industry scenario. Insoluble pigments and soluble dyes, both these types play critical roles in plastic coloration. Demand for these products is expected to increase at around 4% annually, in line with actual gains in manufacturing activity (inflation-adjusted).
Production volume is expected to grow at around 3.6% over the forecast period. Textile industry has been the largest consumer of colorants in the present decade, but demand from plastics, paints, coatings printing inks industries are projected to grow faster comparatively. The market values of these products will benefit from the consumer preferences primarily for environment friendly products, that will support higher consumption of organic pigments and performance dyes.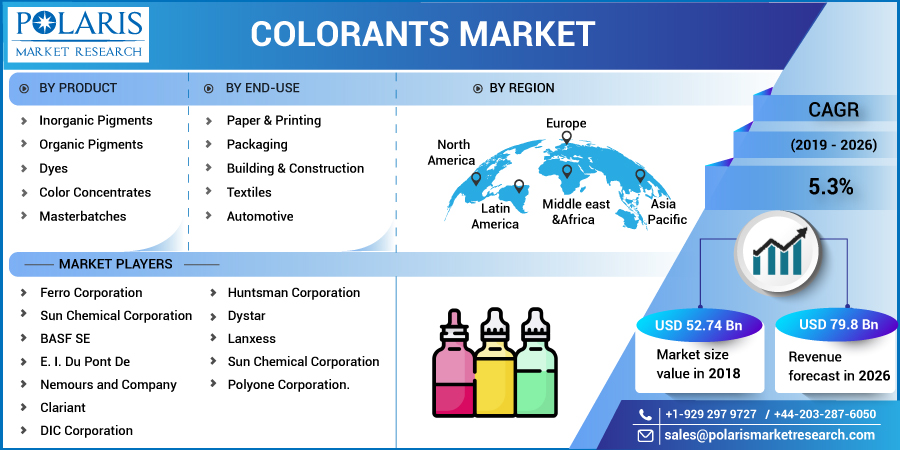 Know more about this report: request for sample pages
Segment Analysis
Increase in consumption of dye is facing tough competition from pigments, which is triggered by increasing demand for organic pigments. However, dyes will represent the highest market share in terms of volumes consumed and revenue generated till 2020. Among the several types of dyes available in the market, dispersed dyes are anticipated to witness the fastest growth over the forecast period owing to its significantly growing applications in the polyester fiber industry.
Colorants Market Report Scope
By Product

By End-Use

By Region

Inorganic Pigments
Organic Pigments
Dyes
Color Concentrates
Masterbatches

Paper & Printing
Packaging
Building & Construction
Textiles
Automotive

North America (U.S., Canada)
Europe (Germany, UK, France, Italy, Spain)
Asia-Pacific (China, Japan, India, South Korea, Australia)
Latin America (Brazil, Mexico)
Middle East and Africa (Saudi Arabia, UAE)
Know more about this report: request for sample pages
Among the pigments, organic pigments are increasingly used in coatings and printing inks owing to its characteristics of offering bright and intense colors. But these organic products also come with several drawbacks. These are generally high priced compared to their counter parts and comes with relatively low ability to provide opacity. The most promising applications of these organic products include high-performance applications such as quinacridones. These high-performance colorant products are expected to gain much more popularity further in the years to come as its end-use consumers expect more extracting characteristics from coloring materials/agents.
Specialized grades of pigments offer good opportunities for specific customized applications owing to their superior environmental acceptability and enhanced performance properties, these conventional and classical grades are anticipated to continue to dominated the organic market. These relatively low prices organic commodity pigments are anticipated to remain widely employed in the bigger volume markets with less extracting performance standards for printing inks and colorants.
Regional Analysis
Asia Pacific region is anticipated to be the fastest growing consumer market over the forecast period with an estimated share of over 34% in 2017. China has been the largest consuming country of colorants globally for the past five years. Its is also the fastest growing industry in the region growing at a CAGR of around 6% for the past seven years. India is yet another potential consumer in the region, but the country's consumption levels will be well below that of China, which alone consumes two fifth of the overall global value gains in organic pigments and dyes from 2014 to 2017. Strong gains are also anticipated in regions including Eastern Europe, Middle East, Africa. Market maturity factors are expected to limit industry growth in regions such as Japan, Western Europe and North America.
The rising industry growth can be considered to be triggered by the growing market value for dyes primarily in China, which is the world's largest colorants market. This is driven by China's developed textile industry and rising emphasis on high-value dyes. Some of the segments are anticipated to achieve higher growth such as the reactive dyes despite slow use and growth of cotton fibers, as these products consumer a higher share of China's cotton dyeing market share. As the country is largest cotton consumer in the world and its cotton processing industry represents a primary market segment for reactive and sulphur dyes. The developing polyester fiber industry of China id a major consumer of disperse dyes. As the domestic demand has been growing quickly, the colorants industry in China remains geared towards significantly serving the export markets, primarily Asia, North America and Western Europe.
China is anticipated to be the leading exporter of low-cost commodity dyes to some of the major textile industries in the globe including India, Germany, South Korea, Japan, the U.S., Turkey and few others. It is anticipated that post 2020, the country will be a significant manufacturer of high value organic pigments and dyes as well.
The U.S. colorants market is another leading industry globally and is ranked among the top three producers every year. But, owing to its maturity levels, competition remains at a similar level and trends become predictable almost every year. However, it is driven mainly by technology innovations and its pace of implementation and is the most competitive in this regard. The globally leading companies in the industry mostly tend and prefer to open up their new facilities mostly in the Asian sub-continent in order to cater to the increasing end-use demands of the region.
Competitive Analysis
The colorants industry is a fragmented industry space with significantly large number of companies operating currently, from several multinational players to small scale manufacturers catering only to the local markets. But these small-scale companies offer steep competition in the promising textile markets of India and China. Some of the leading industry participant names include Ferro Corporation, Sun Chemical Corporation, BASF SE, E. I. Du Pont De Nemours and Company, Clariant, DIC Corporation, Huntsman Corporation, Dystar, Lanxess, Sun Chemical Corporation, and Polyone Corporation.