The global Constrained Layer Damping (CLD) market was valued at USD 456.24 million in 2022 and is expected to grow at a CAGR of 6.4% during the forecast period.
Constrained Layer Damping (CLD) manages noise and vibration in different engineering fields. It creates a composite structure by sandwiching a viscoelastic material between two rigid layers. This system converts mechanical energy into heat through internal friction, reducing unwanted vibrations and dampening noise transmission.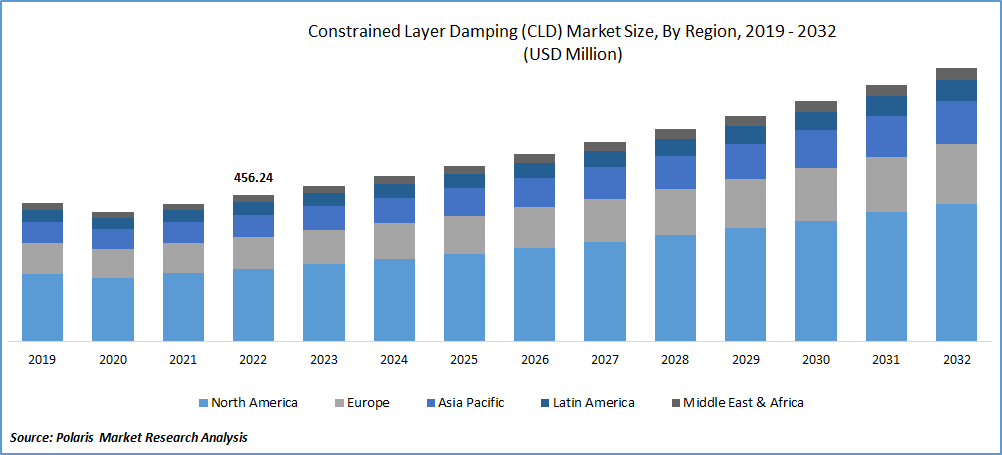 To Understand More About this Research: Request a Free Sample Report
Common viscoelastic materials used in CLD are polymer-based composites like rubber or elastomer that exhibit both elastic and viscous behavior. The rigid panels surrounding the viscoelastic layer add to the system's stiffness, while the viscoelastic material's damping characteristics absorb energy through internal friction.
CLD has many applications in the automotive, aerospace, and industrial machinery sectors. For example, it can reduce structure-borne noise and vehicle vibrations caused by the engine, road, or other sources. Similarly, incorporating CLD materials in critical areas of an aircraft, like wings, fuselage, or engine mounts, can reduce structural fatigue and provide passenger comfort.
In addition, CLD is a useful technique for noise and vibration control in engineering. It improves acoustic performance and reduces unwanted vibrations by dissipating mechanical energy. CLD has many applications, making it an essential tool for enhancing various industries' safety, efficiency, and comfort.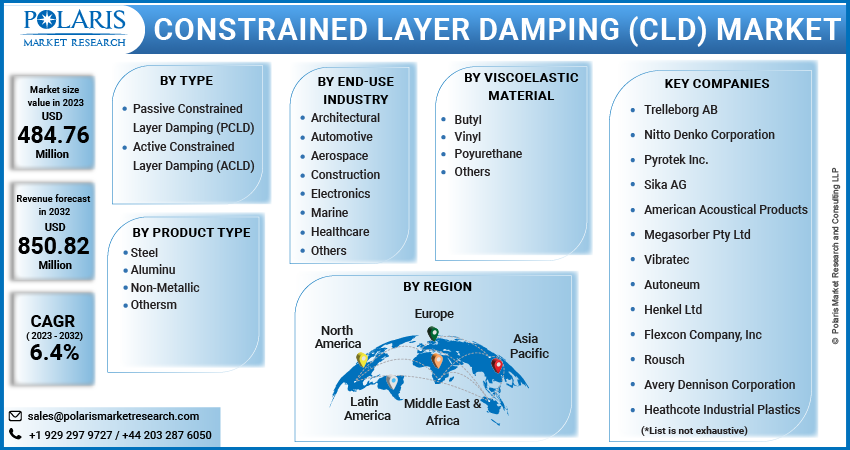 For Specific Research Requirements, Request for a Customized Report
Industry Dynamics
Growth Drivers
Constrained Layer Damping (CLD) Market is becoming increasingly popular in various industries due to its unique advantages in addressing vibration and noise-related challenges. One of the main reasons for using CLD is to improve noise and vibration control in engineering applications. As technology advances, there is a growing need for quieter and more comfortable products. CLD effectively minimizes structure-borne noise and vibrations, improving overall acoustic performance and user experience. This makes it a significant driver for implementing CLD in industries like automotive, aerospace, and industrial machinery.
Another reason for using CLD is the emphasis on weight reduction and fuel efficiency. In industries like automotive and aerospace, weight is a critical factor that affects performance and energy consumption. Traditional noise and vibration control methods can increase weight and reduce fuel efficiency. CLD offers a lightweight solution by optimizing the viscoelastic layer's thickness and properties to achieve effective damping without significantly adding weight. This weight-saving advantage makes it an attractive option for manufacturers looking to meet weight targets while maintaining noise and vibration control.
Cost-effectiveness is also a reason for the adoption of CLD. While CLD systems may require an initial investment, they can offer long-term cost savings. CLD effectively controls vibrations and noise, reducing the risk of structural fatigue and damage, leading to extended product lifespans and reduced maintenance costs. Additionally, it can achieve desired acoustic performance with a thinner layer of viscoelastic material, resulting in cost savings in material usage.
The versatility of CLD is another reason for its application. It can be customized and tailored to meet design requirements and operating conditions. The viscoelastic layer's properties can be optimized to meet the specific needs of different industries and applications. This adaptability makes CLD suitable for various products and systems, from vehicles and aircraft to industrial equipment and consumer electronics.
Report Segmentation
The market is primarily segmented based on type, viscoelastic material, product type, end-use industry and region.
By Type

By Viscoelastic Material

By Product Type

By End-Use Industry

By Region

Passive Constrained Layer Damping (PCLD)

Active Constrained Layer Damping (ACLD)

Butyl

Vinyl

Poyurethane

Others

Steel

Aluminum

Non-Metallic

Others

Architectural

Automotive

Aerospace

Construction

Electronics

Marine

Healthcare

Others

North America (U.S., Canada)

Europe (France, Germany, UK, Italy, Netherlands, Spain, Russia)

Asia Pacific (Japan, China, India, Malaysia, Indonesia. South Korea)

Latin America (Brazil, Mexico, Argentina)

Middle East & Africa (Saudi Arabia, UAE, Israel, South Africa)
To Understand the Scope of this Report: Speak to Analyst
Automotive industry is expected to grow significantly during forecast period
Automtoive industry is expected to witness significant growth during the projected years. Constrained Layer Damping (CLD) is widely used in various industries to improve product performance. In the automotive industry, it is commonly used to reduce structure-borne noise and vibrations, resulting in a more comfortable and quieter ride for passengers. CLD is incorporated into different parts of the vehicle, such as the floor panels, firewall, roof, and doors, to dampen vibrations caused by the engine, road, or other sources. Similarly, in the aerospace industry, CLD is used in critical areas like wings, fuselage, and engine mounts to reduce vibrations, prevent structural fatigue, and ensure passenger comfort. Due to its versatility and effectiveness, CLD is preferred in many industries for enhancing the overall user experience.
The steel segment is expected to hold largest market share in the upcoming years
The steel segment is expected to have largest market share in the forecast period due to its strength and durability, which make it an excellent choice for maintaining structural integrity in CLD systems. In CLD applications that use steel, a viscoelastic layer is typically sandwiched between two steel panels. This arrangement has several advantages. Firstly, steel is stiff and rigid, which helps maintain the composite's overall structural integrity. The steel layers contribute to the overall strength and load-bearing capacity of the CLD system.
Secondly, steel is an excellent energy transfer material. When vibrations are transmitted through the composite structure, the steel layers efficiently transfer mechanical energy to the viscoelastic layer, initiating damping. This process ensures that vibrations are effectively dissipated, reducing noise transmission and improving vibration control.
Steel also has good thermal conductivity properties, which is beneficial in CLD systems. It allows for effective dissipation of the heat generated during the energy conversion process within the viscoelastic layer. The ability of steel to conduct heat helps prevent the buildup of excessive temperatures that could affect the performance and longevity of the CLD system.
In some applications where weight reduction is critical, lightweight steel alloys can be used to achieve a balance between weight savings and structural integrity. These alloys have a lower density than conventional steel, allowing manufacturers to reduce the overall weight of the CLD system without compromising its damping performance.
The demand in Asia-Pacific is expected to witness significant growth during forecast period
Constrained Layer Damping (CLD) is gaining popularity in the Asia Pacific region across several industries. With the region's growing economy and industrial development, countries have recognized the importance of addressing vibration and noise-related challenges in their engineering applications.
The Asia Pacific region is a major player in the automotive sector with a booming automobile market. CLD is extensively used in this industry to enhance vehicles' comfort and acoustic performance. Japan, South Korea, and China, known for their automotive manufacturing prowess, are at the forefront of implementing CLD technology. By incorporating CLD in-vehicle components like floor panels, doors, and engine compartments, manufacturers have significantly reduced noise and vibrations, improving the overall driving experience for consumers.
Furthermore, North America boasts a thriving aerospace industry, with leading regional aircraft manufacturers and suppliers. Aerospace companies extensively use CLD in critical areas such as wings, fuselage, and engine mounts to address vibration challenges in aircraft structures. Implementing CLD enhances passenger comfort and safety by reducing vibrations and preventing structural fatigue.
Other industries in North America also utilize CLD. In the industrial sector, CLD is used in machinery and equipment to mitigate noise and vibrations, thereby improving the working environment and equipment performance. CLD is also employed in the construction industry to minimize structure-borne noise transmission in buildings, providing occupants with a more peaceful and comfortable living or working space.
Competitive Insight
Some of leading industry participants include Trelleborg AB, Nitto Denko Corporation, Pyrotek Inc., Sika AG, American Acoustical Products, Megasorber Pty Ltd, Vibratec, Autoneum, Henkel Ltd., Flexcon Company, Inc, Rousch, Avery Dennison Corporation, Heathcote Industrial Plastics, Soundown Corporation, Vibracoustic Gmbh, Polymer Technology Inc., and 3M among others.
Recent Developments
The market players engage in different marketing methods such as new product launches, product up-gradation, mergers & acquisitions, partnerships, and cooperation in order to expand their marketplace footprint and boost their profitability.
Constrained Layer Damping (CLD) Market Report Scope
| | |
| --- | --- |
| Report Attributes | Details |
| Market size value in 2023 | USD 484.76 million |
| Revenue Forecast in 2032 | USD 850.82 million |
| CAGR | 6.4% from 2023 – 2032 |
| Base year | 2022 |
| Historical data | 2019 – 2021 |
| Forecast period | 2023 – 2032 |
| Quantitative units | Revenue in USD million and CAGR from 2023 to 2032 |
| Segments Covered | By Type, By Viscoelastic Material, By Product Type, By End-Use Industry, By Region |
| Regional scope | North America, Europe, Asia Pacific, Latin America; Middle East & Africa |
| Key Companies | Trelleborg AB, Nitto Denko Corporation, Pyrotek Inc., Sika AG, American Acoustical Products, Megasorber Pty Ltd, Vibratec, Autoneum, Henkel Ltd., Flexcon Company, Inc, Rousch, Avery Dennison Corporation, Heathcote Industrial Plastics, Soundown Corporation, Vibracoustic Gmbh, Polymer Technology Inc., 3M |