The global construction adhesives market was valued at USD 10.06 billion in 2022 and is expected to grow at a CAGR of 4.7% during the forecast period. Rising investments in the infrastructure sector worldwide are projected to increase the demand for construction adhesives throughout the forecast period. The residential sector in the nation is projected to have steady expansion in the near future, despite the supply chain issues that include rising costs for raw materials and building materials, a scarcity of resources, and a lack of trained labor. Strong demand for larger homes, cheap mortgage rates, and a lack of housing supply in the United States all contribute to the residential building industry's growth.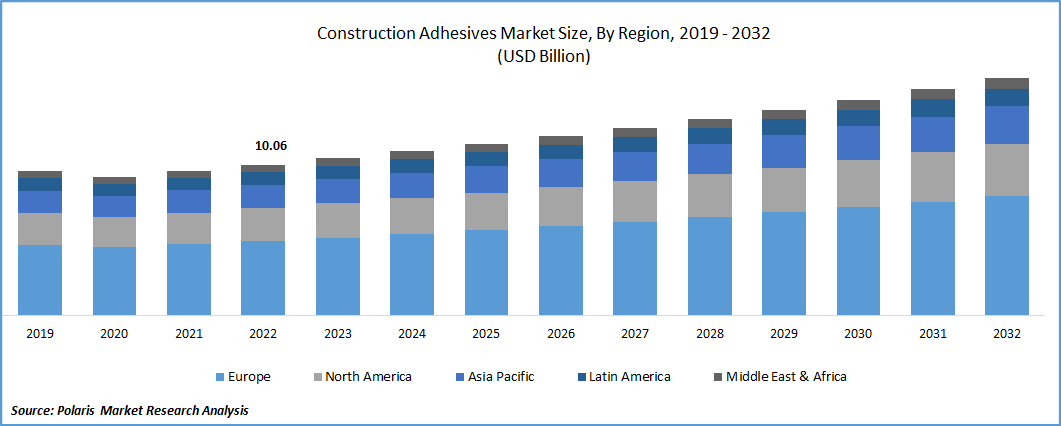 To Understand the Scope of this Report: Speak to Analyst
Any chemical that can effectively join two or more materials together by creating a surface connection that is impermeable to detachment is referred to as "adhesive." The term "adhesive" refers to a variety of adhesives, including cement, mucilage, glue, and paste. These terms are usually used synonymously to describe any organic material capable of forming an adhesive bond. Inorganic substances like Portland cement can be categorized as adhesives since they can surface-attach to a variety of materials, like bricks and beams, allowing the objects to be kept together. To attach the drywall, tile, molding, and other architectural elements to the walls, ceilings, and floors, an all-purpose adhesive construction glue is used. Typically, it is sold in tubes intended for application.
Due to rising investments in the global infrastructure sector, the demand for construction adhesives is anticipated to rise throughout the forecast period. Increased investments in the infrastructure sector can boost global GDP by 0.6 percentage points, according to an assessment on the health of the world's infrastructure that the UN expects to publish in 2021.
In other nations, like as the United States and Brazil, where it might only rise to a maximum of 1.3% and 1.5%, respectively, this increase may be bigger. The demand for construction adhesives is expected to continue to grow significantly in emerging nations. It is predicted that 60% of all infrastructure investment will come from emerging economies.
Additionally, the desire for quick-fixing, heat- and moisture-resistant adhesives among end users is what drives the growth of the construction adhesive market. Throughout the last few decades, the construction industry has experienced significant growth. Construction adhesive is required for a number of jobs, such as waterproofing and fixing roof leaks. The traditional methods of connecting materials using contact cement, and wood glue are being replaced by construction adhesive since they are more expensive, require more time to cure, and ultimately increase manufacturing costs.
Due to increased investment in business ventures in developing countries, demand for construction adhesive has also increased. For instance, the UAE government intends to construct a center for food and agriculture that will foster technological use and R&D in farming and food processing.
The leading manufacturers on the market create environmentally friendly building adhesives. These environmentally friendly adhesive solutions are created using materials that are biodegradable, recyclable, renewable, or remanufactured. The use of these environmentally friendly products also improves the health of the community.
For instance, The U.S. government made a USD 1.2 trillion plan for infrastructure to raise the economy of the nation in 2021. The plan includes development in telecommunications, broadband, electricity, water management, and more.
Industry Dynamics
Growth Drivers
Wallpaper installation, external insulation systems, carpet installation, and tile installation are just a few of the uses for construction adhesives. These uses have accelerated the market expansion for construction adhesives. The need for adhesives in panels, expansion joints, flooring, and other applications is being driven by the increase of infrastructure investments such as metro stations, bridges, and airports. Also, the increase in middle-class people has led to a peak in housing demand, which is predicted to drive the expansion of the market.
The market is expanding as a result of the usage of construction adhesives in residential structures, hospitals, airport floors, and home furnishings. The global construction adhesives market is expected to increase as a result of the availability of surface textures, numerous styles, and patterns for contemporary home décor, such as ornamental wallpapers. Furthermore, the need for construction adhesives has increased due to rising commercial project expenditure in developing nations. For instance, the government of the United Arab Emirates has plans to establish a food and agricultural hub to support innovations and R&D in agriculture and food processing. Corresponding to this, the demand for construction adhesives has been growing as a result of small and medium-sized construction projects in developing nations. The global market for construction adhesives is still expected to have some limitations in its growth.
The demand for green adhesives or those with lower VOCs is being driven by the growing trend to employ eco-friendly or green materials in various applications. The factories have been forced to produce eco-friendly adhesives with lower VOC levels as a result of stringent regulations enforced by Europe's Registration, United States Environmental Protection Agency, and other regional regulatory authorities. The shift to a more durable product portfolio has given the sector a huge chance for growth.
Report Segmentation
The market is primarily segmented based on resin type, technology, application and region.
By Resin Type

By Technology

By Application

By Region

Acrylic

Polyurethanes

Polyvinyl Acetate

Epoxy

Others

Water-based

Solvent-based

Reactive & Others

Residential

Commercial

Industrial

North America (U.S., Canada)

Europe (France, Germany, UK, Italy, Netherlands, Spain, Russia)

Asia Pacific (Japan, China, India, Malaysia, Indonesia, South Korea)

Latin America (Brazil, Mexico, Argentina)

Middle East & Africa (Saudi Arabia, UAE, Israel, South Africa)
To Understand More About this Research: Request a Free Sample Report
In 2022, the acrylic segment dominated the market, accounting for the largest market share
Acrylic adhesives are gaining popularity in the construction industry primarily for their remarkable bonding capabilities, high impact resistance, and superior water resistance. When a strong bond is required in the construction business, these adhesives can be employed on a variety of substrates. For roofs, decks, walls, and other purposes, laminated wood is employed. They are used to join stone, glass, metal, wood, and various polymers because of their strong heat and chemical resistance.
The polyurethanes segment is expected to accounted for a high-volume share in 2022 and is anticipated to expand at a profitable rate. Water resistance, low odor, low VOC content, paint ability, and the ability to function in both cold and hot climates are all characteristics of polyurethane adhesives. They are applied to both internal and exterior building projects.
The demand in Asia-Pacific is expected to witness significant growth
The largest regional market, Asia Pacific, is expected to remain in that position during the projected period. China is the world's top consumer of construction adhesives. It is anticipated that significant investments in the nation's infrastructure will encourage the usage of construction adhesives. For instance, the Chinese government's official railway company stated plans to expand the market.
Europe dominated the market in 2022. The amount spent on infrastructure in Europe remained unchanged in 2020, but it saw a 1.5% increase year over year in November 2021. The most recent EU Construction Forecast Report predicts that the construction industry will expand by 2.5% in 2022 compared to 2021.
Competitive Insight
Some of the major players operating in the global construction adhesives market include, 3M, Bostik SA, DAP Products, Inc., H.B. Fuller, Henkel AG & Co. KGaA, Sika AG, Dow.
Recent Developments
In February 2020, Bostik, a leading producer of packing supplies and adhesives and a subsidiary of Arkema, has announced a cooperation with Gerflor, a leading producer of attractive and durable flooring solutions. The partnership's main goal was to open a flooring factory in Saudi Arabia.
Construction Adhesives Market Report Scope
| | |
| --- | --- |
| Report Attributes | Details |
| Market size value in 2023 | USD 10.49 billion |
| Revenue forecast in 2032 | USD 15.84 billion |
| CAGR | 4.7% from 2023 - 2032 |
| Base year | 2022 |
| Historical data | 2019 – 2021 |
| Forecast period | 2023 - 2032 |
| Quantitative units | Revenue in USD billion and CAGR from 2023 to 2032 |
| Segments covered | By Resin Type, By Technology, By Application, By Region |
| Regional scope | North America, Europe, Asia Pacific, Latin America; Middle East & Africa |
| Key companies | 3M, Bostik SA, DAP Products, Inc., H.B. Fuller, Henkel AG & Co. KGaA, Sika AG, Dow. |