The global cosmeceutical market was valued at USD 52.5 billion in 2018 and is predicted to exhibit a CAGR of 8.2% over the forecast period. The market is anticipated to experience a rise across the globe due to the growing customer consciousness of the appearance. The segment of cosmeceuticals in the personal care industry is predicted to experience the highest development. It is anticipated that increased demand from the middle ages and increasing metropolitan population will drive the worldwide cosmeceuticals market. In addition, numerous variables such as the existence of superior quality and premium-priced cosmeceutical products support the global cosmeceutical industry.
Cosmeceuticals products are mainly used for an extensive range of distribution channels, including skin lightening, skin irritation, tooth whitening, and others. The market for cosmeceuticals is developing rapidly, with double-digit development anticipated in the next four to five years. Despite the significant increase in demand for cosmeceuticals, numerous other therapy alternatives are entering in the market. These therapy options are anticipated to boost closure on the cosmeceuticals market and to some extent hamper cosmeceuticals market growth.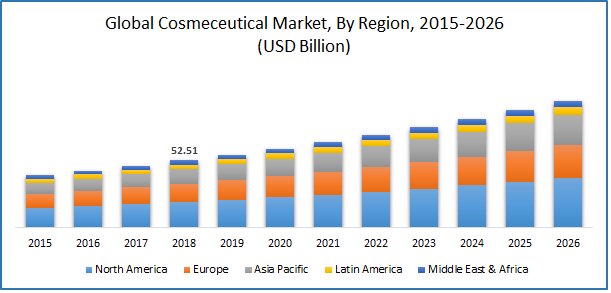 Know more about this report: Request for Sample Pages
It is expected that the market will grow due to increased consumer awareness on their physical appearance. Cosmeceuticals have started to reform the cosmetic and personal care industries. These products have the capacity to solve the source of the imperfections rather than just cover them, unlike the makeup products. This quality has led in a tremendous increase in cosmeceutical product demand and its share in the cosmetic and personal care industries has risen. Due to awareness of harmful effects of synthetic/artificial elements in these cosmetic products, there has been a notable increase in demand for organic and natural commodities.
This trend is seen to take benefit of manufacturers. For example, businesses like England's Only naturals and UK's LoveLula earn most of their income from cosmetic products of natural skin care. They are also looking for cosmetic products that provide anti-septic, anti-bacterial, anti-inflammatory and moisturizing characteristics due to the delicate skin of most Asian and American females. In addition, it was noted that demand for cosmeceuticals among the age group 30-45 is high.
The declining mortality rate has provided rise to the aging population throughout the globe over the previous centuries. People who live longer and want to maintain their youthful appearance have a positive impact on global market growth. To avoid dry skin, age spots, irregular skin tone, hair damage and wrinkles, demand for anti-aging products is on the increase. This, in turn, has developed possibilities for fresh introduction and innovation in the cosmetic sector, making companies concentrate on active skin products based on anti-aging.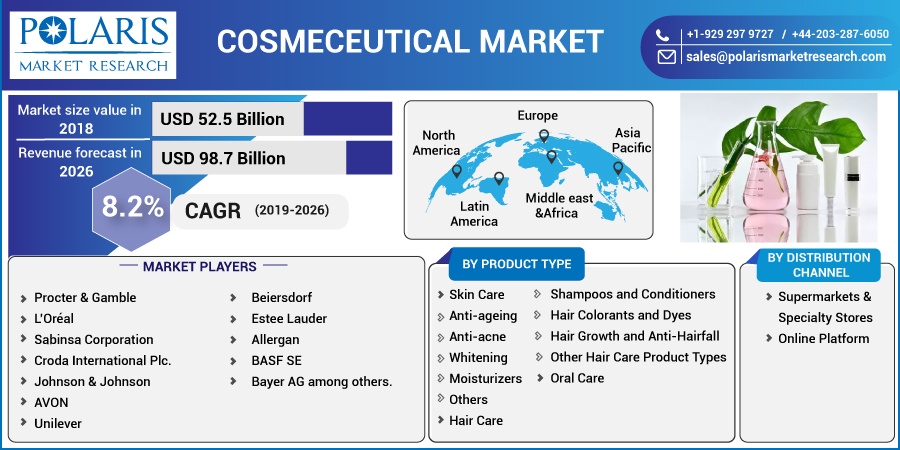 Know more about this report: Request for Sample Pages
Cosmeceutical Market Report Scope
By Product Type

By Distribution Channel

By Region

Skin Care

Anti-ageing
Anti-acne
Whitening
Moisturizers
Others

Hair Care

Shampoos and Conditioners
Hair Colorants and Dyes
Hair Growth and Anti-Hairfall
Other Hair Care Product Types

Oral Care

Supermarkets & Specialty Stores
Online Platform

North America (U.S., Canada)
Europe (UK, Germany, France, Italy, Russia)
Asia Pacific (China, India, Japan, South Korea)
Latin America (Brazil, Mexico, Colombia)
MEA (Saudi Arabia, South Africa, Israel, UAE)
Know more about this report: Request for Sample Pages
The market for cosmeceuticals is primarily segmented on the basis of product type, distribution channel, and geographic region.
Product Outlook
The cosmeceutical market segment on the basis of the product type and is categorized as skin care, hair care, and oral care. With a share of 44 percent in 2018, the skin care category dominated the market. Exposure to damaging ultraviolet radiation may lead to premature skin aging or may even lead to skin cancer. This awareness has boosted consumer focus by using preventive skin care products to protect their skin. In addition, in the forecast period, demand for a multifunctional product is anticipated to boost the development of cosmetic sun-care products.
Hair care is anticipated to grow significantly in the future as a result of increased demand for hair care products such as shampoo, hair oil, hair serum, hair color and conditioner. Benefits from shampoos such as removing dirt, dandruff and pollutants from the environment make it a common product for daily use. Furthermore, eradicating the unwanted build-up without flaking out a lot of sebum to render the hair unmanageable drives customers to purchase branded hair care products.
Distribution Channel Outlook
This segment of cosmeceuticals includes supermarkets and specialty shops as well as an internet platform. The biggest market share in 2018 was retained by the supermarkets and specialty stores segment. This is ascribed to the retailers and manufacturers ' aggressive promotions and multiple marketing strategies in specialty shops, such as bulk buy offers. Increasing disposable income in Asia Pacific's emerging nations leads to consumer preference in supermarkets for bulk purchases.
Due to technology advances and increased acceptance of technology among customers, the online distribution channel is expected to experience major development over the forecast period. In addition to the market's main players, famous e-commerce platforms such as Amazon are motivated to gain traction by selling these cosmetic products in some regions with relatively fewer specialty shops. This indirectly increases product sales via internet platform. In addition, internet discounts are relatively more than in shops, attracting customers and increasing product sales.
Regional Outlook
In 2018, Europe retained the biggest share of 32.2%. The region remains the major market due to the wish to look younger among the population of nations like Germany, the United Kingdom, the Netherlands, and France. Moreover, due to their weather conditions, these nations have the biggest population of individuals suffering from dry skin. This is an important factor to stimulate the demand for cosmetic products for useful and multifunctional skin care. In addition, greater expenditure power in the region is anticipated to have a positive effect on market growth for better quality products.
It is anticipated that Asia Pacific will experience the greatest development among other areas. This region's market is gaining traction as developing countries expand extensively. This has paved the way for companies to effectively open their offices in this region's extremely populated nations. The region's e-commerce or e-tailing popularity has helped individuals reach out to brands of these products that are of better quality. In addition, it is anticipated that enhancing living standards will drive the market in this region in nations such as India, China, and Russia.
Competitive Landscape
Market manufacturers are increasingly concentrating on packaging as it plays a crucial role in maintaining the quality, color, texture, medicinal advantages, and shelf life of the item. They focus on expanding their geographic reach by participating with other businesses in mergers and acquisitions, carrying the goal of enhancing their market share and reducing their operating costs. Competitors compete primarily on the basis of product quality, technological innovations, cost, quantity, and ability.
Many companies work with the medical community to raise awareness among their targeted clients, making it a step towards eradicating counterfeit products around the world. Key players having a presence in the global market are Procter & Gamble, L'Oréal, Sabinsa Corporation, Croda International Plc., Johnson & Johnson, AVON, Unilever, Beiersdorf, Estee Lauder, Allergan, BASF SE, and Bayer AG among others.