The global COVID-19 vaccine packaging and delivery devices market was valued at USD 1.9 million in 2020 and is expected to grow at a CAGR of 20.1% during the forecast period. Accelerating rollouts, broadening manufacturing capability and a large number of vaccines in the final phase of clinical approval are some of the key factors in the global market growth for COVID-19 vaccine packaging and delivery devices during the forecast period.

Know more about this report: request for sample pages
Manufacturers are increasing their production capacity in order to meet rising global market demand for COVID-19 vaccine packaging and delivery devices. The increased capacity is projected to augment the market demand for packaging materials. For Instance, in March 2021, Biomedical Advanced Research and Development Authority (BARDA) approved USD 204 million funding for Corning Incorporated.
This was to expand the domestic manufacturing capacity of Corning Valor glass vials that are used in the packaging of COVID-19 vaccines. The demand for the market for COVID-19 vaccine packaging and delivery devices is further expected to expand due to increased investment in R&D to improve packaging materials that perform better in terms of material strength and chemical stability.
Industry Dynamics
Growth Drivers
The COVID-19 is the major health crisis affecting the world since the Spanish flu in the early 19th century. There are more than 145 million corona cases diagnosed across the globe. Currently, there are no effective drugs available in the market to cure the disease but only a few antiviral drugs such as remdesivir are used in the management of COVID symptoms.
Vaccines seem to be the only solution to combat this pandemic and in the last year, many companies across the globe are developing the inoculations. Most of these vaccines need to be stored in low temperatures and needs to be packaged in a specific type of materials. This is expected to drive the growth of the global market for COVID-19 vaccine packaging and delivery devices.
Currently, several inoculations were approved in different countries across the globe that includes vaccines from Pfizer and BioNTech (Tozinameran or BNT162b2), AstraZeneca (Vaxzevria or covishield), Bharat biotech (Covaxin), Gamaleya Research Institute (sputnik v), Moderna (mRNA-1273), and Sinovac (Coronavac). Most of these serums need to be packaged in glass vials and stored at 2°C to 8°C to maintain their efficacy.
There are several new inoculations which are in pipeline that includes vaccines from Novavax (NVX-CoV2373), Zydus Cadila (ZyCoV-D), Cuba's Center for Genetic Engineering and Biotechnology (CIGB) (Abdala (CIGB 66)), Medicago (VIR-7831), CureVac (CVnCoV), Murdoch Children's Research Institute (Bacillus Calmette-Guerin), Inovio Pharmaceuticals (INO-4800), ImmunityBio (hAd5), Vaxxinity (UB-612), and ReiThera, Leukocare & Univercells (GRAd-COV2).
Countries across the globe are ordering a huge number of serums to vaccinate a greater number of people as early as possible. Recently, UK entered into a deal with Pfizer to purchase tens of millions more doses of its serums to give a third booster dose for its elderly population.
U.S. government also ordered 100 million doses of Moderna vaccine, in February 2021, in addition to the 300 million doses which are already ordered. The company expects to deliver the doses, by end of July 2021. The increasing production of shots across the globe will be the main driving force behind the growth of the market.
Several new strains are emerging from countries like India, the UK, Brazil, and Africa and the efficacy of approved serums against these strains needs to be evaluated. If the available inoculations are not effective against the new strains, then new serum candidates need to be developed and these may provide an opportunity for the global market for COVID-19 vaccine packaging and delivery devices to grow in the future.
There are a lot of new developments taking place with respect to the introduction of new packaging materials and delivery devices. For instance, in May 2020, Abnova Corporation entered into a partnership with PharmaJet for a delivery system. Under the partnership, PharmaJet will provide needle-free injection technology to deliver mRNA vaccine developed by Abnova.
AstraZeneca collaborates with IDT Biologika, a German contract research manufacturer, in February 2021, to establish a new manufacturing facility for the production and filling of glass vials. Moderna, Inc. and Catalent, Inc. entered into a partnership, in 2020 under which Catalent will provide vial filling and packaging capacity for the production of Moderna's serum.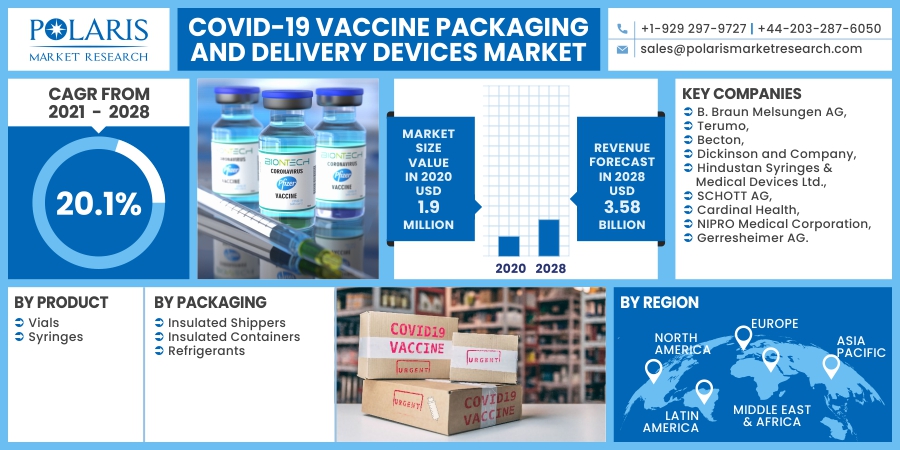 Know more about this report: request for sample pages
COVID-19 Vaccine Packaging and Delivery Devices Market Research Scope
The market is primarily segmented on the basis of product, packaging, and region.
By Product

By Packaging

By Region

Insulated Shippers
Insulated Containers
Refrigerants

North America (U.S., Canada)
Europe (France, Germany, Italy, Netherlands, UK, Russia, Spain, Austria)
Asia Pacific (China, India, Japan, Indonesia, Malaysia, South Korea)
Latin America (Argentina, Brazil, Mexico)
Middle East & Africa (Saudi Arabia, Israel, UAE, South Africa)
Know more about this report: request for sample pages
Insight by Product
The syringes segment dominated the market and generated the highest revenue in COVID-19 vaccine packaging and delivery devices industry in 2020. Empty and prefilled syringes are further segmented from the syringes market. The average volume of a single COVID-19 dose is calculated to be 0.5 ml, thus sterile empty syringes with a capacity of 1.0 ml are preferred.
Furthermore, certain candidates must be reconstituted with diluent solutions before use, necessitating the use of an additional empty syringe (2/3 ml). Pfizer has designed a serum that must be reconstituted with saline; as a result, the speed of the roll-out program is anticipated to have a substantial impact on the market segment.
During the forecast era, the prefilled syringes segment is expected to rise at the fastest pace. With the existing logistic network, vaccinating the world's population of 7 billion in a shorter period is a tedious process. The current COVID-19 packaging systems' distribution limitations are predicted to increase the preference for these syringes. For example, Becton, Dickinson, and Company have invested USD 1.2 billion, in December 2020, to increase their pre-filled syringe manufacturing capacity.
Geographic Overview
North America COVID-19 vaccine packaging and delivery devices is expected accounted for the largest revenue share of the global market during the forecast period. Over 32 million people are diagnosed with COVID-19 in the U.S. alone and hence the country investing heavily and fast-tracking the approval of the serum so that most of the population is vaccinated at the earliest.
Several new serums are approved in the U.S. including indigenously produced vaccines from Pfizer and Moderna. Even Novavax which is based in the U.S. is going to launch its inoculation soon in the market. More than 231 million doses of vaccines are administered in the U.S. alone.
Asia Pacific COVID-19 vaccine packaging and delivery devices market is projected to be the fastest-growing region in the global market over the study period. India is among the worst-hit COVID-19 country belong to this region. India is the largest manufacturer of the product in the world. Also because of the population of China and India, this region is anticipated to require more shots.
Recently India abolished bridge clinical trials for the approval of serums which are already approved in the U.S. and Europe. Recently Government of India announced over 43 million COVID-19 vaccine doses are in stock or the pipeline. The country is already providing two serums and in May, the Russian inoculation is expected to enter the COVID-19 vaccine packaging and delivery devices market.
Competitive Insight
Several pharmaceutical companies and even governments across the globe are significantly investing in the development of the production of COVID-19 vaccines. There is a huge demand for the product and hence companies are entering into partnerships with other companies for the production facilities which include outsourcing or collaboration in packaging and delivery devices.
Some of the major players operating in the COVID-19 vaccine packaging and delivery devices market include B. Braun Melsungen AG, Terumo, Becton, Dickinson and Company, Hindustan Syringes & Medical Devices Ltd., SCHOTT AG, Cardinal Health, NIPRO Medical Corporation, and Gerresheimer AG.