The global cruise market was valued at USD 7.49 billion in 2022 and is expected to grow at a CAGR of 11.7% during the forecast period.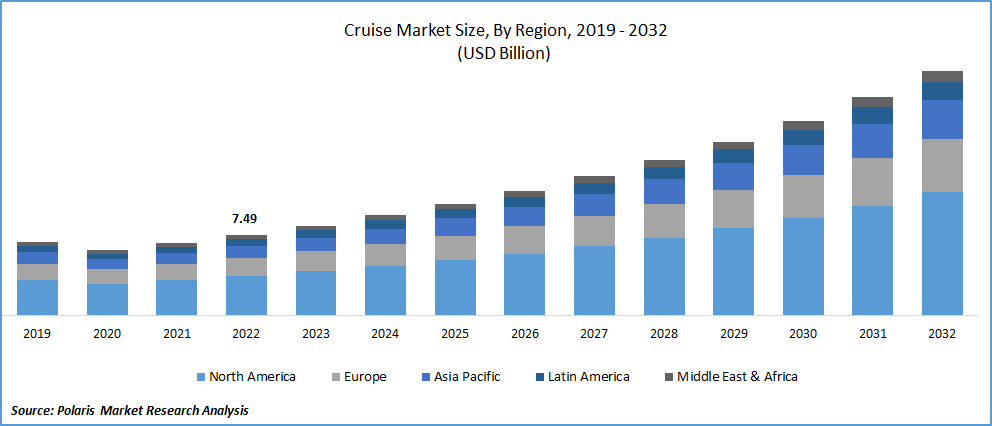 To Understand More About this Research: Request a Free Sample Report
The increasing popularity of cruise vacations can be attributed to the cost disparity and the enhanced amenities they offer compared to other vacations. Cruise getaways are becoming a more economical choice when compared to traditional land-based vacations, as they encompass transportation, meals, lodging, and entertainment all in one package.
According to the Cruise Lines International Association, a significant 58.0% of global vacationers embarking on cruises are doing so for the first time, and this group is inclined to choose cruise vacations again in the coming years.
The expansion of the cruise market is facing limitations due to the growing apprehensions related to environmental pollution attributed to ocean cruising. Both cruise passengers and crew members contribute to a substantial volume of waste and pollutants during their voyages. Ocean cruise vessels are accountable for around 77.0% of the overall marine pollution on a global scale. Initiatives undertaken by environmental organizations and grassroots civilian associations are expected to influence the cruise industry's growth trajectory. Consequently, there has been a heightened focus on advancing and exploring methods for sustainable and eco-friendly management of the waste generated by cruise activities.
In the present era, ships are introducing innovations encompassing a wide array of captivating and enjoyable activities, along with specialized theme cruises tailored for various travelers. These themes span from yoga-themed cruises and those catering to children to mystery-themed cruises and many others. Such creative offerings have garnered significant traction among the intended audience, generating interest from diverse demographic segments and consequently propelling the growth of the market.
However, despite their popularity, a limitation lies in the relatively limited number of companies manufacturing such innovative cruise experiences. Additionally, developing these unique cruise offerings is often associated with high costs. This dual challenge of limited manufacturing sources and elevated production expenses is anticipated to act as a restraint on the expansion of the market in the upcoming forecast period.
The COVID-19 pandemic had a profound impact on the cruise market, significantly reducing the number of passengers. According to Cruise Lines International Association data, global passenger volume plummeted by 80.0% in 2020. The outbreak of the pandemic resulted in a situation where a large portion of cruise ships found themselves stranded at various ports. In contrast, others had to cancel their scheduled voyages due to health and safety concerns.
However, the industry is expected to gradually regain its footing and experience positive signs. This is attributed to the resumption of cruise activities and the easing of restrictions initially imposed in response to the pandemic. In the aftermath of the global health crisis, a noteworthy trend has emerged where many individuals seeking a reprieve from the challenges posed by the pandemic are turning to shorter vacations as a means of escape. These small getaways are becoming increasingly appealing to holidaymakers searching for a break from their daily routines and a chance to relax and recharge.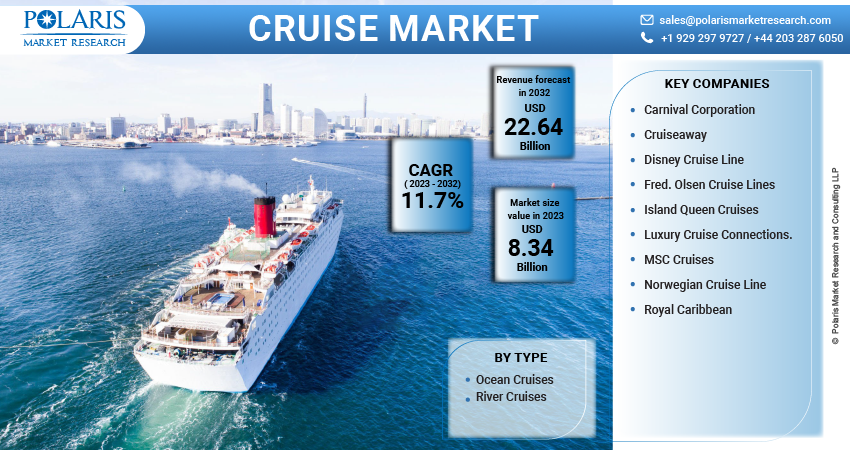 For Specific Research Requirements, Request for a Customized Report
Industry Dynamics
Growth Drivers
Rising demand for river cruises driving global market growth
The cruise market expansion in the projected timeframe is being propelled by the heightened inclination of Generation Z towards leisure travel and exploration, as well as the increasing desire among a substantial portion of the population to embrace luxurious lifestyles. The surge in demand for river cruises is poised to impact the global cruise industry positively. River cruises present enticing itineraries that encompass coastal regions and inland destinations within countries. This category of river cruises is experiencing a notable upswing in popularity, particularly across the European nations.
A cruise refers to an extended vacation experience, typically spanning multiple days, that takes place aboard a cruise ship as it navigates through expansive inland waters or oceans, making stops at different tourist destinations according to a predetermined route. This journey emphasizes the onboard stay on the ship and the exploration of captivating tourist spots. The expanding hospitality and tourism sector is pivotal in boosting the market and driving global growth.
Report Segmentation
The market is primarily segmented based on type and region.
By Type

By Region

Ocean Cruises

River Cruises

North America (U.S., Canada)

Europe (France, Germany, UK, Italy, Netherlands, Spain, Russia)

Asia Pacific (Japan, China, India, Malaysia, Indonesia. South Korea)

Latin America (Brazil, Mexico, Argentina)

Middle East & Africa (Saudi Arabia, UAE, Israel, South Africa)
To Understand the Scope of this Report: Speak to Analyst
By Type Analysis
Ocean cruises segment accounted for the largest share
The ocean cruises segment held the largest share. This significant share can be primarily attributed to prominent industry players who excel in providing services for intercontinental trips within the ocean cruise segment. Their extensive offerings cater to many customers, consequently driving higher market revenue.
Furthermore, the popularity of ocean cruises over alternative cruise options can be attributed to the appealing combination of alluring packages, amenities, and engaging entertainment activities they provide. These offerings resonate with a substantial customer base. The unique advantage of ocean cruises lies in the spacious environments afforded by the larger cruise ships sailing on the vast expanse of oceans, allowing for the execution of a diverse range of activities that might not be feasible on smaller vessels.
The river cruises segment will grow at a rapid pace. The increasing favorability of river cruises among vacationers is the driving force behind this notable growth rate. Divergent from ocean cruises that are often restricted to coastal regions due to their substantial size, river cruises traverse through inland waterways, providing access to an array of interior destinations and sightseeing opportunities. The allure of river cruising is particularly prominent in European countries, where itineraries span multiple nations. For instance, the Danube River facilitates cruises that traverse across 10 European countries, showcasing the expanding popularity of this mode of travel.
Regional Insights
North America region dominated the global market.
North America held the largest share. The region's supremacy on the global stage can be primarily attributed to the robust presence of prominent international industry leaders and its well-established and advanced market infrastructure. This is primarily due to increased disposable income, elevated levels of consumer expenditure, and the matured state of the tourism sector.
APAC will grow at a rapid pace. Over recent years, there has been a notable shift in the cruise industry's focal point from North America & Europe towards the APAC region. This shift primarily responds to concerted government efforts to bolster the tourism sector to enhance economic contributions. Exemplifying this trend, the region's industry is experiencing flourishing growth, fueled by initiatives undertaken by governments to elevate the tourism landscape and thereby stimulate economic gains. For instance, in August 2020, the government introduced a substantial 70% reduction in berth charges to invigorate cruise tourism.
Europe's growth trajectory can be attributed to the escalating desire for sustainable tourism practices. As this demand rises, local communities increasingly draw the interest of smaller and medium-sized tour operators. This shift towards more community-focused and environmentally-conscious tourism offerings plays a pivotal role in driving the expansion of the market.
Competitive Insight
The cruise market is fragmented and is anticipated to witness competition due to several players' presence. Major service providers in the market are constantly upgrading their technologies to stay ahead of the competition and to ensure efficiency, integrity, and safety. These players focus on partnership, product upgrades, and collaboration to gain a competitive edge over their peers and capture a significant market share.
Some of the major players operating in the global market include:
Carnival Corporation

Cruiseaway

Disney Cruise Line

Fred. Olsen Cruise Lines

Island Queen Cruises

Luxury Cruise Connections.

MSC Cruises

Norwegian Cruise Line

Royal Caribbean
Recent Developments
In October 2022, Royal Caribbean Group introduced the world's first zero-energy cruise terminal in Galveston, powered by solar panels, LEED Gold certified, focusing on sustainability and community benefits.

In April 2023, Princess Cruises became the Official Cruise Vacation Partner for Porsche Club of America, offering members exclusive experiences, branded cruises, and special vacation deals for engagement with the iconic cruise line.
Cruise Market Report Scope
| | |
| --- | --- |
| Report Attributes | Details |
| Market size value in 2023 | USD 8.34 billion |
| Revenue forecast in 2032 | USD 22.64 billion |
| CAGR | 11.7% from 2023 – 2032 |
| Base year | 2022 |
| Historical data | 2019 – 2021 |
| Forecast period | 2023 – 2032 |
| Quantitative units | Revenue in USD billion and CAGR from 2023 to 2032 |
| Segments covered | By Type, By Region |
| Regional scope | North America, Europe, Asia Pacific, Latin America, Middle East & Africa |
| Customization | Report customization as per your requirements with respect to countries, region and segmentation. |