The global medical tourism market size was valued at USD 44.6 billion in 2019 and is anticipated to grow at a CAGR of 16.3% during the forecast period. Medical tourism is termed as a travelling from one country to another for medical treatment. Medical tourism is also known as health tourism, which has become a dynamic industry today. Majorly, the medical tourism is most often done for the surgeries and other related treatments. Similarly, people also travel for dental surgeries and fertility treatments.
The medical tourism market is primarily driven by the increasing elderly population which has influenced the demand for various treatment procedures across the globe. This stimulating demand for medical procedure with high quality service. On the other hand, increase in the mergers and acquisitions, between the companies to meet the unmet needs of the population.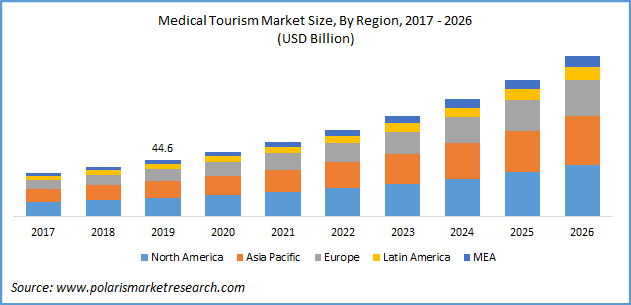 Know more about this report: request for sample pages
High treatment cost and long waiting time for a medical procedure, and development of new technology for treating chronic diseases to also boost the medical tourism market during the forecast period. Additionally, higher cost and longer waiting for treating a patient in the countries like France, U.K, and Canada. Moreover, the tourism and medical governments in the developing countries are working hand in hand for developing new strategies which would promote the growth of this market.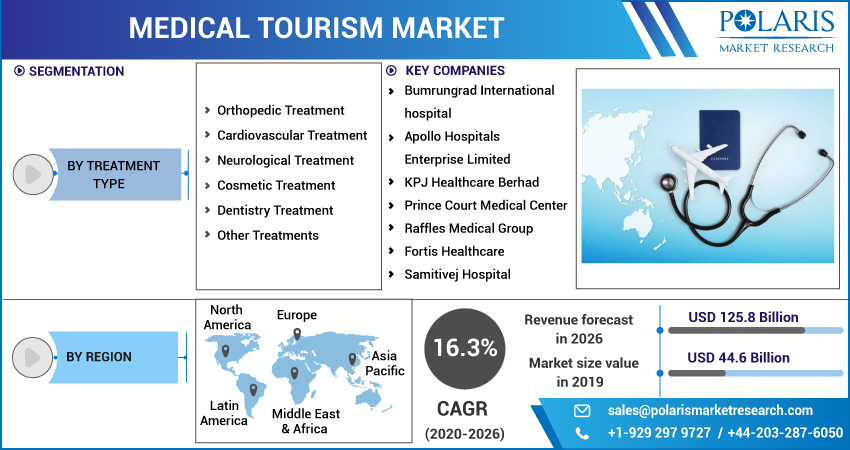 Know more about this report: request for sample pages
Segment Analysis
The global medical tourism market is segmented on the basis of treatment type, and geography.
Based on the treatment type the medical tourism market is segmented as Orthopedic Treatment, Cardiovascular Treatment, Neurological Treatment, Cosmetic Treatment, Dentistry Treatment, Other Treatments. Orthopedic segment was observed to hold the larger share owning to the rising prevalence of various orthopedic diseases, and rising geriatric population.
Medical Tourism Market Scope
By Treatment Type

By Region

Orthopedic Treatment
Cardiovascular Treatment
Neurological Treatment
Cosmetic Treatment
Dentistry Treatment
Other Treatments

North America (U.S., Canada)
Europe (Germany, UK, France, Italy, Spain, Belgium, Russia, Netherlands)
Asia-Pacific (China, Japan, India, Australia, Korea, Singapore, Malaysia, Indonesia, Thailand, Philippines)
Latin America (Brazil, Mexico, Argentina)
Middle East and Africa (UAE, Saudi Arabia, South Africa)
Know more about this report: request for sample pages
Regional Analysis
Geographically, the medical tourism market is segmented across North America, Europe, Asia Pacific, Latin America, and Middle east & Africa. The global medical tourism market is growing at a faster rate owning to the rising awareness for the quality of healthcare. Mexico to be the largest country owning to the lower cost of healthcare, and government initiative for the growth of healthcare industry. Similarly, Canada to be the fastest growing country owning to the increased government contribution focusing on developing the healthcare infrastructure.
Competitive Landscape
The major players operating in medical tourism market include Bumrungrad International hospital, Apollo Hospitals Enterprise Limited, KPJ Healthcare Berhad, Prince Court Medical Center, Raffles Medical Group, Fortis Healthcare, Samitivej Hospital among others. These leading players in the medical tourism market are introducing innovative products in the market to cater to the consumers. Global players are entering new markets in developing regions to expand their customer base and strengthen market presence