The global cryocooler market was valued at USD 2.76 billion in 2022 and is expected to grow at a CAGR of 6.5% during the forecast period. Continued R&D and technical advancements of cryocoolers have boosted their use in the medical industry for a variety of applications. In this sector, cryocoolers are utilised to attain low temperatures -150 degrees for cooling of the super-conducting magnets. MRI shield applications employ Gifford-McMahon cryocoolers. Because of their use in the proton treatment, MRI & NMR equipment, cryosurgery, & the liquified oxygen in the hospitals, such cryo-coolers are in the high demand in medical equipment industry.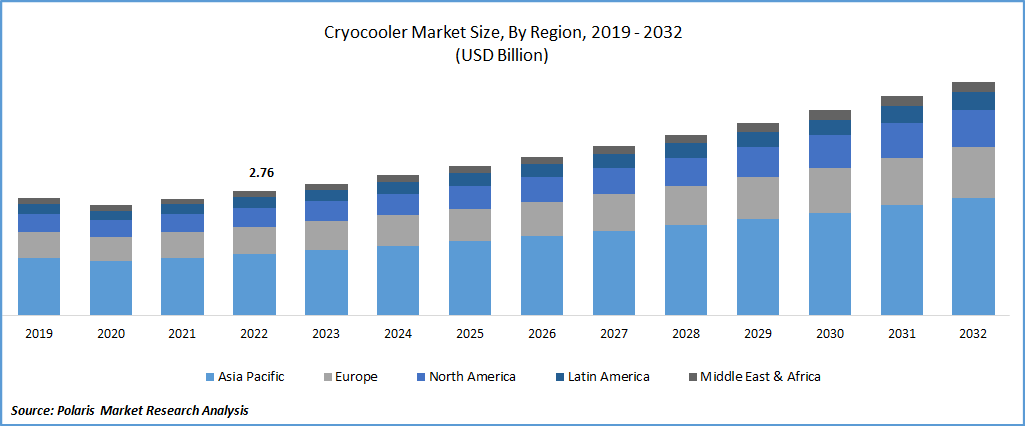 Know more about this report: Request for sample pages
For commercial, military, or scientific space missions, cryocoolers are acceptable in conjunction with delicate electronics and sensors. As sophisticated guided-weapons technology is becoming a need of a contemporary military inventory, cryocoolers are being employed more often in the missile guidance application. These applications are driving the demand in market.
Currently, space cryocoolers can last ten years while equivalent cryocoolers created for commercial use can last five years. For some of the greatest space cryocoolers, efficiency at 80 K can reach up to around 20% of Carnot. Additionally, cryocoolers are increasingly being used in peak-shaving superconducting magnetic energy storage. Due to the fact that superconductivity requires operating temperatures below 130 K, the cryogenic business and the superconductor industry are inextricably intertwined. Cryogens or cryocoolers provide this cooling. Consequently, the market for cryocoolers is booming.
Industrial machinery and equipment prices increased right away as a result of manufacturing supply chain interruptions and limitations during pandemic. Demand for cryocoolers has significantly decreased in a number of end-user application categories, including military, equipment, energy, and transportation whereas end-user application segments including medical and research & development have showed sustained growth even during the pandemic period. In 2021, the cryocoolers market began to rebound. The Russia-Ukraine war, however, caused market swings at the beginning of 2022. Nevertheless, during the course of the projected period, the market is anticipated to see considerable expansion.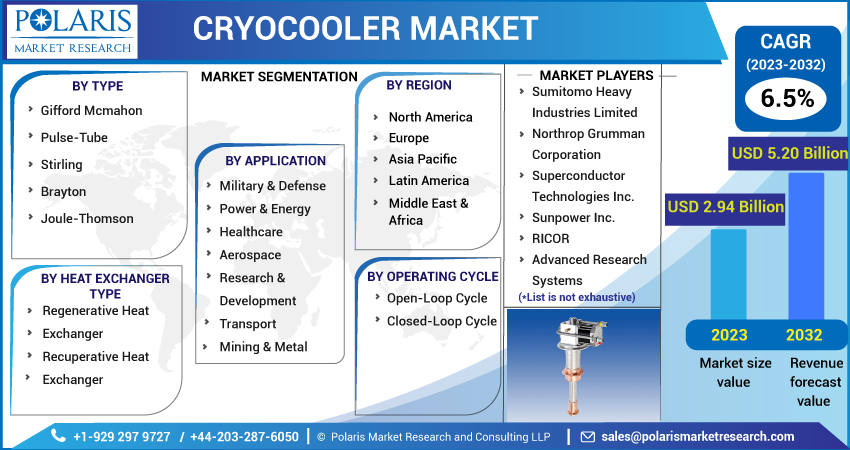 Know more about this report: Request for sample pages
Industry Dynamics
Growth Drivers
One of the main reasons fueling the cryocooler market expansion is the growing need for effective cooling systems for the manufacturing of super-conductors, magnets, & the power systems. This is also due to the extensive use of closed-loop cryocoolers for commercial freezers, infrared (IR) sensors, detectors, thermal cameras, and night vision devices. Additionally, the market is growing as a result of the rising use of the product to maintain low temperatures.
In hospitals and healthcare facilities, creation of space cryocoolers and other technological advancements. These cutting-edge variations can resist the vibrations of launch and prolonged exposure to space radiation. The market is predicted to rise as a result of a number of other reasons, such as the rising use of cryogenically cooled low-noise amplifiers in cellular telephone base stations and significant research and development (R&D) efforts.
Report Segmentation
The market is primarily segmented based on type, heat exchanger type, application, operating cycle, and region.
By Type

By Heat Exchanger Type

By Application

By Operating Cycle

By Region

Gifford Mcmahon

Pulse-Tube

Stirling

Brayton

Joule-Thomson

Regenerative Heat Exchanger

Recuperative Heat Exchanger

Military & Defense

Power & Energy

Healthcare

Aerospace

Research & Development

Transport

Mining & Metal

Others

Open-Loop Cycle

Closed-Loop Cycle

North America (U.S., Canada)

Europe (France, Germany, UK, Italy, Netherlands, Spain, Russia)

Asia Pacific (Japan, China, India, Malaysia, Indonesia, South Korea)

Latin America (Brazil, Mexico, Argentina)

Middle East & Africa (Saudi Arabia, UAE, Israel, South Africa)
Know more about this report: Request for sample pages
Stirling segment

is expected to grow at a high CAGR during the forecast period
Gifford Mcmahon segment had the largest market share in 2022. A GM cryocooler is a low frequency apparatus that causes a displacer to move inside a housing from one spot to another. Utilizing appropriately timed inlet and exit valves, the working fluid, such as helium, is introduced into the system at high pressure and removed at low pressure to attain low temperatures less than -150°C. Low-performing nitrogen liquefiers, cryo vacuum gear, helium recondensation facilities, and cryogenic systems for different scientific research have all contributed to the rise in popularity of Gifford McMahon cryocoolers in recent years.
Stirling Segment is estimated to grow at a high CAGR during the projected period. In a Stirling cryocooler, power is converted into the transfer of heat from the cold tip toward the heat rejecter using the Stirling cycle. For military purposes, Stirling cryocoolers are widely used to meet the cooling needs of infrared sensors that are installed on ships, in the air, and on the ground. The commercial need for night vision cameras is expanding due to an increase in thefts and criminal activity, which is fueling the cryocooler market's growth.
Regenerative heat exchanger segment accounted for the highest market share in 2022
Regenerative heat exchanger segment held the dominant position in the market in 2022. It is expected to maintain its dominant position during the forecast period. The widespread use of regenerative heat exchangers in GM, PT, and Stirling cryocoolers is one of the key drivers boosting the industry. The extensive range of uses for these cryocoolers in the military, space, medical, energy, agricultural, and biological industries, among others, contributes to their high heat exchanger usage.
The recuperative heat exchanger segment is expected to grow at a high CAGR of approximately above 6% during the forecast period. A cryocooler that employs a recuperative heat exchanger to recover waste heat from the chilled gas and use it to pre-cool the incoming gas is known as a recuperative heat exchanger cryocooler. By requiring less effort to chill the entering gas, this boosts the cryocooler's total efficiency.
Various uses for these cryocoolers include LNG plants, cryogenic storage, cryogenic transportation, laser cooling, & superconducting magnets. The design of recuperative heat exchangers has separate flow paths of the fluids. In indirect contact heat exchangers, the two fluids are separated by a conductive wall.
Healthcare segment is expected to grow at a high CAGR during the forecast period.
Healthcare segment is estimated to grow at a substantial CAGR during the forecast period which can be attributed to the growing cases of cancer across the world and increasing awareness regarding health post pandemic. In order to cool superconducting magnets used in proton therapy to liquid helium temperatures, cryocoolers must be utilized. Proton treatment is increasingly in demand due to the rise in cancer cases, which also fuels the market for cryocoolers.
Military & defense segment held the largest market share during 2022. For delicate electronics and sensors aboard commercial, military, or scientific space missions, cryocoolers are acceptable. Since current military arsenals must now include superior guided-weapons technology, cryocoolers are being employed more often in the missile guidance application. Ballistic and cruise missiles are currently a key component of the most competent national militaries. Any electro-optical and infrared sensor will likely be able to access cryocoolers for microsatellite military applications with more efficient research, enabling the demand for less priced, quicker-responding, and smaller microstates.
Closed loop segment to register the highest CAGR during the forecast period
The closed loop segment occupied a substantial market share in the global cryocooler market in 2022 and is anticipated to grow at a higher rate during the forecast period. Unlike an open loop cycle cryocooler, the fluid in a closed loop system returns to its original state after passing through the system. This type of cryocooler is typically used in applications where the temperature needs to be cooled to very low temperatures, such as in cryogenics or medical research. The main advantage of closed loop cryocoolers is that they are more energy efficient and have longer lifetimes than open loop systems because the working fluid is not exposed to the environment.
North America region is expected to lead the market growth
This is due to the rapid growth in the use of the systems in the military industry and the expanding use of cryocoolers in the healthcare sector. In terms of military and space advances, several North American nations, including the United States, are in the lead. In the military, cryocoolers are also employed for missile guidance and satellite surveillance.
Cryocooler technology has been deployed on the USS Gerald R. Ford, an aircraft carrier for the US Navy. The United States Department of Energy claims that improvements in cavity technology, materials, and cryocooler research may make superconducting radiofrequency (SRF) technology more accessible for industrial and medicinal uses. In addition, the rapidly growing helium gas scarcity in developing nations has supported the market's expansion in North America.
Asia Pacific occupied a sizable market share in global cryocooler market and is expected to show the fastest growth during the forecast period. This rise is the result of a number of causes, including rising demand from the regional military and defense industries, particularly from nations like India, China, Vietnam, and Pakistan. The high population density in the area is also accelerating the expansion of the healthcare industry. The key drivers of the expansion of the regional market are nations like China and India.
Competitive Insight
Key players include Sumitomo Heavy Industries, Northrop Grumman Corporation, Superconductor Technologies., Sunpower, RICOR, Advanced Research Systems, Chart Industries, AMETEK, Cryomech, DH Industries, Janis Research Company, Brooks Automation, Cobham Missions Systems, and Wimborne Limited.
Recent Developments
In June 2022, Fabrum Solutions announced a merger with AFCryo, a global authority in cryocoolers and liquefiers, under the name Fabrum. It has established a name for itself as a pioneering inventor in the creation of composite cryostats, and cryogenic systems. Its cutting-edge cryocooler and liquefier systems, made by Fabrum's joint-venture business AFCryo, developed & produced by the Fabrum & marketed under the name of the "AFCryocooler".

In March 2022, Cryomech unveiled "PT310 Pulse Tube cryocooler". These refrigerators may can attain temperatures lowest till milli-kelvin levels.
Cryocooler Market Report Scope
| | |
| --- | --- |
| Report Attributes | Details |
| Market size value in 2023 | USD 2.94 billion |
| Revenue forecast in 2032 | USD 5.20 billion |
| CAGR | 6.5% from 2023 - 2032 |
| Base year | 2021 |
| Historical data | 2019 – 2021 |
| Forecast period | 2023 - 2032 |
| Quantitative units | Revenue in USD billion and CAGR from 2023 to 2032 |
| Segments covered | By Type, By Heat exchanger type, By Application, By Operating Cycle, By Region |
| Regional scope | North America, Europe, Asia Pacific, Latin America; Middle East & Africa |
| Key companies | Sumitomo Heavy Industries Limited, Northrop Grumman Corporation, Superconductor Technologies Inc., Sunpower Inc. RICOR, Advanced Research Systems, Chart Industries, AMETEK.Inc. (Sunpower Inc.), Cryomech Inc., DH Industries, Janis Research Company LLC, Brooks Automation, Cobham Missions Systems Wimborne Limited. |