The global cultured meat market size was valued at USD 133.4 million in 2021 and is anticipated to grow at a CAGR of 16.2% during the forecast period. The significant growth in the global demand for non-vegetarian food across the globe is expected to fuel the growth of this market. Increasing concerns regarding the environment and animal welfare are expected to increase the demand for cultured non-vegetarian food during the forecast period.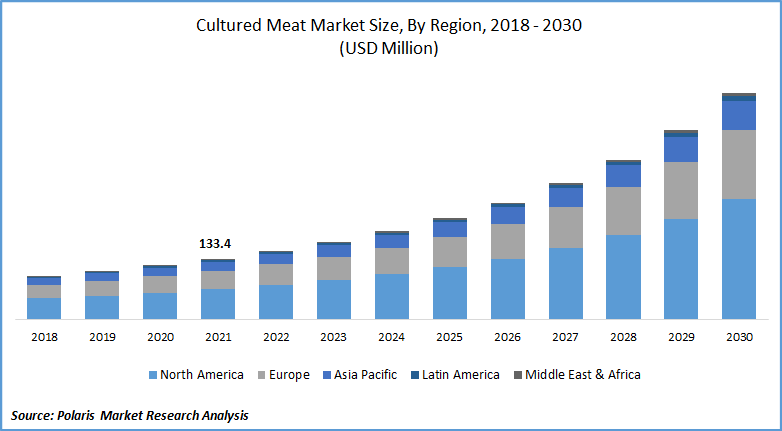 Know more about this report: request for sample pages
Cultured Beef is produced through animal muscle cell harvesting, followed by feeding and nurturing the cells for the creation of muscle tissue. The use of cultured beef requires 99% less space as compared to current livestock farming methods. Growth in disposable income coupled with increasing middle-class spending, especially in emerging economies would offer growth opportunities.
According to the Food and Agriculture Organization, the global demand is expected to increase by more than 66% by 2060, which will encourage the need for cultured meat owing to its reduced greenhouse gas emissions and other environmental impacts. Animal agriculture is responsible for around 15% of global greenhouse gas emissions, whereas cows and their manure emit methane.
Abundant pasturable and arable land is required for feeding of livestock, resulting in deforestation, which further leads to loss of biodiversity. Livestock farming also causes agricultural pollution through the release of pesticides and fertilizers in the environment. Increasing consumption of the products would lead to reduced greenhouse gas emissions, decreased chemical use while preventing run-off from entering the natural environment.
Industry Dynamics
Growth Drivers
In January 2020, Mosa Meat collaborated with Nutreco, an animal nutrition company for the supply of nutrient-filled liquid required for non-vegetarian food growth. Mosa Meat also received significant investments from Nutreco and Lowercarbon Capital to produce the product on a large-scale. The company aims to launch cultured hamburgers in Europe by 2022. The increasing population worldwide has resulted in increased demand for protein, which the company aims to address through a sustainable and animal-friendly solution.
The growing population along with increasing food safety concerns are expected to drive the market. There has been an increased awareness among consumers regarding health concerns associated with non-vegetarian food consumption, and nutritional needs, which supplements the growth of this market. Increasing concerns regarding environmental sustainability have further fostered the development of these products.
Additionally, technological advancements in tissue engineering and a significant rise in investments for research and development further augment the market growth. New product launches and acquisitions by leading players in the market coupled with the increasing consumption have driven the demand for cultured meat across the globe.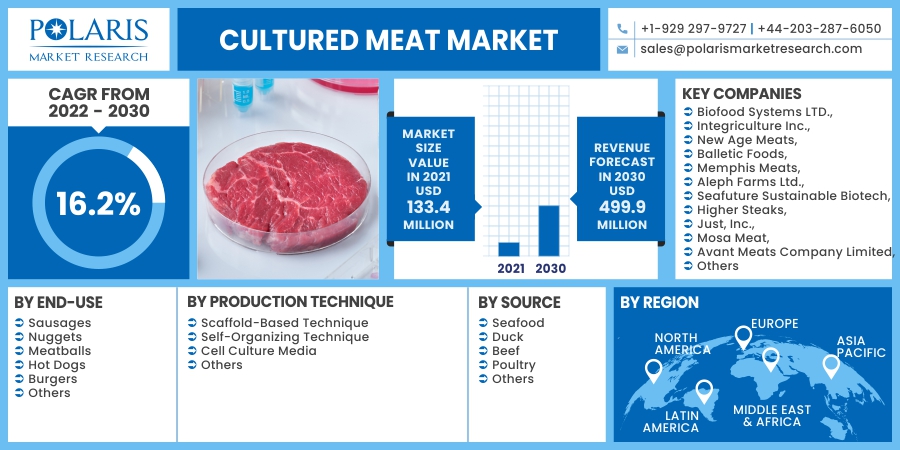 Know more about this report: request for sample pages
Cultured Meat Market Report Scope
The market is primarily segmented on the basis of production technique, source, end-use, and region.
By End-Use

By Production Technique

By Source

By Region

Sausages
Nuggets
Meatballs
Hot Dogs
Burgers
Others

Scaffold-Based Technique
Self-Organizing Technique
Cell Culture Media
Others

Seafood
Duck
Beef
Poultry
Others

North America (U.S., Canada)
Europe (Germany, UK, France, Italy, Spain, Netherlands, Austria)
Asia Pacific (China, India, Japan, South Korea, Malaysia, Indonesia)
Latin America (Brazil, Mexico, Argentina)
Middle East & Africa (Saudi Arabia, South Africa, Israel, UAE)
Know more about this report: request for sample pages
Production Technique Outlook
The production technique segment of cultured meat industry has been divided into is segmented into scaffold-based techniques, self-organizing techniques, cell culture media, and others. Scaffold-based production methods include the proliferation of extracted muscle satellite cells with a culture medium in a bioreactor. Scaffold culturing techniques are used for the production of cultured meat with simple structures for hamburgers and sausages. However, its use is limited when producing complicated products such as steak.
Source Outlook
On the basis of source, the market is segmented into seafood, duck, beef, poultry, and others. The poultry segment of cultured meat industry is expected to account for the highest market share during the forecast period. This segment is also influenced by the rising population, growing urbanization, and increasing demand for on-the-go meals. Consumers are concerned regarding foodborne diseases, environmental depletion, and the poor nutritional value of meat, thereby driving the market growth of this segment.
End-Use Outlook
Based on end-use, the market is segmented into sausages, nuggets, meatballs, hot dogs, burgers, and others. The nuggets segment of cultured meat industry is expected to dominate the global cultured meat market during the forecast period by holding the largest market share in the industry. There has been increased consumption of fast food across the globe owing to changing lifestyles and rising disposable income of consumers. Global players are expanding their business in developing regions such as Asia-Pacific to increase their customer base and improve the geographical outreach, supporting the growth of the market.
Geographic Overview
North America dominated the global market for cultured meat in 2021. Increasing urbanization, growing research and development activities, the presence of international players in this region, and technological advancements are some factors attributed to the growth of this region. The high disposable incomes and rising environmental concerns further drive the market growth of this region.
Rising technological advancements in agriculture and growing demand for fast food have increased the need for the production of cultured meat. Increasing awareness regarding animal welfare, improving lifestyles, and health concerns are some factors boosting the cultured meat market growth in North America.
Competitive Landscape
The leading players in the market for cultured meat include Biofood Systems LTD., Integriculture Inc., New Age Meats, Balletic Foods, Memphis Meats, Aleph Farms Ltd., Seafuture Sustainable Biotech, Higher Steaks, Just, Inc., Mosa Meat, Avant Meats Company Limited, Appleton Meats, Cubiq Foods, Mission Barns, and Bluenalu, Inc.