The global cyclopentane market was valued at USD 287.6 million in 2021 and is expected to grow at a CAGR of 7.8% during the forecast period. The major factors driving the markets are increasing uses of cyclopentane in commercial and residential refrigerators along with growing demand for environment-friendly products is propelling the growth of the market.

Know more about this report: Request for sample pages
C pentane is used in end-use applications such as insulating containers and sippers, residential refrigerators, and many others. In addition, strengthening economies in developing nations with high growth in food and beverage and construction sectors are expected to offer growth opportunities.
The demand for cyclopentane has increased as an eco-friendly blowing agent. It is used in polyurethane foam, which finds application in insulation of refrigerators, roofs, and insulated pipes, among others. Some other applications of this hydrocarbon include manufacturing of lubricants, synthetic resins, rubber adhesives, and others.
Cyclopentane is an efficient solvent for oils, non-polar substances, and fats. It also offers a unique structure with a low boiling point, increasing its application in manufacturing of polyurethane insulation boards. It is used in the construction sector for insulation of facades and roofs. It also finds application in cold storage and transportation of temperature-controlled and frozen products.
Chlorofluorocarbon and hydrochlorofluorocarbon are increasingly being replaced by cyclopentane in refrigeration and thermal insulation applications. It is free from halogen with reduced potential for ozone depletion.
Thus, a rise in demand for cyclopentane has been observed on account of an increase in environmental awareness and stringent regulations. Market players are investing in research and development to launch new products to address rising concerns related to human health and environmental sustainability.
The outbreak of COVID-19 negatively influenced the growth of the market. Significant disruptions in the global materials and chemical sectors resulting from disturbed supply chain and distribution networks, closed markets, and limited manufacturing activities hampered the market. Reduced demand from construction and commercial industries was observed during the pandemic. Raw material unavailability, operational challenges, and restrictions on the transportation of goods affected the market. Implementation of lockdown restrictions further led to the unavailability of workforce and transportation delays.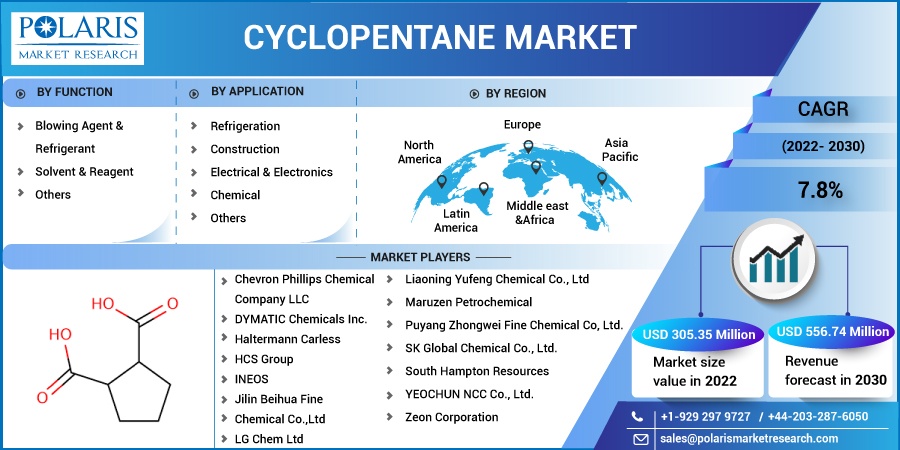 Know more about this report: Request for sample pages
Industry Dynamics
Growth Drivers
The global cyclopentane market is influenced by greater concerns regarding carbon emissions and a rise in environmental awareness. Several regulations have been introduced by governing authorities to limit emissions of greenhouse gases and prevent the depletion of ozone layer. There has been a rise in adopting environmentally friendly products such as cyclopentane in applications such as refrigeration and insulation.
Economic growth and increasing industrialization have widened the application areas of cyclopentane. Growth in the use of cyclopentane in the refrigeration of goods and cold chain logistics has been observed. Also, increased demand for polyurethane foam from the construction and commercial sectors drives the demand for cyclopentane.
Technological advancements, the launch of advanced products by market players, and increasing investment in research and development are factors expected to further contribute to the growth of the global market.
Report Segmentation
The market is primarily segmented based on function, application, and region.
By Function

By Application

By Region

Blowing Agent & Refrigerant
Solvent & Reagent
Others

Refrigeration
Construction
Electrical & Electronics
Chemical
Others

North America (U.S., Canada)
Europe (France, Germany, UK, Italy, Netherlands, Spain, Russia)
Asia Pacific (Japan, China, India, Malaysia, Indonesia, South Korea)
Latin America (Brazil, Mexico, Argentina)
Middle East & Africa (Saudi Arabia, UAE, Israel, South Africa)
Know more about this report: Request for sample pages
Blowing agent & refrigerant segment is expected to witness high growth during the forecast period
Based on function, the global market has been segmented into blowing agent & refrigerant, solvent & reagent, and others. The demand for blowing agent & refrigerant is expected to increase at a high pace during the forecast period. Cyclopentane is increasingly being used as a blowing agent for production of polyurethane foams, which find application in insulation of refrigerators and freezers. It is free from hydro-fluorocarbons and leads to decreased carbon emissions. Growth in demand for efficient refrigeration solutions from hospitals, pharmaceutical organizations, restaurants and hotels, and commercial sectors drive the growth of this segment.
Also, demand for cold chain logistics and efficient refrigerated transportation for ensuring high quality of fresh agricultural products, frozen food, chemicals, and pharmaceutical drugs has been observed. A rise in demand for warehouses offering efficient and environmentally friendly refrigerated storage solutions supports the growth of this segment.
The demand for cyclopentane is expected to increase from the construction sector during the forecast period
Based on application, the market has been segmented into refrigeration, construction, electrical and electronics, chemical, and others. The demand for cyclopentane will increase in the construction sector during the forecast period. Use of cyclopentane for the production of polyurethane foam used in the construction sector has increased in applications such as construction panels and roofs.
Polyurethane foam is used in residential and commercial buildings to offer superior energy efficiency. The construction sector uses polyurethane foam for temperature regulation and sound insulation in roofs, walls, and doors. Strengthening construction sector in developing economies and developing public infrastructure would further contribute to the growth of this segment during the forecast period.
Asia Pacific accounted for a significant market share in 2021
The Asia Pacific region contributed a significant revenue share in 2021. Greater application of cyclopentane in refrigeration applications, growth in cold-chain warehousing and logistics, and strengthening online retail market supports the industry growth in this region. Additionally, the demand for sustainable refrigeration solutions from the healthcare and pharmaceutical industries has been observed.
Economic growth in developing countries in the region, rise in urbanization, and industrial growth further boost the market growth. Growth in the automotive and construction sectors has increased the demand for polyurethane foam, thereby driving the growth of cyclopentane. Rise in environmental awareness and introduction of strict emission regulations further led to use of sustainable products such as cyclopentane.
There have been greater initiatives in the building and construction sectors to improve energy efficiency and reduce carbon emissions. Rise in investments in the construction sector coupled with growth in public infrastructure development would offer growth opportunities during the forecast period.
Competitive Insight
Some prominent players operating in the global market include Chevron Phillips Chemical Company LLC, DYMATIC Chemicals Inc., Haltermann Carless, HCS Group, INEOS, Jilin Beihua Fine Chemical Co., Ltd, LG Chem Ltd, Liaoning Yufeng Chemical Co., Ltd, Maruzen Petrochemical, Puyang Zhongwei Fine Chemical Co, Ltd., SK Global Chemical Co., Ltd., South Hampton Resources, YEOCHUN NCC Co., Ltd., and Zeon Corporation.
These prominent market players are investing in research and development and technological advancements to offer a wider product range and cater to growing environmental concerns. They are also acquiring other companies and entering into partnerships to strengthen their market presence and enter emerging markets.
Recent Developments
In July 2021, Haltermann Carless established a new hydrogenation plant in Germany. The production unit aims to strengthen the company's production of Cyclopentane and its blends.
In July 2020, Haldia Petrochemicals acquired of Lummus Technology. Haldia Petrochemicals' portfolio includes cyclopentane with distribution and export networks across the world.
Cyclopentane Market Report Scope
| | |
| --- | --- |
| Report Attributes | Details |
| Market size value in 2022 | USD 305.35 million |
| Revenue forecast in 2030 | USD 556.74 million |
| CAGR | 7.8% from 2022 - 2030 |
| Base year | 2021 |
| Historical data | 2018 - 2020 |
| Forecast period | 2022 - 2030 |
| Quantitative units | Revenue in USD million and CAGR from 2022 to 2030 |
| Segments Covered | By Function, By Application, By Region |
| Regional scope | North America, Europe, Asia Pacific, Latin America; Middle East & Africa |
| Key Companies | Chevron Phillips Chemical Company LLC, DYMATIC Chemicals Inc., Haltermann Carless, HCS Group, INEOS, Jilin Beihua Fine Chemical Co., Ltd, LG Chem Ltd, Liaoning Yufeng Chemical Co., Ltd, Maruzen Petrochemical, Puyang Zhongwei Fine Chemical Co, Ltd., SK Global Chemical Co., Ltd., South Hampton Resources, YEOCHUN NCC Co., Ltd., and Zeon Corporation |