The global data centric security market was valued at USD 3.45 billion in 2021 and is expected to grow at a CAGR of 23.99% during the forecast period.
Global market expansion is driven by the requirement to identify, categorize, secure, and monitor the most sensitive data across its entire lifecycle, government compliances and laws, and an increase in data breach events. Data-centric security is becoming more widely used than traditional security models due to advantages like data privacy, compliance, the ability to handle multiple processes like data discovery, classification, and safety, data management, data privacy & security, and application security. This has led to notable growth in the global market for data-centric security.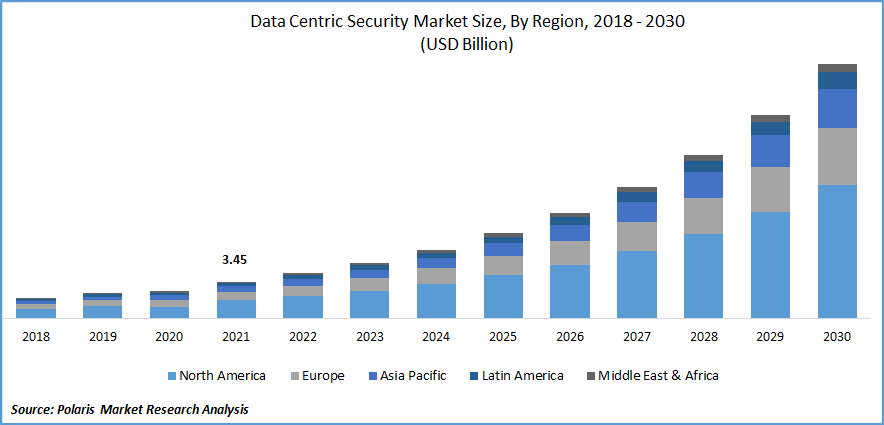 Know more about this report: Request for sample pages
The market is primarily driven by the rising demand for technologies to secure cloud data, stringent laws and compliance, and rising dangers to business information owing to the usage of technologies such as big data analytics, AI, and machine learning (ML). On the other side, the global market's expansion is being hampered by an organization's tolerance for discomfort and security issues brought on by internal weaknesses.
Moreover, the rising data breaches increasing opportunities for data-centric security vendors which are driving the market growth over the forecast period. Due to a surge in data breach activities, businesses frequently have to compromise critical information about their operations. Critical data is still exposed despite significant investments in infrastructure and data protection linked to privacy.
According to the International Association of Privacy Professionals report in January 2022, 1,862 breaches were reported in 2018, breaking the previous high of 1,506 breaches set in 2017 by 68%. Last year, there were 5% fewer people affected overall, which ITRC ascribed to cybercriminals changing their attention away from large-scale data theft and toward more targeted, focused attacks.
In Addition, according to the IBM report in 2019, seven billion of the 8.5 billion data compromised in 2019 or more than 85% were the result of incorrectly configured cloud servers and other technologies. Instead of securing IT infrastructure, which contains less crucial data, data-centric security solutions assist enterprises in protecting their most sensitive information. The data-centric security services allow for providing security for cloud technology and other systems while also safeguarding sensitive data in the documents and databases that comprise data security-centric solutions. The data on the cloud is one of the main things that businesses need to be worried about. In the future years, the rise in data breaches within organizations will cause the adoption of data-centric security solutions.
The COVID-19 epidemic has altered digital technology usage and remote working practices. For the first time, millions of workers are working from home. As a result, businesses must move their assets to the cloud and digital platforms while also adopting the necessary security precautions, such as perimeter security and network protection. Due to the rise in data breaches caused by the pandemic, businesses increased their security spending and used data-centric solutions to safeguard data.
Consequently, COVID-19 has a favorable effect on the market. In the near future, this is anticipated to drive the global market indirectly. Additionally, the global market for data-centric security is expanding quickly due to the impending threat of data breaches, compliance requirements, and emerging attack vectors.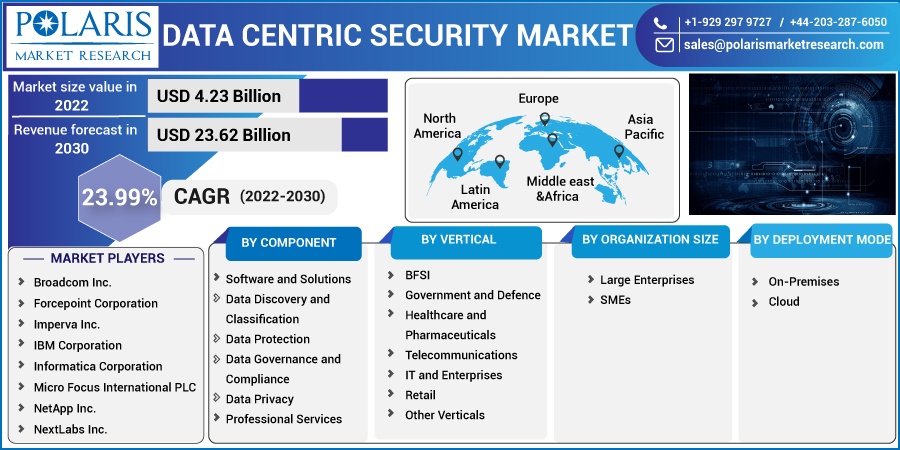 Know more about this report: Request for sample pages
Industry Dynamics
Growth Drivers
The rising demand for data-centric security solutions based on cloud technology is the factor driving the market growth over the forecast period. Modern businesses can benefit from the flexibility, efficiency, adaptability, security, enhanced collaboration, and lower costs that cloud computing provides. Although the COVID-19 pandemic has increased cloud adoption, it is expected to continue in 2022, especially if hybrid work assumes a central role. In the cloud, data is expanding more quickly and is free to move wherever it is needed by a workforce that is becoming more mobile.
The market is anticipated to be driven by the growing requirement for small and large businesses to safeguard data in the cloud. For instance, Informatica offers Intelligent Cloud Services SM, which include encryption at the computer system, databases, and application levels, data centers, user authentication, and network access. The danger of data breaches has increased with the introduction of new devices, security and accessibility patterns, and methods required to maintain cloud infrastructure while working from home. During this pandemic, several businesses have created data-centric security products and services.
Report Segmentation
The market is primarily segmented based on component, vertical, deployment mode, organization size, and region.
By Component

By Vertical

By Organization Size

By Deployment Mode

By Region

Software and Solutions

Data Discovery and Classification
Data Protection
Data Governance and Compliance
Data Privacy
Others

Professional Services

BFSI
Government and Defence
Healthcare and Pharmaceuticals
Telecommunications
IT and Enterprises
Retail
Other Verticals

North America (U.S., Canada)
Europe (France, Germany, UK, Italy, Netherlands, Spain, Russia)
Asia Pacific (Japan, China, India, Malaysia, Indonesia, South Korea)
Latin America (Brazil, Mexico, Argentina)
Middle East & Africa (Saudi Arabia, UAE, Israel, South Africa)
Know more about this report: Request for sample pages
The healthcare segment is anticipated to witness the fastest growth in 2021
Data security has been crucial to the healthcare vertical since it deals with sensitive patient information and personal health information that requires high protection. During the pandemic, the number of healthcare patients increased the demand for these solutions has risen due to the secure personal data of patients. Since the majority of healthcare firms place a greater emphasis on protecting customer data than internal data security, there is an increasing need for organizations to protect their internal healthcare data.
Implementing regulatory compliance aids in the security of sensitive data, the protection of identities through the use of digital signatures, the protection of network gateways, and the protection of databases. The usage of data-centric security solutions and services is anticipated to increase in the coming years due to an increase in medical record theft incidents and increased knowledge of regulatory compliance requirements.
Software and Solutions segment industry accounted for the highest market share in 2021
The software/solutions segment is driven by important technological benefits such as data inventory, attribution and mapping, cataloging, validation, data recognition, and classification. These benefits also include greater visibility into the location, quantity, context, and other risks, as well as protection of information from both internal and external variables.
On-Premises is expected to hold the significant revenue share
All platforms, programs, systems, and information that can be handled and maintained by an organization's own IT staff are completely under their control when it comes to on-premises deployments. On-premises deployment is the traditional method for deploying security solutions and data-centric technology within the enterprise. Because they have more control over the system, a company where authentication and authorization are crucial to business operations will prefer an on-premises deployment.
The government, defense, and BFSI sectors demand on-site security because they are unable to risk the loss of sensitive data, financial records, financial statements, or financial transaction data. These factors are fueling the global market's need for on-premises security products.
The demand in North America is expected to witness significant growth
The market is expected to be dominated by North America, with Asia Pacific expected to develop at the greatest CAGR during the forecast period. As companies in the region across several industry verticals seek enhanced protection from threats, the rising number of data thefts and unauthorized accesses is pushing them toward data-centric security technologies, which is fueling the expansion of this market globally. An additional factor supporting this market's growth during the forecast period is increased demand from social media.
Furthermore, government regulations like the GDPR in Europe have compelled businesses with various business modeling techniques, such as SMEs and large corporations, to adopt cutting-edge technologies that guarantee compliance through consumer privacy controls, which further boosts the adoption rate of these facilities among end-users and leads to an increase in the number of data breaches.
Additionally, Asia-Pacific regional government restrictions have pushed businesses to invest proactively in data security safeguards or risk facing severe fines. Enterprises in the area are anticipated to embrace data-centric security solutions. Due to the region's expanding cellular device use, APAC has historically been one of the marketplaces with the fastest-growing mobile workforce expansion.
Businesses and SMEs in the APAC region acknowledge the significance of data-centric security. They are open to implementing dedicated data-centric security measures to protect their sensitive and important corporate data from business espionage, cyber threats, and data misuse for financial gain by computer hackers. International locations in APAC, including Australia, China, and Japan, have mostly adopted encryption technology to protect documents from theft. The well-known APAC nations, like Singapore and India, are moving closer to implementing cutting-edge data-centric security measures.
Competitive Insight
Some of the major players operating in the global market include Broadcom Inc., Forcepoint Corporation, Imperva, Inc., IBM Corporation, Informatica Corporation, Micro Focus International PLC, NetApp, Inc., NextLabs Inc., Netwrix Corporation, Orange Cyberdefense Inc., Seclore Inc., Talend S.A., and Varonis Systems.
Recent Developments
In May 2022, Informatica and Oracle established a strategic relationship that would enable Oracle Cloud Infrastructure to use Informatica's market-leading connectivity and governance technologies. The Intelligent Data Management Cloud (IDMC) of Informatica has been connected by Oracle and Informatica with the Oracle Exadata Cloud Customer, Oracle Automated Database, Oracle Exadata Database Service, and Oracle Object Storage.
In April 2022, Snowflake and Informatica announced a strengthened partnership. To speed up clients' migration to the internet with expanded data management and information governance capabilities, the organizations want to integrate further the Data Cloud and Informatica's Intelligent Data Management Cloud (IDMC).
Data Centric Security Market Report Scope
| | |
| --- | --- |
| Report Attributes | Details |
| Market size value in 2022 | USD 4.23 billion |
| Revenue forecast in 2030 | USD 23.62 billion |
| CAGR | 23.99% from 2022 - 2030 |
| Base year | 2021 |
| Historical data | 2018 - 2020 |
| Forecast period | 2022 - 2030 |
| Quantitative units | Revenue in USD billion and CAGR from 2022 to 2030 |
| Segments Covered | By Component, By Deployment Mode, By Vertical, By Organization Size, By Region |
| Regional scope | North America, Europe, Asia Pacific, Latin America; Middle East & Africa |
| Key Companies | Broadcom Inc., Forcepoint Corporation, Imperva Inc., IBM Corporation, Informatica Corporation, Micro Focus International PLC, NetApp Inc., NextLabs Inc., Netwrix Corporation, Orange Cyberdefense Inc., Seclore Inc., Talend S.A., and Varonis Systems. |