The global dental contouring market was valued at USD 2.46 billion in 2021 and is expected to grow at a CAGR 5.6% of during the forecast period. The growing market demand for alveolar contouring is expected to be driven by the increasing number of dental caries having minor problems such as overcrowding of teeth, chipped or cracked teeth, and sharp edges.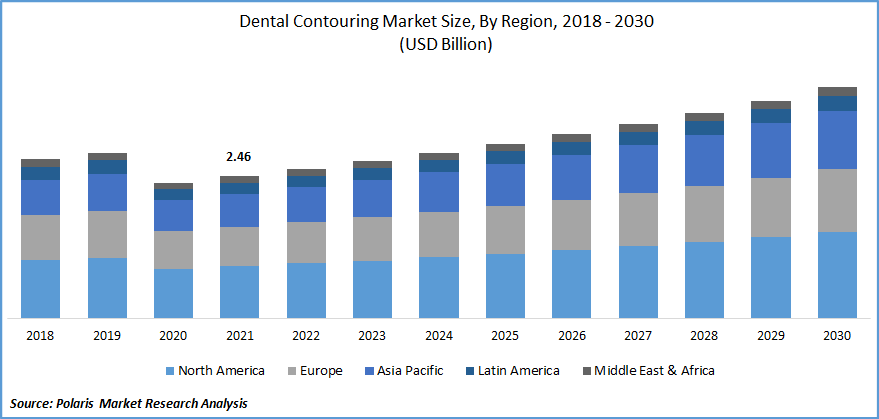 Know more about this report: Request for sample pages
Dental contouring, on account, is basically a branch of cosmetic dentistry that deals with minor injuries and imperfections of the teeth. The consumer is more aware of oral healthcare and has the potential to spend on alveolar injury, driving the dental contouring market towards growth. Moreover, cost-effective treatment, one-sitting treatment, advanced cutting tools, and rising market demand for aesthetics are likely to propel the dental contouring market growth during the forecast period.
The COVID-19 pandemic had a negative impact on the growth of the dental contouring industry. The dental contouring market witnessed a hold during the lockdown phase as many clinics and hospitals were shut down completely. As the enamel removal and minor imperfection are to be done under proper supervision, it was difficult for the consumer as well as the dentists to book any appointments even with urgency. Moreover, the supply of many pieces of equipment also witnessed a setback which led to lesser manufacturing of the product.
Developing countries such as India and China are expected to have opportunities in the alveolar contouring sector, owing to heavy sugar consumption and poor brushing habits. In addition, India has the most alveolar opportunities as it has been observed that the region has most patients with tooth decay and enamel due to heavy consumption of tobacco which leads to chipping and jagged teeth. So this can be a factor leading to the growing dental contouring industry in this region.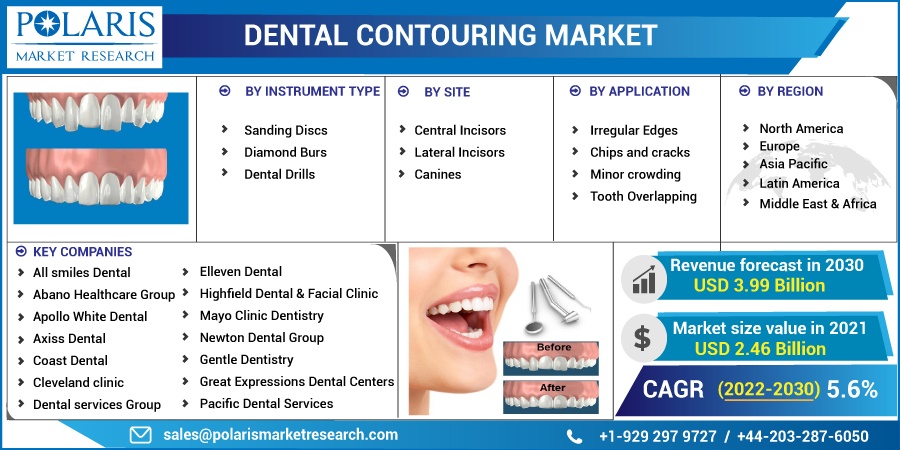 Know more about this report: Request for sample pages
Industry Dynamics
Growth Drivers
Dental contouring is likely to be driven by the rising demand in the Asia Pacific owing to the increasing number of patients with tooth decay and patients with gap filling. The growth of alveolar support organizations in Asia pacific is driving the dental contouring market's growth. Alveolar services are being provided in the house without going to the clinics, as dental contouring deals with reshaping teeth.
Furthermore, the rising need for alveolar aesthetics, conservative methods without high risk, increasing demand for chips and cracks improvement, and technological advancement in alveolar services are some key drivers that can boost the dental contouring market growth.
Report Segmentation
The market is primarily segmented based on Instrument type, site, application, and region.
By Instrument type

By Site

By Application

By Region

Sanding Discs
Diamond Burs
Dental Drills

Central Incisors
Lateral Incisors
Canines

Irregular Edges
Chips and cracks
Minor crowding
'Tooth Overlapping

North America (U.S., Canada)
Europe (France, Germany, UK, Italy, Netherlands, Spain, Russia)
Asia Pacific (Japan, China, India, Malaysia, Indonesia, South Korea)
Latin America (Brazil, Mexico, Argentina)
Middle East & Africa (Saudi Arabia, UAE, Israel, South Africa)
Know more about this report: Request for sample pages
Diamond Burs segment accounted for the largest share in 2021
Diamond burs segment accounted for the highest revenue share in 2021 and is expected to witness growth in the forecast period, owing to the performance of cutting as the instrument majorly depends on how efficient it is. Diamond burs are highly effective in removing the targeted teeth and polishing the teeth more effectively, which can promote the growth of this segment.
In addition, sanding discs are expected to grow over the forecast period, owing to lasers being painless and more efficient than drilling to remove enamel from the teeth. Moreover, it avoids teeth overlapping and also improves oral hygiene. Sanding discs can generate revenue if combined with cosmetic dentistry, which helps with the alignment of teeth and improves the appearance of teeth.
Central Incisor segment are expected to spearhead the market growth
The market demand for the central incisor is expected to grow over the forecast period. It will continue to grow in upcoming years as well, owing to the fact that most of the teeth are exposed on the front side, which is prone to get cracks, fractures, and chips which leads to crooked teeth and change the shape and size of the teeth where central incisor takes a major role to improve reshaping.
Similarly, the demand for lateral incisors is also at boom and expected to drive the market as it is required besides the central incisor. Central incisor helps to fill the gaps between teeth and repair crooked teeth; lateral incisors are also required to help with traumatic alveolar injuries. They are basically used for bonding the teeth after the removal of braces and for fixing some minor teeth injuries.
Irregular Edges is expected to witness faster growth as compared to other segments
Irregular edges is expected to grow over the forecast period as the consumer is more inclined towards appearance. The demand for irregular edges is growing from the younger generation to mid-adults, owing to jagged teeth being more common in young children up to 25 years. This results in the chipping of teeth and pain while biting or chewing, which could be cured by smoothening and by cutting trimming sessions.
In addition, minor crowding is also expected to grow over the period. Many adults face overcrowding of teeth from a younger age, affecting the smile's appearance. This could be treated by veneers, aligners, and braces, which have had heavy market demand in the past. So, this could be a major factor leading to driving the market.
Asia Pacific is expected to witness fastest growth over the forecast period
The Asia Pacific is the largest region for dental contouring and is expected to witness faster growth over the forecast period owing to the acceptance of new technologies and increased activities in research and development. Moreover, the low cost of treatment, an increase in dental tourism, and people becoming more aware of dental contouring are the major factor which is expected to drive demand over the forecast period.
North America is expected to emerge in the sector of dental contouring and lead the position in the near future, owing to the increased awareness about oral care, rising disposable income, and developed healthcare infrastructure to meet all dental injuries. Dental contouring has many key players in the North American market, and also, many organizations which support dental contouring are expected to contribute to market growth.
Competitive Insight
Some of the major players operating in the global market include All smiles Dental, Abano Healthcare Group, Apollo White Dental, Axiss Dental, Coast Dental, Cleveland clinic, Dental services Group, Elleven Dental, Highfield Dental & Facial Clinic, Mayo Clinic Dentistry, Newton Dental Group, Gentle Dentistry, Great Expressions Dental Centers, Pacific Dental Services, Smiles 360, Q &M Dental Group.
Recent Developments
In April 2022, Pacific Dental Services launches new integrated medical-dental partnership to support global health which will help patient focus on oral health as well as overall health.
In December 2021, Great Expressions Dental Centers announced partnership with amazing dental group which will deliver more services about dentalcare with all the locations in greater Detroit area.
Dental contouring Market Report Scope
| | |
| --- | --- |
| Report Attributes | Details |
| Market size value in 2021 | USD 2.46 billion |
| Revenue forecast in 2030 | USD 3.99 billion |
| CAGR | 5.6% from 2022 - 2030 |
| Base year | 2021 |
| Historical data | 2018 - 2020 |
| Forecast period | 2022 - 2030 |
| Quantitative units | Revenue in USD billion and CAGR from 2022 to 2030 |
| Segments covered | By Sanding Disc, By Site, By Application, By Region |
| Regional scope | North America, Europe, Asia Pacific, Latin America; Middle East & Africa |
| Key companies | All smiles Dental, Abano Healthcare Group, Apollo White Dental, Axiss Dental, Coast Dental, Cleveland clinic, Dental services Group, Elleven Dental, Highfield Dental & Facial Clinic, Mayo Clinic Dentistry, Newton Dental Group, Gentle Dentistry, Great Expressions Dental Centers, Pacific Dental Services, Smiles 360, Q &M Dental Group. |