The global diamond cutting and polishing market was valued at USD 21.26 billion in 2022 and is expected to grow at a CAGR of 3.5% during the forecast period. The increase in using diamond jewelry among millennials and technological interventions in diamond cuttings and polishing processes during the last decade are the major driving forces for the market.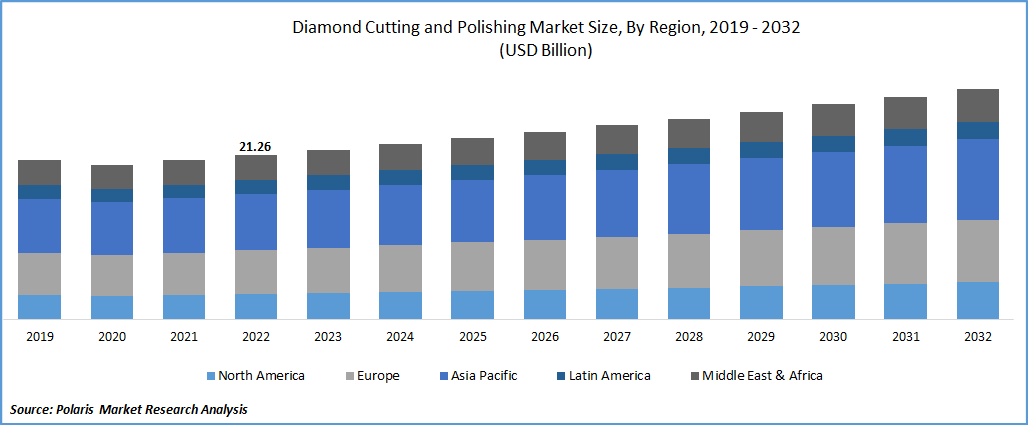 Know more about this report: Request for sample pages
Diamond manufacturing has witnessed a technological revolution in its techniques. Lasers, computer-imaging practices, and precision measurement systems made it possible to cut diamonds precisely in a way that is not easily possible with traditional methods. Moreover, a diamond cutter traditionally uses two cutting methods: cleaving and sawing. In the cleaving technique, the diamond is placed in a holder, and a steel blade strikes the groove made in the diamond and cuts it into pieces. While in sawing method, the diamond is cut through a rotatory diamond saw charged with diamond dust.
The new laser sawing techniques allow more precision and better novelty shapes cutting through computer-controlled platforms and reduce the sawing time by 50%. After cutting the diamonds, the next step is to shape the girdle outline through a process called bruting where traditionally two diamonds are spun against each other by mounted on separate lathes. But now, laser bruiting techniques are widely used. In the last stage, the diamonds have been passed through various processes like cross-working, blocking, and brillianteering to give diamonds their finished looks.
The cutting process of diamonds critically determines the grades and price of diamonds available. The precision in cutting and polishing gives these gems the ability to reflect and refract light and makes every piece of diamond unique. The diamonds are verified by a globally accepted standard of 4Cs i.e., through their color, clarity, cut, and carat weight.
With the adoption of improved technologies like 3D images and automated laser-cutting systems, it is quite possible to shape the diamonds such as – Asscher, Cushion, Emerald, Heart, Marquise, Oval, Pear, Princess, Radiant, Round, and Trillion. Jewelry players are able to manufacture various unique jewelry pieces boosting the demand for diamond jewelry in the last few years.
In addition, the wide use of diamonds in the jewelry industry has also other applications in various sectors like cutting rigid materials in the mining and automotive industries, engraving stones like granite and quartz in the construction industries, using in audio equipment, and beauty products like diamond-flecked spray and exfoliators, etc. Some of the other applications include the use of diamonds in heat sinks, cancer medications, used as bionic eyes, and next-generation computing devices also drive the market of diamond cutting and polishing.
For instance, as per data from the population division of the UN Department of Economic and Social Affairs (UN DESA), it is expected that the proportion of the urban population will increase to 68% by 2050 from 55% in 2018. This rising urban population is due to factors like the gradual shifting of residences from rural to urban areas coupled with the increasing population globally. The rising urbanization trend is due to huge capital investments from both the government and private players in infrastructural projects. Due to these rising infrastructural projects, there is a huge demand for various diamond tools for cutting stones, wood, glasses, slabs, etc., which boosts the diamond cutting and polishing market.
Fluctuating exchange rates is one of the significant factors for declining profit margins over the past few years. Various socio-economic factors include changing consumer buying behaviors, rough diamond production, and supply chain disruptions limiting the growth outlook of the diamond market. Additionally, the rising demand for lab-grown diamonds poses a restraining factor in the growth of cutting and polishing of naturally mined diamonds.
Due to the onset of widespread COVID-19, the pandemic harmed the diamond cutting and polishing market due to factors like shutting down of shops, unavailability of labor for mining, and supply chain disruptions in importing diamonds from countries like Russia, Botswana, and Canada. The Russia-Ukraine conflict has also affected the diamond market negatively. The European Union, USA, and UK imposed economic sanctions on Russia and excluded it from swift payments international systems involving significant players like Alrosa for accepting payments. Other macroeconomic factors such as political conflicts in Hong Kong and US-China trade war hampered the demand in FY 19 and FY20.
Industry Dynamics
Growth Drivers
During the last decade, significant technological breakthroughs allowed industry players to offer various diamonds in sizes and colors. Applications of diamonds in construction industries for cutting and polishing glass, bricks, etc., also fuel the demand for diamonds. Automobiles, computing, and healthcare are other industries where diamonds are used widely due to technological advancements in the last decade.
Increased adoption of online sales channels in emerging economies of APAC countries in the last few years also positively impacted the demand for diamond jewelry. Further, the improved jewelry offerings by different players in the market allured the millennials to these gems. China, Japan, and India are significant consumers of rough diamonds globally. Rising disposable incomes and changed buying behavior of millennials toward diamond jewelry are other drivers for this market.
Report Segmentation
By Category

By Technology

By Product Type

By Region

Laser Diamond Cutting and Polishing
CNC Diamond Cutting and Polishing
Others

North America (U.S., Canada)
Europe (France, Germany, Italy, Spain, UK, Netherlands, Austria)
Asia Pacific (China, India, Japan, Indonesia, Malaysia, South Korea)
Latin America (Argentina, Brazil, Mexico)
Middle East & Africa (Israel, Saudi Arabia, South Africa, UAE)
Know more about this report: Request for sample pages
The Laser Diamond cutting and polishing segment accounted for significant growth in 2022
The laser diamond cutting and polishing segment is anticipated to have significant growth in the forecasted period due to the factors such as precision cutting and reduction in time over traditional diamond manufacturing processes. For instance, on September 26, 2019, Synova, a Swiss advanced cutting laser manufacturer, announced a groundbreaking automatic cutting and shaping machine which is anticipated to reduce the diamond production time by combining different processes into a single device.
The automated segment is anticipated for a significant CAGR in the product segment.
In the product segment, the automated segment is expected for a significant CAGR in the diamond cutting and polishing market owing to the factors like automated processes due to advanced technology, which requires fewer labor hours over semi-automated processes. For instance, in May 2021, the DaVinci Diamond Factory was the world's first fully automated diamond faceting laser device. In a single operation, the DaVinci Diamond Factory converts raw diamonds into superb-cut diamonds having up to 57 facets.
Asia Pacific region is anticipated for significant growth in the diamond cutting and polishing market
APAC countries like India and China are the major importers of rough diamonds globally. Rising living standards and technological advancements in processing rough diamonds have given rise to the number of cutting and policing players in this market. Further, the availability of cheap labor and favorable legal frameworks further fuels this market.
North American region is expected to dominate the market in 2022 due to rising demand for diamonds in industrial applications in the US. The surge in the construction of buildings, highways, and mining activities demands diamond tools for cutting boosts demand for this market.
Competitive Insight
Some major players operating in the market include Blue Star Diamonds, Synova, Bonas Group, KGK Group, and A.A Rachminov diamonds, Kristall Production Corporation, Moshe Namdar Diamonds LTD, Constell Group, Dianco group, and Kiran gems, among others.
Recent Developments
September 2020: KGK group announced their new manufacturing unit in Bangkok to cater to the export demands for the market of Japan, Europe, South East Asia, and the USA.
October 2022: Synova, a swiss based advanced laser cutting systems manufacturer, established a micro-machining center where two DaVinci diamond factory systems can be operated.
Diamond Cutting and Polishing Market Report Scope
| | |
| --- | --- |
| Report Attributes | Details |
| Market size value in 2023 | USD 21.96 billion |
| Revenue forecast in 2032 | USD 29.85 billion |
| CAGR | 3.5% from 2023- 2032 |
| Base year | 2022 |
| Historical data | 2019 - 2022 |
| Forecast period | 2023 - 2032 |
| Quantitative units | Revenue in USD billion and CAGR from 2022 to 2030 |
| Segments Covered | By Category, By Technology, By Product Type, By Region |
| Regional scope | North America, Europe, Asia Pacific, Latin America, Middle East & Africa |
| Key Companies | Blue Star Diamonds, Synova, Bonas Group, KGK Group, A.A Rachminov diamonds, Kristall Production Corporation, Moshe Namdar Diamonds LTD, Constell Group, Dianco group, Kiran Gems among others. |