The global disposable cups market was valued at USD 11.7 billion in 2020 and is expected to grow at a CAGR of 7.5% during the forecast period. The key factors responsible for the market growth include the rising use of disposable cups in serving both hot and cold beverages, a surge in market demand from commercial and residential parties, and the emergence of quick-service restaurants in urban areas. Moreover, the convenience of consumers, shortage of water in cleaning utensils, changing food trends, and rising disposable income also expected to favor the market growth for disposable cups.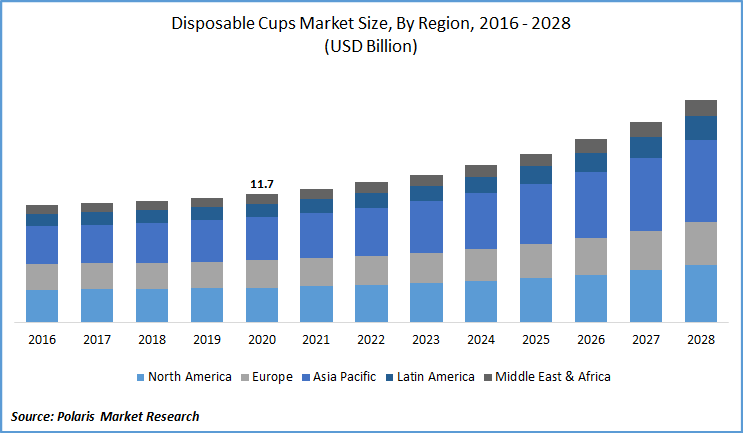 Know more about this report: request for sample pages
Despite their positive outlook, these cups are usually made up of plastic and derived materials, which are quite harmful to the environment. These plastics pollute the environment, takes longer to degrade, and also harm wildlife. Countries across the globe are engaged in single-use plastics use and few have also posed outright bans on such items. For instance, in August 2019, France had implemented new legislation to restrict the use of disposable utensils, cups, and plates. Re-usable alternatives to the product are on the rise in such countries.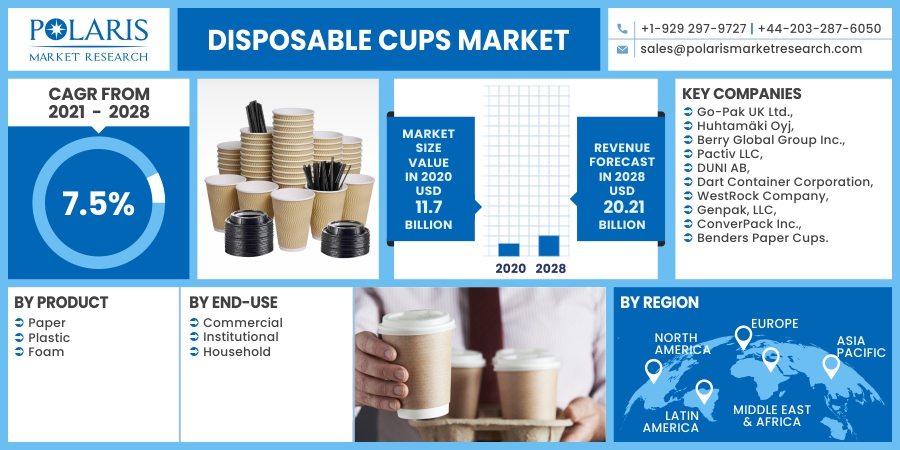 Know more about this report: request for sample pages
Disposable Cups Market Report Scope
The disposable cups market is primarily segmented on the basis of product, end-use, and region.
By Product

By End-Use

By Region

Commercial
Institutional
Household

North America (U.S., Canada)
Europe (France, Germany, UK, Italy, Spain, Netherlands, Austria)
Asia Pacific (Japan, China, India, Malaysia, Indonesia, South Korea)
Latin America (Brazil, Mexico, Argentina)
Middle East & Africa (Saudi Arabia, UAE, Israel, South Africa)
Know more about this report: request for sample pages
Insight by Product
In 2020, the paper disposables segment accounted for the largest market revenue share and was expected to witness the highest market growth over the study period. This is primarily due to the preference of consumers and its applicability to both hot and cold beverages. It is also environment friendly, made up of natural raw materials, which could be recycled, and enables to reduce carbon footprint.
They have reasonable cost and could be microwaved easily. Moreover, increasing intolerance towards single-use cups and government measures on banning products is likely to foster the demand for these disposable cups over the coming years. Hence, paper cups are expected to witness significant expansion over the disposable products study period.
The plastic disposable cups market segment is projected to witness a notable growth rate over the study period. Like paper disposable cups, these also come in varied options. For instance, these cups are made of PLA corn or composites, which offer enhanced marketability and product visibility. Hence, such foreseen factors are expected to boost the segment's market growth.
Insight by Application
In 2020, the commercial segment accounted for the largest market share. Such a high share is attributed to the increase in penetration of quick-service restaurants, coffee chains, and dedicated tea houses, creating notable market demand for disposable products.
With consumers opting for take-away or home deliveries, most of the disposable products such as cutlery, and plates serve and package food items. Such products are considered to be highly hygienic, when it comes to package food items, thereby driving market demand for disposable cups.
With the ongoing pandemic of COVID-19, the use of reusable cups and containers has reached its all-time low use, owing to concerns of public health, and to contain the spread. In this direction, in March 2020, Starbucks announced its stores which are opened in few locations of North America would serve beverages in disposable cups only. Such scenarios are expected to foster the demand for cups.
The institutional market segment is projected to witness the highest growth rate over the study period. This growth is primarily due to the rise in the use of disposable cups among varied institutions. Drinking water from the shared glasses in public places, particularly in developing countries, could lead to concerns over public health, hence generating market demand for the product.
Geographic Overview
Regional factors responsible for the North America disposable cups market growth include the increasing number of food chains and cafes across the globe, attracting billions of consumers to have coffee on the go. In addition, the increasing tourism and travel across the age groups is expected drive the market growth for disposable cups.
According to the study done by the Single Platform, it is being estimated that the average coffee drinker consumes has 3 cups each day. In the U.S., there are around 150 million coffee drinkers. Moreover, the presence of many restaurants and coffee houses, after easing lockdown restriction and concerned expansion in the likely to generate market demand for the cups.
Competitive Insight
The key players operating in the global disposable cups market include Go-Pak UK Ltd., Huhtamäki Oyj, Berry Global Group Inc., Pactiv LLC, DUNI AB, Dart Container Corporation, WestRock Company, Genpak, LLC, ConverPack Inc., and Benders Paper Cups.