The global drill pipe market was valued at USD 1.49 billion in 2022 and is expected to grow at a CAGR of 5.3% during the forecast period. The oil and gas industry has experienced significant growth in recent years, particularly in regions such as North America and the Middle East, due to expanding oilfield operations and improvements in drilling technologies. However, the COVID-19 pandemic and subsequent decline in global demand for oil have caused a significant drop in crude oil prices, leading to reduced or cessation of drilling activities in many countries.
To Understand More About this Research: Request a Free Sample Report
This downturn in drilling activity has substantially impacted the profitability of exploration and production (E&P) companies worldwide, particularly in the United States, Saudi Arabia, the United Kingdom, and Canada. Companies have had to adjust their operations and strategies to cope with these challenging market conditions, including reducing their capital expenditures, cutting costs, and restructuring their businesses. The industry is expected to continue facing significant challenges and uncertainty in the near term due to ongoing market volatility and shifts in global energy demand.
The recovery of onshore activities and the efforts of E&P companies to meet the current energy demand are expected to contribute to the growth of the oil and gas industry in the coming years. As the global economy recovers from the pandemic, there will likely be an increase in demand for oil and gas products, which could drive investment in new drilling projects and support the expansion of existing operations. High production costs remain a significant challenge for the industry. The costs of oil and gas exploration, production, and transportation can be very high, particularly for unconventional sources such as shale oil and gas. As a result, some projects may only be economically viable if oil and gas prices are high enough to justify the investment.
Additionally, the push towards renewable energy sources and the increasing awareness of the environmental impact of fossil fuels could also present challenges for the oil and gas industry in the long term. As the demand for clean energy grows, there may be a shift away from fossil fuels, which could have a significant impact on the future of the industry.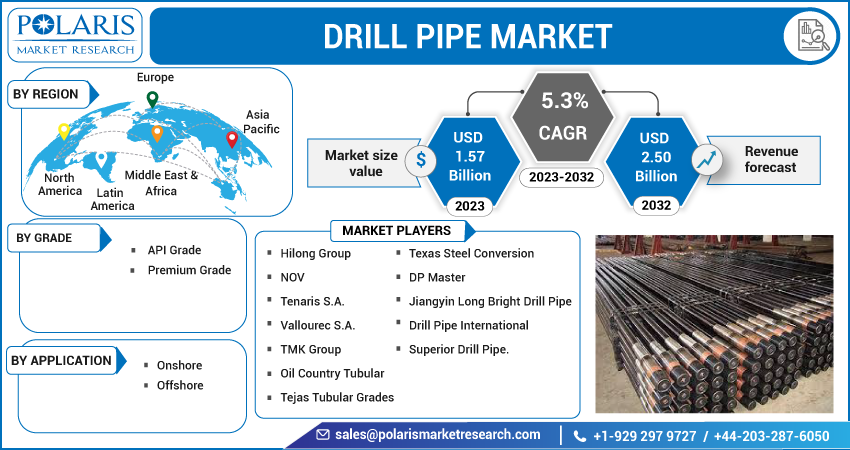 For Specific Research Requirements, Request for a Customized Report
Industry Dynamics
Growth Drivers
Environmental pollution and emissions from oil and gas exploration and production have increased in recent years, and this could affect the industry's growth prospects. There is growing awareness of the negative impact that oil and gas operations can have on air and water quality, and this has led to increased regulation and public scrutiny of the industry's practices.
Moreover, the discovery of the new hydro-carbon reserves in the South China Sea, Israel, Australia, & Egypt, presents opportunities for growth in drill pipe market. These discoveries could lead to new investment in exploration and production activities and support the expansion of existing operations. This could lead to more efficient and cost-effective drilling techniques, which could increase the profitability of E&P companies and support the growth of the industry.
Report Segmentation
The market is primarily segmented based grade, application, and region.
By Grade

By Application

By Region

North America (U.S., Canada)

Europe (France, Germany, UK, Italy, Netherlands, Spain, Russia)

Asia Pacific (Japan, China, India, Malaysia, Indonesia. South Korea)

Latin America (Brazil, Mexico, Argentina)

Middle East & Africa (Saudi Arabia, UAE, Israel, South Africa)
To Understand the Scope of this Report: Speak to Analyst
API grade

segment held largest share in the global market in 2022
The organic segment dominates the market with the largest shares. Standardization of finished products and the relatively low prices of API-grade drill pipes are expected to promote the growth and market penetration of this segment in the oil and gas industry. API (American Petroleum Institute) specifications set the standard for drill pipes used in oil and gas exploration and production. Standardization of drill pipes allows for consistency in the production and performance of the pipes, which can help to improve safety and reduce costs.
In addition, the relatively low prices of API-grade drill pipes can make them an attractive option for E&P companies, particularly in the current market conditions where cost-cutting is a priority. As a result, the demand for API-grade drill pipes is expected to increase, which could support the growth of this segment in the industry. API-grade products are typically designed to meet certain quality and performance standards set by the American Petroleum Institute, which can help to ensure their reliability and consistency. This can be particularly important in normal operating environments, where there may be less variability in the geology and other conditions of the well, and where it may be more important to optimize efficiency and minimize costs.
Onshore segment is dominating the global market in 2022
The onshore segment held the largest global share. This is primarily due to geology of the region, the regulatory environment, and the availability of infrastructure and other resources. In some cases, offshore drilling may be a more attractive option despite its higher costs and risks. The high internal rate of return (IRR) that can be achieved through onshore drilling, combined with a high rate of rig activities, can make it an attractive option for E&P companies seeking to maximize profits. In addition, onshore drilling typically involves lower risk than offshore drilling, which can help to reduce the costs associated with exploration and production.
In the Middle East, for example, countries like Saudi Arabia, Iraq, and the UAE have invested heavily in onshore drilling to extract their vast oil reserves. Similarly, in Venezuela and Nigeria, onshore drilling has been instrumental in expanding oil production, despite political and economic challenges in these countries. In the U.S., the shale revolution has been a major driver of onshore drilling, with companies using advanced techniques like hydraulic fracturing to extract oil and gas from unconventional formations.
North America region holds the largest revenue share of the market in 2022
North America accounted for the largest revenue share. Region's growth is primarily due to E&P companies' heavy investment in the onshore drilling as a means of diversifying their portfolios and reducing their exposure to risks associated with offshore drilling. In addition, advances in drilling technology, such as horizontal drilling and hydraulic fracturing, have made it possible to extract oil and gas from unconventional formations in regions like the U.S. and Canada, further driving investment in onshore drilling.
Overall, the ability to access and develop resources through onshore drilling has been a key driver of the market penetration of this segment in various regions around the world. As the industry continues to evolve, it is likely that we will see further investment in onshore drilling, as well as continued innovation in drilling techniques and equipment to maximize the extraction of resources from onshore fields.
APAC is projected to register robust growth rate over the study period. This is due to increase in rig activities, along with several new field developments including offshore basins, is expected to drive the market growth of onshore drilling in the region. Countries such as China, Indonesia, Australia, and India have significant offshore reserves, and are expected to invest heavily in onshore drilling to develop these resources.
In China, for example, the government has set ambitious targets for domestic oil and gas production, which are expected to drive significant investment in onshore drilling over the coming years. Similarly, in India, the government has announced plans to open several new oil and gas blocks for exploration and production, which will likely lead to increased activity in the onshore drilling segment.
In addition, advances in drilling technology, such as directional drilling and improved well completion techniques, are expected to drive growth in the region, particularly in offshore basins where extraction can be more challenging. Overall, the combination of new field developments, increasing rig activity, and advances in drilling technology are expected to drive the growth of the onshore drilling segment in the Asia Pacific region in the coming years.
Competitive Insight
The global market involves Hilong Group, NOV, Tenaris S.A., Vallourec S.A., TMK Group, Oil Country Tubular, Tejas Tubular Grades, Texas Steel Conversion, DP Master, Jiangyin Long Bright Drill Pipe, Drill Pipe International, and Superior Drill Pipe.
Recent Developments
In May 2019, Schlumberger & the Wellbore Integrity Solutions signed an agreement to acquire assets of the DRILCO, and Thomas Tools. With this acquisition, the latter expected to provide drilling tubular activities, rentals, work strings, and remedial services for the intervention and abandonment services in oil and exploration industry.
Drill Pipe Market Report Scope
| | |
| --- | --- |
| Report Attributes | Details |
| Market size value in 2023 | USD 1.57 billion |
| Revenue forecast in 2032 | USD 2.50 billion |
| CAGR | 5.3% from 2023– 2032 |
| Base year | 2022 |
| Historical data | 2019– 2021 |
| Forecast period | 2023– 2032 |
| Quantitative units | Revenue in USD billion and CAGR from 2023 to 2032 |
| Segments covered | By Grade, By Application, By Region |
| Regional scope | North America, Europe, Asia Pacific, Latin America; Middle East & Africa |
| Key companies | Hilong Group, NOV, Tenaris S.A., Vallourec S.A., TMK Group, Oil Country Tubular, Tejas Tubular Grades, Texas Steel Conversion, DP Master, Jiangyin Long Bright Drill Pipe, Drill Pipe International, and Superior Drill Pipe. |