The global edible oil and fats market was valued at USD 247.90 billion in 2022 and is expected to grow at a CAGR of 3.8% during the forecast period. The rising awareness towards healthier substitutes to trans-fat, demand for a more nutritious and balanced diet among consumers, and increasing disposable income have increased the demand for high-quality edible oil and fats in the last few years and is expected to drive the market in the coming years. Further, the importance of vegetable oils as functional ingredients to reduce cardiovascular disorders and likely to reduce the possibility of breast cancer has remained a favorable driver for the market among health-conscious consumers.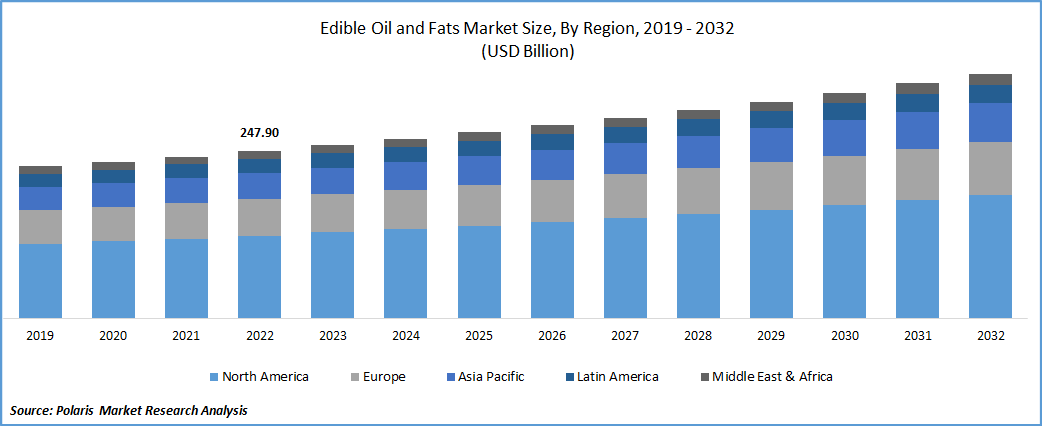 Know more about this report: Request for sample pages
Edible oil and fats are majorly obtained from raw materials such as fleshy fruits (Olive and Palm), animal by-products, and oilseeds. The crude oils and fats from these sources are obtained using various methods such as pressing, rendering, and extracting with solvents. Some oils, including virgin olive oil, became ready for consumption after the initial processing stage, while others needed additional processing.
In edible form, these ingredients are rich in essential micro and macronutrients, making them suitable for food preparation. Apart from providing a rich source of energy (around 9 kilocalories per gram), fats and fatty acids are also examined to impart various other benefits in early growth and development and nutrition-related chronic disease. For example, n-3 and n-6 fatty acids have remained beneficial for the prevalence and severity of diabetes, cardiovascular disease, cancer, and age-related disease. Other dietary fats are a primary contributor to food palatability and are essential for proper development and survival during the early stages of life-embryonic development and early growth through infancy and childhood.
Besides the major applications of edible oils in preparation of various foods, the edible oil and fats market players have yet to discover its other uses. For instance, a huge investment has been witnessed in developing novel alternative oils such as algal, yeast, and insect-derived oils. Some of these products are now used in various non-food applications such as cosmetics, shampoo, laundry detergent, biofuels, and animal feeds.
Concerns regarding the negative impact on the health of excessively using oil and fats remain to inhibit some market segments. Further, various stringent regulations by food regulatory authorities to ensure consumers' safety have also remained a challenge in different market regions.
The covid-19 pandemic moderately impacted market in 2020 - 2021. The period is characterized by the disruption of supply chains of major oil-producing countries such as Malaysia, Brazil, and others, which caused delays in the export and import of raw materials along with the closure of production units for some periods, causing supply-side difficulty for the market. At the same time, the demand side problems can be attributed to closure of fast-food outlets, which decreases the demand for edible fats and oils for a certain period. While on the positive side, there was a shift in consumer behavior witnessed in the pandemic period from dine-out to self-cooking, which has impacted the demand for these edible ingredients to some extent.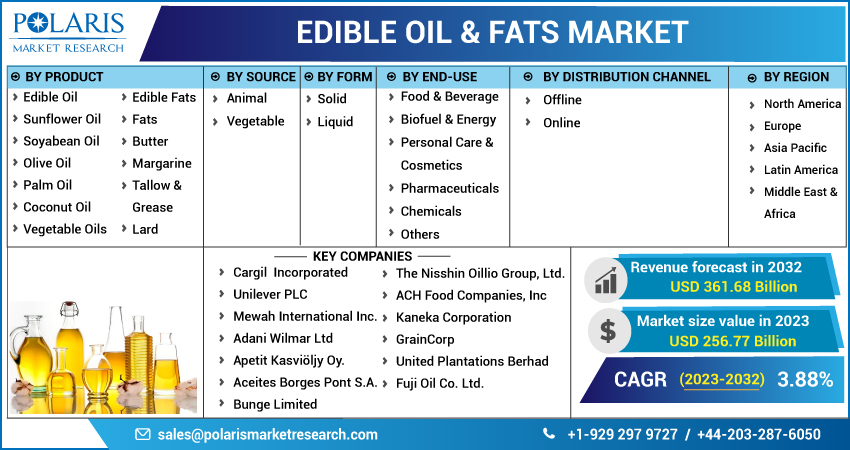 Know more about this report: Request for sample pages
Industry Dynamics
Growth Drivers
The growing use of vegetable oil and fats in the food industry, especially in emerging economies such as China, India and others, can be the edible oil and fats market primary growth factor. In the last decade, the fast-food outlets and hotel industry generated a significant demand for edible oils. Increasing working professionals are witnessing a hectic lifestyle which changes the diet patterns of the consumers and increases the preference towards a variety of food items, which largely depend on these edible ingredients. The factors were further boosted by the growth of the hospitality industry in countries such as India and China coupled with rising middle-income group families that increase the rate of dining out on weekends.
The second most vital factor driving the market further can be attributed to the wider applications of edible ingredients in various end-use industry. One such application can be addressed by adding functionalities to personal care and cosmetic products. Fats and oils are rich in anti-oxidants, that help in providing anti-inflammatory features to personal care products. Dermal ointments and creams are some other end-uses projected to influence the demand for edible oil and fats in the forecast period.
Report Segmentation
The edible oil & fats market is primarily segmented based on product, source, form, end-use, distribution channel, and region
By Product

By Source

By Form

By End-Use

By Distribution Channel

By Region

Edible Oil

Sunflower Oil

Soyabean Oil

Olive Oil

Palm Oil

Coconut Oil

Vegetable Oils

Others

Edible Fats

Fats

Butter

Margarine

Tallow & Grease

Lard

Others

Food & Beverage

Biofuel & Energy

Personal Care & Cosmetics

Pharmaceuticals

Chemicals

Others

North America (U.S, Canada, Mexico)

Asia-pacific (China, Japan, India, Australia, Rest of Asia- pacific)

Europe (Germany, UK, France, Spain, Italy, Rest of Europe)

LAMEA (Latin America, Middle East & Africa)
Know more about this report: Request for sample pages
The Palm Oil sub-segment

accounted for the largest market share in 2022
The increasing adoption of palm oil in the food and beverage industry due to its essential nutrients such as selenium, magnesium, vitamin E, and phytosterols has been the major driving factor for the sub-segment.
The margarine sub-segment accounted for the fastest growth rate in the edible oil & fats market segment in the projected period. The growth is due to factors such as adopting veg-derived margarine as a substitute for butter in markets of the U.K. and Germany and preference from glutamic disorders and lactose intolerant consumers.
The Vegetable oil segment is anticipated to account for a major share in market
The increasing need for essential vegetable oils such as palm oil and soyabean oil in the production of confectionery products and baked foods due to their low cholesterol, low fat, and low calories is the major reason behind the dominant position of the segment in the forecast period. Other applications for the vegetable oils, such as in pleo-chemical industries, the energy & biomass industry, and animal feeds, further boost the market in the coming years.
On the basis of form, liquid oils are anticipated to witness the highest growth in 2022
The physical characteristics of oil and fats largely depend on factors such as the length of the parent carbon chain, degree of unsaturation, isomeric forms of fatty acids, processing variables, and molecular configuration. The liquid form of fat and oils is more unsaturated in nature and hence preferred over the solid structures.
On the basis of end-use, food, and beverage are

accounted for the largest market share
The food and beverage segment is projected to hold the largest revenue for the edible oil & fats market in the years to come. The increasing urbanization and penetration of cross-cultural food players across the regions have shifted consumers' diet patterns for outside dining, substantially increasing the market demand. In addition, consumers from metropolitan areas are more focused on the quality of edible fats and oil used in food items, impacting the market positively. Conversely, the biofuel and energy segment will witness a quick CAGR during the forecast period.
On the basis of distribution channel, online channel is accounted for highest growth rate in the forecast period
Various favorable benefits provided by e-commerce channels, such as faster doorstep delivery, coupon benefits, cash-on-delivery, discounts, and easy order options, are the most promising factors for the growth of online distribution channels. Working professionals don't have adequate time to purchase their essential and grocery items from traditional and retail channels and prefer to shop online. Further, the covid-19 pandemic and innovative financial infrastructure, such as UPI, increase the easiness for e-commerce players to operate in the market.
Asia Pacific region is leading the market in terms of revenue share for the year 2022
The presence of major key palm contributes to the region's revenue share and palm kernel oil-producing countries such as Indonesia and Malaysia and oil-consuming countries including India and China. According to the Forum for the Future, an international non-profit sustainable organization, the Asia-Pacific region has consumed more than 30% of global edible oils since 2018. China is estimated to consume more than 40 Billion metric tons of vegetable oils in 2021, and India constitutes a value of 28.7 Billion metric tons in the same period. The huge production and consumption of various major oils by different Asia pacific countries is the primary factor behind the region's dominant position.
In addition, Europe is expected for a significant growth rate in the forecast period owing to factors such as increasing consumption of olive oil from consumers in Italy, Spain, and France. The growth is further propelled by the rising consumption of premium cooking and edible oils and the upsurging applications in biofuel, animal feed, and other industries.
Competitive Insight
Some of the prominent key players operating in the Marketspace include Cargil, Incorporated, Unilever PLC, Mewah International Inc., Adani Wilmar Ltd, Apetit Kasviöljy Oy., Aceites Borges Pont S.A., Bunge Limited, The Nisshin Oillio Group, Ltd., ACH Food Companies, Inc, Kaneka Corporation, GrainCorp, United Plantations Berhad, Fuji Oil Co. Ltd.
Recent Developments
In February 2023: Cargill, Incorporated launched its edible oil Gemini Pureit to cater to the demand of the Southern Part of India, which consumes nearly two-thirds of India's sunflower oil.

In May 2021: ADM announced its planning to build its first-ever soybean crushing and refinery in the United States to fulfill the demand from food, biofuel, industrial and other applications.
Synthetic Rubber Market Report Scope
| | |
| --- | --- |
| Report Attributes | Details |
| Market size value in 2023 | USD 256.77 billion |
| Revenue forecast in 2032 | USD 361.68 billion |
| CAGR | 3.88% from 2023 - 2032 |
| Base year | 2022 |
| Historical data | 2018 - 2021 |
| Forecast period | 2023 - 2032 |
| Quantitative units | Revenue in USD billion and CAGR from 2023 to 2032 |
| Segments covered | By Product, By Source, By Form, By End Use, By Distribution Channel, By Region |
| Regional scope | North America, Europe, Asia Pacific, Latin America, Middle East & Africa |
| Key companies | Cargil, Incorporated, Unilever PLC, Mewah International Inc., Adani Wilmar Ltd, Apetit Kasviöljy Oy., Aceites Borges Pont S.A., Bunge Limited, The Nisshin Oillio Group, Ltd., ACH Food Companies, Inc, Kaneka Corporation, GrainCorp, United Plantations Berhad, Fuji Oil Co. Ltd. |