The global electrical bushings market was valued at USD 2.50 billion in 2022 and is expected to grow at a CAGR of 3.7% during the forecast period.
Electrical bushing, also known as an insulating bushing or insulator, is a device used to insulate and protect electrical conductors as they pass through or connect to an enclosure or housing. It provides electrical insulation and supports the conductor, preventing contact with the surrounding material and ensuring safe and reliable operation of electrical equipment and systems. The primary use of electrical bushings is to provide a secure and insulated connection point for various electrical components, such as cables, conductors, transformers, switchgear, and other high-voltage equipment.

To Understand More About this Research: Request a Free Sample Report
The COVID-19 pandemic led to changes in energy consumption patterns, with fluctuations in demand for electricity in different sectors. For example, the commercial sector experienced a decline in energy consumption due to lockdowns and restrictions, while the residential sector witnessed increased demand as more people stayed at home. These changes had implications for the demand for electrical bushings in different applications.
However, many infrastructure projects, including power transmission and distribution projects, were delayed, or put on hold due to the pandemic. This had a direct impact on the demand for electrical bushings, as the installation and replacement of bushings are often associated with such projects.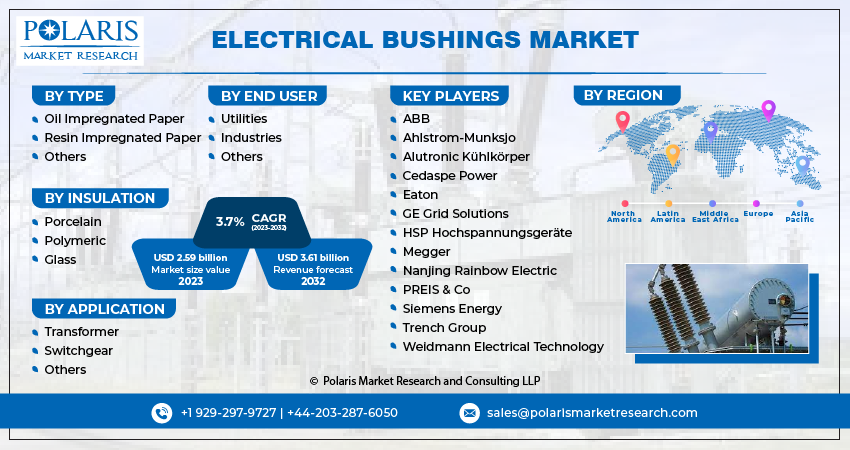 For Specific Research Requirements, Request for a Customized Report
Industry Dynamics
Growth Drivers
Growing Demand for Electricity
The developing interest for electrical hardware from various industries is driving the market. The global push towards renewable energy sources, such as wind and solar power, has led to the installation of new power plants and the expansion of existing ones. For instance, in Q1 2020, the proportion of renewable energy in the world's electrical generation increased to around 28%. Coal and gas were mostly hurt by the rise in renewable energy, even though they still account for about 60% of the world's electrical supply. Electrical bushings are required in renewable energy systems to connect and insulate various components, including transformers, generators, and transmission lines. As a result, this factor is helping the market to grow with a significant growth rate.
Growing industrial and manufacturing sectors throughout the world is likely to improve the growth of market.
For instance, Manufacturing was responsible for USD 2.3 trillion, or 12.0% of the total U.S. GDP, of the country's GDP in 2021. India's manufacturing exports in FY22 reached an all-time high of USD 418 billion, an increase of more than 40% from the USD 290 billion in FY21.
The industrial and manufacturing sectors rely heavily on electrical equipment for their operations. As these sectors expand and modernize, the demand for electrical bushings increases. Industries such as automotive, steel, chemicals, and pharmaceuticals require electrical bushings in their machinery and electrical systems. This further foster the expansion of the market globally.
Report Segmentation
The market is primarily segmented based on type, insulation, application, end user, and region.
By Type

By Insulation

By Application

By End User

By Region

Oil Impregnated Paper

Resin Impregnated Paper

Others

Porcelain

Polymeric

Glass

Transformer

Switchgear

Others

Utilities

Industries

Others

North America (U.S., Canada)

Europe (France, Germany, UK, Italy, Netherlands, Spain, Russia)

Asia Pacific (Japan, China, India, Malaysia, Indonesia. South Korea)

Latin America (Brazil, Mexico, Argentina)

Middle East & Africa (Saudi Arabia, UAE, Israel, South Africa)
To Understand the Scope of this Report: Speak to Analyst
By Type Analysis
Oil impregnated paper segment is dominating the market in 2022
In fiscal year 2022, the oil impregnated paper segment is anticipated to record the largest market share. The oil impregnation enhances the dielectric strength and insulation capabilities of the paper, making it suitable for high-voltage applications. This allows for effective insulation and reliable performance in electrical systems. This type is capable of handling a wide range of voltage levels, from medium to high voltage. This versatility makes them suitable for various electrical applications, including power transmission and distribution systems. In addition to this, oil-impregnated paper bushings are known for their durability and long service life. The oil impregnation helps to protect the paper insulation from moisture and contaminants, preventing degradation over time. This results in reliable performance and extended operational life of the bushings.
By Insulation Analysis
Porcelain segment is dominating the global market
Porcelain is expected to account the largest market share in the global market as is an excellent insulating material with high dielectric strength, making it suitable for high-voltage applications. It can effectively withstand electrical stress and prevent leakage or breakdown. This type of insulation is highly durable and has a long service life. It can withstand harsh environmental conditions, temperature variations, and mechanical stresses without degradation, ensuring reliable performance over time.
By Application Analysis
Transformer application held largest share of the global revenue
Transformer application is dominating the global market in the fiscal year 2022. Transformers play a critical role in the power transmission and distribution infrastructure. They are used to step up or step down voltage levels to facilitate efficient power transmission and supply electricity to consumers. Electrical bushings are essential components in transformers for electrical insulation and connection purposes.
Furthermore, developing economies are witnessing significant investments in grid expansion and electrification projects to extend access to electricity to rural areas and remote locations. These projects involve the installation of new transformers and electrical bushings to support the growing electrical infrastructure. Participation of many companies in this application is responsible for the dominance of the market. For instance, in June 2021, Power Grid Corporation awarded multiple orders for 765 kV transformers and reactors to GE.
By End User Analysis
Utilities segment is gaining a huge traction in the global market
Utilities, including power generation companies and electricity distribution companies, are the primary entities responsible for generating and delivering electricity to consumers. These utilities require a substantial number of transformers and electrical bushings to ensure efficient and reliable power transmission and distribution. Additionally, utilities continuously invest in expanding their power grid infrastructure to meet the increasing electricity demand. This includes the installation of new substations, transformers, and associated equipment. Electrical bushings are essential components in transformers used by utilities to provide electrical insulation and ensure reliable performance.
Also, utilities are investing in grid modernization projects to enhance the efficiency, reliability, and flexibility of their power networks. These initiatives involve the deployment of advanced technologies, smart grids, and digital monitoring systems. Electrical bushings are integral components in transformers that support these modernization efforts.
Regional Insights
North America is accounting the largest share in the global market
In the fiscal year 2022, North America is expected to lead the global market share. The region has a well-developed and mature industrial infrastructure, particularly in the energy and power sectors. The region has a significant number of power generation plants, utility companies, and electrical equipment manufacturers. For instance, The US is one of the most industrialised nations in the world. In 2021, the industrial sector was responsible for 33% of all US energy consumption and 35% of all US end-use energy. Henceforth, the need for electrical bushing is increasing which further responsible for the growth of market in the region.
With the growth of power transmission and distribution networks and the addition of renewable technologies to its mix of energy generation, region has greatly developed its power industry. Region's renewable power generation capacity reached 1,322 Terawatt-hours in 2020, according to BP's Statistical Review of World Energy 2021, which increased the need for system expansion, including transformers and switch gears, among other things. The need for electrical bushings will increase as a result of this rise, which is anticipated to last into the future.
Key Market Players & Competitive Insights
Key players in the electrical bushings market are constantly upgrading their technologies to stay ahead of the competition and to ensure efficiency, integrity, and safety. These players focus on partnership, product upgrades, and collaboration to gain a competitive edge over their peers and capture a significant market share.
The global electrical bushings market involves:
ABB

Ahlstrom-Munksjo

Alutronic Kühlkörper

Cedaspe Power

Eaton

GE Grid Solutions

HSP Hochspannungsgeräte

Megger

Nanjing Rainbow Electric

PREIS & Co

Siemens Energy

Trench Group

Weidmann Electrical Technology
Recent Developments
In February 2019, the On-Demand Mobile Resilience Transformer (GSU Resilence Transformer) was introduced by Siemens. The GSU Resilience Transformer may be installed in a remarkably brief amount of time thanks to its plug-and-play bushings and ease of loading and shipping.
Electrical Bushings Market Report Scope
| | |
| --- | --- |
| Report Attributes | Details |
| Market size value in 2023 | USD 2.59 billion |
| Revenue forecast in 2032 | USD 3.61 billion |
| CAGR | 3.7% from 2023 – 2032 |
| Base year | 2022 |
| Historical data | 2019– 2022 |
| Forecast period | 2023– 2032 |
| Quantitative units | Revenue in USD million/billion and CAGR from 2023 to 2030 |
| Segments covered | By Type, By Insulation, By Application, By End User, By Region |
| Regional scope | North America, Europe, Asia Pacific, Latin America; Middle East & Africa |
| Customization | Report customization as per your requirements with respect to countries, region and segmentation. |