The global energy management systems market was valued at USD 35.54 billion in 2021 and is expected to grow at a CAGR of 13.4% during the forecast period. Electric utility grids employ the energy management system (EMS) to track, examine, and improve the performance of the electric transmission system. It refers to a wider range of energy network applications and specific ones like scheduling and generation control. The system was developed using a real-time data operating system to increase power efficiency. It is extensively utilized in the energy, telecom, and IT sectors, among other industries.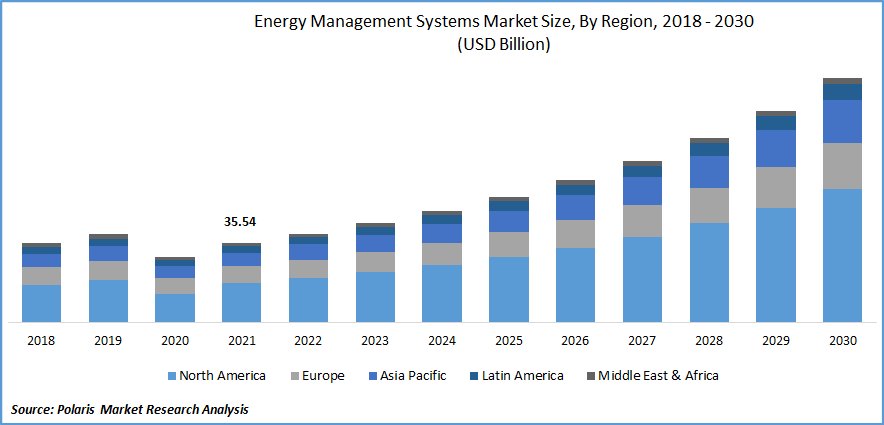 Know more about this report: Request for sample pages
The transformation of different industrial and commercial operations, as well as energy management, has been greatly aided by digitalization. The importance of this tendency toward modernizing energy models is rising along with its greater efficiency. The ability to link and coordinate all of the network's equipment and devices, thanks to the digitization of energy management procedures, results in a larger efficiency gain. Buildings' digital connection may allow for communication with smart power networks.
Globally, there is a growing demand for energy management systems. Many small and medium-sized businesses are still ignorant of the benefits of energy management, though. This aspect is impeding the expansion of the market as a whole. Large businesses are adopting cutting-edge EMS due to their sophisticated infrastructure. However, the adoption across small and medium-sized enterprises is restricted by expensive setup and implementation expenses.
The COVID-19 pandemic outbreak has brought about several unexpected changes in the world economy, and its repercussions have been felt across all industries. The demand for energy and electricity has significantly decreased due to the closure of large industrial facilities and industries worldwide. According to the World Economic Forum (WEF), the shutdown lowered energy demand in the United States, France, India, and the United Kingdom by at least 15%. Italy saw a 75% decrease in power demand. Thus, the global COVID-19 epidemic has had a negative impact on the expansion of the energy management business.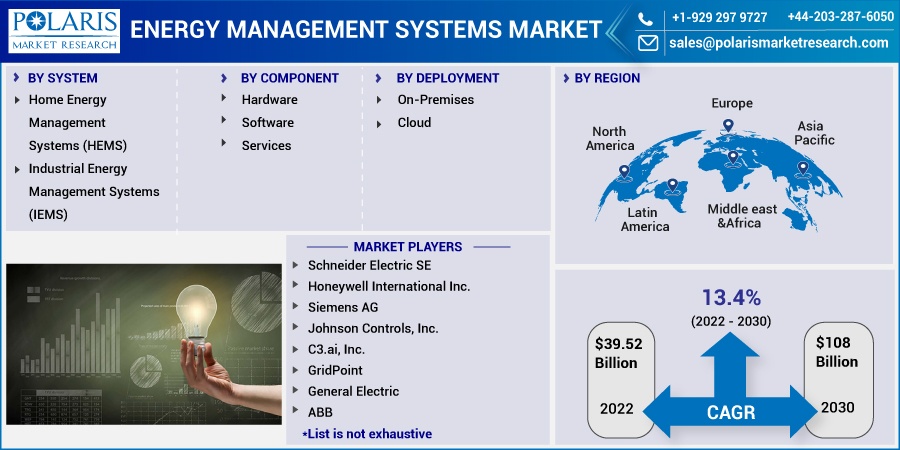 Know more about this report: Request for sample pages
Industry Dynamics
Growth Drivers
Global concern has grown about the steadily declining energy intensity of traditional fuels like coal. Worldwide, governments have committed resources to create a fair, secure, and sustainable energy system. Additionally, the fast industrialization causing an increase in energy consumption drives governments in many nations to establish effective energy management systems.
In addition, escalating energy price inflation and supplier rivalry are pressuring governments to boost their investments in renewable energy.
Efficiencies are being improved via the aggressive support of smart infrastructure initiatives through the upgrading of the energy and utility sectors. A huge need for sophisticated energy management is generated by rising investments in smart projects like smart buildings and smart farms. Smart grid and smart meter implementation is expanding, which supports market expansion.
The adoption of smart grids is also being boosted by its beneficial characteristics, which include decreased cost, enhanced cost-effectiveness, fraud detection, and others. Utility bill optimization is another one of these features.
Furthermore, data collecting, analysis, and insight-gathering tools are included in smart grids and meters, allowing for the extraction of useful information. So, it is projected that technologically upgraded smart grids and smart energy meters would aid market development.
Report Segmentation
The market is primarily segmented based on system, component, deployment, and region.
By System

By Component

By Deployment

By Region

Home Energy Management Systems (HEMS)
Industrial Energy Management Systems (IEMS)

Hardware
Software
Services

North America (U.S., Canada)
Europe (France, Germany, UK, Italy, Netherlands, Spain, Russia)
Asia Pacific (Japan, China, India, Malaysia, Indonesia, South Korea)
Latin America (Brazil, Mexico, Argentina)
Middle East & Africa (Saudi Arabia, UAE, Israel, South Africa)
Know more about this report: Request for sample pages
Home Energy Management Systems (HEMS) accounted for the largest share of the market in 2021
With rising energy consumption as a background, the home energy management systems (HEMS) market is anticipated to display an excellent CAGR. According to the EIA's Annual Energy Outlook 2015, household demand may increase by 0.3% annually through 2040. HEMS are expected to be supported by energy optimization solutions, such as a smart home's electrical board and the usage of software that assists in detecting energy use.
The home sector continues to utilize energy primarily for space heating, air conditioning, water heating, lighting, and appliances, which suggests that smart devices, such as smart sensors and smart meters, might acquire more popularity in the coming years. The need for home energy management systems is expected to increase as the number of energy-saving gadgets increases.
Hardware industry accounted for the largest share in the market
In light of the expanding adoption of communication and sensor technologies, the hardware sector may represent a sizeable portion of the worldwide market. In addition, wired sensor networks are becoming more popular because they are more dependable, have longer service lives, and are less susceptible to interference and disturbances.
Hardware components may boost the market prediction during the forecast period as monitoring and managing building activities gain traction to incorporate intelligence.
Cloud-based energy management technologies accounted for the largest share in the market
The need to decrease carbon emissions and lower costs will drive a large portion of the worldwide market growth for cloud-based energy management systems. Systems for cloud computing have increased flexibility for businesses and made it possible to see, monitor, and evaluate data remotely. End customers are expected to express a need for cloud-based EMS for real-time energy visibility.
To allow end users to control and monitor energy habits utilizing IIoT devices, cloud-based energy management solutions have gained popularity. The cloud will continue to gain popularity around the globe as cutting-edge technology and the Internet of Things play a crucial part in reducing energy consumption.
North America accounted for the largest share of the market
With the increasing use of smart grids and investment in infrastructure, the United States and Canada are expected to offer prospects for producing money. According to the IEA, investments in energy grids would increase by 10% in 2021, with the U.S. as one of the primary countries investing in infrastructure. Additionally, the need for smart energy has significantly increased throughout the area, motivating stakeholders to invest money in EMS. The building, residential, and commercial sectors are expected to show the strongest demand for IoT-based solutions.
The increase in energy usage for space heating and cooling is primarily responsible for the development trajectory. For instance, the U.S. Energy Information Administration referenced the Annual Energy Outlook 2022 in June 2022 to claim that heating and cooling accounted for about 50% of the energy consumed in U.S. buildings in 2021. To reduce carbon emissions and access the global market, it is also projected that power providers and business and industrial organizations would focus on clean energy technology and connectivity.
Competitive Insight
Some of the major players operating in the global market include Schneider Electric SE; Honeywell International Inc.; Siemens AG; Johnson Controls, Inc.; C3.ai, Inc.; GridPoint, General Electric; ABB; International Business Machines Corporation; Cisco Systems, Inc.
Recent Developments
In December 2021, General Electric acquired Opus One Solutions Energy Corporation, a software company that aids in the optimization of energy operations and planning. This agreement will help General Electric organize, improve, and trade distributed and renewable energy resources to allow a modern system.
In March 2020, Yokogawa India Ltd. purchased an interest in APB Corporation, a Japanese provider of energy management solutions, in order to grow its business.
Energy Management Systems Market Report Scope
| | |
| --- | --- |
| Report Attributes | Details |
| Market size value in 2022 | USD 39.52 billion |
| Revenue forecast in 2030 | USD 108 billion |
| CAGR | 13.4% from 2022 - 2030 |
| Base year | 2021 |
| Historical data | 2019 - 2021 |
| Forecast period | 2022 - 2030 |
| Quantitative units | Revenue in USD billion and CAGR from 2022 to 2030 |
| Segments Covered | System, Component, Deployment, Region |
| Regional scope | North America, Europe, Asia Pacific, Latin America; Middle East & Africa |
| Key Companies | Schneider Electric SE; Honeywell International Inc.; Siemens AG; Johnson Controls, Inc.; C3.ai, Inc.; GridPoint, General Electric; ABB; International Business Machines Corporation; Cisco Systems, Inc. |