The global feed acidifiers market was valued at USD 2.00 billion in 2022 and is expected to grow at a CAGR of 6.3 % during the forecast period. The market for feed acidifiers has experienced substantial growth in recent years, largely due to their increased use in animal feed for poultry, swine, aquaculture, and other livestock. Some key factors of growth include the growing consumption of livestock by-products, government support for the feed industry, and the ban on antibiotics in the EU. Additionally, the threat of disease in livestock has led to increased demand for feed acidifiers, as they can promote healthy animal growth.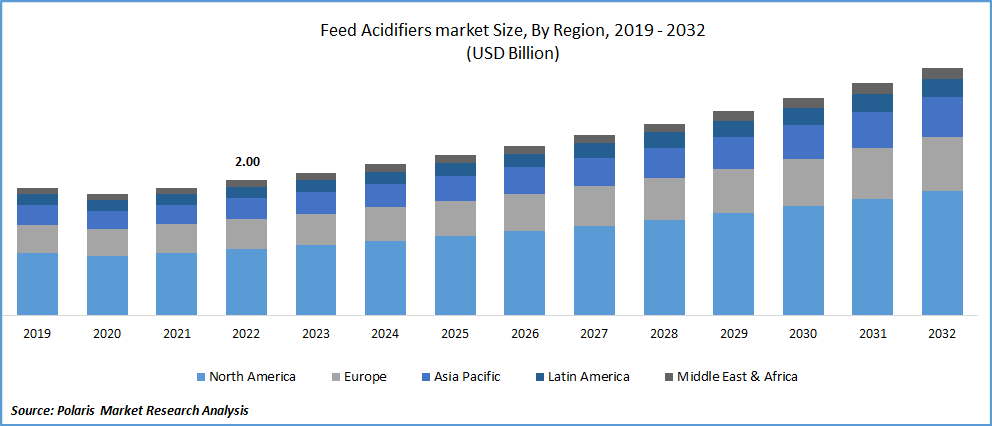 Know more about this report: Request for sample pages
The ban on antibiotics in animal feed has led to a greater demand for feed acidifiers, which act as mold inhibitors and improve animal growth, thereby enhancing their productivity. These acidifiers are added to animal feed to reduce the pH level of the gut and inhibit the growth of pathogenic intestinal microflora. This results in better animal performance as the beneficial bacteria in the gut can compete for host nutrients more effectively.
Feed acidifiers contain specific microorganisms that positively affect nutrition by promoting a balance of pathogenic and beneficial gut bacteria. They also compete with pathogens that regulate gut cell adhesion. Direct-acting gut flora modulators, such as essential compounds, effectively modulate the microflora via growth inhibition. These products play a crucial role in animal feed and are necessary for achieving higher productivity in farm animals. As a result, there is a growing emphasis on feed acidifiers to meet the demand for improved productivity in the livestock industry.
The COVID-19 pandemic has had a mixed impact on the feed acidifiers market. Disruptions to supply chains and logistics have led to a shortage of feed ingredients and additives, including feed acidifiers. This has resulted in increased prices and delayed shipments of these products. The pandemic has led to a surge in demand for animal protein as consumers stockpile food in anticipation of potential shortages. This has increased the demand for animal feed and feed additives, including feed acidifiers.
Additionally, the pandemic has raised awareness of the importance of animal health and welfare, further driving demand for products that can promote animal growth and productivity, such as feed acidifiers.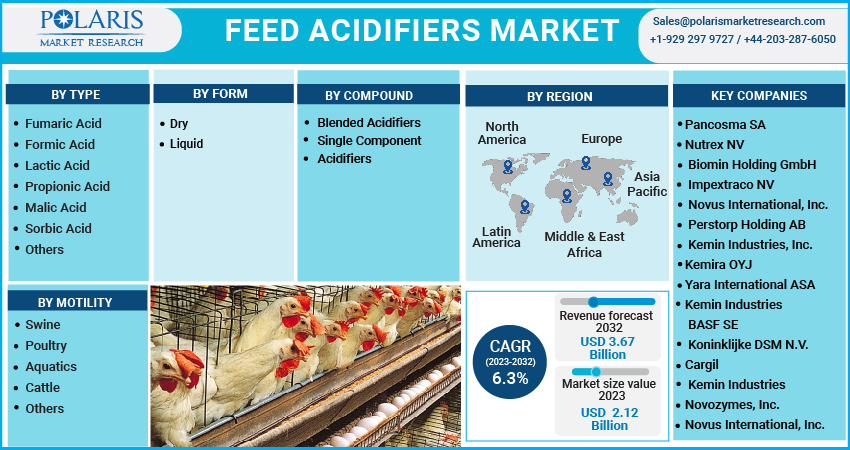 Know more about this report: Request for sample pages
Industry Dynamics
Growth Drivers
The rising demand for animal protein, driven by the growing global population, drives the feed acidifier market. This is because these products are used to improve livestock and poultry's overall health and productivity. Furthermore, the increasing concern for animal health and welfare drives the demand for feed acidifiers. Consumers are becoming more conscious of the health of the animals they consume, and feed acidifiers help reduce the incidence of diseases and improve the overall health of animals. As a result, it is becoming a priority for consumers.
In addition, the growing trend towards natural and organic products is leading to an increased demand for raw feed additives like feed acidifiers. These products are considered safe and effective alternatives to synthetic additives, driving their popularity. There is also a growing focus on improving livestock and poultry nutrition, leading to increased use of feed acidifiers. These products help improve nutrient absorption, reduce the risk of digestive disorders, and enhance feed conversion efficiency.
Governments worldwide are implementing regulations to promote feed additives that improve animal health and welfare, further driving the demand for feed acidifiers. As the use of feed acidifiers aligns with regulatory requirements and provides several benefits, it is expected to continue to grow in popularity among farmers and producers.
Report Segmentation
The market is primarily segmented based on type, form, compound, livestock, and region.
By Type

By Form

By Compound

By Livestock

By Region

Fumaric Acid

Formic Acid

Lactic Acid

Propionic Acid

Malic Acid

Sorbic Acid

Others

Blended Acidifiers

Single Component Acidifiers

Swine

Poultry

Aquatics

Cattle

Others

North America (U.S., Canada)

Europe (France, Germany, UK, Italy, Netherlands, Spain, Russia)

Asia Pacific (Japan, China, India, Malaysia, Indonesia, South Korea)

Latin America (Brazil, Mexico, Argentina)

Middle East & Africa (Saudi Arabia, UAE, Israel, South Africa)
Know more about this report: Request for sample pages
Propionic acid segment anticipated for fastest growth during forecast period
Among all the segments, propionic acid is anticipated to have the fastest growth rate due to its high popularity among poultry farmers. It is widely used to improve the fodder used to feed poultry and enhance silage preservation by providing aerobic stability.
Farmers and producers prefer propionic acid as it is widely accepted by various regulatory bodies and recognized as a safe substance for preservative purposes of feeds by the Food and Drug Administration in the United States. These advantages of propionic acid are expected to boost its demand as a feed acidifier and cause the propionic acid segment to grow much faster than other segments.
Dry segment is anticipated to hold largest market share over the forecast period
During the forecast period, the dry segment is expected to have the largest share of the market. This is because dry feed additives are easier to store and have a longer shelf life than liquid ones. They are also easier to handle for livestock caretakers and feed additive producers, making them a popular choice in the market. These advantages are predicted to result in the dry segment growing faster than the others.
Blended acidifiers segment is expected to hold largest share during forecast period
The blended acidifiers segment is expected to hold the largest share of the market and continue its dominance during the forecast period. Livestock caretakers prefer using blended acidifiers over single component acidifiers due to their ease of handling and effectiveness. As a result, this is because blended acidifiers cater to multiple needs simultaneously, making them more efficient than single component acidifiers.
Additionally, the blended segment is projected to experience a higher growth rate than the single segment due to its versatility and popularity among livestock caretakers.
Poultry segment accounted for largest market share in 2022
The poultry segment dominated the market and willing to maintain its dominant position in the market, with a projected growth rate in response to the rising demand for poultry meat worldwide. Poultry is widely consumed globally and has become vital to the meat production industry. Unlike other meat products such as beef and pork, poultry meat does not face many regional restrictions, making it a more accessible option for consumers.
In addition, the swine segment is expected to witness a significant surge in demand during the forecast period. Europe is a major consumer of swine products and has recently announced a ban on antibiotics for livestock, which is expected to drive the demand for feed additives for swine. As a result, the swine segment is predicted to grow significantly more than the other segment.
North America holds the largest share in market
North America holds the largest share in the market. North America refers to the demand for feed additives to lower the pH level of animal feed. These acidifiers improve animal health, increase feed efficiency, and reduce the risk of diseases caused by bacteria and fungi. The growth of the feed acidifiers market in North America is driven by the increasing demand for meat and meat products, rising awareness about animal health and nutrition, and growing concerns regarding antibiotics in animal feed. In addition, implementing stringent regulations by government bodies such as the FDA and USDA is also driving market growth.
The Asia pacific region is anticipated to experience the highest growth rate during the forecast period. This growth is attributed to the rising population and consumption of meat products in the region, which will positively impact market growth. Additionally, the APAC region is a significant exporter of meat products to other regions. As restrictions on antibiotic use in other parts of the world increase, the demand for acidifiers in the area will also grow. The outbreak of livestock diseases heavily affects the APAC region, and using acidifiers can provide preventive measures to hinder such attacks.
Competitive Insight
Some of the major players operating in the global market include Pancosma SA, Nutrex NV, Biomin Holding GmbH, Impextraco NV, Novus International, Inc., Perstorp Holding AB, Kemin Industries, Inc., Kemira OYJ, Yara International ASA, Kemin Industries, BASF SE, Koninklijke DSM N.V., Cargil, Kemin Industries, Novozymes, Inc., Novus International, Inc., Addcon, Lallemand, Inc., Beneo Group and Chr. Hansen Holding A/S.
Recent Developments
In January 2022, Corbion Experts presented its new brand of antioxidants at IPPE. This brand offers a variety of freshness and safety solutions that enable meat and poultry producers to align their business needs with consumer demands.

In January 2021, Cargill Inc. has invested USD 50 million to establish a new premix animal nutrition facility in Lewisburg, Ohio. The facility has been officially opened and is now operational.
Feed Acidifiers Market Report Scope
| | |
| --- | --- |
| Report Attributes | Details |
| Market size value in 2023 | USD 2.12 billion |
| Revenue forecast in 2032 | USD 3.67 billion |
| CAGR | 6.3% from 2023 – 2032 |
| Base year | 2022 |
| Historical data | 2019 – 2021 |
| Forecast period | 2023 – 2032 |
| Quantitative units | Revenue in USD billion and CAGR from 2023 to 2032 |
| Segments Covered | By Type, By Form, By Compound, By Livestock, By Region |
| Regional scope | North America, Europe, Asia Pacific, Latin America; Middle East & Africa |
| Key Companies | Pancosma SA, Nutrex NV, Biomin Holding GmbH, Impextraco NV, Novus International, Inc., Perstorp Holding AB, Kemin Industries, Inc., Kemira OYJ, Yara International ASA, Kemin Industries, BASF SE, Koninklijke DSM N.V., Cargil, Kemin Industries, Novozymes, Inc., Novus International, Inc., Addcon, Lallemand, Inc., Beneo Group and Chr. Hansen Holding A/S. |