The global flame retardant market was valued at USD 3.04 billion in 2019 and is expected to grow at a CAGR of 6.7% during the forecast period. The market is driven by several factors such as the implementation of government regulations and test methods, product innovation, and multi-utility apparel manufacturing to attract mass end-users. Furthermore, few other factors driving the market growth include demand for environment-friendly safe products, trending online sales, and technological advancements.
The flame retardant apparel market is expected to witness growth over the projected period owing to the increasing demand for protective clothing in industrial applications. In addition, the growing awareness pertaining to safety of the employees working in manufacturing facilities is likely to have a positive impact on the market growth.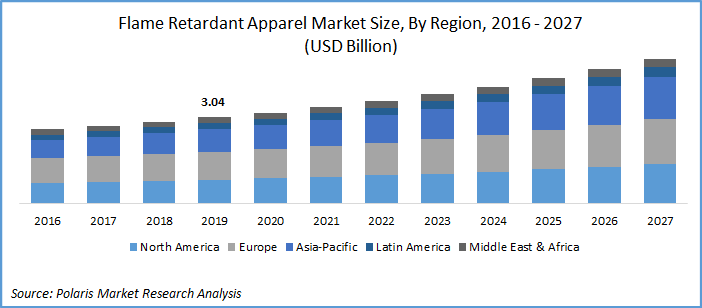 Know more about this report: request for sample pages
Industry Dynamics
Growth Drivers
Automation is an important aspect of industry's future to cater to the increasing demand for flame retardant apparel together with stringent monitoring of 'made-to-order' and 'made-to-stock' product. Some of the manufacturers are adopting the automated packaging line to replace the existing manual process and thereby reducing the overall time. Increasing the use of automation for manufacturing of flame retardant apparel will reduce the turnaround time.
Several health associations and organizations such as OSHA, etc. in Europe, aim to create awareness regarding the safety of an individual. Also, they aim to enforce standards and regulations which compel the manufacturers to use of flame retardant apparels for the workers.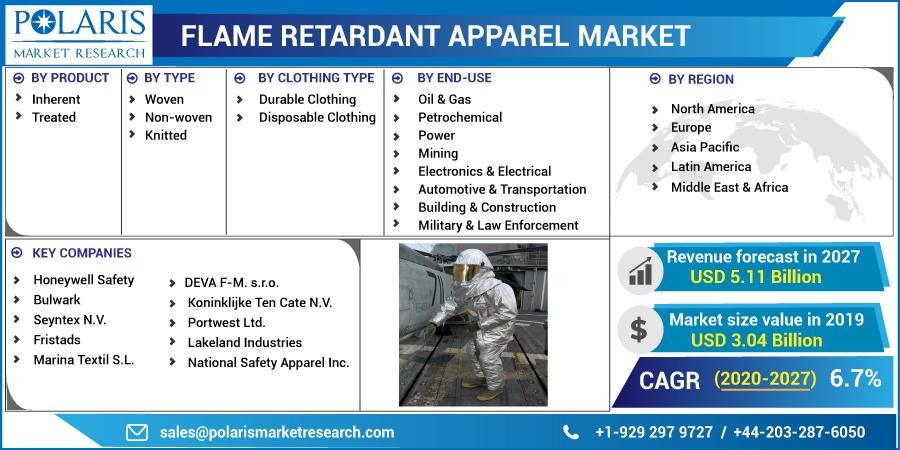 Know more about this report: request for sample pages
Several regulations and acts are imposed by the European government for strictly implementing use of protective wear for the workers while they are performing their field work. Also, several regulations aim to keep protective wear compulsorily at residential areas like societies, public gathering buildings, etc. Such regulations by the government organizations and associations aim to create enormous opportunities of flame retardant apparel market growth.
Flame Retardant Apparel Market Report Scope
The market is primarily segmented on the basis of product, type, clothing type, end-use, and geographic region.
By Product

By Type

By Clothing Type

By End-use

By Region

Durable Clothing
Disposable Clothing

Oil & Gas
Petrochemical
Power
Mining
Electronics & Electrical
Automotive & Transportation
Building & Construction
Military & Law Enforcement
Others

North America (U.S., Canada)
Europe (France, Germany, UK, Italy, Spain, Netherlands, Russia)
Asia Pacific (Japan, China, India, Malaysia, Indonesia. South Korea)
Latin America (Brazil, Mexico, Argentina)
MEA (Saudi Arabia, UAE, Israel, South Africa)
Know more about this report: request for sample pages
Insight by Product
Based upon the Product, the global market is categorized into inherent and treated flame retardant apparel. In 2019, the treated flame retardant apparel segment accounted for majority of the share in concerned market, and the segment is expected to maintain its dominance over the projected period. This can be attributed to low cost, high efficiency, and increasing popularity in the low-income countries. However, inherent product segment is expected to witness fastest growth rate on account of high demand in the developed countries.
Insight by End-Use
On the basis of end-use, the global market is categorized into oil & gas, petrochemical, power, mining, electronics & electrical, automotive & transportation, building & construction, military & law enforcement, and others. The oil & gas industry accounted for the largest market share, in 2019. The oil & gas industry is most prone to fire-related accidents during welding, construction, and handling inflammable products; as result, the demand for flame retardant apparel is expected to witness significant growth in the industry.
Geographic Overview
On the basis of region, the flame retardant apparel market is bifurcated into North America, Europe, Asia Pacific, Latin America, and Middle East & Africa (MEA). Europe is the largest revenue contributor followed by North America and the Asia Pacific. However, Asia Pacific is expected to witness fastest growth owing to the increasing demand from end-use industries.
The growth in Europe and North America flame retardant apparel industry is driven by advancements in the technology, presence of key manufacturers and their knowledge of technical know-how, and surge in sales through online platforms. The tier I market players are aiming at expanding their geographical footprint by opening sales offices, distribution stores, and opting multiple distribution channels for regional penetration.
On the other hand, tier II players in flame retardant apparels industry are collaborating with the retail giants in other regions to expand their regional presence. However, overcoming the brand preference of pre-established players is likely to remain prominent challenge for new entrants. In addition, the presence of established players in the market is expected to increase the competition for new entrants.
The major countries contributing to the revenue in Asia Pacific are Japan, South Korea, India, and China. The shifting consumer preference to buy products online is pushing apparel manufacturers to ink partnerships with third party online retailers, invest in developing company-owned digital platforms, or enhancing existing digital platforms. Additionally, prominent manufacturers of flame retardant apparels are engaged in merger & acquisition activities to expand the existing product portfolio and increasing geographical footprint.
Competitive Insight
The flame retardant apparel market is highly fragmented. As a result, it becomes important for local players to deliver products with improved quality and at competitive prices. This is likely to attract semi-loyal brand customers and thereby enhancing the existing customer base. The prominent players operating in the market are Honeywell Safety, Bulwark, Seyntex N.V., Fristads, Marina Textil S.L., DEVA F-M. s.r.o., Koninklijke Ten Cate N.V., Portwest Ltd., Lakeland Industries, and National Safety Apparel Inc.