The global flocculant dosing system market was valued at USD 4.52 billion in 2021 and is expected to grow at a CAGR of 4.4% during the forecast period. The increasing significance of wastewater treatment to national governments, the rising production rates of the pharmaceutical and chemical processing sectors, and other vital factors are expected to drive the market over the forecast period.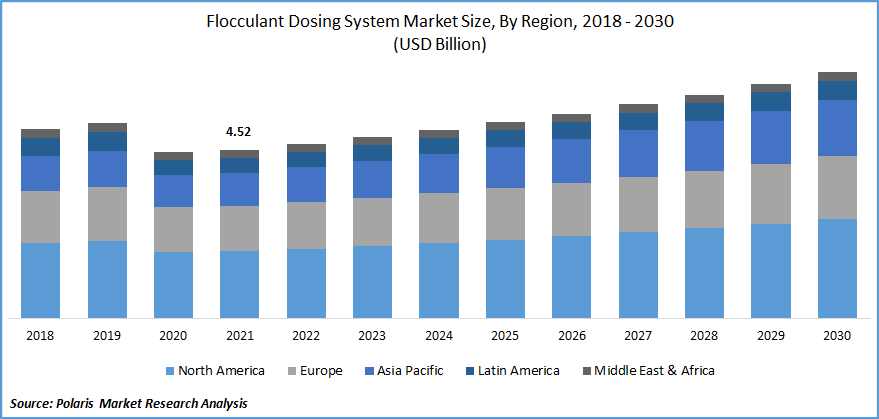 Know more about this report: Request for sample pages
Additionally, it is anticipated that the global market will grow due to the growing demand for dosing systems due to faster outputs, greater precision, and efficacy. In industrial and water treatment applications, flocculants have many benefits, including significant cost savings; improved particle suspension rates; improved aqueous phase clarity; increased filtration on filters and drying beds; higher production throughput rates; and decreased size requirements for tanks, thickeners, and centrifuges.
According to a Black & Veatch report, the wastewater industry's main challenges are managing capital expenditures and operational costs. A United Nations evaluation on water quality also found that industries worldwide release 300-400 MT of dirty waste into water bodies annually to save money on treatment. In developing countries, 80 percent of sewage is dumped untreated into bodies of water.
The global supply chain was considerably affected in 2020 as a result of the impact of COVID-19. One of the critical areas continued to be the medical and pharmaceutical industries, which had tremendous growth during COVID-19.
In addition, expanding industries like those in the chemical industry and sewage treatment are anticipated to advance the market throughout the forecast period considerably. The market for these pumps is positively influenced by growing investments in water treatment by emerging nations. On the other hand, the availability of less expensive alternatives to pumps is a significant factor that will likely limit the market's future expansion.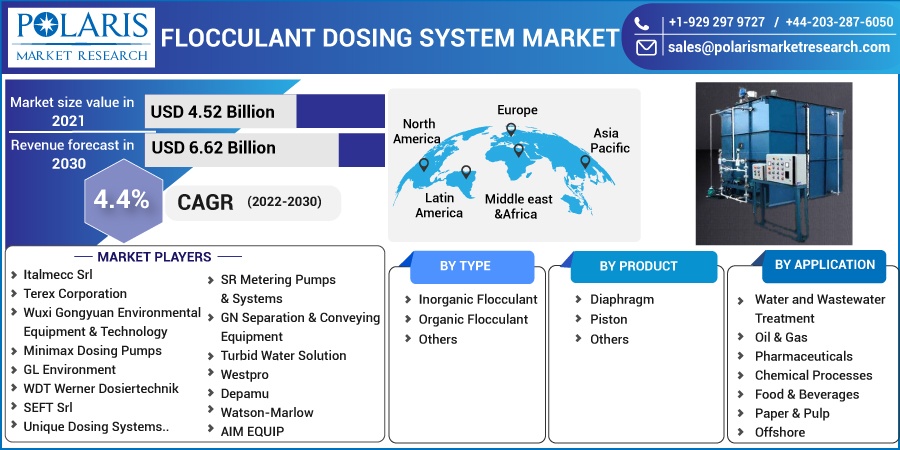 Know more about this report: Request for sample pages
Industry Dynamics
Growth Drivers
The market is moving forward due to faster outputs, greater precision, and greater efficacy, all driving up demand for dosing systems. The sector is anticipated to advance because of rising public awareness and expanding government support. Due to increasing demand for wastewater treatment applications and greater industrialization, the market for dosing systems has expanded. The market is expected to grow due to the quickening trends in automation and innovation and the rising prevalence of software in these systems.
The United Nations estimates that 2.2 billion people lack access to clean drinking water, and water use is rising by 1% annually. The release of more than 80% of wastewater into the environment untreated is also projected. According to the UN World Water Development Report, in 2050, the manufacturing sector is expected to need 24% more fresh water than it does today. The urgent need for treated, clean water is being accelerated by the expanding manufacturing sector and an increasing global population.
Report Segmentation
The market is primarily segmented based on type, product, application, and region.
By Type

By Product

By Application

By Region

Inorganic Flocculant
Organic Flocculant
Others

Water and Wastewater Treatment
Oil & Gas
Pharmaceuticals
Chemical Processes
Food & Beverages
Paper & Pulp
Offshore

North America (U.S., Canada)
Europe (France, Germany, UK, Italy, Netherlands, Spain, Russia)
Asia Pacific (Japan, China, India, Malaysia, Indonesia, South Korea)
Latin America (Brazil, Mexico, Argentina)
Middle East & Africa (Saudi Arabia, UAE, Israel, South Africa)
Know more about this report: Request for sample pages
The inorganic flocculant segment is expected to witness the fastest growth
The inorganic flocculants category is estimated to dominate the global market in the near future. The low cost and broad applicability of inorganic materials aid in the segment's expansion throughout end-use sectors. China's Ministry of Ecology and Environment announced in April 2022 that it would improve sewage treatment in the country's vast rural areas to increase the rate from 28% in 2020 to 40% in 2025.
Governmental organizations, commercial businesses, and economical material will all be asked to collaborate to achieve the goal. The pulp and paper sector is predicted to experience the highest demand from end users over the forecast period because of the industry's heavy reliance on water.
The highest market share in 2021 belonged to diaphragm pumps
The market for flocculants dosing systems is anticipated to be dominated by the diaphragm pump category. The oil & gas, pharmaceutical, chemical and petrochemical, food and beverage, and other industries employ diaphragm pumps in various applications. Diaphragm pumps are among the most frequently used water and wastewater treatment equipment.
Most of the time, these pumps are used in the fluid transfer, metering, and dosing operations necessary for wastewater treatment. According to Wastecorp's July 2022 report, two Mud Sucker diaphragm pumps with handling capability were installed at an urban wastewater treatment facility in the Northeast due to recent upgrades and an expansion.
Wastewater treatment is expected to hold the significant revenue share
The wastewater treatment segment is predicted to lead the flocculant dosing system market in 2021. Increased urbanization and a rise in the demand for clean water led to the development of the flocculant dosing system. The increasing amount of wastewater being disposed of has increased the need for water treatment via wastewater treatment. More than 70% of that population uses the market for tertiary wastewater treatment equipment in northern European countries, where the percentage of the residential population that disposes of wastewater is consistently above 80%.
Furthermore, 75% of central European countries receive tertiary wastewater treatment, and 97% of individuals in southern and Eastern Europe are connected to urban wastewater treatment in those regions. For instance, the Development Bank of Latin America estimates that between 2015 and 2030, wastewater treatment will cost around USD 33 billion, and wastewater infrastructure will cost approximately USD 80 billion. A few elements that influence the cost of wastewater treatment are effluent flow rates, water quality, the required level of purity, and building materials. These factors are driving the market for wastewater treatment equipment.
The demand in Europe is expected to witness significant growth
Europe is expected to account for a major share in 2030. The expansion is explained by the existence of pharmacuetical and chemical sectors, both of which are well-established. Europe is the world's second-largest producer of chemicals. In addition to chemical producers, the pulp and paper, rubber and plastics, textiles, construction, and computer industries are the primary industrial users of chemicals.
Other industrial sectors receive 56% of EU chemicals marketed to downstream customers. In 2020, base chemicals made up 58% of all chemical sales in the EU27, according to CEFIC. Most EU27 chemical sales (54.7%) comprised petrochemicals and specialty chemicals.
Asia Pacific is projected to have a significant market increase in the near future due to rising industrialization in developing nations like India and China. One element causing this increase is the accessibility of industrial facilities for businesses in the pharmaceutical, chemical, paper, and pulp industries. This is large because of the region's expanding energy needs, emphasis on renewable energy sources, and rapid urbanization. The need for flocculants dosing systems in the area is projected to increase due to all these factors.
Competitive Insight
Some of the major players operating in the global flocculant dosing system market include Italmecc Srl, Terex Corporation, Minimax Dosing Pumps, GL Environment, WDT Werner Dosiertechnik, SR Metering Pumps, GN Separation & Conveying Equipment, Turbid Water Solution, Westpro, Depamu, Watson-Marlow, AIM EQUIP, and Unique Dosing Systems.
Companies are investing in R&D to create a new, improved flocculant dosing system that will satisfy consumer demand. Global Dosing Systems for Flocculants Technological advancement and inventive production methods are projected to drive market potential. The scarcity of Greenfield investments and the advancing maturity of the European markets provide substantial difficulties for dosing system manufacturers.
Flocculant Dosing System Market Report Scope
| | |
| --- | --- |
| Report Attributes | Details |
| Market size value in 2021 | USD 4.52 billion |
| Revenue forecast in 2030 | USD 6.62 billion |
| CAGR | 4.4% from 2022 - 2030 |
| Base year | 2021 |
| Historical data | 2018 - 2020 |
| Forecast period | 2022 - 2030 |
| Quantitative units | Revenue in USD million/billion and CAGR from 2022 to 2030 |
| Segments covered | By Type, By Product, By Application, By Region |
| Regional scope | North America, Europe, Asia Pacific, Latin America; Middle East & Africa |
| Key companies | Italmecc Srl, Terex Corporation, Wuxi Gongyuan Environmental Equipment & Technology, Minimax Dosing Pumps, GL Environment, WDT Werner Dosiertechnik, SEFT Srl, SR Metering Pumps & Systems, GN Separation & Conveying Equipment, Turbid Water Solution, Westpro, Depamu, Watson-Marlow, AIM EQUIP, and Unique Dosing Systems.. |