The global floor grinding tools market was valued at USD 119.76 million in 2021 and is expected to grow at a CAGR of 4.33% during the forecast period.
The significant need for grinding, polishing, and burnishing applications is responsible for the market expansion for floor grinding tools. The need for floor grinding tools for commercial use will be driven by the demand for commercial areas such as offices, malls, shopping centres, and retail stores. Likewise, several factors contribute to the growth of the floor grinding machines market, including their simple design, robust construction, high quality, and environment-friendly nature.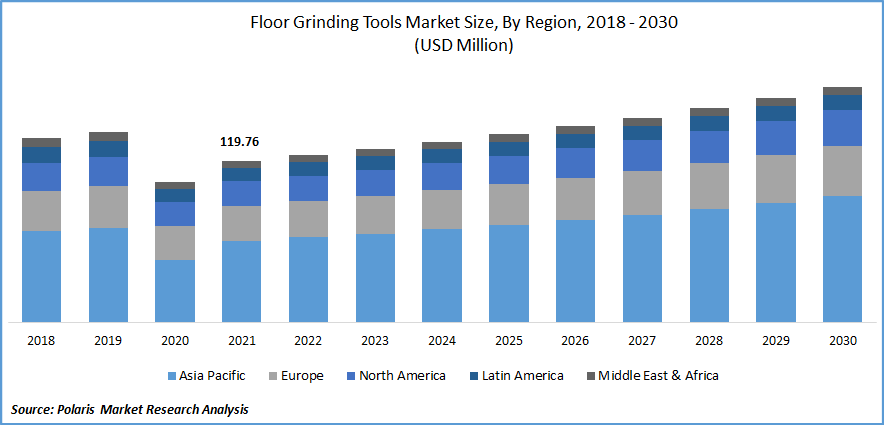 Know more about this report: Request for sample pages
To polish concrete floors, floor grinding machines are used. There are some models that have a vacuum feature that picks up water as they grind the floor. With dry floor grinders, dust is collected in a container mounted on a machine using a vacuum. They do not consume water. In addition to repairing damaged surfaces, these machines also level uneven joints. A floor grinder increases the floor's durability and makes it more attractive. There are many types of rotating disks being used in floor grinders. Discs can be used on floor grinders: single, dual, and quadrupole.
Many ways that COVID-19 may impact the world economy include the direct impact on supply and demand and the financial impact on businesses and financial markets. However, the building and maintenance sector has ceased operations as a result of the global lockdown imposed by governments to stop the COVID-19 virus's exponential growth. In residential and non-residential applications, this will have a detrimental effect on the demand for floor grinding machines in 2020.
Many governments throughout the world are allowing the start of construction. Nevertheless, businesses must follow certain regulations in order to create a safe and healthy work environment for both employees and tenants. It is anticipated that the high maintenance costs of floor grinding machines will restrain the market's expansion.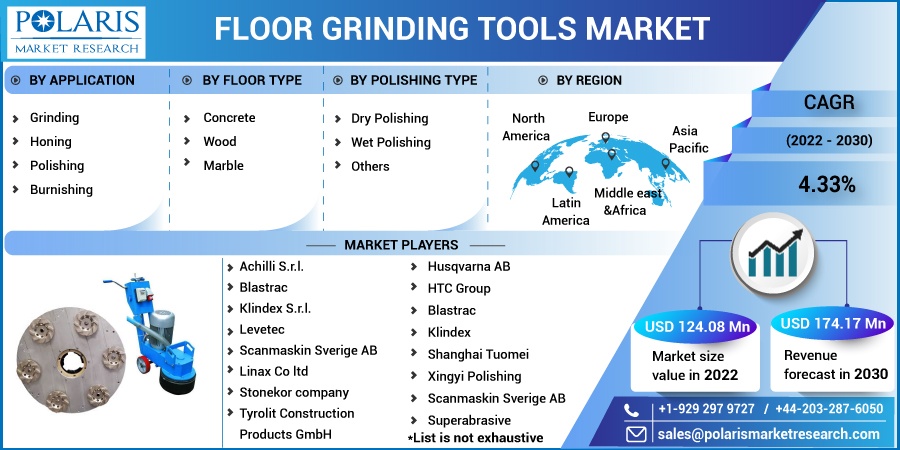 Know more about this report: Request for sample pages
Industry Dynamics
Growth Drivers
The global market is anticipated to be driven by the expanding construction industry, the rapid technical development in that sector, and rising industrial applications. Advanced power adjustment features are available on floor grinding machines. These characteristics are necessary for handling stress which different floor types of demand. Floor grinding machines not only increase a floor's longevity but also improve its aesthetic appeal, guarantee top-notch outcomes, and lessen tension.
These tendencies are anticipated to boost the market for floor grinding machines worldwide. The global market for floor grinding machines is anticipated to be driven by an expanding construction sector, a quick pace of technological advancement in the construction sector and rising industrial applications. Floor grinding machines not only increase a floor's toughness but also improve aesthetics, guarantee superior outcomes, and lessen tension. According to projections, these developments will drive the market for floor grinding machines to size up.
Report Segmentation
The market is primarily segmented based on application, floor type, polishing type, and region.
By Application

By Floor Type

By Polishing Type

By Region

Grinding
Honing
Polishing
Burnishing

Dry Polishing
Wet Polishing
Others

North America (U.S., Canada)
Europe (France, Germany, UK, Italy, Netherlands, Spain, Russia)
Asia Pacific (Japan, China, India, Malaysia, Indonesia, South Korea)
Latin America (Brazil, Mexico, Argentina)
Middle East & Africa (Saudi Arabia, UAE, Israel, South Africa)
Know more about this report: Request for sample pages
The Polishing segment is expected to witness the fastest growth.
In 2021, the polishing sub-segment was anticipated to grow quickly throughout the projected period. Polished concrete and marble are the preferred flooring materials in residential developments and commercial buildings due to their longevity, aesthetic appeal, maintenance-free nature, and sustainability. Polished concrete is offered by some manufacturers as part of the green movement since it can help businesses earn LEED (Leadership in Energy and Environmental Design) certifications. During the projected period, rising demand for environmentally friendly and energy-efficient buildings and rapid construction of new homes and businesses will likely support the development of floor grinding equipment for polishing applications.
Concrete Floor accounted for the second-largest market share in 2021
It is anticipated that the concrete floor sector will account for a large portion of the market in the upcoming years. Because of its durability and adaptability, concrete is a common building material. Concrete is a natural substance and will deteriorate over time while being strong. For ornamental purposes, concrete is currently widely used in both residential and non-residential buildings. Concrete grinding is the process of utilizing abrasive tools to smooth out the floor's surface.
Because they do not leave ridges on the floor surface, floor grinding machines are considered superior to scarifies and shot blasters. Additionally, they eliminate stains, grease, spots, and industrial impurities and enable the production of flat joints. The uniform base for floor polishing, staining, and sealing is created by clearing the components. Concrete grinding machines contain discs that rotate horizontally and have a variety of attachments that vary in kind and grit depending on the use. on the same network.
The Dry Polishing segment is expected to witness the fastest growth
It is anticipated that the Dry Polishing market will grow at a sizable CAGR over the forecast period. The market for floor grinding instruments is divided into two segments: dry polishing and wet polishing. With industrial-sized grinding and polishing equipment, the floor's surface is leveled (or grounded) for dry polishing. Different abrasive polishing discs, frequently comprising diamond grit, are needed for each stage, with rougher textures for early stages and finer ones for the ultimate sheen. While being ground, the majority of the dust is vacuumed away; nevertheless, some dust is released into the atmosphere.
Companies looking to impress clients with a high-gloss floor choose the dry approach because it produces shinier floors, more upscale, and more light-reflective than wet polishing.
The demand in Asia-Pacific is expected to witness significant growth
The global market is expected to dominate Asia-Pacific during the forecast period. Geographically, Asia-Pacific is anticipated to dominate the market for floor grinding machines because of its fast industrialization and urbanization. The huge need for grinding and polishing from the industrial, commercial, and residential sectors and the construction industry may be what is fueling the worldwide floor grinding machine market in this region.
As per Euromonitor International, China is expected to continue to be the world's largest construction and real estate market, propelling regional growth. The expansion of the construction industry in China was greatly aided by decades of significant Chinese investments in infrastructure projects, a fast-growing urban population, and significant foreign direct investments (FDI) in manufacturing facilities.
Additionally, Chinese construction firms experienced a significant surge in production costs due to the global increase in the cost of construction materials, particularly metals and wood. They have, however, been able to pass on increased expenses to customers.
Competitive Insight
There are several major players in the global market, such as Fujian Xingyi Polishing Machines, Klindex, Levetec, Scanmaskin Sverige, Linax, Stonekor company, Tyrolit Construction Products, Husqvarna, HTC Group, Blastrac, Klindex, Xingyi Polishing, Scanmaskin Sverige, Superabrasive, Linax, Terrco, ASL Machines, Substrate Technology, Shanghai Qing, and Weijie Environmental and others.
Recent Developments
In December 2020, Husqvarna's Construction acquired Blastrac. Husqvarna Construction segment's concrete surfaces and floors are now complemented by the acquirer's product offerings.
In January 2019, HTC released new floor grinders emphasizing ease of use and better ergonomics. The all-new grinder, "HTC 510", now complements the Start & Grind line and consists of four grinders and dust extractors.
Floor Grinding Tools Market Report Scope
| | |
| --- | --- |
| Report Attributes | Details |
| Market size value in 2022 | USD 124.08 million |
| Revenue forecast in 2030 | USD 174.17 million |
| CAGR | 4.33% from 2022 – 2030 |
| Base year | 2021 |
| Historical data | 2018 – 2020 |
| Forecast period | 2022 – 2030 |
| Quantitative units | Revenue in USD million and CAGR from 2022 to 2030 |
| Segments Covered | By Application, By Floor type, By Polishing Type, and By Region |
| Regional scope | North America, Europe, Asia Pacific, Latin America; Middle East & Africa |
| Key Companies | Achilli S.r.l., Blastrac, Fujian Xingyi Polishing Machine Co., Ltd., Klindex S.r.l., Levetec, Scanmaskin Sverige AB, Linax Co ltd, Stonekor company, and Tyrolit Construction Products GmbH, Husqvarna AB, HTC Group, Blastrac, Klindex, Shanghai Tuomei, Xingyi Polishing, Scanmaskin Sverige AB, Superabrasive, Linax, Terrco, ASL Machines, Substrate Technology, Shanghai Qing, Roll Gmbh, Bartell Global, Weijie Environmental. |