The global gene delivery technologies market was valued at USD 2.64 billion in 2020 and is expected to grow at a CAGR of 15.0% during the forecast period. Gene therapies not only transformed genetic and hereditary disorders but have also played an important role in shaping the entire pharma landscape.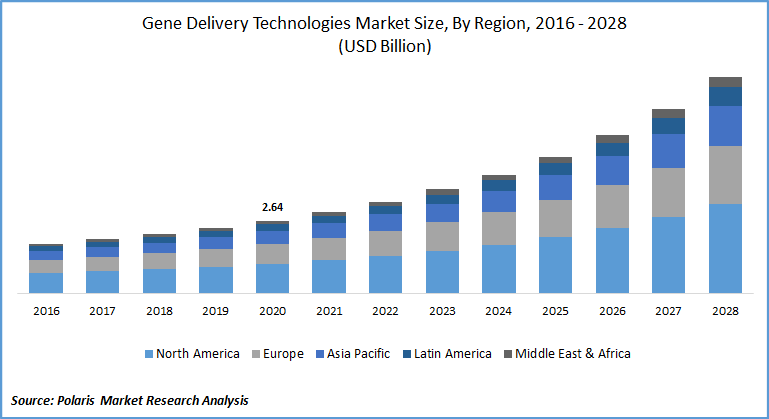 Know more about this report: Request for sample pages
By 2020, there were over 27 gene therapies were introduced in the marketplace, and around 990 companies are involved in the research & development, and commercialization of innovative therapies. Moreover, the constantly changing market environment for advanced therapies is one of the prominent factors driving the market for gene delivery technologies.
The majority of gene delivery technologies find market application in different research settings, with very few implemented in clinical settings. This was primarily due to technical challenges associated with each modal type, which endeavors to develop more efficient technology, while physical technologies require break-through in the use within the clinical settings.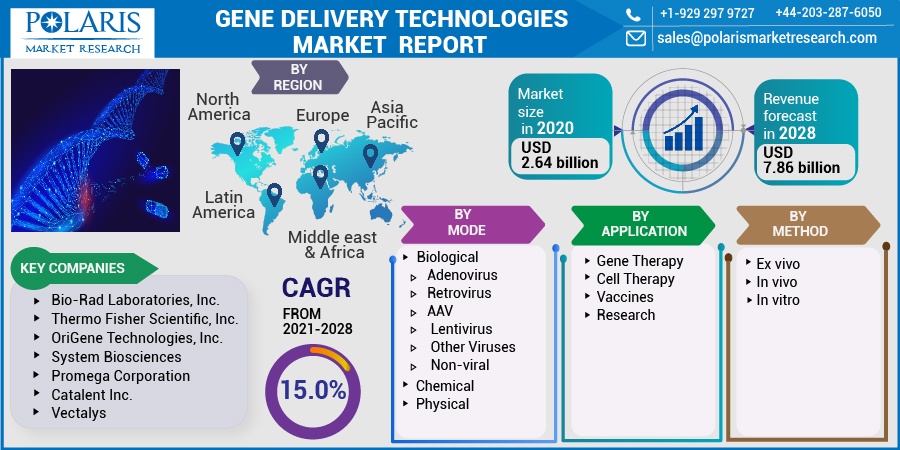 Know more about this report: Request for sample pages
Gene Delivery Technologies Market Report Scope
The market is primarily segmented on the basis of mode, application, method, and geographic region.
By Mode

By Application

By Method

By Region

Biological

Adenovirus
Retrovirus
AAV
Lentivirus
Other Viruses
Non-viral

Chemical
Physical

Gene Therapy
Cell Therapy
Vaccines
Research

North America (U.S., Canada)
Europe (France, Germany, UK, Italy, Spain, Netherlands, Austria)
Asia Pacific (Japan, China, India, Malaysia, Indonesia, South Africa)
Latin America (Brazil, Mexico, Argentina)
Middle East & Africa (Saudi Arabia, UAE, Israel, South Africa)
Know more about this report: request for sample pages
Insight by Mode
The biological vectors market segment accounted for the largest revenue share of gene delivery technologies industry in 2020 owing to a high success rate of Kymriah and Yescarta. These vectors have received greater attention, after the approval of vectors-based therapy products. An exponential rise in viral vector programs for research and development had shown its acceptance as one of the important delivery modes.
However, the chemical delivery method market segment is projected to witness a lucrative growth rate over the study period. Though in few settings, viral systems have faced clinical challenges which spurred the use of chemical methods. Chemical delivery systems are regarded as an alternative to viral delivery systems, due to their ability in combating challenges.
Physical delivery methods market segment have lower transfection efficiency in comparison with biological or chemical modes. Low cell viability is another major drawback in electroporation-based physical methods. However, such drawbacks create opportunities for other market players striving to gain more share, by addressing a high focus on transfection and cell viability issues.
Insight by Method
In 2020, the ex-vivo market segment of gene delivery technologies market accounted for the largest share. This high share is attributed to its transduction efficiency prior to cell implantation back to the patient's body to have a less immunogenic response. Also, it has more transduction efficiency, makes it an ideal candidate to be used in research settings.
However, the in-vivo delivery method market segment of gene delivery technologies market is projected to witness a lucrative growth rate over the assessment period. This is due to its high preference for highly targeted gene deliveries, which otherwise cause an immune response if there is an error.
Moreover, scientists worldwide are focusing on accelerating research & development for the market segment. In line with this, in 2020, Oregon Health and Science University deployed the gene-editing tool "Crispr-Cas9" to edit genetic code responsible for blindness in any individual. Such high-performing industry events are expected to result in better fortune for the segment.
Geographic Overview
In 2020, the North America region accounted for a significant share of the global market. Region's gene delivery technologies demand growth is complemented by an increase in a substantial number of clinical trials in the pipeline to assess the efficacy of gene therapies to treat hereditary, cancer, genetic mutations, and rare disorders in the U.S.
Moreover, the presence of better clinical infrastructure with a majority of the companies engaged in the commerce of gene delivery products and accessories also boosted the gene delivery technologies industry growth prospects. The U.S has also started many collaborative research projects as a part of its Horizon 2020 plans. It will cover projects based on vector-based gene delivery trials for rare diseases.
On contrary, Asia Pacific gene delivery technologies industry is projected to witness a lucrative market growth rate over the assessment period. Apart from its large population size, and low labor costs, the region has well developed pharmaceutical industry. China is regarded as a hub for gene therapy in terms of clinical trials of more than 1,000 were underway in past two years. Moreover, strong policy support in the concerned countries is also supporting the market growth in the region.
Competitive Insight
The prominent players operating in the market for gene delivery technologies are Horizon Discovery Group Co., QIAGEN, Oxford Biomedica, SignaGen Laboratories, Hoffmann-La Roche AG, Vectalys, Sirion-Biotech GmbH, Takara Bio Inc., Bio-Rad Laboratories, Inc., Thermo Fisher Scientific, Inc., OriGene Technologies, Inc., System Biosciences, Promega Corporation, and Catalent Inc.