The global Ebola Vaccines market was valued at USD 6.64 million in 2022 and is expected to grow at a CAGR of 32.5% during the forecast period. Ebola virus is a rare, lethal disease that affects humans and is spread through infected people or animals. The Ebola virus affects the immune system as well as other internal organs, which eventually prevents blood coagulation and causes heavy bleeding. This virus can spread directly by the blood and body fluids of a patient or the person who died because of this virus. The Ebola virus causes hemorrhagic fever which leads to internal and external bleeding and can affect the body organs. Some of the major symptoms can cause by this virus that patient experience is muscular pain, sore throat, vomiting, rashes, headache, diarrhea at a later stage, and kidney and liver function decreased.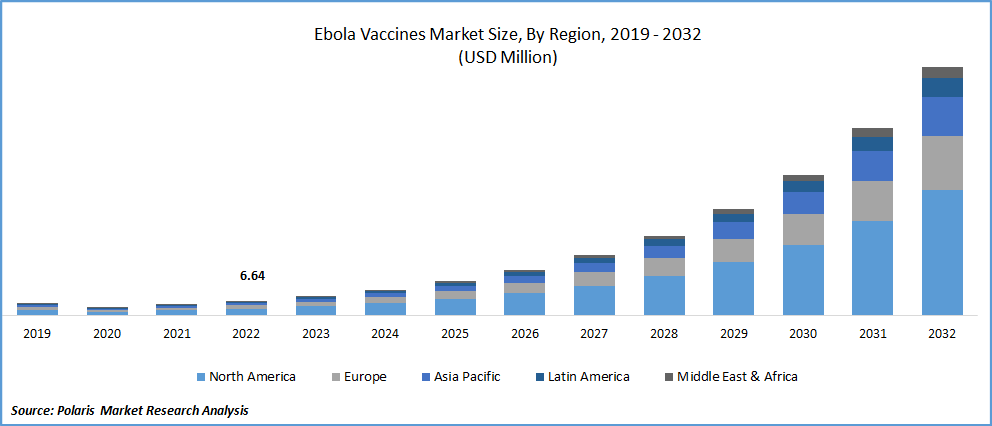 Know more about this report: Request for sample pages
For Ebola virus disease there is no proper treatment, early identification and treatments including maintaining the treatment of the viral infection, and ongoing monitoring of the necessary electrolyte balance, and oxygen level may contribute to improving the patient's health.
Investors in the market and those involved in Ebola treatment are primarily concerned about the lack of a proven therapy for the disease this opens the chances for research and development, development of new drug entities to cure this disease improves the market growth.
Growing research and development efforts for the creation of Ebola vaccines by numerous major corporations, and rising demand for such vaccines are some major driving factors in this market. However, strict guidelines and regulations for their approval are anticipated to restrain market expansion.
COVID-19 was formally introduced in Wuhan, China, in December 2019, and since then, it has spread quickly around the world. COVID-19's lockdown travel bans and business closures have had a devastating effect on the economies and industries of different countries. Plant and factory closures hurt vaccine production, delivery schedules, and global market sales in addition to hurting global supply chains.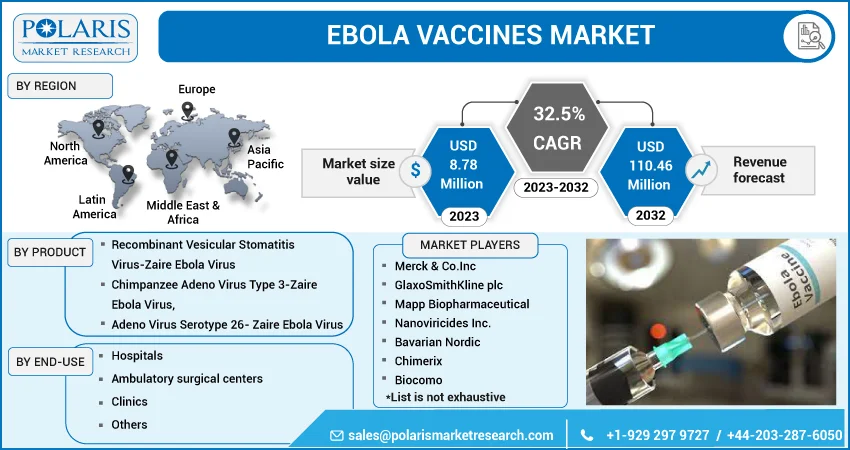 Know more about this report: Request for sample pages
Industry Dynamics
Growth Drivers
A significant growth driver for the ebola vaccine market is predicted to be the rising number of Ebola-related deaths and the demand for efficient treatment options in the afflicted areas.
According to the Centers for Disease Control and Prevention, The Democratic Republic of the Congo (DRC) suffered its eleventh Ebola virus disease epidemic in 2019. As of November 17, 2019, 3,296 Ebola cases had been confirmed during this outbreak. 2,196 deaths were also recorded along with this. On July 17, 2019, the World Health Organization declared this Ebola virus disease epidemic a public health emergency of global significance.
Another significant factor anticipated to contribute to market expansion shortly is the actions being done by several pharmaceutical firms and governments throughout the globe to produce medications and vaccines for the treatment of the Ebola virus disease.
However, the European Medicines Agency granted Ervebo a license in November 2019 and prequalified it with the WHO. The vaccine was authorized by the US Food and Drug Administration in December 2019. The vaccine is risk-free and effective in preventing the Zaire ebolavirus species. The Strategic Advisory Group of Experts (SAGE) on Immunization has endorsed it as a component of a more comprehensive arsenal of Ebola epidemic response techniques. This drives the market globally.
Report Segmentation
The market is primarily segmented based on product, end-use, and region.
By Product

By End-Use

By Region

Recombinant Vesicular Stomatitis Virus-Zaire Ebola Virus

Chimpanzee Adeno Virus Type 3-Zaire Ebola Virus,

Adeno Virus Serotype 26- Zaire Ebola Virus

Hospitals

Ambulatory surgical centers

Clinics

Others

North America (U.S., Canada)

Europe (France, Germany, UK, Italy, Netherlands, Spain, Russia)

Asia Pacific (Japan, China, India, Malaysia, Indonesia, South Korea)

Latin America (Brazil, Mexico, Argentina)

Middle East & Africa (Saudi Arabia, UAE, Israel, South Africa)
Know more about this report: Request for sample pages
The Chimpanzee Adeno Virus Type 3 segment accounted for the major market share
Chimpanzee Adeno Virus Type 3-Zaire Ebola Virus is dominate the market. It has a strong immune response and reactogenicity and is an appealing platform for storing vaccines in case an Ebola virus threatens to spread, it also, develops the anti-Ebola drug product in research and development which helps to grow the segment.
The ambulatory surgical center's segment accounted for the fastest market share
The ambulatory surgical center's segment is expected to grow the quickest. This is due to the increasing demand for ambulatory surgery centers caused by the heavy strain on hospitals and the lengthy waiting period for treatment. Ambulatory surgery facilities offer prompt treatments and are accessible at the scheduled time. The need for ambulatory surgical facilities, which are useful for diagnosis, treatment, and immunization, has grown recently as a result of people's hectic lifestyles. The ambulatory surgery center market is expanding as a result of this rising demand.
North America dominated the global market in 2022
North America holds the biggest market share because of the U.S.A.'s sophisticated medical research environment, which also explains the region's dominance in the worldwide market and the region's greater volume of vaccine purchases.
Moreover, with its advanced healthcare system, increased government funding for medical research and development, and ongoing clinical trials, Europe is expected to dominate the revenue. Due to rising travel vaccination awareness and government initiatives that are positively affecting the growth of the Ebola vaccine market in this region.
Competitive Insight
Some of the major players operating in the global market include Merck & Co.Inc, GlaxoSmithKline plc, Mapp Biopharmaceutical, Nanoviricides Inc., Bavarian Nordic, Chimerix, Biocomo, Geneone Life Sciences Inc, NewLink Genetics Corporation, Novavax Inc, Johnson & Johnson Private Limited, Arbutus Biopharma, Sarepta Therapeutics, Hemispherx Biopharma Inc, IMV Inc, Peptineo, Biocryst Pharmaceuticals Inc.
Recent Developments
In October 2022, Merck & Co. produce and provide an experimental Sudan ebolavirus vaccine to support a worldwide non-profit organization's research program in Uganda, which is dealing with an ebola epidemic.

In May 2020, for people one year of age and older, the European Medicines Agency advised granting marketing authorization to Zabdeno (Ad26.ZEBOV) and Mvabea (MVA-BN-Filo), two novel vaccines that are administered in two doses.
Ebola Vaccines Market Report Scope
| | |
| --- | --- |
| Report Attributes | Details |
| Market size value in 2023 | USD 8.78 million |
| Revenue forecast in 2032 | USD 110.46 million |
| CAGR | 32.5% from 2023 – 2032 |
| Base year | 2022 |
| Historical data | 2019 – 2021 |
| Forecast period | 2023 – 2032 |
| Quantitative units | Revenue in USD million and CAGR from 2023 to 2032 |
| Segments Covered | By Product, By End-Use, By Region |
| Regional scope | North America, Europe, Asia Pacific, Latin America; Middle East & Africa |
| Key Companies | Merck & Co.Inc, GlaxoSmithKline plc, Mapp Biopharmaceutical, Nanoviricides Inc., Bavarian Nordic, Chimerix, Biocomo, Geneone Life Sciences Inc, NewLink Genetics Corporation, Novavax Inc, Johnson & Johnson Private Limited, Arbutus Biopharma, Sarepta Therapeutics, Hemispherx Biopharma Inc, IMV Inc, Peptineo, Biocryst Pharmaceuticals Inc. |