The global osteoarthritis market was valued at USD 7.40 billion in 2021 and is expected to grow at a CAGR of 8.5% during the forecast period. Launching analgesic medications and developing imaging diagnostics based on radiographic features are both fostering market expansion. The market is also driven by increased spending on enhancing healthcare infrastructure and growing investments in research & development (R&D) activities to introduce new diagnostics and biomarkers.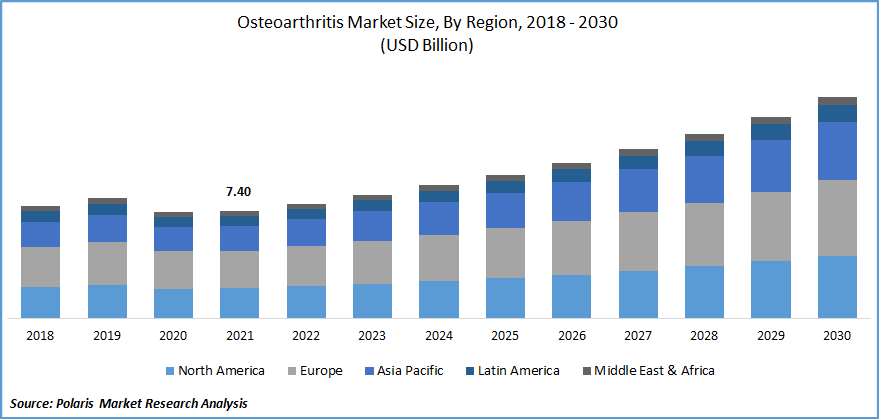 Know more about this report: Request for sample pages
Osteoarthritis (OA) is a variety of conditions that affects the knees, hips, fingers, feet, back, shoulders, and neck joints. It is characterized by the progressive deterioration of the cartilage in these joints. Common symptoms of OA include stiffness, edema, discomfort, chronic pain, lack of flexibility, a grating feeling, bone spurs, and sleep disruptions.
It can be identified through medical assessment, X-ray, arthroscopic, joint fluid analysis, lab tests, and magnetic resonance imaging (MRI) scans. Different drugs and surgical methods are recommended to treat the disease's indications and symptoms based on the various outcomes. To treat pain and enhance joint function, there are currently alternative drugs, physical therapy, and supportive equipment on the market.
Individuals are more likely to develop OA due to sedentary lifestyles, poor dietary habits, and increased obesity and blood sugar rates. This is one of the main driving forces behind the market expansion, along with the rising senior population, which is more sensitive to such illnesses. In addition, the easy availability of MRI images is a significant growth-promoting element.
The COVID-19 outbreak is expected to have a minor impact on the market for osteoarthritis treatments. The use of corticosteroids has decreased among different medication classes. Although there is no proof that corticosteroid injections significantly enhance the risk of infection, there is a chance that the immune system will be less active for a few weeks after the surgery.
Even if the danger is incredibly low, it should be considered before proceeding with the surgery. It should be mentioned that the WHO advised against using systemic corticosteroids in one of its recommendations for treating severe acute respiratory infection in people with coronavirus.

Know more about this report: Request for sample pages
Industry Dynamics
Growth Drivers
Increasing government spending on cell-based research and the widespread use of painkillers is the factor that is boosting the market growth. Osteoarthritis pain is frequently treated with topical, oral, and analgesics. The acceptance of pain drugs for the condition is significant due to the convenience of administration and the price of pain medications, even though alternatives such as orthopedic braces are employed as part of a noninvasive approach to pain treatment. Many painkillers include oral analgesics like acetaminophen, NSAIDs, intra-articular agents, and nutraceuticals.
Further, personalized OA drugs have been conceptualized, representing a significant improvement in the diagnosis, treatment, and monitoring of disease severity in osteoarthritis patients. Easy measurement, acceptable levels of sensitivity and specificity, and test methodologies that are available to and interpretable by doctors are crucial characteristics of indicators that will have clinical value for a tailored approach to therapy for OA.
The application of biomarkers to diagnose individuals who are most likely to respond to particular medical therapies may boost treatment response rates and lower the risk of exposing patients to medicines that are either unlikely to be efficient or could cause them to experience harmful side effects from their treatment. Using a combination of distinct biomarkers and baseline clinical characteristics like age and gender may help even better to tailor OA treatment plans.
Report Segmentation
The market is primarily segmented based on treatment type, disease type, distribution channel, route of administration, and region.
By Treatment Type

By Distribution Channel

By Disease Type

By Route of Administration

By Region

Drugs

Viscosupplementation Agents
Nonsteroidal Anti-inflammatory Drugs

Naproxen
Aspirin
Diclofenac
Ibuprofen
Other NSAIDs

Analgesics
Corticosteroids

Assistive Devices

Hospital Pharmacies
Retail Pharmacies
Drug Stores
E-Commerce

Knee Osteoarthritis
Spine Osteoarthritis
Foot & Ankle Osteoarthritis
Shoulder Osteoarthritis
Hand Osteoarthritis

Parenteral Route
Topical Route
Oral Route

North America (U.S., Canada)
Europe (France, Germany, UK, Italy, Netherlands, Spain, Russia)
Asia Pacific (Japan, China, India, Malaysia, Indonesia. South Korea)
Latin America (Brazil, Mexico, Argentina)
Middle East & Africa (Saudi Arabia, UAE, Israel, South Africa)
Know more about this report: Request for sample pages
Knee Osteoarthritis segment is expected to witness fastest growth
One of the leading causes of old age impairment in individuals worldwide is knee osteoarthritis. For instance, according to data from the Eurostat Statistics report released in February 2022, approximately 20.8% of the population of Europe, or about one-fifth of the entire population, was aged 65 or older. That number is projected to rise by two and a half times, from 6.0% in 2021 to 14.6% in 2100, which will also support the market growth.
Further, the rising FDA approvals for the treatment of Knee OA is the factor boosting the segment growth over the forecast period. For instance, in September 2021, Novartis stated that LNA043 had been given fast-track designation by the US Food and Drug Administration (FDA) for knee osteoarthritis rehabilitation.
Drugs intended to treat severe illnesses and meet unmet medical requirements can be developed more quickly and have their evaluations completed quicker. One potentially first-in-class disease-modifying therapy for osteoarthritis is being developed, called LNA043. Thus, the rising approvals for the treatment of knee OA boost the market growth over the forecast period.
Viscosupplementation segment industry accounted for the highest market share in 2021
The primary reason fueling this market's growth is knee osteoarthritis's increasing prevalence. Viscosupplementation significantly reduces osteoarthritis pain by injecting synovial fluid into the affected joints, which improves their lubrication. Also, Because of the development of new viscosupplementation agents and government initiatives to promote research in the healthcare sector, the viscosupplementation agents market is anticipated to expand significantly over the projected period.
Hospital Pharmacies are expected to hold the significant revenue share
Due to the enormous number of patients seeking treatment for osteoarthritis in hospitals and the extensive selection of osteoarthritis medicines offered in these pharmacies, hospital pharmacies held the biggest share of this market. Another significant benefit is the simplicity with which hospital pharmacy purchases can be reimbursed.
The demand in North America is expected to witness significant growth
A surge in the incidence of chronic diseases, an increase in the number of older adults, and changes in people's lifestyles all contribute to the expectation of market growth in North America. Because of this, the region is adopting more and more therapies and medications. Comparing the US to Canada and Mexico, the U.S. will hold a sizable portion of the market for osteoarthritis treatments in North America.
According to the CDC, Osteoarthritis (OA), the most prevalent type of arthritis, is a significant chronic condition that affects 32.5 million adults in the US. OA is linked to aging and is more prevalent in persons with other chronic diseases such as obesity, diabetes, and heart disease. However, 18.7 million persons with OA, or more than half of them, are of working age (18 - 64 years).
Further, the availability of better treatment alternatives, government reimbursement guidelines, rising research and development activities in the creation of novel medicines, and the introduction of new therapies in the North American area, are all anticipated to support market expansion in the region.
Europe dominated the market for osteoarthritis treatments. The significant market share of this sector can be attributable to the increased prevalence of osteoarthritis, the aging population, rising obesity rates in various European nations, and the growing amount of sports- and accident-related injuries.
Competitive Insight
Some of the major players operating in the global market include ABIOGEN PHARMA S.p.A, Assertio Therapeutics, Inc., Abbott Laboratories Incorporation, Apotex Inc., Ampio Pharmaceuticals Inc., Bayer AG, Eli Lilly and Company, Horizon Therapeutics plc, Johnson & Johnson, Merck Sharp & Dohme Corp., Mylan N.V., Novartis AG, Pfizer Inc., Reckitt Benckiser Group PLC, Sanofi SA, Tolmar Pharmaceuticals, Inc., Teva Pharmaceutical Industries Ltd., and Zimmer Biomet Holding.
Recent Developments
In February 2021, Moebius Medical announced that the MM-II, a cutting-edge alternative for the treatment of symptoms in knee osteoarthritis, is undergoing a Phase IIb clinical trial. ts goal is to compare the effectiveness and safety of different doses of MM-II with placebo in subject areas with symptoms in patients' knee OA.
Osteoarthritis Market Report Scope
| | |
| --- | --- |
| Report Attributes | Details |
| Market size value in 2021 | USD 7.40 billion |
| Revenue forecast in 2030 | USD 15.30 billion |
| CAGR | 8.5% from 2022 - 2030 |
| Base year | 2021 |
| Historical data | 2018 - 2020 |
| Forecast period | 2022 - 2030 |
| Quantitative units | Revenue in USD million/billion and CAGR from 2022 to 2030 |
| Segments Covered | By Treatment Type, By Disease Type, By Distribution Channel, By Route of Administration, By Region |
| Regional scope | North America, Europe, Asia Pacific, Latin America; Middle East & Africa |
| Key Companies | ABIOGEN PHARMA S.p.A, Assertio Therapeutics, Inc., Abbott Laboratories Incorporation, Apotex Inc., Ampio Pharmaceuticals Inc., Bayer AG, Eli Lilly and Company, Horizon Therapeutics plc, Johnson & Johnson, Merck Sharp & Dohme Corp., Mylan N.V., Novartis AG, Pfizer Inc., Reckitt Benckiser Group PLC, Sanofi SA, Tolmar Pharmaceuticals, Inc., Teva Pharmaceutical Industries Ltd., and Zimmer Biomet Holding |