The global glycerol derivatives market was valued at USD 15.21 billion in 2022 and is expected to grow at a CAGR of 6.2% during the forecast period. Augmenting demand for glycerol across various industries is one of the prime factors contributing to market growth. The wide range of applications and benefits of glycerol make it a valuable and important chemical compound. Many companies are contributing to the product development of glycerol to improve their revenue stream. For instance, in December 2022, BASF introduced Euperlan, comprised of naturally occurring ingredients hydrogenated vegetable oil, glycerol oleate, & cocamidopropyl betaine. Merz introduced Belotero Revive, containing a combination of hyaluronic acid & glycerol, designed to advance hydration, elasticity, & firmness of the skin. As a result, the participation of the key players in the advancements enhances the competitiveness in the market and hence boosts the global market.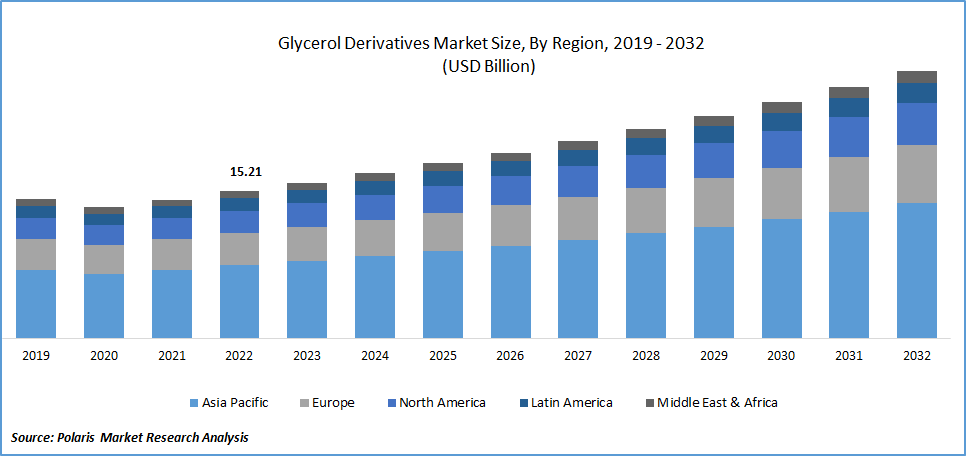 To Understand More About this Research: Request a Free Sample Report
Glycerol derivatives are chemicals derived from glycerol, a colorless, odorless, sweet-tasting compound. Due to its excellent chemical and physical properties, it is widely used throughout the pharmaceutical, cosmetic, and food industries as a humectant, solvent, and sweetener. For example, glyceryl esters, such as glyceryl stearate and glyceryl oleate, are used as emulsifiers and stabilizers in the food and cosmetic industries. Glycolipids are important components of the chloroplast membranes in plants. Glycosides, such as glycyrrhizin and digitoxin, are used in medicine as natural sweeteners and cardiac glycosides, respectively.
The growing use of glycerol derivatives in various industrial applications, such as resins, plastics, and fuels, is improving the Glycerol Derivatives Market sales. For example, glycerol is used as a feedstock in biodiesel production and as a raw material for synthesizing polyesters and polyurethanes. Biodiesel production is increasing across various countries. For example, ethanol production in the United States reached approximately 15 billion gallons in 2021, while biodiesel production exceeded 2.5 billion gallons. The significant increase in biodiesel production creates a higher demand for glycerol derivatives and contributes to global revenue growth.
COVID-19 has had a significant impact on the global market. With excellent features, glycerol derivatives are widely used in the pharmaceutical and personal care industries. This accelerated the demand for it during the pandemic. The need for drugs and vaccines has also skyrocketed due to growing cases of COVID-19, which further enhanced the demand for glycerol derivatives. Similarly, the demand for hand sanitizers and other personal care products has also boomed, which has also helped the market grow.
However, transportation and distribution restrictions, a halt in production, a lack of labor force, supply chain disruptions, and many other aspects have adversely impacted the market's growth. A shortage of raw materials had considerably increased the price, which further caused hurdles for many manufacturers.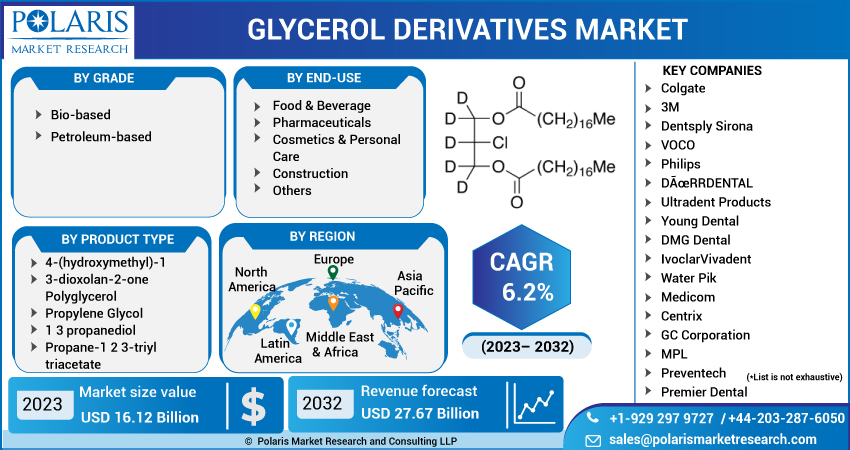 For Specific Research Requirements, Request for a Customized Report
Industry Dynamics
Growth Drivers
Growing bio-diesel production is one of the key aspects responsible for improving global revenue. The rise of bio-diesel output in the last several years has forced glycerol production and lowered prices. For example, the U.S. is by far the major biofuel producer worldwide. Over the past ten years, the biodiesel and renewable diesel industries have steadily expanded, and there are now industrial production facilities from coast to coast. Expanding biodiesel production across the world is escalating the demand for glycerol derivatives. This is booming the growth of the market worldwide.
The increasing use of glycerol derivatives such as glycerol ester, glycerol ether, and others is set to spur the global market. These derivatives are important in developing and producing safe and effective pharmaceutical products. For example, per the 2020 EU Industrial R&D Investment Scoreboard, the pharmaceutical and biotechnology sector accounts for almost 18.4% of total business R&D expenditure globally. Improving investments in the pharmaceutical industry is promoting the growth of the global market.
Report Segmentation
The market is primarily segmented based on grade, product, end-use, and region.
By Grade

By Product

By End-Use

By Region

Bio-based

Petroleum-based

4-(hydroxymethyl)-1 3-dioxolan-2-one

Polyglycerol

Propylene Glycol

1 3 propanediol

Propane-1 2 3-triyl triacetate

Others

Food & Beverage

Pharmaceuticals

Cosmetics & Personal Care

Construction

Others

North America (U.S., Canada)

Europe (France, Germany, UK, Italy, Netherlands, Spain, Russia)

Asia Pacific (Japan, China, India, Malaysia, Indonesia. South Korea)

Latin America (Brazil, Mexico, Argentina)

Middle East & Africa (Saudi Arabia, UAE, Israel, South Africa)
To Understand the Scope of this Report: Speak to Analyst
The bio-based segment dominated the global market in 2022
The bio-based segment held the largest global share. A shift towards natural and organic products due to growing concern over the environmental impact of petroleum-based products is enhancing the demand for bio-based derivatives. Glycerol derivatives have many applications in pharmaceuticals, cosmetics, food, and chemical industries. For instance, glycerol carbonate is used as a solvent and a raw material for producing polymers, resins, and coatings. Another example is glycerol-based polyurethane, which makes foams, adhesives, and coatings.
Using bio-based derivatives is beneficial for the environment as it reduces the dependence on fossil-based resources and contributes to reducing greenhouse gas emissions. Additionally, using bio-based products can help reduce the environmental impact of industrial processes and promote sustainable development.
The polyglycerol segment accounted largest market share in 2022
Polyglycerol is a leading segment, accounting for a major global market share due to its enhanced use in various applications and unique chemical and physical properties. These derivatives are broadly used as emulsifiers and solubilizers for producing food, personal care, and cosmetic products. For instance, in November 2022, Gattefosse launched a sun care kit with four key ingredients: Emulium Illustro, Emulium Dolcea MB, Emulium Mellifera MB, and Acticire MB.
Moreover, these derivatives are used to produce pharmaceuticals and develop new drug delivery systems. Overall, polyglycerol results are widespread and varied, and their unique properties make them important ingredients in many different products.
The pharmaceutical segment is projected to grow with a significant CAGR over the forecast period.
The pharmaceutical segment is anticipated to witness the most significant CAGR in the forecast period in the global market. This is attributed to the increasing need for derivatives in the production of drugs and vaccines. For instance, glycerol is a common ingredient in pharmaceuticals used to enhance the smoothness and taste of medicines.
Glycerol monostearate is a widely used emulsifier and stabilizer in pharmaceutical formulations such as creams, ointments, and lotions. Glycerol formal is used in the synthesis of various polymers. Significantly, derivatives play a crucial role in the pharmaceutical industry, as they can enhance the effectiveness, stability, and safety of multiple drugs and dosage forms. As a result, the growing pharmaceutical industry is booming the market globally.
Asia Pacific dominated the global market in 2022
Asia Pacific contributes largely to the global market due to the growing demand for glycerol derivatives in personal care, transportation, and the pharmaceutical industry. Asian countries accounted for almost 1/3 of the new production over the study period. Blending targets for the bio-diesel in Malaysia, Indonesia, & India's ethanol policies are responsible for most of the demand for such derivatives. Additionally, the region is also the leading consumer and producer of glycerol. All these major factors are attributed to the region's growth.
Europe has a significant global market share due to the increasing need for derivatives in the food and beverage industry. Europe is the largest exporter of food & drink products globally, with exports of around for EU reaching approx. USD 164.7 billion, with a trade surplus of approximately USD 77 billion. Similarly, the food and beverage industry is considered the biggest manufacturing sector in Europe in terms of jobs and values. Expanding food and beverage sectors across Europe generate many opportunities for glycerol derivatives. As a result, this factor is consistently improving revenue in the region.
Competitive Insight
Some of the major players operating in the global market include Zhangjiagang Glory Biomaterial, Shell Chemical, Tokyo Chemical, DuPont, Solvay, Croda International, Cargill, Primient Covation, Haihang Industry, Sakamoto Yakuhin Kogyo, Spiga Nord, Stepan Company, thyssenkrupp, Acuro Organics, and Repsol.
Recent Developments
In November 2021, ORLEN Poudnie launched Poland's first and largest green propylene glycol production unit. The plant can produce 30,000 tonnes annually to meet up to 75% of domestic demand. Green glycol is a bio-based product with a high margin that is safe for the environment. It has many uses, including in food, cosmetics, and medicine.

In October 2022, Manali Petrochemical received environmental clearance from the Indian Government's Ministry of Environment, Forests, and Climate Change to increase its propylene glycol (PG) capacity.
Glycerol Derivatives Market Report Scope
| | |
| --- | --- |
| Report Attributes | Details |
| Market size value in 2023 | USD 16.12 billion |
| Revenue forecast in 2032 | USD 27.67 billion |
| CAGR | 6.2% from 2023 – 2032 |
| Base year | 2022 |
| Historical data | 2019– 2022 |
| Forecast period | 2023– 2032 |
| Quantitative units | Revenue in USD billion and CAGR from 2023 to 2032 |
| Segments covered | By Grade, By Product, By End-Use, By Region |
| Regional scope | North America, Europe, Asia Pacific, Latin America, Middle East & Africa |
| Key companies | Colgate, 3M, Dentsply Sirona, VOCO, Philips, DÃœRRDENTAL, Ultradent Products, Young Dental, DMG Dental, IvoclarVivadent, Water Pik, Medicom, Centrix, GC Corporation, MPL, Preventech, Premier Dental, Pulpdent Corporation, Elevate Oral Care, and other. |