The global gout therapeutics market was valued at USD 2.78 billion in 2022 and is expected to grow at a CAGR of 8.1% during the forecast period.
The market has experienced significant growth driven by the increasing prevalence of gout and the development of advanced treatment options. A gout is a form of arthritis caused by the accumulation of uric acid crystals in the joints, leading to inflammation, swelling, and severe pain. It is estimated that around 8.3 million people worldwide suffer from gout, with the numbers expected to rise due to factors such as aging populations and lifestyle changes.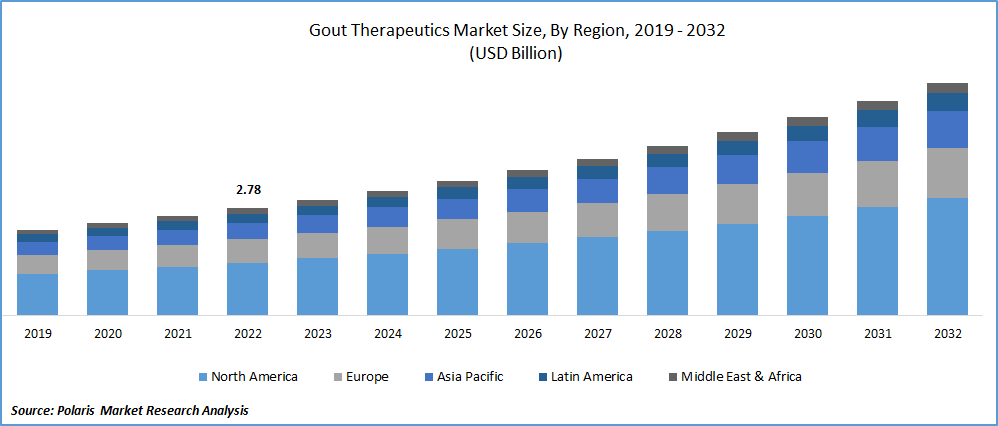 To Understand More About this Research: Request a Free Sample Report
The market for gout therapeutics is dominated by medication-based treatments, including nonsteroidal anti-inflammatory drugs (NSAIDs), colchicine, corticosteroids, and urate-lowering therapies (ULTs). NSAIDs and colchicine are commonly used to manage acute gout attacks by reducing pain and inflammation. Corticosteroids are another option for acute attacks, often administered orally or through injections. ULTs, such as allopurinol and febuxostat, aim to lower uric acid levels long-term to prevent future gout attacks.
Furthermore, there have been advancements in gout therapeutics, including introducing novel drugs targeting specific pathways involved in gout pathogenesis. These newer therapies, such as lesinurad and pegloticase, offer alternative treatment options for patients who do not respond well to traditional medications. Furthermore, the use of biologics, such as interleukin-1 inhibitors, has shown promising results in clinical trials and may provide further treatment options. Additionally, the growth of the gout therapeutics market is the rising incidence of the condition due to higher alcohol consumption. Alcohol intake, particularly beer, and spirits, can elevate uric acid levels in the body, increasing the risk of gout development.
The COVID-19 pandemic has had mixed effects on the market. Disruptions in healthcare systems delayed diagnosis, and supply chain disruptions have posed challenges, while increased awareness of comorbidities and the adoption of telemedicine have created new opportunities. The redirection of healthcare resources, fear of exposure, and delayed treatment-seeking behavior impacted the demand for gout therapeutics. However, the focus on comorbidities and the accelerated adoption of telemedicine have facilitated the management of gout remotely and ensured continuity of care.
Industry Dynamics
Growth Drivers
Increasing prevalence of gout worldwide
The increasing prevalence of gout worldwide is a common form of inflammatory arthritis, and its prevalence has been on the rise, particularly in developed countries. Factors such as aging populations, sedentary lifestyles, unhealthy dietary patterns, and the prevalence of comorbidities like obesity and hypertension contribute to the increasing incidence of gout.
The continuous research and development activities focused on developing innovative and more effective gout therapeutics. Pharmaceutical companies and researchers are actively working on novel drug formulations, targeted therapies, and regenerative medicine approaches to address the unmet needs of gout patients. This includes the development of new medications that target specific pathways involved in gout pathogenesis and exploring the potential of biologics and gene therapies.
Furthermore, there is a growing awareness among healthcare professionals and patients about the importance of early diagnosis and effective management of gout. This increased awareness has improved diagnosis rates and a higher demand for gout therapeutics. Healthcare providers also emphasize the need for long-term treatment strategies to prevent gout attacks and reduce the risk of complications.
Report Segmentation
The market is primarily segmented based on drug class, disease condition, and region.
By Drug Class

By Disease Condition

By Region

Non-steroidal Anti-Inflammatory Drugs (NSAIDs)

Corticosteroids

Colchicine

Urate Lowering Agents

North America (U.S., Canada)

Europe (France, Germany, UK, Italy, Netherlands, Spain, Russia)

Asia Pacific (Japan, China, India, Malaysia, Indonesia, South Korea)

Latin America (Brazil, Mexico, Argentina)

Middle East & Africa (Saudi Arabia, UAE, Israel, South Africa)
To Understand the Scope of this Report: Speak to Analyst
By Drug Class Analysis
NSAIDs segment dominated the market with highest revenue shares in 2022
The non-steroidal Anti-Inflammatory Drugs (NSAIDs) segment has dominated the market with the highest revenue in the market. Due to the widespread availability of NSAIDs, their relatively low cost compared to other drug classes, and their effectiveness in pain relief during severe gout attacks. NSAIDs are typically the first-line treatment for reducing inflammation and associated pain in rheumatic and non-rheumatic diseases. The increasing number of gout patients, the affordability of NSAID medications, and their application in combination therapies are expected to drive the growth of this sector.
Furthermore, the colchicine segment is expected to experience significant growth over the forecast period due to its high efficacy in treating gout and its ongoing product development activities. Colchicine has effectively managed gout symptoms, making it a valuable therapeutic option. The continuous efforts in developing new formulations and optimizing the use of colchicine further contribute to the growth of this segment in the market.
By Disease Condition Analysis
Chronic segment anticipated to hold the largest revenue shares during forecast period
The chronic segment is expected to hold the largest revenue share in the market during the projected period. This segment encompasses urate-lowering drugs, such as xanthine oxidase agents and uricosuric pharmaceuticals. The industry's growth in this sector is driven by the introduction of multiple urate-lowering medicines and the potential entry of new treatments into the market. These medications play a crucial role in the long-term management of gout by reducing uric acid levels and preventing recurrent gout attacks. The increasing availability and advancements in urate-lowering therapies contribute to the dominance of the chronic segment in the gout therapeutics market.
Regional Insights
North America dominated the global market in 2022
North America has maintained its dominance in the gout therapeutics market and is expected to continue leading during the forecast period. The prevalence of gout in North America is significant, with approximately 8.3 million people affected in the United States alone and a prevalence rate ranging from 1% to 4%. The condition is more prevalent among African Americans than Caucasians, and its overall prevalence is increasing across different demographics. The United States holds the highest market share in the North American region.
The market in North America is projected to be driven by the growing number of passive smokers and an aging population. Additionally, increased healthcare expenditures, demand for advanced treatments and services, and government support are expected to contribute to this region's growth.
However, Asia Pacific is anticipated to witness the fastest growth during the forecast period. This growth is attributed to several factors, including increased investment by regional market players, rising awareness about gout, higher healthcare spending, and the expected introduction of new drugs. The region also has a growing patient pool, and major players are actively investing in the region, leading to increased adoption of gout therapeutics. The prevalence of smoking, alcohol consumption, and stressed lifestyles further contribute to the region's anticipated growth in gout incidence.
Market Key Players & Competitive Insight
The competitive landscape of the gout therapeutics market is characterized by intense research and development activities conducted by pharmaceutical companies and researchers. These efforts on developing innovative drug formulations, targeted therapies, and regenerative medicine approaches to address the unmet needs of gout patients. Additionally, the market is witnessing a surge in the exploration of biologics and gene therapies. As awareness among healthcare professionals and patients about the importance of early diagnosis and effective management of gout grows, competition in the market is likely to intensify, with an emphasis on developing long-term treatment strategies that can prevent gout attacks and reduce the risk of complications, making it a dynamic and evolving sector within the broader pharmaceutical industry.
Some of the major players operating in the global market include:
Ablynx

Antares Pharma

Astellas Pharma

AstraZeneca

Boehringer Ingelheim

CymaBay Therapeutics

Eisai

Eli Lilly

GlaxoSmithKline

Horizon Pharma

JW Pharmaceutical

LG Life Sciences

Merck

Novartis

Novo Nordisk

Regeneron Pharmaceuticals

Sandoz (a subsidiary of Novartis)

Sanofi

Takeda Pharmaceuticals

Teijin Pharma

Vertex Pharmaceuticals
Recent Developments
In March 2022, Strides Pharma's Colchicine tablets USP, 0.6 mg, have received approval from the United States Food and Drug Administration (FDA). These tablets are indicated for the treatment and prevention of gout.

In August 2022, Synlogic, Inc. collaborated with Ginkgo Bioworks to develop a novel drug candidate for gout treatment. Synlogic, a clinical-stage biotechnology company, utilizes its distinctive synthetic biology approach to create medications targeting metabolic and immunological disorders.
Gout Therapeutics Market Report Scope
| | |
| --- | --- |
| Report Attributes | Details |
| Market size value in 2023 | USD 3.0 billion |
| Revenue forecast in 2032 | USD 6.04 billion |
| CAGR | 8.1% from 2023 – 2032 |
| Base year | 2022 |
| Historical data | 2019 – 2021 |
| Forecast period | 2023 – 2032 |
| Quantitative units | Revenue in USD billion and CAGR from 2023 to 2032 |
| Segments Covered | By Drug Class, By Disease Condition, By Region |
| Regional scope | North America, Europe, Asia Pacific, Latin America; Middle East & Africa |
| Customization | Report customization as per your requirements with respect to countries, region and segmentation. |