The global halal food market is anticipated to grow at a CAGR of 7.6% between 2018 to 2026.
The halal food market is expected to experience significant demand during the forecast period, mainly owing to the growing Islamic population worldwide. In addition, the growing numbers of the absolute vegans globally is yet another factor driving the market growth. Halal food and beverage are expected to be manufactured, packaged, stored, and distributed as per Islamic law. Moreover, these products are considered healthy, fresh and much more organic alike. The improving economic condition in Islamic nations is expected to pose great potential for increasing demand of halal food and beverages. Halal food market is becoming the greatest Islamic pillar in terms of revenue and the industry is moving towards maturity with increasing number of privately-owned equity investment taking place in the present industry scenario. Modification of regulatory framework has been taking its pace with many nations actively promoting these products. This is to expedite the formation of a single and diverse regulatory framework that would introduce various accreditations for overseeing certification of authenticity to decrease the level of complexity. This would encourage the entry of greater number of companies to enter and penetrate into the halal industry.
These products have been gaining popularity among the non-Muslim population as well. There has been substantial increase in halal food chains and retail outlets worldwide with varieties of menu options thus attracting more and more consumers. A noticeable shift from the delusion of halal being applicable only to food consumption and financial transactions has been observed. More businesses outside the industry are acknowledging this fact and are looking out for opportunities to enter the halal market. Furthermore, the increasing consumer awareness about these type of food products is encouraging the entry of new companies every year.
Asia Pacific Halal Food Market Share By Product Type, 2017-2026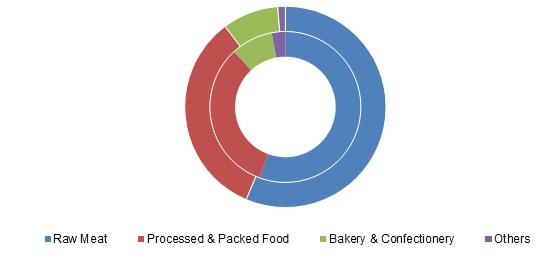 Know more about this report: request for sample pages
Segment Analysis:
The global halal food market is segmented based on type of product types and regional markets. The product segment has been further bifurcated into raw meat, processed & packaged food, bakery & confectionery and others. Raw meat was the largest product segment in 2017. Processed &packaged food segment was followed by the bakery & confectionery segment.
Halal meat has been a booming business since the inception of its commercialization on a large scale compared to the Muslims being the second largest global population and the increasing popularity of the products among the non-Muslim population is the primary factor driving its demand. Raw meat processing companies has increase almost double compared to the last decade. Small kirana store butchers and specialty outlets have been the major sources of retail outlets in the current scenario, however raw meat selling chains& franchise with branded meat products are anticipated to increase in the developing nations during our forecast period. Meat being the highest bought food among the Muslims is expected to experience an upper hand compared to the other categories.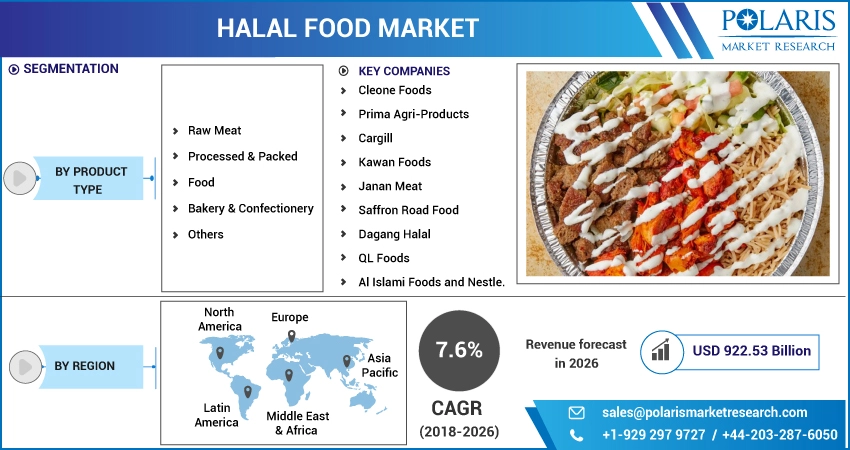 Know more about this report: request for sample pages
Regional Analysis:
Global halal food market is segmented by the presence of numerous international, regional, and local players. However, the market is largely dominated by few well-established international players that are continuously working towards new product offerings with trusted branding and maintaining higher level of hygiene. Companies have been observed of spending significant funds for upgrading their slaughter houses to satisfy the new and stringent regulations. The newly launched products are usually differentiated based on variety and quality. Moreover, it helps the companies to attract new customers and retain the existing ones.
Asia Pacific region was the largest regional market in 2017. Pakistan, Bangladesh, Myanmar, Indonesia, Vietnam and India are the major halal food markets in the region. Indonesia and Myanmar are most potential markets worldwide with a significantly high growth rate. Increasing purchasing power, income levels and growing population in the region are the primary drivers for yearly increase in demand for these products.
Competitive Analysis:
Some of the leading industry participants in the global halal food market include Cleone Foods, Prima Agri-Products, Cargill, Kawan Foods, Janan Meat, Saffron Road Food, Dagang Halal, QL Foods, Al Islami Foods and Nestle.