The headwear market was valued at USD 26,913.52 million in 2022 and is expected to grow at a CAGR of 6.3% during the forecast period. Market is experiencing growth due consumers prioritizing both style and protection. A wide range of products made from different materials, including hats, caps, helmets, headbands, and beanies, offer protection from the sun, regulate body temperature, and prevent head injuries. Caps, in particular, have become popular among athletes, with players in sports such as cricket, baseball, and polo wearing them to enhance their performance and physical health on the field. The trend of athleisure has also contributed to the growth of the headwear market, where sportswear is worn as casual wear in daily life.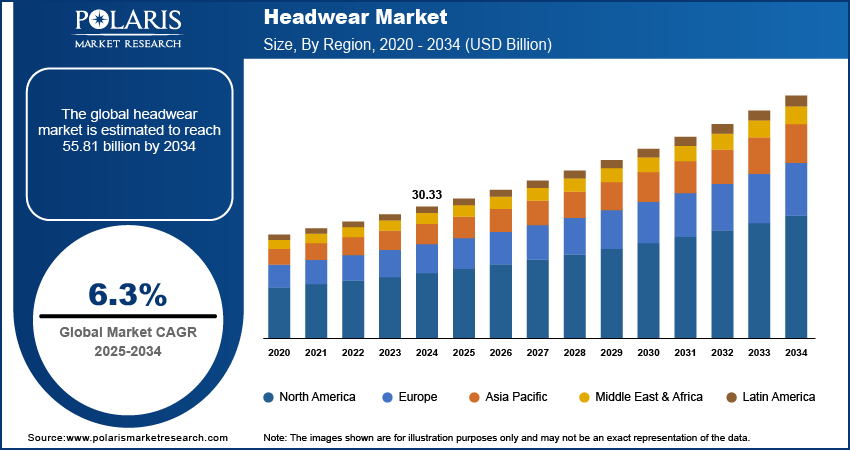 To Understand More About this Research: Request a Free Sample Report
Moreover, headwear is increasingly popular for people of all ages and genders, with more awareness of sun protection and skin health. Hats and caps provide easy and effective protection from the sun's harmful effects, reducing the risk of skin cancer and sunburn. Headwear is now available in a variety of styles, from casual to formal, making them versatile for any occasion. Online shopping has contributed to the growth of the headwear market, giving consumers access to a wide range of products from various brands and retailers.
For Instance, In October 2022, Melin, a headwear brand, launched the 'Infinite THERMAL Collection' to capture a share of the growing market for cold-weather outdoor experiences. Melin collaborated with the snow-boarder and adventurer Louie Vito to create 'Infinite A-Game', available in four colors. The new collection reflects its drive to meet the evolving needs of consumers who enjoy cold-weather activities.
The COVID-19 pandemic has significantly impacted the headwear market, leading to a decrease in sales due to the global financial crisis and changing consumer preferences. The pandemic caused disruptions in the distribution network, shortage of raw materials and skilled labor. As a non-essential product, headwear faced a decline in demand during the pandemic, with the closure of offline stores due to lockdowns leading to a drop in sales. However, the pandemic has also seen a shift towards online retail platforms, with online sales expected to experience growth during this period. As the situation continues to evolve, the headwear market may need to adapt to the changing landscape and consumer preferences to sustain future growth.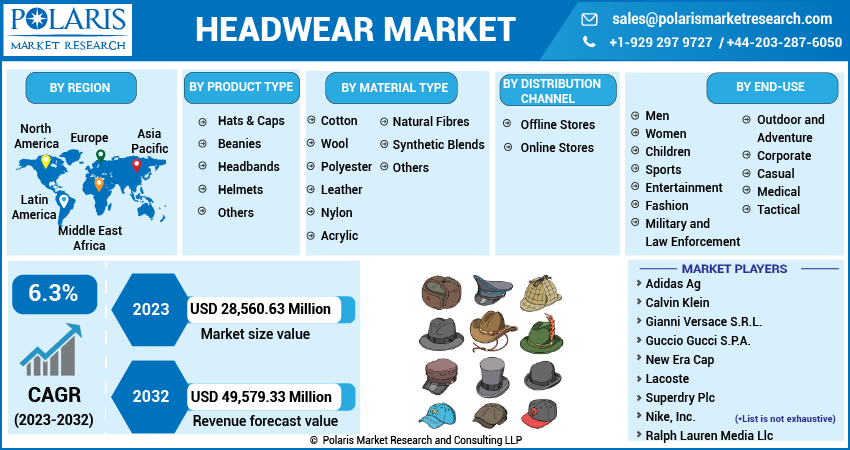 For Specific Research Requirements, Request for a Sample Report
Industry Dynamics
Growth Drivers
The headwear market is expected to grow significantly due to rising fashion trends, particularly among younger generations and millennials. Customized caps are in demand as consumers seek personalized apparel to stand out, especially in dance groups, food service firms, and other service providers. Increased competition from small and local players with innovative products, along with big players offering more personalized options, is driving the growth of the headwear market, which is expected to continue expanding globally.
Moreover, the market is further driven by innovative products that cater to the evolving needs of different industries, including the military and security sectors. With the increasing demand for specialized headwear, small and local players are also entering the market, intensifying the competition and pushing for more personalized options to meet the different preferences of consumers. Headwear is an important market not only for fashion and outdoor activities but also for medical professionals and those in critical operations. High-quality headwear helps to maintain hygiene and avoid unwanted errors.
Report Segmentation
The market is primarily segmented based on product type, material type, distribution channel, end-use, and region.
By Product Type

By Material Type

By Distribution Channel

By End-Use

By Region

Hats & Caps

Beanies

Headbands

Helmets

Others

Cotton

Wool

Polyester

Leather

Nylon

Acrylic

Natural Fibres

Synthetic Blends

Others

Offline Stores

Online Stores

Men

Women

Children

Sports

Entertainment

Fashion

Military and Law Enforcement

Outdoor and Adventure

Corporate

Casual

Medical

Tactical

Others

North America (U.S., Canada, Mexico)

Europe (France, Germany, UK, Italy, Netherlands, Spain, Russia)

Asia Pacific (Japan, China, India, Malaysia, Indonesia, Thailand, Australia, South Korea)

Latin America (Brazil, Argentina)

Middle East & Africa (Saudi Arabia, UAE, Israel, South Africa, Qatar)
To Understand the Scope of this Report: Speak to Analyst
The Hats & Caps segment holds the largest shares of the market in 2022
Hats & Caps segment holds the largest share of the market. Caps have become a versatile accessory for outdoor activities and are widely worn by people of all ages. With various cap designs available, they are considered a fashionable accessory for different occasions and continue to gain acceptance among the youth. In addition, the growing trend of customization and personalization of headwear products is expected to further drive the growth of the headwear market in the near future.
The market for beanies is poised for substantial growth in the foreseeable future. Beanies have become a versatile accessory, with their popularity driven by their ability to protect wearers from cold weather while adding a stylish element to an outfit. They are particularly popular for daily wear, especially in cold climates, where they offer warmth and comfort. Young people, in particular, have adopted beanies as a fashion statement due to the wide range of stylish designs and colors available. As a result of their versatility and growing popularity, the beanie segment is expected to experience substantial growth in the coming years.
For instance, in May 2022, PUMA launched a limited edition headwear collection, featuring caps, beanies, and bucket hats with the Hometown Heroes logo, inspired by popular athletes, musicians, and cultural icons. Caps are available in six-panel snapback and relaxed-fit dad styles, while beanies come in ribbed knit. Bucket hats are reversible, allowing wearers to switch between two colors.
Cotton segment is expected to witness fastest growth
The cotton segment expected to grow the fastest CAGR rate during the projected period. This growth can be attributed to the numerous benefits of cotton, such as its breathability, moisture-wicking properties, and durability, which make it ideal for use in headwear. Moreover, cotton is also an eco-friendly material that is preferred by consumers who are environmentally conscious. While other materials such as polyester and wool are also commonly used in headwear, cotton's popularity continues to soar due to its versatile nature and comfort. As a result, cotton headwear is expected to dominate the market in the coming years.
However, the polyester material type segment is also boosting market growth as it is a synthetic material that is lightweight, breathable, and moisture-wicking, making it an ideal material for headwear products designed for outdoor activities and sports. Additionally, polyester is durable, easy to maintain, and versatile, which adds to its popularity among consumers and is expected to drive the growth of the market in the coming years.
The online stores segment expected to hold highest revenue shares of market during forecast period
It is convenient and offers a wide range of products, ease of comparing prices and features, and discounts, among others, which attract consumers to purchase products online. Moreover, the availability of detailed product descriptions, customer reviews, and easy return policies has boosted consumer confidence in online purchases, making it a preferred shopping method for headwear products. This trend is expected to continue and drive the growth of the headwear market in near future.
Moreover, the offline segment is expected to remain a dominant player in the market during the forecast period. One of the main advantages of the offline distribution channel is the availability of a physical store for customers to visit, which helps to establish trust and create a sense of brand loyalty. Additionally, the in-store experience can be enhanced through personalized customer interactions with sales personnel who can provide expert advice on headwear product details, fit, and style, which can help customers make more informed purchase decisions.
Sports segment is anticipated to boost the market growth
The sports segment is expected to boost market growth as headwear products such as caps, hats, and beanies are commonly used in various sports activities. Many professional sports teams and leagues have their own branded headwear products, and fans often wear these products to show support for their favorite teams or athletes. Athletes, in particular, prefer baseball caps and sun visors, driving the growth and rise in the market.
Furthermore, headwear products are widely used in the entertainment industry, particularly hats and caps, which have become popular merchandise items for musicians, actors, and other celebrities. This segment offers significant opportunities for merchandising, and as the entertainment industry continues to grow in popularity, it is expected to drive the growth of the headwear market in the near future.
Asia Pacific as the dominating region and accounted for the largest market revenue share
Asia Pacific held the largest revenue share of the market, primarily due to the increasing demand among the Gen Z and millennial demographic. Additionally, investments in R&D activities and rising product launches have also contributed to the growth of the market in the region. Furthermore, the acceptance of a wide range of winter hats and hair adornments in such countries is also expected to boost market growth in the coming years, as they are the main drivers of the market. Therefore, it can be anticipated that the market will continue to grow at a steady pace soon.
Furthermore, the Europe region is projected to witness a significant CAGR over the forecast period due to several factors, including the market demand for beanies, mufflers, and scarves, which is influenced by the climatic conditions in regions where these winter wear products are commonly worn. This factor is expected to drive the demand for headwear in the region.
Competitive Insight
Some of the major players operating in the market include Adidas; Calvin Klein; Gianni Versace; Guccio Gucci; New Era Cap; Lacoste; Superdry; Nike; Ralph Lauren Media; Puma; Pipolaki; Under Armour; Boardriders; New Balance; The Gap; and Topgolf Callaway.
Recent Developments
In May 2022, Cap America acquired Wear-A-Knit, a Minnesota-based custom knitwear company. This acquisition is expected to increase Cap America's production capacity and expand its custom knitwear product offerings, further strengthening their position as a leading supplier of high-quality headwear and accessories in the market.

In May 2022, Atlantis Headwear partnered with Caps Direct to introduce sustainable headwear to the market. The partnership aims to appeal to conscious consumers and drive positive change while contributing to market growth with a range of styles and designs, from classic caps to modern headwear options.
Headwear Market Report Scope
| | |
| --- | --- |
| Report Attributes | Details |
| Market size value in 2023 | USD 28,560.63 million |
| Revenue forecast in 2032 | USD 49,579.33 million |
| CAGR | 6.3% from 2023– 2032 |
| Base year | 2022 |
| Historical data | 2019– 2021 |
| Forecast period | 2023– 2032 |
| Quantitative units | Revenue in USD million and CAGR from 2023 to 2032 |
| Segments covered | By Product Type, By Material Type, By Distribution Channel, By End-Use, By Region |
| Regional scope | North America, Europe, Asia Pacific, Latin America; Middle East & Africa |
| Key companies | Adidas Ag; Calvin Klein; Gianni Versace S.R.L.; Guccio Gucci S.P.A.; New Era Cap; Lacoste; Superdry Plc; Nike, Inc.; Ralph Lauren Media Llc; Puma Se; Pipolaki; Under Armour Inc; Boardriders; New Balance Inc; The Gap Inc; Topgolf Callaway Brands Corp |