The global high integrity pressure protection system market was valued at USD 456.2 million in 2021 and is expected to grow at a CAGR of 6.9% during the forecast period.
Because of the growth in supporting government initiatives for environmental safety, the market is expected to develop at a healthy rate throughout the projected period. Global population expansion raises the need for electricity and energy, which has a direct influence on the growth of the market. Stringent government laws and regulations surrounding industrial safety, as well as the requirement for a dependable safety system, are likely to drive the market's growth throughout the forecast period.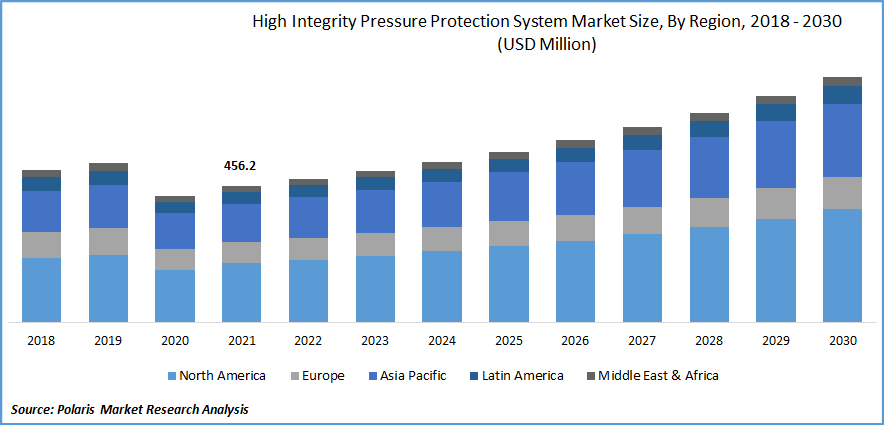 Know more about this report: Request for sample pages
The high integrity pressure protection system is a safety instrumented system designed to avoid overpressure during upstream operations. This system is critical equipment in the power generating and oil and gas industries. It acts as a barrier between the high- and low-pressure sides of a process plant, as well as a source shutoff to avoid over-pressurization of a plant by releasing it into the atmosphere.
It also has several advantages, such as weight reduction for downstream pipelines and vessels, higher capacity or throughput in flow line applications, and lower shipping and storage costs owing to volume and weight.
The introduction of COVID-19 has had a negative impact on the market for high integrity pressure protection systems. Due to shutdown limits, industrial activity in various locations was halted. Due to reduced demand from end-user industries, the market for high integrity pressure protection systems has fallen. The economic rebound that has occurred as a result of COVID will raise demand for high-integrity pressure protection systems.
The beginning and spread of the COVID-19 epidemic hampered the expansion of the oil and gas sector. Governments worldwide enacted various restrictions in 2020, resulting in a wide mismatch between supply and demand. The sector's decreasing expansion has a knock-on effect on the HIPPS market's growth in 2020.
Industry Dynamics
Growth Drivers
Demand for HIPPS is being driven by government regulatory standards for manufacturing plant safety and security, countries around the world focusing more on gas flaring and venting reduction programs, and rising demand for reliable safety solutions for personnel and asset protection in high-pressure environments.
Oil & gas is a primary target segment for the high integrity pressure protection system (HIPPS) business. As a result of the recent epidemic, the sector has experienced a falling trend, impeding market growth. In terms of demand, the COVID-19 outbreak has hindered the oil and gas industries. As a result, producers have decreased capital expenditure and drilling plans. Several projects have been stalled or halted due to the outbreak, forcing pipelines to fail.
As a result of an increase in plant accidents, the market is predicted to develop as government regulatory standards to preserve industrial plant safety and security rise. A boiler explosion at India's Neyveli Thermal Power Station in July 2020 killed at least six people and injured up to 17 more. This was the second boiler explosion at the factory in two months. Overheating and excessive pressure are likely to have caused the power plant explosion in Tamil Nadu (India).
Players in the market have been focusing on cutting-edge technological advancements in HIPPS applications. In December 2019, High-Pressure Equipment Company (a Graco Inc. subsidiary) introduced a revolutionary soft seat relief valve to protect liquid and gas tube systems from overpressure.
Know more about this report: Request for sample pages
Report Segmentation
The market is primarily segmented based on type, end use and region.
By Type

By End Use

By Region

Oil and Gas
Chemicals
Power Generation
Food and Beverages
Pharmaceuticals
Water and Wastewater
Metals and Mining
Others

North America (U.S., Canada)
Europe (France, Germany, UK, Italy, Netherlands, Spain, Russia)
Asia Pacific (Japan, China, India, Malaysia, Indonesia, South Korea)
Latin America (Brazil, Mexico, Argentina)
Middle East & Africa (Saudi Arabia, UAE, Israel, South Africa)
Know more about this report: Request for sample pages
Component segment is expected to witness the fastest growth in 2021
The HIPPS system comprises pressure sensors/transmitters, logic solvers, valves, actuators, and other components such as solenoids, control panels and software, alarms, valve positioners, manifolds, and accessories. Valves are used to regulate plant pressure and release a precise volume of steam or gas without the usage of energy. When a potentially hazardous action is identified, valves initiate or stop the passage of any poisonous fluid or external hydrocarbons (gases). Logic solvers are extremely adaptive, efficient, trustworthy, and secure, and they are also quite simple to set up. Many standard and safety-related applications in the process sector need the use of one or more single-loop logic solvers, which provide experts with flexibility and user-friendliness.
Oil and Gas is expected to hold the significant revenue share
HIPPS makes advantage of the system design and integration expertise of an oil and gas company. The industry's participants focus on developing innovative products and solutions to help the HIPPS market thrive in the next years. ATV HIPPS is a subsidiary of ATV Group and ATV SpA; The company purchased Hydro pneumatic, a company specializing in wellhead equipment and controls. This might benefit from the company's enlarged HIPPS technical offering.
Sustainable development policies also impact HIPPS demand, which may lead to additional variances in industry application criteria. Policy actions to achieve sustainable development may result in a peak in global oil consumption within the next several years. Demand is predicted to fall by more than 50% in advanced countries and 10% in underdeveloped countries between 2018 and 2040.
The demand in Asia-Pacific region is expected to witness significant growth
The Asia-Pacific HIPPS market is likely to expand the quickest during the forecast period, owing to the region's emphasis on building oil and gas refining capacity as well as considerable expansion in the chemicals sector, with China, Japan, and India among the region's key nations. Asia remained the most significant LNG destination in 2019, accounting for 70% of global LNG imports, according to the International Energy Agency.
North America contributes significantly to the worldwide market for high-integrity pressure protection systems. The widespread usage of high-integrity pressure protection systems in the oil and gas sector, particularly in North America, is likely to be a significant driver of market growth. In addition, due to its significant application in the oil and gas sector, shale gas development in Mexico is likely to be a major driver for the high-integrity pressure protection system market.
Competitive Insight
Some major global players operating in the market include Emerson Electric, Yokogawa Electric, Hima, Schneider Electric, General Electric, ABB, Rockwell Automation, Honeywell, Schlumberger, Siemens, Mokveld Valves, MOGAS, and Severn Glocon Group.
Recent Developments
ABB improved the ABB Ability System 800xA in March 2020. This new system includes new Ethernet I/O solutions, high-integrity controllers, and engineering tools, all of which boost project performance. This product improvement will assist the organization in increasing income generation.
Emerson Electric Co. released a new safety solution called DeltaV SIS in September 2019. This novel technology is also useful for fire and gas detection, burner control, and high-integrity pressure protection systems (HIPPS), among other things. The firm will be increasing its product offering and client base for Emerson.
High Integrity Pressure Protection System Market Report Scope
| | |
| --- | --- |
| Report Attributes | Details |
| Market size value in 2022 | USD 479.5 million |
| Revenue forecast in 2030 | USD 817.5 million |
| CAGR | 6.9% from 2022 – 2030 |
| Base year | 2021 |
| Historical data | 2018 – 2020 |
| Forecast period | 2022 – 2030 |
| Quantitative units | Revenue in USD million and CAGR from 2022 to 2030 |
| Segments Covered | By Type, By End-Use, By Region. |
| Regional scope | North America, Europe, Asia Pacific, Latin America; Middle East & Africa |
| Key Companies | Emerson Electric, Yokogawa Electric, Hima, Schneider Electric, General Electric, ABB, Rockwell Automation, Honeywell, Schlumberger, Siemens, Mokveld Valves, MOGAS, and Severn Glocon Group. |