The global high-k And CVD ALD metal precursors market was valued at USD 488.9 million in 2021 and is expected to grow at a CAGR of 6.3% during the forecast period. The advent of semiconductor devices proceeds is giving rise to the demand for a thin film deposition with a low thermal budget, higher accuracy in thickness control, and better conformity over three-dimensional (3D) structures.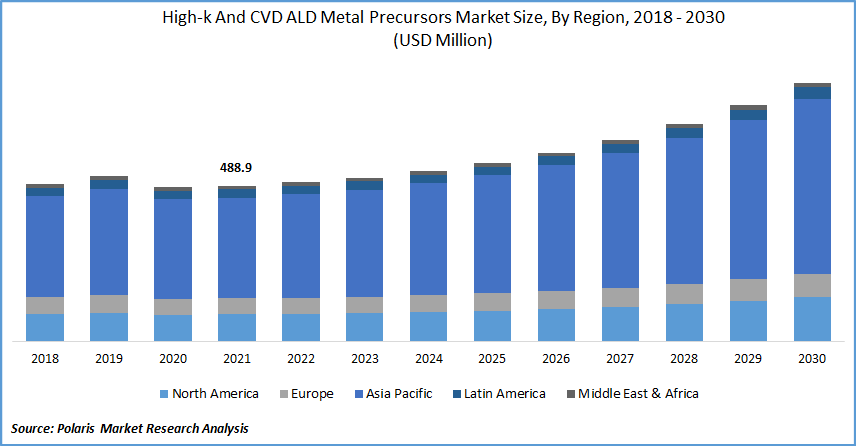 Know more about this report: request for sample pages
High demand for a number of thin-film materials for various industrial applications and emergence of atomic layer deposition of noble materials such as rhodium, iridium, palladium, and platinum; acts as key factors fueling the global high-k and CVD ALD metal precursors industry demand. The trend of miniaturization of semiconductors as well as electronic devices and the growing need for improvising the performance are further escalating the market to a greater extent.
The COVID-19 pandemic has created a serious plunge in various industries including materials demand. Economies across the world have been overcoming challenges of economic downturn, supply-chain barriers, shortage of semiconductor chips, and export/import barriers. However, the near-term outlook for the high-k and CVD ALD metal precursors industry seems promising with strong pent-up demand and expected bounce-back in industry demand with the opening of economies and regain in consumer's purchasing power as well as spending.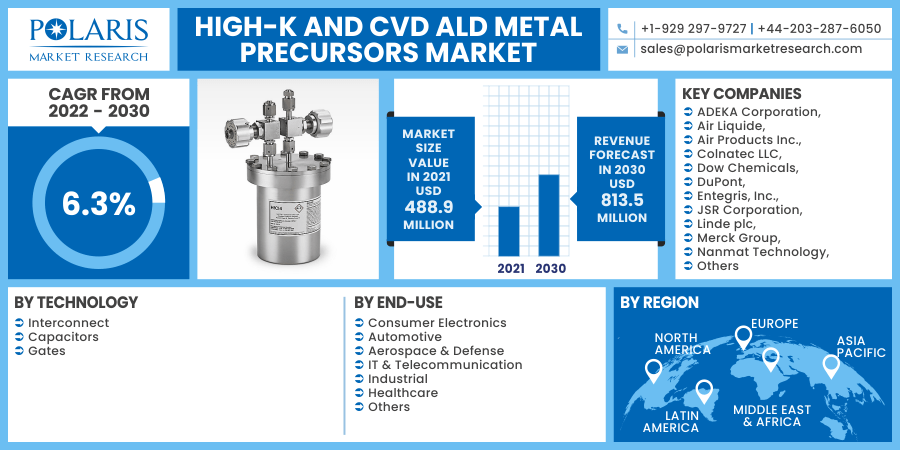 Know more about this report: request for sample pages
Industry Dynamics
Growth Drivers
Increasing penetration of semiconductors and microelectronic devices across various market verticals such as automotive, aerospace, industrial, and consumer goods is also one of the prime driving factors giving an impetus to the high-k and CVD ALD metal precursors industry growth. Besides, advancements in deposition technologies, growing demand for faster deposition speeds, and increasing commercialization of High-k and CVD ALD techniques are some key factors fueling the high-k and CVD ALD metal precursors industry demand.
Modern electronic designs demand smaller structures where High-k and CVD, and ALD have been demonstrating potential benefits due to conformality and control over material thickness and composition. The continued evolution of transistors and electronics to ordered 3D structures with the aim of maximizing surface area and densities and improving device efficiency and performance.
Report Segmentation
The market is segmented on the basis of technology, end-use, and region.
By Technology

By End-Use

By Region

Interconnect
Capacitors
Gates

Consumer Electronics
Automotive
Aerospace & Defense
IT & Telecommunication
Industrial
Healthcare
Others

North America (U.S., Canada)
Europe (Germany, France, UK, Italy, Spain, Netherlands, Austria)
Asia Pacific (Japan, China, India, Malaysia, Indonesia, South Korea)
Latin America (Brazil, Mexico, Argentina)
Middle East & Africa (UAE, Saudi Arabia, South Africa, Israel)
Know more about this report: request for sample pages
Insight by Technology
Interconnect segment is attributed to holding a leading position in the high-k and CVD ALD metal precursors industry driven by material precursors used for producing electrodes and interconnects. Interconnect fabrication is generally done by copper, which is a crucial conductive metal, particularly in microelectronics. Increasing demand for producing pure, defect-free, and conductive metal films matching up with atomic levels induced by chemical reactions from gas-phase precursors to deposit copper on surfaces.
The gate segment is expected to showcase the highest growth in the high-k and CVD ALD metal precursors industry during the forecast period. There has been a notable transition in the microelectronics market towards the usage of high-k dielectrics for transistor gate stacks in microelectronic devices. The trend of shrinking electronic devices has given an impetus to the high-k gate oxides with the usage of thin-film techniques in depositing high-k dielectrics.
Insight by End-Use
The consumer electronics segment holds significant dominance in the CVD ALD metal precursors market, driven by the increasing usage of microelectronics in smartphones, tablets, personal computers, and laptops. Furthermore, there has been robust growth in the number of smartphone users and tablets across the world. Amid the pandemic, there has been a surge in usage of smartphones and laptops with more and more remote working and online sessions and meetings.
Increasing consumer disposable income and spending capacity have further escalated the demand for consumer electronics and subsequent high-k And CVD ALD metal precursors market demand signaling strong industry size across the globe. The automotive industry is likely to exhibit the fastest growth in the CVD ALD metal precursors market during the forecast period driven by increasing electronic intelligence in the industry. There has been increasing penetration of semiconductor and electronic components in the industry, giving rise to high-k And CVD ALD metal precursors market demand.
Besides, the increasing level of automation and the increasing number of sensors in passenger cars is further escalating the growth of the segment. Although there has been a severe downturn in the industry due to the COVID-19 pandemic with the shortfall in demand and barriers in production, however, the market has already started to recoup, and a strong bounce-back is expected in the coming years, showcasing a promising growth outlook.
Geographic Overview
Asia Pacific held a gigantic share in the industry and is also attributed to witnessing the fastest growth in the high-k And CVD ALD metal precursors market propelled by rapid growth in electronic products, giving an impetus to the demand for high-k and CVD ALD metal precursors. Key Asian economies such as China, South Korea, and Taiwan are the hub of semiconductor manufacturing in the world, contributing to the huge dominance of the region.
There have been certain disruptions in the supply chain of electronic products in the Asia-Pacific region due to import/export barriers amid pandemic for a short term; however, smoothening of trade between economies is giving a bright future outlook of the region's market.
North America also offers a sizeable market opportunity, with the USA acting as the backbone of the region's market. Strong leadership of the USA in electronics manufacturing, advancements in nanotechnology, and high integration of intelligent electronic products has led to significant-high-k And CVD ALD metal precursors market opportunities in the region. The region holds the leading position in specific industry verticals such as aerospace & defense and healthcare industries. Strong investments in research and development for advanced electronics have also led to a decent share of the region.
Competitive Insight
Some of the key players competing in the global industry are ADEKA Corporation, Air Liquide, Air Products Inc., Colnatec LLC, Dow Chemicals, DuPont, Entegris, Inc., JSR Corporation, Linde plc, Merck Group, Nanmat Technology, Praxair, SAFC Hitech, Samsung Electronics, Strem Chemicals, Inc., Tri Chemical Laboratories, and UP Chemical Co.
The key strategy adopted by leading players to gain a competitive edge in the CVD ALD metal precursors market includes mergers & acquisitions, new product launches, strong investments in research & development, identifying gaps, and meeting the unmet needs of the stakeholders. Further formation of long-term contracts and certification of new as well as technologically advanced products are some other key strategic moves of industry players.
High-k And CVD ALD Metal Precursors Market Report Scope
| | |
| --- | --- |
| Report Attributes | Details |
| Market size value in 2021 | USD 488.9 million |
| Revenue forecast in 2030 | USD 813.5 million |
| CAGR | 6.3% from 2022 - 2030 |
| Base year | 2021 |
| Historical data | 2018 - 2020 |
| Forecast period | 2022 - 2030 |
| Quantitative units | Revenue in USD million/billion and CAGR from 2022 to 2030 |
| Segments covered | By Technology, By End-Use, By Region |
| Regional scope | North America, Europe, Asia Pacific, Latin America, Middle East & Africa |
| Key companies | ADEKA Corporation, Air Liquide, Air Products Inc., Colnatec LLC, Dow Chemicals, DuPont, Entegris, Inc., JSR Corporation, Linde plc, Merck Group, Nanmat Technology, Praxair, SAFC Hitech, Samsung Electronics, Strem Chemicals, Inc., Tri Chemical Laboratories, and UP Chemical Co. |