The global hospital supplies market was valued at USD 138.23 billion in 2021 and is expected to grow at a CAGR of 3.3% during the forecast period. The increased prevalence of chronic diseases such as cardiovascular and neurologic problems, as well as the realignment of healthcare systems, have resulted in a greater emphasis on early detection.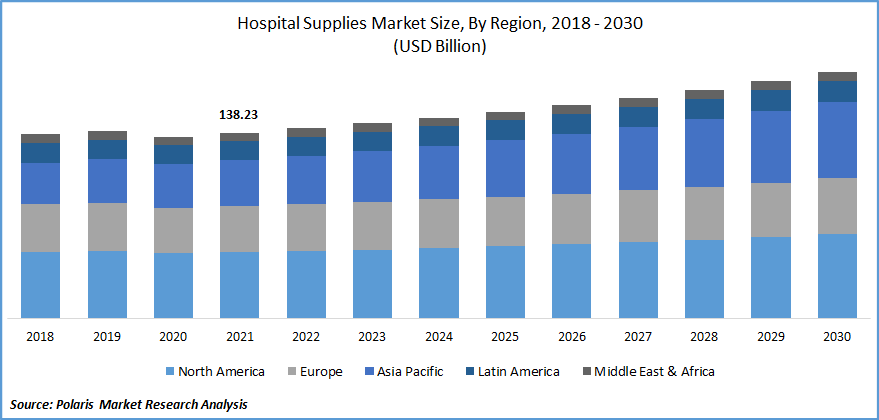 Know more about this report: Request for sample pages
The Centers for Disease Control and Prevention (CDC) estimates that coronary artery disease (CAD) affects 20.1 million adults in the United States alone each year. Due to increased awareness regarding the prevention of hospital-acquired infections, the global hospital supplies market is expected to have considerable growth over the forecast period.
The market for hospital supplies is expanding as a result of the sizable geriatric population base and the increasing frequency and incidence of associated disorders among them. Rising advanced technology is predicted to provide a lot of prospects in the healthcare sector throughout this time.
The concentration of governments and healthcare organizations around the world on developing awareness in their regions about the rapidly increasing number of infectious diseases, as well as preventive measures to reduce the rate, seem to be some noticeable factors predicted to create significant possibilities for the global hospital supplies market.
The SARS-COV2 outbreak started as a regional epidemic and spread to other countries. The epidemic was dubbed the rise of healthcare by the World Health Organization. The market for hospital supplies declines has occurred across the board in all economic sectors. The emergence of the COVID-19 pandemic has had both beneficial and bad effects on the life science and pharmaceutical industries. The hospital supplies market has grown significantly as a result of the COVID-19 outbreak.
The spike in demand for healthcare equipment was caused by the quick rise in covid-19 positive cases. To address the needs of patients and hospitals, medical device manufacturers have boosted their capacity to produce a wide range of hospital equipment. The supply chain expanded quickly after the lockdown was lifted, and as a result, the import and export of hospital devices have increased significantly. As a result, the hospital supplies market grew significantly during the epidemic period.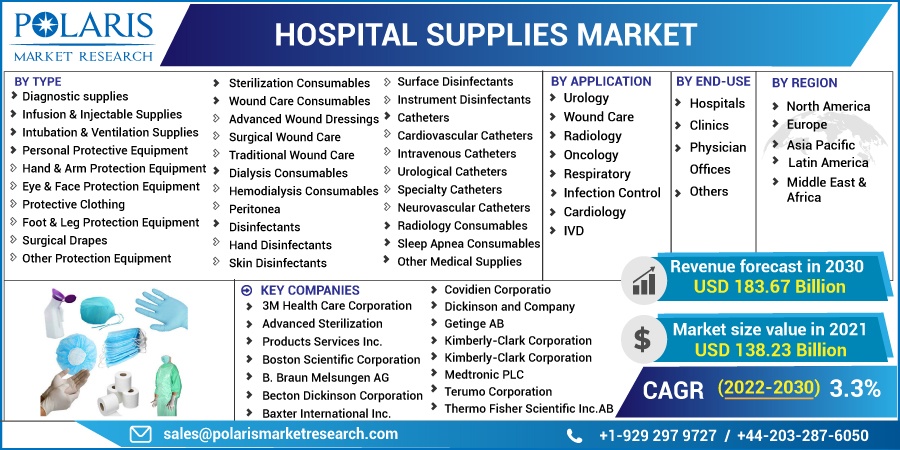 Know more about this report: Request for sample pages
Industry Dynamics
Growth Drivers
Factors such as the increasing preference for early and cost-effective identification of chronic diseases, as well as the world's aging population, are expected to influence the desire for medical imaging devices internationally. The development of technologically improved gadgets, as well as the increasing healthcare sector, are some of the important drivers driving market expansion for hospital supplies.
For example, Fujifilm Corporation will offer a new AI-based solution for lung nodule identification in May 2020. This method detects pulmonary nodules in chest CT scans to aid in lung cancer diagnosis.
Further, in July 2020, FUJIFILM Sonosite, Inc. launched the new Sonosite PX ultrasound equipment. Sonosite PX offers the most enhanced picture quality yet seen in a Sonosite system, as well as a package of workflow productivity features and a flexible form factor. In May 2021, Royal Philips confirmed the global launch of their Spectral Computed Tomography (CT) 7500, a spectrum detector-based precise diagnosis system.
This cutting-edge intelligent technology produces high-quality spectral images for every individual on every check, 100% of the time, to aid in condition characterization and minimize rescans and follow-ups, all while using the same dose levels as traditional scans. The introduction of various new goods is projected to increase demand for hospital supplies, hence pushing the market growth.
Report Segmentation
The market is primarily segmented based on type, application, end-use, and region.
By Type

By Application

By End-Use

By Region

Diagnostic supplies
Infusion & Injectable Supplies
Intubation & Ventilation Supplies
Personal Protective Equipment

Hand & Arm Protection Equipment
Eye & Face Protection Equipment
Protective Clothing
Foot & Leg Protection Equipment
Surgical Drapes
Other Protection Equipment

Sterilization Consumables
Wound Care Consumables

Advanced Wound Dressings
Surgical Wound Care
Traditional Wound Care

Dialysis Consumables

Hemodialysis Consumables
Peritonea

Disinfectants

Hand Disinfectants
Skin Disinfectants
Surface Disinfectants
Instrument Disinfectants

Catheters

Cardiovascular Catheters
Intravenous Catheters
Urological Catheters
Specialty Catheters
Neurovascular Catheters

Radiology Consumables
Sleep Apnea Consumables
Other Medical Supplies

Urology
Wound Care
Radiology
Oncology
Respiratory
Infection Control
Cardiology
IVD
Other Applications

Hospitals
Clinics
Physician Offices
Others

North America (U.S., Canada)
Europe (France, Germany, UK, Italy, Netherlands, Spain, Russia)
Asia Pacific (Japan, China, India, Malaysia, Indonesia, South Korea)
Latin America (Brazil, Mexico, Argentina)
Middle East & Africa (Saudi Arabia, UAE, Israel, South Africa)
Know more about this report: Request for sample pages
IVD segment is expected to witness the fastest growth
With the rising adoption of real-time diagnostic tests for the accurate diagnosis of chronic diseases, including diabetes, cancer, and HIV/AIDS, the IVD segment is anticipated to experience the highest CAGR among all categories. Due to increased market demand and usage of masks, medical apparel, fetal monitors, gloves, surgical lights, and other hospital supplies, the other sector dominated the market.
The rising investment by medical device firms in creating novel wound devices and bioactive therapies in the market is driving wound management. Additionally, the expansion of the Minimally Invasive Surgery sector is anticipated to be fueled by technological developments in surgical robots and the rising use of these devices by healthcare persons.
However, orthopedic and cardiovascular devices are predicted to expand significantly over the coming years due to an expanding patient base suffering from various orthopedic and cardiac ailments worldwide. Moreover, the rising prevalence of diabetes and retinal illnesses in the general population is predicted to spur the adoption of diabetes care and ophthalmic equipment, which will ultimately fuel the expansion of the medical devices market during the forecast period.
The Catheters segment is expected to hold the significant revenue market share
The market for hospital supplies materials worldwide is dominated by catheters. This is brought on by an increase in the number of elderly people and diabetics. Urinary incontinence can be brought on by chronic illnesses such as chronic obstructive pulmonary disease, diabetes, stroke, and dementia.
In August 2021, SKATER Mini-Loop Drainage Catheters were commercially launched by Argon Medical Inc. The catheter is a discharge catheter that is inserted from the skin under imaging guidance to eliminate an undesirable fluid collection. The Catheters Drainage Catheter expands Argon's Catheters Nephrostomy evacuation portfolio by using a 40% shorter loop to assist anchor the catheter and emptying fluid from smaller spaces. Thus, the factors are driving the growth of the segment.
The demand in North America is expected to witness significant growth
The continual emphasis on the creative and cost-effective practices used in the United States has led to an expansion in the market for hospital supplies, which contributes to North America's leading position. Infections acquired in hospitals and rising communicable diseases are also anticipated to fuel market expansion for hospital supplies.
Disposable medical supplies have had extraordinary growth in recent years, and they are expected to accelerate the market's expansion in North America. In affluent nations, the CDC estimates that 5% of patients contract infections related to hospitals. As a result, the U.S. market for hospital supplies will continue to be fueled by an increase in patient admissions, high treatment needs, an expansion in the prevalence of hospital-acquired infections, and the adoption of medical hygiene standards.
Due to the extraordinary rate of population increase, the Asia Pacific, which includes nations like China and India, is anticipated to see the greatest CAGR during the forecast period. China's growth is fueled by rising R&D expenditures and technological developments in the healthcare industry. Due to its rapid technical development, extensive supply of consumable medical supplies, and a large number of companies in the healthcare industry, China is predicted to lead East Asia's growth.
Competitive Insight
Some of the major players operating in the global market include 3M Health Care Corporation, Advanced Sterilization Products Services Inc., Boston Scientific Corporation, B. Braun Melsungen AG, Becton Dickinson Corporation, Baxter International Inc., Cardinal Heath, Covidien Corporation, Dickinson and Company, Getinge AB, Kimberly-Clark Corporation, Kimberly-Clark Corporation, Medtronic PLC, Terumo Corporation, and Thermo Fisher Scientific Inc.
Recent Developments
In February 2022, Medtronic plc announced the introduction of the NuVent Eustachian tube dilation balloons, which have been approved by the FDA for the diagnosis of chronic, obstructive Eustachian Tube Dysfunction. The NuVent balloon allows physicians to treat patients in the outpatient or office setting. It has a flexible balloon component that enables personalized implantation dependent on the anatomy of the patient.
In June 2022, Boston Scientific Corporation gained 510(k) approval from the United States Food and Drug Administration (FDA) for its EMBOLD Fibered Detachable Coil, a device used to restrict or limit the rate at which blood flows in peripheral circulation.
In June 2022, Parata Systems, a cutting-edge supplier of pharmacy automation technologies, has been acquired by BD. The addition of Parata's portfolio of cutting-edge pharmacy automation solutions will boost BD's offering.
Hospital Supplies Market Report Scope
| | |
| --- | --- |
| Report Attributes | Details |
| Market size value in 2021 | USD 138.23 billion |
| Revenue forecast in 2030 | USD 183.67 billion |
| CAGR | 3.3% from 2022 - 2030 |
| Base year | 2021 |
| Historical data | 2018 - 2020 |
| Forecast period | 2022 - 2030 |
| Quantitative units | Revenue in USD million/billion and CAGR from 2022 to 2030 |
| Segments Covered | By Type, By Application, By End-Use, By Region |
| Regional scope | North America, Europe, Asia Pacific, Latin America; Middle East & Africa |
| Key Companies | 3M Health Care Corporation, Advanced Sterilization Products Services Inc., Boston Scientific Corporation, B. Braun Melsungen AG, Becton Dickinson Corporation, Baxter International Inc., Cardinal Heath, Covidien Corporation, Dickinson and Company, Getinge AB, Kimberly-Clark Corporation, Kimberly-Clark Corporation, Medtronic PLC, Terumo Corporation, and Thermo Fisher Scientific Inc.AB |