The global hot sauce market was valued at USD 2.75 billion in 2021 and is expected to grow at a CAGR of 6.23% during the forecast period. The rise in popularity and better customer preference for strong flavors across the board is anticipated to fuel the expansion of the hot sauce market during the anticipated period.
Chipotle peppers are used to make hot sauce, along with salt, vinegar, fruits, vegetables, and garlic. It can also be manufactured in a commercial kitchen by blending red tomato puree with chili pepper paste and heating the mixture to develop a distinctive flavor. It is frequently used in several cuisines to offer contrasting or complementary flavors. It is used in many African, Asian, and other cuisines and has a spicy flavor.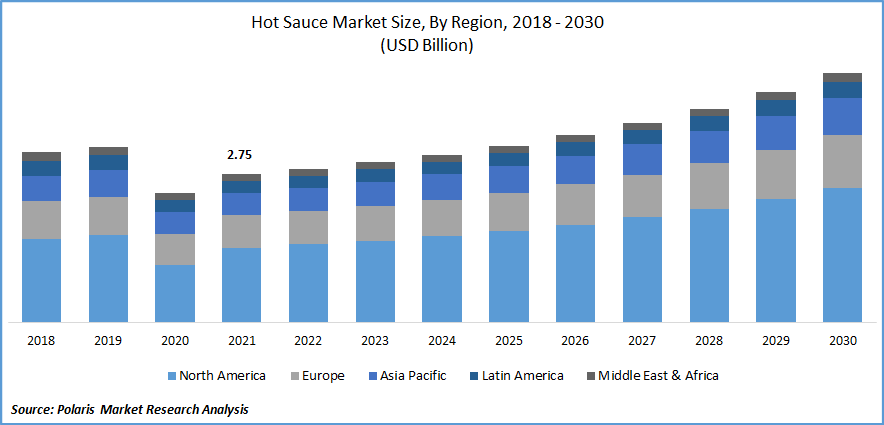 Know more about this report: Request for sample pages
The ideal way to serve spice sauce is with other goods like sauces, dressings, and seasonings. Asian culinary techniques have overtaken the market that mayonnaise formerly dominated, increasing its acceptance rate and, consequently, its sales increase due to making industry dominance on social websites.
Additionally, the increased consumption of fast food among urban consumers and expanding benefits, such as improved nutritional profiles, non-GMO, and adaptable retail positioning, will propel the market's expansion. Other major factors that are projected to boost market sales include the expanding hospitality and tourism industry on a global scale and the current trend of rising consumption of Asian and Mexican cuisines.
The COVID-19 epidemic has had a significant influence on the world market for hot sauces. Globally, the pandemic had varying degrees of impact on the industry due to disrupting supply networks and trading channels. Demand and supply were out of balance because of a lack of raw materials and declining labor costs. However, as a result of widespread lockdowns that kept customers at home, product demand also increased significantly in some areas. Additionally, during the predicted period, a surge in product utilization was caused by innovations and technical advancements.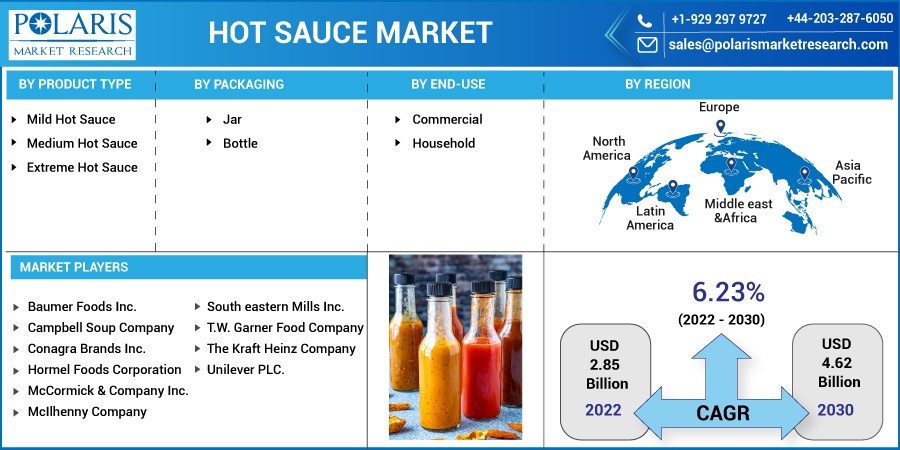 Know more about this report: Request for sample pages
Industry Dynamics
Growth Drivers
A small number of global market players have significantly boosted the market sector. Furthermore, the market will grow during the projection period because of the introduction of multiple prospective competitors with various advances. In addition, leading businesses are concentrating on introducing the newest items through mergers and collaborations that will undoubtedly expand their product line. Additionally, the growing popularity of fast food and frozen foods among urban workers, particularly in emerging nations, has increased the use of spicy sauce, which is good news for the industry.
Other factors contributing to the expansion of the market include the rising urban population, the rise in the number of expatriates in various nations, increased cross-cultural interactions, and the modernization of storage and logistics. In the upcoming years, rising disposable incomes and hectic work schedules are anticipated to drive growing demand for hot sauce.
Long product shelf lives, simple product availability through various e-retail platforms, and the ongoing introduction of novel flavor varieties are some other aspects that are positively affecting the market growth.
Report Segmentation
The market is primarily segmented based on product type, packaging end use, and region.
By Product Type

By Packaging

By End-Use

By Region

Mild Hot Sauce
Medium Hot Sauce
Extreme Hot Sauce

North America (U.S., Canada)
Europe (France, Germany, UK, Italy, Netherlands, Spain, Russia)
Asia Pacific (Japan, China, India, Malaysia, Indonesia, South Korea)
Latin America (Brazil, Mexico, Argentina)
Middle East & Africa (Saudi Arabia, UAE, Israel, South Africa)
Know more about this report: Request for sample pages
Mild hot sauce segment is expected to witness the fastest growth
Savory food is rapidly gaining popularity among consumers worldwide due to the distinct umami properties of sauces, spices, and condiments. Spice sauce is a savory food condiment that is becoming increasingly well-liked. They pair well with a range of snacks, including meat-based snacks, sweet and salty snacks, and others.
The market for hot sauce is also expected to benefit from market participants' efforts to broaden their global reach. It is projected that the mild segment will continue to grow steadily due to the growing customer preference for potent, spicy, and combo flavors.
The popularity of sweet and spicy sauce is rising worldwide due to its flavor and nutritional benefits. The premiumization of sweet and spicy sauce options, growing consumer interest in inventive condiments infused with distinctive and spicy flavors, and the increasing appeal of ethnic cuisine goods that are "better for you" are all likely to have a positive impact on the sector.
Bottles accounted for significant market share in 2021
The globalization of various cuisines has been driven by the growth of the hospitality and tourism industries. Today's consumers are seeking a wide range of bold, unusual flavors. Due to a long-lasting trend in gourmet cuisine, younger consumers in the retail sector now have simpler access to a greater choice of cayenne pepper sauces. For longer usage of sauces, bigger batches are made; hence bottles are considered a primary choice for the commercial and household sector. Plastic bottles tend to withstand the sauce at both room and low temperature; hence it has proved to be a better choice.
Household is expected to hold the significant revenue share
People like to keep spicy sauce on hand because it contains capsaicin. To help with pain relief, capsaicin may occasionally be used topically. Your body is tricked into creating endorphins to lessen pain when you eat spicy food. Endorphins make you feel wonderful, similar to when you exercise and get a "runner's high." This explains why spicy food is so addicting and why so many people love to smother everything in hot sauce. These sauces can be added as a finishing touch to anything, from stir-fried vegetables to freshly baked bread, or they can be used to ramp up a meal while it is being prepared.
The demand in Asia-Pacific region is expected to witness significant growth
The use of hot sauce in cooking has become commonplace in both the US and Canada. The US is well renowned for being a melting pot of cultures since millions of people from many ethnic backgrounds and cultures relocate yearly in search of better employment possibilities. As a result, various culinary cultures facilitate the global hot sauce business. The developed economies of Canada and the US also give their citizens a lot of purchasing power, another element promoting the growth of the North American market.
Additionally, North American countries have a much higher prevalence of ready-to-eat foods than other parts of the world. However, it is estimated that Asia-Pacific will experience the fastest growth rate throughout the forecast period of 2022–2028. This expansion is a result of developing nations' rising economic affluence. Nations like India are home to a diverse range of cultures and cuisines, making them a continent unto themselves.
Competitive Insight
Some of the major players operating in the global market include Baumer Foods Inc., Campbell Soup Company, Conagra Brands Inc., Hormel Foods Corporation, McCormick & Company Inc., McIlhenny Company, South Eastern Mills Inc., T.W. Garner Food Company, The Kraft Heinz Company, and Unilever PLC.
Recent Developments
In July 2022, Kraft Heinz will launch the Heinz 57 brand, a new premium line of sauces and spreads aimed at consumers looking for ingredients for their home cooking.
September 2021 marks the official opening of Kraft Heinz's Hot Sauce Market in the United Kingdom. The new avocado-based Hot Sauce Market is called Kumana and is inspired by Venezuela.
Hot Sauce Market Report Scope
| | |
| --- | --- |
| Report Attributes | Details |
| Market size value in 2022 | USD 2.85 billion |
| Revenue forecast in 2030 | USD 4.62 billion |
| CAGR | 6.23% from 2022 - 2030 |
| Base year | 2021 |
| Historical data | 2018 - 2020 |
| Forecast period | 2022 - 2030 |
| Quantitative units | Revenue in USD billion and CAGR from 2022 to 2030 |
| Segments Covered | By Product Type, By Packaging, By End-Use, By Region. |
| Regional scope | North America, Europe, Asia Pacific, Latin America; Middle East & Africa |
| Key Companies | Baumer Foods Inc., Campbell Soup Company, Conagra Brands Inc., Hormel Foods Corporation, McCormick & Company Inc., McIlhenny Company, South eastern Mills Inc., T.W. Garner Food CompanyThe Kraft Heinz Company, and Unilever PLC. |