The global human augmentation market was valued at USD 130.71 billion in 2021 and is expected to grow at a CAGR of 22.0% during the forecast period. Real-time speech translation is a trendy technology that will alter how people communicate with one another companies can now access new channels of communication and real-time online applications due to augmented reality, which makes use of the most recent advancements in mobile technology, big data analysis, and networking.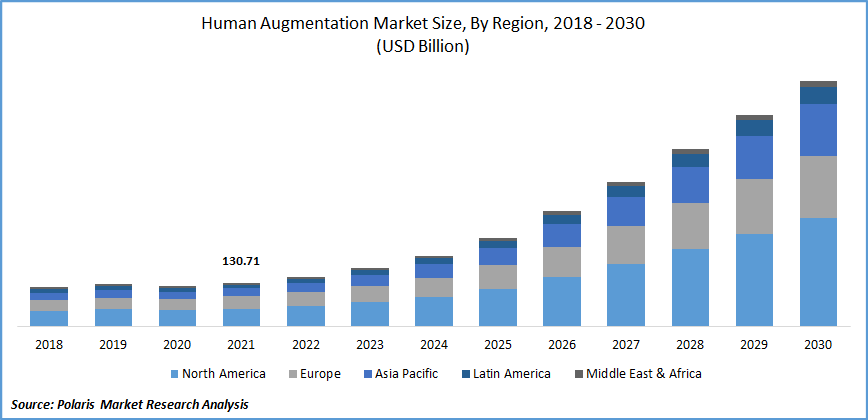 Know more about this report: Request for sample pages
The market for human augmentation has several different application sectors, including energy & utilities, healthcare, defense, and many more. These all contribute to the global human augmentation market's expansion.
One of the main factors propelling the human augmentation industry growth is the rising market demand for wearable devices in the healthcare industry, the introduction of wearable devices powered by AI, and the quickening pace of technological advancements, including the availability of fast processing chipsets, the miniaturization of sensors, and the development of nanotechnology. Exoskeletons, AR, and VR devices are now more commonly used in the workplace as the need for high productivity and a greater focus on worker safety has grown.
Exoskeletons are employed in various industries, including shipbuilding, heavy machinery, and construction, since they may be adapted to lift huge objects, ensure worker safety, and increase production and worker efficiency. Furthermore, the market demand for human augmentation is further accelerated by the technicians increasingly using AR gadgets to boost productivity in their workplaces. Workers can utilize smart helmets to interpret designs and instructions since they provide real-time data.
However, one major issue with immersive user experiences is the immobility that comes with using different AR/VR-based headsets. Such headsets require the use of cords and other devices to connect to the PC, necessitating the user's prolonged inactivity. Pain in the back, neck, and joints results from inactivity.
Another issue with VR-compatible devices is their low resolution. AR games are very captivating and can captivate players for long periods, which can cause problems including anxiety, eye strain, and weight gain. The rise in health-related worries brought on by the increased use of AR and VR technologies is a significant factor impeding the human augmentation market growth.
Globally, COVID-19 has caused a serious health catastrophe and multiple fatalities. Lockdowns were implemented in various places, which caused supply chain delays. During the first two quarters of 2020, major producers of items for human augmentation were negatively impacted by the epidemic.
Lockdowns were imposed in many areas, which caused a mismatch between supply and demand, which prevented businesses from operating at full capacity. The pandemic's effects on the supply chain have harmed the shipments of exoskeletons, Augmented Reality (AR), and Virtual Reality (VR) equipment like head-mounted displays, projections and display walls, and gesture-tracking devices.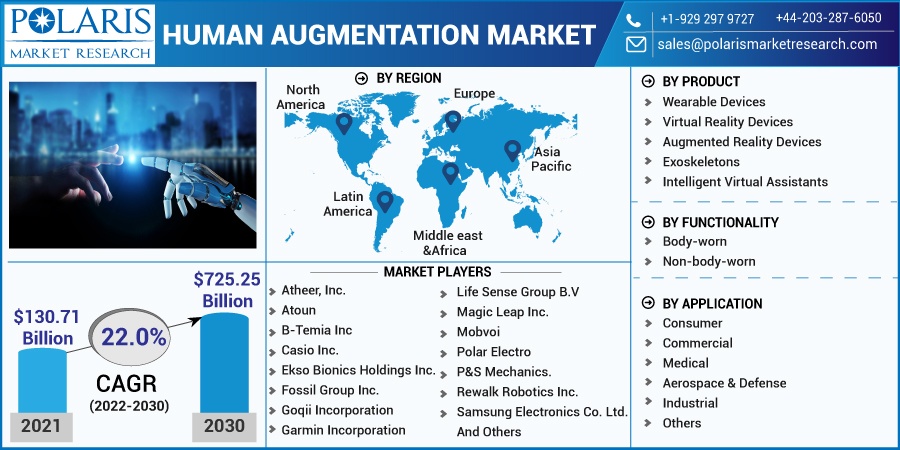 Know more about this report: Request for sample pages
Industry Dynamics
Growth Drivers
To remain competitive in the market, the major players in the human augmentation industry are implementing various growth activities, such as mergers and acquisitions, geographical expansion, new product launches, and product innovation. For instance, Fitbit released the Ace 3 special edition: minions in June 2021 to encourage kids ages 6 and up to get active and develop healthy habits.
The most recent release includes a sleep tracker line with an approximate reminder to workout and daily activity goals, as well as a swim-proof design with 8-day battery life. NASA provided the Fitbit device and its ready-to-work solution as part of a test study in February 2021 to assist employees in making better decisions about whether or not to participate on-site during the covid-19 pandemic.
In March 2021, the AMS AG capacitive sensor AS8579 confirmed improved fluid-level detecting capabilities. The sensor can detect many liquids in a container. The sensor can determine how much fuel is in a tank or how much water is in a washing machine. The AS8579 sensor debuted in February 2021, introducing a new sensing technology.
The sensor can be used for hands-on detection in vehicles equipped with driver assistance systems (HOD). It also cooperates with UN Regulation 79, which relates to all new cars installed with a lane-keeping assist framework in all ratified nations. Furthermore, in January 2021, the company started deploying 3D sensor systems to new industrial applications.
Report Segmentation
The market is primarily segmented based on product type, functionality, application, and region.
By Product Type

By Functionality

By Application

By Region

Wearable Devices
Virtual Reality Devices
Augmented Reality Devices
Exoskeletons
Intelligent Virtual Assistants
Others

Consumer
Commercial
Medical
Aerospace & Defense
Industrial
Others

North America (U.S., Canada)
Europe (France, Germany, UK, Italy, Netherlands, Spain, Russia)
Asia Pacific (Japan, China, India, Malaysia, Indonesia, South Korea)
Latin America (Brazil, Mexico, Argentina)
Middle East & Africa (Saudi Arabia, UAE, Israel, South Africa)
Know more about this report: Request for sample pages
Medical Industry is expected to witness the fastest market growth
High market demand for wearable devices in various industries, including consumer electronics and healthcare, leads to the expansion of the human augmentation industry. Many people benefit from such human augmentation, which has assisted them in overcoming physical stress or psychological abilities.
Technological advancements in neuroscience, engineering, biotechnology, and computing have enhanced human health and quality of life. The anticipation of technological advances has skyrocketed, and as a result, the healthcare industry is rapidly changing. In the health and fitness industries, sophisticated and disruptive technology is being adopted faster.
For instance, disabled people are given prosthetic limbs/arms to help them perform daily tasks. A capsule camera, or swallowing device, is also being developed to visually monitor the gastrointestinal/digestive tract center. This technology assists patients in avoiding unnecessary hospitalization by monitoring their health at home while they go about their daily activities.
Wearable devices segment accounted for the highest market share in 2021
The use of wearable technology to track health and fitness metrics is on the rise, and this trend is a major factor in the human augmentation industry's expansion. Additionally, the development of low-cost wearable gadgets for diverse consumer applications has benefited from the advancement of small multifunctional ICs and enhanced sensor technologies. For continuous health monitoring, a number of tiny sensors can be incorporated into wearable gadgets including clothing, hats, bracelets, socks, shoes, glasses, and wristwatches.
Consumer application segment is expected to hold the significant market share
The segment growth is boosted by the growing popularity of wearable technology for health and fitness tracking as well as by the rising market demand for AR and VR HMDs for entertainment and gaming. Smart speakers have been increasingly popular in recent years due to their convenience.
These devices can be connected to a smartphone via mobile apps and operate connected household gadgets and appliances, including lights, refrigerators, and air conditioners. Early users of various human augmentation technologies include the entertainment, fitness, and gaming industries, which have provided growth prospects to numerous industry companies across the value chain.
The market demand in North America is expected to witness significant growth
The rapid growth of the human augmentation industry is being fueled by both the advancements in gene-editing technology and artificial intelligence technologies. Aside from that, the market size for human augmentation technology is impacted by the presence of numerous important businesses. The largest market for human augmentation technology is now the United States, and it is predicted that this industry will continue to grow quickly in the years to come. Furthermore, technical improvements in medical wearable products have fueled human augmentation industry expansion in North America.
After the United States, the European market is the second-largest market worldwide for human augmentation. The human augmentation region is anticipated to experience the fastest growth in the world during the anticipated time frame. The development of the human augmentation market need is supported by technological developments and the rising market demand for program performance measurement platforms across numerous business verticals in this domain.
In addition, a high CAGR is anticipated for the global human augmentation market in Asia-Pacific. The region is credited with having a greater understanding of the therapeutic uses for medical wearable augmentation products as well as an increase in the number of innovative applications. An increase in Asia'sAsia's human augmentation industry is anticipated as a result of developing nations' expanding economies and populations.
Competitive Insight
Some of the major players operating in the global human augmentation market include Atheer, Inc., Atoun, B-Temia Inc, Casio Inc., Ekso Bionics Holdings Inc., Fossil Group Inc., Goqii Incorporation, Guangdong BBK Electronics Co. Ltd, Garmin Incorporation, Google Inc., Jawbone Corporation, Life Sense Group B.V, Magic Leap Inc., Mobvoi, Polar Electro, P&S Mechanics., Rewalk Robotics Inc., Samsung Electronics Co. Ltd., and Vuzix Corporation.
Recent Developments
In January 2022, Wandercraft, a Paris-based business, raised USD 45 million to accelerate the commercialization of the world's first self-balancing exoskeleton. The exoskeleton on Wandercraft achieves self-balancing using a sequence of algorithms that keep the machine in perfect equilibrium while the person moves. The current model, which is utilized in hospitals, costs between €150k and €200k, and 14 institutions across Europe now own it.
Human Augmentation Market Report Scope
| | |
| --- | --- |
| Report Attributes | Details |
| Market size value in 2021 | USD 130.71 billion |
| Revenue forecast in 2030 | USD 725.25 billion |
| CAGR | 22.0% from 2022 - 2030 |
| Base year | 2021 |
| Historical data | 2018 - 2020 |
| Forecast period | 2022 - 2030 |
| Quantitative units | Revenue in USD billion and CAGR from 2022 to 2030 |
| Segments covered | By Product Type, By Functionality, By Application, By Industry Verticals, By Region |
| Regional scope | North America, Europe, Asia Pacific, Latin America; Middle East & Africa |
| Key companies | Atheer, Inc., Atoun, B-Temia Inc, Casio Inc., Ekso Bionics Holdings Inc., Fossil Group Inc., Goqii Incorporation, Guangdong BBK Electronics Co. Ltd, Garmin Incorporation, Google Inc., Jawbone Corporation, Life Sense Group B.V, Magic Leap Inc., Mobvoi, Polar Electro, P&S Mechanics., Rewalk Robotics Inc., Samsung Electronics Co. Ltd., and Vuzix Corporation |