The global human microbiome market was valued at USD 113.45 million in 2021 and is expected to grow at a CAGR of 31.06% during the forecast period.
The increased emphasis on developing human microbiome treatment is driving market expansion. It has also been verified as a therapeutic research target. During the projection period, the rising number of partnerships between market participants is also predicted to provide a wide variety of development prospects for market players. However, a dearth of competence and insufficient research on the human microbiome is projected to limit the growth of this industry.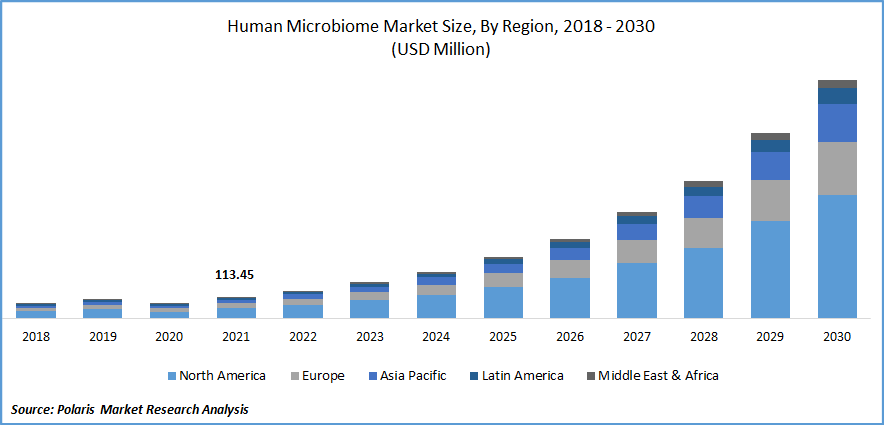 Know more about this report: Request for sample pages
The term "human microbiome" refers to the collection of microorganisms found on and within the human body. The human microbiome contains a diverse range of microorganisms, including bacteriophages, bacteria, fungi, viruses, and protozoa. Human cells have ten times more microbial cells than human cells. The microbiota might weigh up to five pounds. The bacteria in our microbiome help control our immune system, digest our food, defend against other bacteria that cause disease, and generate vitamins such as B and Vitamin K, which are required for blood coagulation.
The COVID-19 pandemic has caused significant interruptions in clinical trial research across the world. This is especially relevant given that studies frequently involve vulnerable individuals who are most at risk from COVID-19 exposure. Similarly, COVID-19 has had a negative impact on and may continue to have a negative impact on the businesses of other firms, including their preclinical investigations and clinical trials of microbiome-based medicines and diagnostic devices. However, with the removal of government limitations connected to the pandemic and the development of virtual & decentralized clinical trials, R&D efforts began to rebound.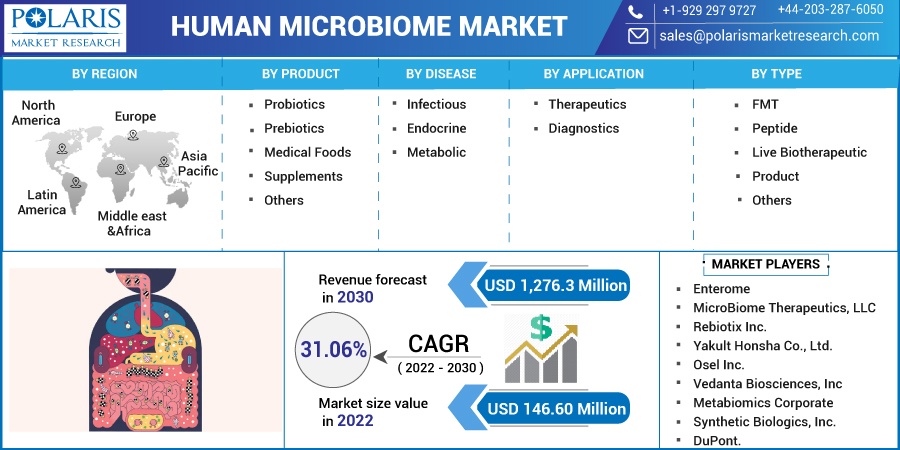 Know more about this report: Request for sample pages
Industry Dynamics
Growth Drivers
Human microbiomes have a significant impact on the effectiveness of medicinal drugs. Studies have shown that microorganisms in the body can help cure various illnesses. This link between bacteria and certain disease states might open new avenues for medication development. Microbes are rich in enzymes; they may be exploited for a wide range of medical purposes, such as the search for new medicines. Thus, growing research activity in medical drug discovery with technological advancements drives the market growth.
Microbiome-based firms have also received funding & research grants to speed up the development of medicinal medications. For instance, Vedanta Biosciences (US) got USD 7.4 million in funding from the Biomedical Advanced Research and Development Authority (BARDA) in 2020, with the possibility for a subsequent USD 69.5 million to further the clinical outcomes of VE303 for elevated Clostridioides difficile illness (CDI).
Similarly, in 2020, Finch Therapeutics secured USD 90 Mn of funding from new and existing investors for the clinical research and legislative filing of CP101 in Clostridioides difficile sickness. The funds would be used in the firm's platform and pipeline, including the start of Phase I trials on FIN-211 for autistic spectrum disorder (ASD) & CP101 for chronic hepatitis B. Similar financing and initiatives focusing on microbiome research for pharmaceutical development are projected to propel the market further.
Report Segmentation
The market is primarily segmented based on product, application, disease, type, and region.
By Product

By Disease

By Application

By Type

By Region

Probiotics
Prebiotics
Medical Foods
Supplements
Others

Infectious
Endocrine
Metabolic

FMT
Peptide
Live Biotherapeutic Product
Others

North America (U.S., Canada)
Europe (France, Germany, UK, Italy, Netherlands, Spain, Russia)
Asia Pacific (Japan, China, India, Malaysia, Indonesia, South Korea)
Latin America (Brazil, Mexico, Argentina)
Middle East & Africa (Saudi Arabia, UAE, Israel, South Africa)
Know more about this report: Request for sample pages
Infectious disease is expected to grow the fastest over the forecast period.
The infectious illness segment is predicted to expand the fastest during the projected period. The growing awareness of the negative consequences of antibiotic usage on natural flora (such as disruptions) has underlined the necessity for bacterial-targeted treatment for infectious disorders. The increased prevalence of illnesses caused by microbial dysbiosis as a result of antibiotic therapy and the increasing number of clinical studies for the development of target-specific microbiome-based therapeutics are the primary reasons driving the expansion of this segment.
Thus, technical developments in diagnostic instruments and an increase in knowledge about early diagnosis drive market growth. The frequency of infectious disorders in developed and emerging regions will benefit the infectious disease diagnostics industry. Increasing prescriptions for infectious related illness based diagnostic tests. These factors and the rising tendency toward preventive care are projected to increase demand for infectious disease diagnostics throughout the forecast period.
By application, therapeutics holds the largest share
In 2022, the therapeutics category will account for more share of the human microbiome market. The increase in R&D investment for microbiome-based medicines worldwide is a significant factor driving the growth of this application area. Furthermore, technological developments, increased clinical trials for the diagnostics segment, and increased partnerships between leading market players and research institutes are all contributing to market expansion.
The microbial population that lives on and in the human body significantly influences human health, influencing everything from metabolism to immunity. The development of medicines targeting the microbiota has accelerated in recent years to capitalize on the intimate relationships between microorganisms and their hosts. Moving forward, a collaboration between fundamental and applied researchers and clinicians to solve these problems will make this field a next-generation cell based on unique insights from basic research that enable targeted growth of the human microbiome driving a new therapy era.
The demand in North America is expected to witness significant growth
North America dominates the market because of a solid base of healthcare facilities, increased investment from major companies in expanding sophisticated gadgets, increasing drug development processes, and an increasing number of research activities in this area. The market is developing due to an increase in the prevalence of lifestyle illnesses, a greater emphasis on human microbiome therapeutics, and increased technology breakthroughs in the human microbiome and next-generation sequencing. However, rigorous regulatory requirements, as well as a lack of expertise and comprehensive inspection, are anticipated to influence market growth in the next years negatively.
The National Institutes of Health's Human Microbiome Project and associated worldwide projects are defining the types of a normal microbiome and examining how alterations in the microbiota link to illness. Large government research projects, such as the Human Microbiome Project in the United States, have expedited microbiome research. Many firms are also designing and developing microbiome medicines. For example, Rebiotix Inc. has created the Microbiota Restoration Therapy (MRT) medication platform, which is used to cure disease by transferring healthy, living, human-derived bacteria into a sick patient's digestive tract. Thus, the growing emphasis on human microbiome therapeutics will be the primary driver of the human microbiome market in the upcoming years.
Competitive Insight
Some of the major players operating in the global market include Rebiotix, Metabiomics Corporate, Yakult Honsha, Osel Inc., Vedanta Biosciences, Inc., Synthetic Biologics, and DuPont.
Recent Developments
In 2021, PhenoBiome announced the availability of a human microbiome assay through the Genetic Direction to perform the assays in its CLIA & CAP-certified laboratory.
In 2021, NovoBiome announced the development of NovoSift, a revolutionary research & discovery platform to investigate the symbiotic link between the microbiota & human gut.
Human Microbiome Market Report Scope
| | |
| --- | --- |
| Report Attributes | Details |
| Market size value in 2022 | USD 146.60 million |
| Revenue forecast in 2030 | USD 1,276.3 million |
| CAGR | 31.06% from 2022 - 2030 |
| Base year | 2021 |
| Historical data | 2018 - 2020 |
| Forecast period | 2022 - 2030 |
| Quantitative units | Revenue in USD million and CAGR from 2022 to 2030 |
| Segments Covered | By Application, By Type, By Disease, By Product, By Region |
| Regional scope | North America, Europe, Asia Pacific, Latin America; Middle East & Africa |
| Key Companies | Enterome, MicroBiome Therapeutics, LLC, Rebiotix Inc., Yakult Honsha Co., Ltd., Osel Inc., Vedanta Biosciences, Inc., Metabiomics Corporate, Synthetic Biologics, Inc., DuPont. |