The global hyperautomation market was valued at USD 36.50 billion in 2022 and is expected to grow at a CAGR of 16.4% during the forecast period. The market growth is due to a result of traditional manufacturing facilities becoming digitalized and more industries adopting automated manufacturing techniques. The market expansion is also being fueled by the quickening increase of digital transformation with sophisticated approaches in hyper-automation.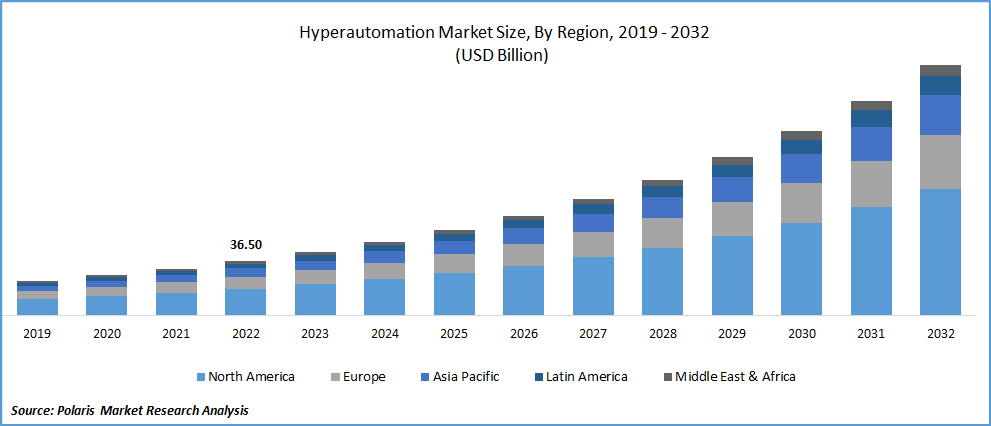 Know more about this report: Request for sample pages
The hyper-automation industry is concerned with automating processes and enhancing human activity using cutting-edge technology like Robotic Process Automation (RPA), artificial intelligence (AI), & machine learning (ML). Another special advantage of hyperautomation is the development of a digital twin of the organization (DTO). DTO makes the connections between processes, functions, and key performance indicators that were previously invisible and visible.
Hyper automation refers to the sophistication of automation and is based on several technologies that can be automated. Analyses, designs, discoveries, measurements, checks, automation, and reevaluations comprise. It is facilitated by the automation of ever-more sophisticated jobs that depend on the contribution of human expertise, offering a quick route for everyone to engage in business transformation. Hyperautomation reduces cost such as operational and reduced the risk of human error because there is little to no human interaction. By extracting the pertinent data, the existing enterprise solutions, such as customer relationship management and enterprise resource planning software, serve as the foundation for hyper-automation.
Hyperautomation is boosting at the time of the pandemic, they played a significant part in identifying alternatives to the traditional method of doing things, The demand for automation expanded sharply as a result of growing privacy and safety concerns in various industries such as health care, insurance, banking and finance, retail. Hyperautomation is used to automate client communications, billing cycles, and collection.
Additionally, it can deal with managing patient records, gathering information, and producing meaningful output for more precise treatment plans. Additionally, it can be used to schedule personnel and other resources as well as manage drug inventories and procurement. Hyperautomation has countless applications in the healthcare sector, and its advantages can benefit the company, its partners, and its clients.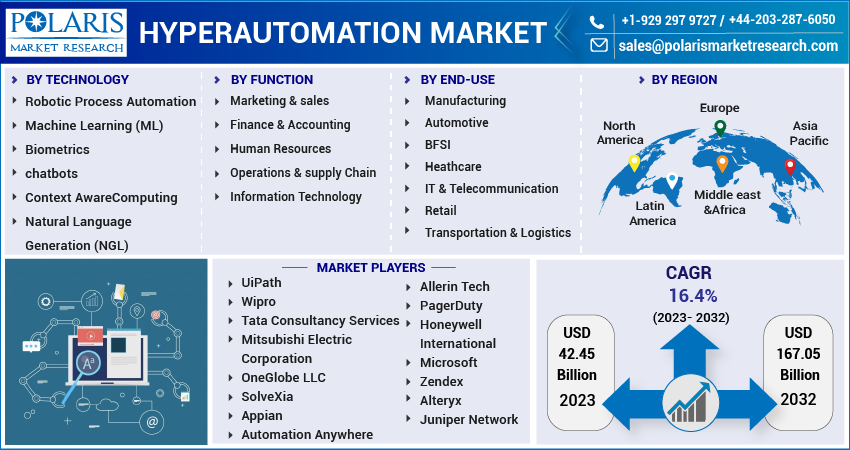 For Specific Research Requirements, Request for a Customized Report
Industry Dynamics
Growth Drivers
The Use Of Advanced Hyperautomation in Business.
Hyper automation has tremendous advantages for businesses. These businesses can increase awareness or operational efficiency by structuring and automating digital procedures.
With the aid of hyper automation, a company may make better business decisions and identify opportunities for growth. By automating procedures that would otherwise be replaced by work requiring manual labor, expenses can be reduced. Utilize more intelligence, more precision, and less human error to produce things of higher quality faster. Requiring less technical knowledge will make configuring and managing automation tools and solutions simpler. If company employs Hyper automation technologies, its staff will feel more empowered since they may be able to add something unique and helpful to their desk.
Report Segmentation
The market is primarily segmented based on technology, function, end-use, and region.
By Technology

By Function

By End Use

By Region

Robotic Process Automation

Machine Learning (ML)

Biometrics

chatbots

Context AwareComputing

Natural Language Generation (NGL)

Marketing & sales

Finance & Accounting

Human Resources

Operations & supply Chain

Information Technology

Manufacturing

Automotive

BFSI

Heathcare

IT & Telecommunication

Retail

Transportation & Logistics

Others

North America (U.S., Canada)

Europe (France, Germany, UK, Italy, Netherlands, Spain, Russia)

Asia Pacific (Japan, China, India, Malaysia, Indonesia, South Korea)

Latin America (Brazil, Mexico, Argentina)

Middle East & Africa (Saudi Arabia, UAE, Israel, South Africa)
Know more about this report: Request for sample pages
Robotic Process Automation

segment is expected to witness fastest growth
The Robotic Process Automation (RPA) segment is anticipated to increase as a result of the rising need for companies to store enormous volumes of everyday data in order to use sophisticated business tools like data analytics and big data. While RPA is helpful to understand that having one bot continuously perform the same task without possibility for variation is insufficient. The majority of businesses using RPA still largely rely on humans to supervise their processes. Organizations can use hyperautomation to automate extensive, complicated activities that are traditionally handled by humans while adapting and enlisting assistance as needed.
The marketing & sales function

accounted for the largest market share in 2022
The marketing & sales function are boosting the hyperautomation market because it used in the collecting data from LinkedIn, automated copy/paste of a template email message into a new email and recurrent use of templates for follow-up emails, also making call and email until customer do not give respond to these mail and call.
Finance & accounting function sector is one of the used of hyper-automation in their work. Payroll, timekeeping, RFP, & purchase orders are all largely manual operations that have not seen a lot of inventive software development. Also, financial analysis, payroll management, invoicing, collection, and financial statement preparation are all hyper-automated processes. In finance & accounting it is used for saving time, increased efficiency, reduces expenses, reduce errors, improve cooperation, and enhance overall productivity.
Health Care sector is expected to hold the significant revenue share
The greater requirement for In the healthcare industry, hyper automation is essential for smart billing since it can gather bill information from each department without requiring user assistance. This can assist hospitals manage insurance and claims while also saving a tonne of time. Government funding for hyper automation technology is also being used in this industry. Increasing their innovative credentials, increasing patient outcomes, decreasing payments, and decreasing payments all combine to create a perfect storm for healthcare providers.
There is a growing need for hyper automation in e-commerce platforms become more prevalent in the retail industry. The most important component of their business now is continuing to be relevant in front of customers. The domains of order management, warehousing & inventory, supplier management, procurement, & data monitoring can all be automated with the use of such technologies.
The demand in

North America

is expected to witness significant growth
In 2022, North America region exhibited the highest growth rate during study period. Companies in the region have already undergone digital transformation due to business requirement, which are among the first to adopt new technologies. Due to the quick adoption of new technologies, also companies have generated enormous amounts of data, creating favorable chances for the use of RPA and Hyperautomation software to preserve and manage such data.
Asia Pacific region is expected to be the fastest-growing in the global over the forecast period. The operation of transforming conventional industrial facilities into fully automated smart factories falls to the region. Due to the measures used, the plant's energy usage has greatly decreased. Country like Japan, China, and India are among the nations that are investing extensively in IT infrastructure and the construction of new data centers to keep up with the rising data volumes in their respective regions.
Competitive Insight
Some of the major players operating in the global hyperautomation market include UiPath, Appian, Automation Anywhere, Zendex, Alteryx, Tata Consultancy Services, OneGlobe, SolveXia, Allerin Tech, PagerDuty, Honeywell International, Microsoft, and Juniper Network.
Recent Developments
In Dec 2022,

Ashling Partners has acquired fourTENS to boost the company's expertise in low-code technologies and applications and to expand their efforts in the intelligent automation sector globally.

In Sept 2022, Roboyo partnered with the Celonis. This partnership accelerated opportunities for the digital transformation by combining former's existing hyper-automation services with the latter's proprietary system.
Hyperautomation

Market Report Scope
| | |
| --- | --- |
| Report Attributes | Details |
| Market size value in 2023 | USD 42.45 billion |
| Revenue forecast in 2032 | USD 167.02 billion |
| CAGR | 16.4% from 2023 - 2032 |
| Base year | 2022 |
| Historical data | 2019 – 2021 |
| Forecast period | 2023 – 2032 |
| Quantitative units | Revenue in USD billion and CAGR from 2023 to 2032 |
| Segments covered | By Technology, By Function, By End Use, By Region |
| Regional scope | North America, Europe, Asia Pacific, Latin America; Middle East & Africa |
| Key companies | UiPath, Wipro, Tata Consultancy Services, Mitsubishi Electric Corporation, OneGlobe LLC, SolveXia, Appian, Automation Anywhere, Allerin Tech, PagerDuty, Honeywell International, Microsoft, Zendex, Alteryx, Juniper Network. |