The global industrial metrology market was valued at USD 11,211.0 million in 2022 and is expected to grow at a CAGR of 6.1% during the forecast period. The market for industrial metrology is poised for growth due to the rising need for high-precision equipment in manufacturing units, big data analytics, and automobiles. The traditional production and manufacturing methods are being replaced by industrial metrology as it allows for faster and more accurate product production while maintaining high standards.

To Understand More About this Research: Request a Free Sample Report
Furthermore, advanced metrology equipment has preset tolerance levels for various components, enabling the machine to self-diagnose and determine the tolerance level accordingly. In cases where this is impossible, the operator is alerted, ensuring quality control. These factors are contributing to the expansion of the market.
The market for metrology technologies is projected to experience significant growth, owing to the advancements in cloud technology and software packages. Laser scanning, robotic metrology, and point cloud are among the software packages essential for evaluating various industries' composition. This increased demand for these technologies is a significant factor driving market growth over the forecast period.
Moreover, several factors, including the increasing adoption of electric vehicles like hybrid and plug-in hybrid electric vehicles and the growing manufacturing process in the automotive industry, are propelling industrial metrology market growth. Electric cars and buses are composed of several components, including batteries, fuel cell systems, and electric motors, all of which require high precision and accuracy to develop. This level of precision and accuracy can be achieved with metrological equipment, which can perform these tasks with minimal human intervention. This, in turn, is increasing the sales of electric vehicles and ultimately driving the demand for industrial metrology.
The Covid-19 pandemic has positively and negatively impacted the market. On the one hand, there has been an increase in demand for industrial metrology solutions due to the need for more accurate measurements in the production of medical devices. On the other hand, many companies have reduced investment and capital expenditure, decreasing demand for metrology services. The pandemic has also affected the ability of companies to provide installation, maintenance, and repair services, and travel restrictions have made it difficult to conduct on-site inspections. However, despite the challenges, the market is expected to recover in the coming years as the global economy rebounds from the pandemic.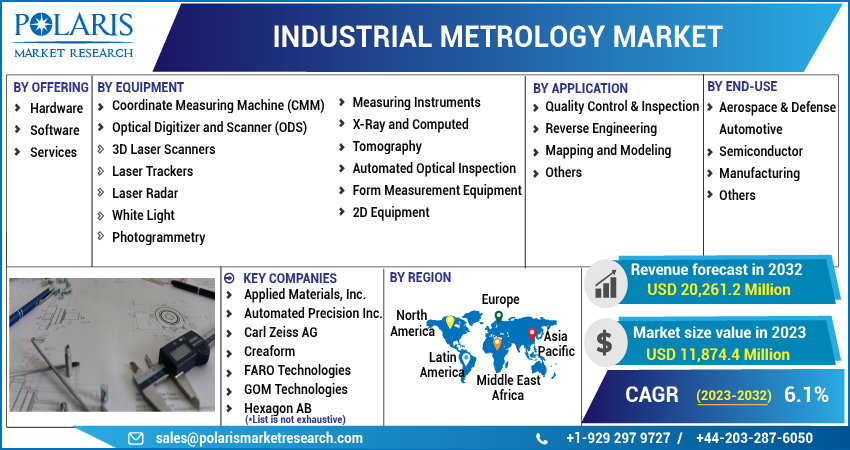 For Specific Research Requirements, Request for a Customized Report
Industry Dynamics
Growth Drivers
The market is driven by a growing demand for quality control across various industries, including automotive, aerospace, and medical devices. The need for accurate and precise measurements is critical in ensuring product quality and meeting regulatory requirements. Industrial metrology solutions play a vital role in addressing this need, increasing demand for these solutions.
Advancements in technology, such as 3D scanning and laser tracking, have also contributed to the growth of the Industrial Metrology Market. These new and advanced measurement technologies have increased the efficiency and accuracy of industrial metrology solutions, leading to a higher adoption rate in various industries. As a result, the market for industrial metrology solutions is expected to grow in the coming years.
Another key driver for the market is the growing trend toward automation in manufacturing. As automation increases, the need for reliable and efficient metrology solutions becomes more critical. Industrial metrology solutions can help manufacturers improve process control, reduce waste, and enhance overall efficiency, making them an integral part of automated manufacturing processes. This trend is expected to continue to drive growth in the market in the foreseeable future.
Additionally, emerging markets such as China, India, and Brazil are experiencing significant growth in industries like automotive and aerospace, leading to a rise in demand for industrial metrology solutions in these regions.
Report Segmentation
The market is primarily segmented based on offering, equipment, application, end-use, and region.
By Offering

By Equipment

By Application

By End-Use

By Region

Hardware

Software

Services

Coordinate Measuring Machine (CMM)

Optical Digitizer and Scanner (ODS)

3D Laser Scanners

Laser Trackers

Laser Radar

White Light

Photogrammetry

Measuring Instruments

X-Ray and Computed Tomography

Automated Optical Inspection

Form Measurement Equipment

2D Equipment

Quality Control & Inspection

Reverse Engineering

Mapping and Modelling

Others

Aerospace & Defense

Automotive

Semiconductor

Manufacturing

Others

North America (U.S., Canada)

Europe (France, Germany, UK, Italy, Netherlands, Spain, Russia)

Asia Pacific (Japan, China, India, Malaysia, Indonesia, South Korea)

Latin America (Brazil, Mexico, Argentina)

Middle East & Africa (Saudi Arabia, UAE, Israel, South Africa)
To Understand the Scope of this Report: Speak to Analyst
Hardware segment accounted for the largest revenue share in 2022
The hardware segment held the largest revenue share in the market in 2022, primarily due to its ability to provide precise and accurate measurements of distance and surface separations, ranging from millimeters to kilometers. The demand for 3D metrology instruments for quality control and inspection in end-use industries such as the automobile, aerospace, and defense sectors has also contributed to the growth of this segment.
Moreover, the increasing use of hardware equipment such as laser trackers, vision systems, and coordinate measuring machines (CMM) to ensure quality and quantity assurance is expected to drive further growth in the market. These advanced tools offer higher precision and accuracy, enabling manufacturers to identify and resolve issues at the early stages of production. As a result, the demand for hardware-based metrology solutions will continue to grow in the coming years.
Optical digitizer and scanners segment is anticipated to hold highest CAGR in market
Optical digitizer and scanners segment is expected to hold the highest CAGR during the forecast period. The increasing demand for optical digitizers and scanners across various end-use industries is driving the growth of the market. These tools use scanning techniques and software to obtain coordinate points of any object and print them into an image, providing accurate and reliable measurements and inspections of complex object features.
Additionally, the accuracy and reliability provided by optical digitizers and scanners have contributed to the growth of this segment. These advanced tools offer precise integration techniques and high-tech features that enable manufacturers to measure and inspect objects more accurately and efficiently.
Quality control & inspection segment is projected to grow at the fastest rate
The quality control & inspection segment is accounted to hold fastest growth over the forecast period. The demand for quality control and inspection is expected to increase significantly over the forecast period due to the growing need for productivity and accuracy across various industries. This technique gives manufacturers control over the production and operation process, significantly reducing operational costs and supporting market growth.
End-use industries such as aerospace, automotive, and semiconductors are adopting this application due to its effective utilization of resources, cost reduction in inspections, and improved product quality. These factors are driving the growth of the market. Additionally, manufacturers are adopting AI-based inspection processes with the help of smart cameras and sensors to achieve end-to-end visibility of the production line. These new-age solutions are also contributing to the market's growth.
Automotive segment is projected to dominate the market over the forecast period
The automotive industry segment is expected to dominate the market over the forecast period due to the increasing demand for inspection and the growing need for 3D metrology equipment for quality assurance. The complexity of parts in the automobile industry has resulted in the rising demand for 3D measurement technologies, which can scan and inspect the causes of defects, thereby positively influencing the industrial metrology market.
Furthermore, the need for appropriate precision and accuracy in promoting passengers' safety and comfort in electric vehicles is another significant factor propelling the market growth in the automotive industry.
Asia Pacific holds the highest CAGR rate during the forecast period
The Asia Pacific hold highest CAGR over the forecast period. This growth can be attributed to the expanding automotive and aerospace automation facilities and rising demand for industrial metrology products. Moreover, government funding and increasing investments in research and development for enhancing industrial bases further support the growth of this market segment.
Furthermore, the escalating geopolitical tensions and a surge in demand for automation in the commercial sector have led to adoption of industrial metrology technologies across developing nations such as India, China, South Korea, and Japan. This is expected to drive the growth of the industrial metrology market in the region.
Competitive Insight
Some of the major players operating in the global market include Applied Materials, Inc., Automated Precision Inc., Carl Zeiss AG, Creaform, FARO Technologies, GOM Technologies, Hexagon AB, Jenoptik, Keyence, KLA Corporation, LK Metrology, Mitutoyo Corporation, Nikon Corporation, Nikon Metrology, Perceptron, and Renishaw.
Recent Developments
In April 2022, LK Metrology partnered with Wenzel Technologies to sell LK's new and innovative, high-performance coordinate measuring machines (CMMs) and other metrological products.

In March 2022, Hexagon's manufacturing intelligence released the HxGN NC server, which allows it to perform measurement tasks from machine tools and measurement software PC-DMIS which is helpful in data collection and analysis.
Industrial Metrology Market Report Scope
| | |
| --- | --- |
| Report Attributes | Details |
| Market size value in 2023 | USD 11,874.4 million |
| Revenue forecast in 2032 | USD 20,261.2 million |
| CAGR | 6.1% from 2023 – 2032 |
| Base year | 2022 |
| Historical data | 2019 – 2021 |
| Forecast period | 2023 – 2032 |
| Quantitative units | Revenue in USD million and CAGR from 2023 to 2032 |
| Segments Covered | By Offering, By Equipment, By Application, By End-Use, By Region |
| Regional scope | North America, Europe, Asia Pacific, Latin America; Middle East & Africa |
| Key Companies | Applied Materials, Inc., Automated Precision Inc., Carl Zeiss AG, Creaform, FARO Technologies, GOM Technologies, Hexagon AB, Jenoptik, Keyence, KLA Corporation, LK Metrology, Mitutoyo Corporation, Nikon Corporation, Nikon Metrology, Perceptron, and Renishaw. |