The global electric motors market size was valued at USD 100.5 billion in 2017 and is anticipated to grow at a CAGR of 5.2% during the forecast period. An electric motor is a machine used for conversion of electric power to mechanical energy. Electric motors can be powered by alternating (AC) current or direct current (DC). The basic components of electric motors include rotor, commutator, brushes, axle, field magnet, and a power supply. Some key features offered by AC motors include controlled acceleration, low power demand on start, adjustable operational speed, adjustable torque limit, and reduced power line disturbances among others. Advantages offered by DC motors include easy installation, linear speed-torque curve, quick starting, stopping, reversing and acceleration, and speed control over a wide range among others. Electric motors are used in wide applications such as industrial fans, household appliances, watches, blowers and pumps, disk drives, and machine tools among others.
The increasing applications of electric motors in industries such as agriculture and automotive, and global industrial growth are driving the overall market. Electric motors are used in various industries such as consumer goods, automotive, construction, healthcare, and agriculture among others, and growth in these industries worldwide is expected to supplement the growth of the market. Other factors driving the market include increasing demand for electric motor operated household appliances, growing use in HVAC applications, and government support for development of high efficiency electric motors. The increasing awareness regarding use of energy efficient motors and growing adoption of electric vehicles is expected to support market growth during the forecast period. However, high maintenance costs, and stringent regulations hamper the growth of the market. Growing demand from emerging economies, and technological advancements are factors expected to provide numerous growth opportunities in the coming years.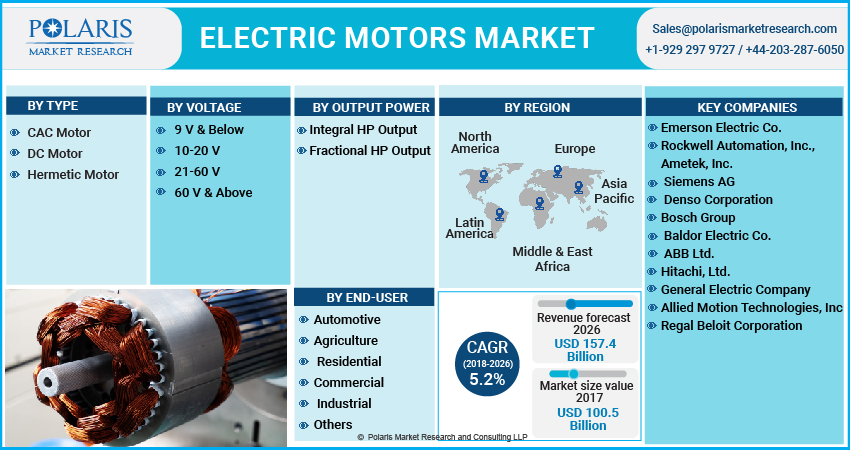 Segment Analysis
The global Electric Motors market is segmented on the basis of type, voltage, output power, end-user, and region. Based on type, the market is segmented into AC motor, DC motor, and hermetic motor. The voltage segment is bifurcated into motors from 9V and below, 10-20V, 21-60V above 60V. The output power segment is divided by integral HP output, fractional HP output motors. The end-user segment is categorized into automotive, agriculture, residential, commercial, industrial, and others. This report comprises a detailed geographic distribution of the market across North America, Europe, APAC and South America, and MEA. North America is further segmented into U.S., Canada, and Mexico. Europe is divided into Germany, UK, Italy, France, and Rest of Europe. Asia-Pacific is bifurcated into China, India, Japan, and Rest of Asia-Pacific. Asia-Pacific accounted for the largest share in the global Electric Motor market in 2017.
Competitive Landscape
The leading players in the market include Emerson Electric Co., Rockwell Automation, Inc., Ametek, Inc., Siemens AG, Denso Corporation, Bosch Group, Baldor Electric Co., ABB Ltd., Hitachi, Ltd., General Electric Company, Allied Motion Technologies, Inc., and Regal Beloit Corporation among others. The leading players in the market are introducing new innovative products in the market to cater to the growing consumer demands. Global players are entering new markets in developing regions to expand their customer base and strengthen market presence.