The global inertial measurement unit market was valued at USD 21.26 billion in 2021 and is expected to grow at a CAGR of 13.5% during the forecast period. Various types of inertial measurement units (IMU) components and their benefits for multiple verticals drive market growth during the forecast period. A gyroscope can measure an object's rotational speed and rate, a magnetometer can measure the magnetic strength of the signal, and an accelerometer can measure movement and orientation. They are used by helicopters, military and civilian aircraft, armored vehicles, drones, missiles, robots, and consumer electronics.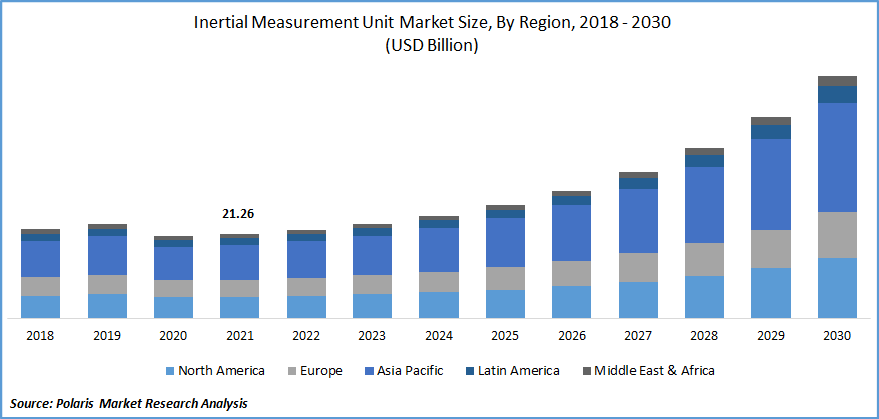 Know more about this report: Request for sample pages
The market is expanding due to the quick modernization of military hardware and defense systems. Unmanned aerial vehicles (UAVs) with autonomous navigation systems frequently employ fiber optic Inertial measurement units to function in harsh weather situations. They're used for firefighting, bomb detection, and ISR (intelligence, surveillance, and reconnaissance). Furthermore, widespread product adoption for virtual and augmented reality (V/AR) systems and artificial environment generation, as well as measuring changes in speed, orientation, and acceleration, is propelling the industry growth.
However, stable platform inertial measurement units rely on various mechanical parts interconnected with multiple joints for their operation. To avoid measurement errors, these joints must be frictionless. The errors caused by friction increase with continued use and wear and tear, hampering the performance of these systems. Apart from friction, noise and drifts cause several computational errors. As a result, friction and drifts cause a measurement error, which propagates over time.
Industry Dynamics
Growth Drivers
Increase in new smartphone sales and shipments around the world. Smartphone shipments reached 1,292.2 million in 2020, according to International Data Corporation (IDC). Smartphone demand is high in the largest markets, such as China, the U.S., Brazil, and Japan. Smartphone penetration is increasing significantly in countries with large populations, which will drive the market forward during the forecast period. Many smartphones also include inertial measurement units, typically gyroscope, accelerometer, and magnetometer. Smartphones with inertial measurement units (IMUs) can measure human gait, tremor, and movement characteristics. As a result, rising smartphone shipments are propelling the inertial measurement unit market forward.
Further, the International Traffic in Arms Regulations (ITAR) and the Export Administration Regulations govern defense-related applications (particularly in the United States, which is the largest market for high-end inertial measurement units. To maintain the integrity and prevent the transfer of information to anti-government institutions, these bodies impose regulations on trade and exchange of information on defense-related technology. To address redundancy and provide high fault tolerance, defense-based applications are known to deploy two inertial navigational systems. Consider the use of sophisticated inertial measurement systems in military helicopters. Special mission helicopters and combative rotorcraft are two types of military helicopters.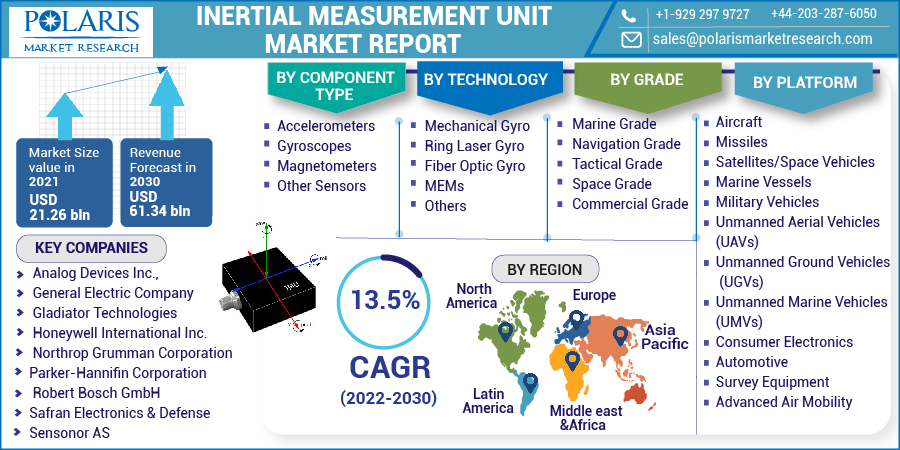 Know more about this report: Request for sample pages
Report Segmentation
The market is primarily segmented based on component type, technology, grade, platform, and region.
By Component Type

By Technology

By Grade

By Platform

By Region

Accelerometers
Gyroscopes
Magnetometers
Other Sensors

Mechanical Gyro
Ring Laser Gyro
Fiber Optic Gyro
MEMs
Others

Marine Grade
Navigation Grade
Tactical Grade
Space Grade
Commercial Grade

Aircraft
Missiles
Satellites/Space Vehicles
Marine Vessels
Military Vehicles
Unmanned Aerial Vehicles (UAVs)
Unmanned Ground Vehicles (UGVs)
Unmanned Marine Vehicles (UMVs)
Consumer Electronics
Automotive
Survey Equipment
Advanced Air Mobility

North America (U.S., Canada)
Europe (France, Germany, UK, Italy, Netherlands, Russia, Spain)
Asia Pacific (Japan, China, India, Malaysia, Indonesia. Australia)
Latin America (Brazil, Mexico, Argentina)
Middle East & Africa (Saudi Arabia, UAE, Israel, South Africa)
Know more about this report: Request for sample pages
Insight by Grade
Based on the grading segment, the commercial-grade segment is anticipated to be the largest revenue grosser. Commercial-grade IMUs are both consumer and enterprise IMUs. Consumer IMUs are found in low-cost devices such as phones, and automotive airbag systems, while enterprise-grade IMUs are located in tiny UAVs.
Insight by Component
Based on the component segment, the accelerometers segment is projected to grow considerably over the projected period. The accelerometer measures the acceleration of a connected system or device. As a result, it's widely employed in various applications, including smartphone orientation detection, seismic detection, tablets, vehicle dynamics, medical, and tilt sensing, to name a few. Furthermore, during the projected period, the expanding trend of MEMS technology adoption will increase the usage of a cost-effective MEMS accelerometer.
Geographic Overview
In terms of geography, North America had the largest revenue share. With the increased production of helicopters and commercial planes, IMUs now has a vast potential market. More than 60% of the total aerospace production in the U.S. is exported. As a result, foreign firms are drawn to the world's largest U.S. aerospace market, employing a skilled and welcoming workforce and offering a diverse range of products and services through extensive distribution networks. The U.S. has one of the most submarines and warships in the world. With the U.S. Navy, it has around 68 submarines and over 490 ships. These ships and submarines rely heavily on inertial measurement systems. As a result of the increased production of submarines and warships for the defense sector and ships for increased trade, the inertial measurement unit market is expected to grow over the forecast period.
Moreover, Asia Pacific is projected to register the highest growth rate in the global inertial measurement unit market. Furthermore, as per the OECD, the Shipbuilders' Association of Japan estimates that the Asia Pacific accounts for 96% of global merchant shipbuilding. According to the OICA, China and Japan will account for 42.8% of global car production in 2020. Domestic and international companies have large factories in these countries for export and self-consumption.
New companies from all over the world are looking to invest in this region as the economy grows. To increase production speed and efficiency, factories add more machines to their production lines. The inertial measurement unit market is being driven by increased integration of navigation systems such as GPS/INS and GNSS/INS, adding superior performance attributes over traditional navigation systems. The Asia Pacific inertial navigation system market has been fueled by an unprecedented increase in demand for unmanned vehicles such as autonomous underwater vehicles (AUVs), unmanned aerial vehicles (UAVs), and remotely operated vehicles (ROVs) across various applications in both civilian and defense applications in recent years.
Competitive Insight
Some of the major players operating in the global inertial measurement unit market include Analog Devices Inc., General Electric Company, Gladiator Technologies, Honeywell International Inc., Northrop Grumman Corporation, Parker-Hannifin Corporation, Robert Bosch GmbH, Safran Electronics & Defense, Sensonor AS, TDK Corporation, Teledyne Technologies Inc., Thales Group, Trimble Navigation Ltd., United Technologies Corporation, and Vectornav Technologies LLC.
Inertial Measurement Unit Market Report Scope
| | |
| --- | --- |
| Report Attributes | Details |
| Market size value in 2021 | USD 21.26 billion |
| Revenue forecast in 2030 | USD 61.34 billion |
| CAGR | 13.5% from 2022 - 2030 |
| Base year | 2021 |
| Historical data | 2018 - 2020 |
| Forecast period | 2022 - 2030 |
| Quantitative units | Revenue in USD million/billion and CAGR from 2022 to 2030 |
| Segments covered | By Component Type, By Technology, By Grade, By Platform, By Region |
| Regional scope | North America, Europe, Asia Pacific, Latin America; Middle East & Africa |
| Key companies | Analog Devices Inc., General Electric Company, Gladiator Technologies, Honeywell International Inc., Northrop Grumman Corporation, Parker-Hannifin Corporation, Robert Bosch GmbH, Safran Electronics & Defense, Sensonor AS, TDK Corporation, Teledyne Technologies Inc., Thales Group, Trimble Navigation Ltd., United Technologies Corporation, and Vectornav Technologies LLC. |