The global interactive whiteboard market was valued at USD 1.64 billion in 2020 and is expected to grow CAGR of 7.7% during the forecast period. The market growth for interactive whiteboard is attributed to the increasing adoption of digital learning and virtual classrooms. Additionally, digital learning techniques have gained tremendous popularity among students that is further strengthening the student-teacher interaction on an individual basis.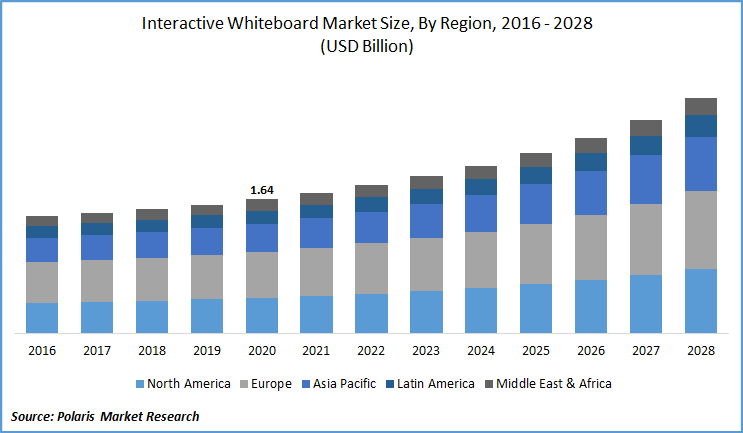 Know more about this report: request for sample pages
Being enriched with user-friendly features and convenience for students, the market growth is anticipated to quadruple in the coming years. Moreover, the positive response from government sectors for the virtual classroom is likely to encourage market development of interactive whiteboards over the coming years.
Technological development and tools have boosted the adoption of artificial intelligence and bots in the education sector. Growing investments and financial aid have boosted the emergence of educational startups in the past few years.
Industry Dynamics
Growth Driver
Interactive whiteboard market growth is driven by rapid evolution in communication technologies. For many organizations, communication challenges in real-time get added as a business cost. To counter communication challenges, many business organizations deploy interactive whiteboards across the teams to improvise communication in real-time thereby saving on overheads. Therefore, the market is anticipated to witness innovation in collaborative communication across geographies in the digital environment.
The significance of technological infrastructure is anticipated to boost the learning experience in colleges. Government initiatives for e-learning have created many avenues for innovation wherein students are getting a platform to display their learning potential throughout their academics. Social media influence is a prominent factor to boost market growth. Therefore, the use of interactive whiteboards is more likely to receive a thrust in the coming years.
Presently, businesses have turned digital and have adopted digitalization for employee training. Companies are willing to spend more on corporate training to groom employee skill wherein visual techniques forms a core part of a particular training session. With this, the training costs are also minimized to a certain level and also prove encouraging in a digital learning environment. Therefore, this trend is however gaining steady traction as companies are adopting a hybrid-office model in the Covid-19 pandemic.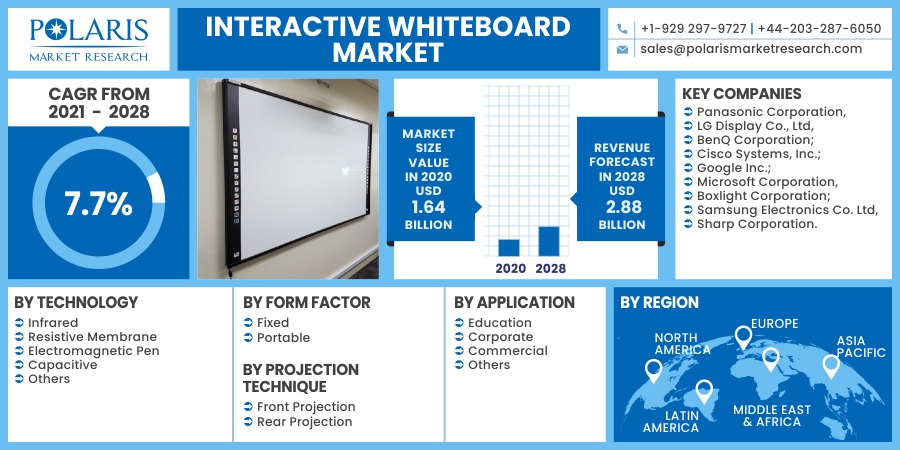 Know more about this report: request for sample pages
Interactive Whiteboard Market Report Scope
The market is primarily segmented on the basis of technology, form factor, projection technique, application, and region.
By Technology

By Form Factor

By Projection Technique

By Application

By Geography

Infrared
Resistive Membrane
Electromagnetic Pen
Capacitive
Others

Front Projection
Rear Projection

Education
Corporate
Commercial
Others

North America (U.S., Canada)
Europe (UK, Germany, France, Italy, Spain, Netherlands, Austria)
Asia Pacific (China, India, Japan, Malaysia, Indonesia, South Korea)
Latin America (Argentina, Brazil, Mexico)
Middle East & Africa (UAE, Saudi Arabia, Israel, South Africa)
Know more about this report: request for sample pages
Insight by Technology Type
The resistive membrane-type accounted for the largest share of the interactive whiteboard demand in 2020 and also anticipated a dominating growth in the years to come. Resistive membrane comprises a flat projection surface having resistive material on both (front & rear) sides enabling the touch interactions to be operated by a finger or stylus. Software embedded resistive membrane projectors can be cost-effective between USD 500 - 1500 per unit. The cost-effectiveness and growing demand are some of the growth factors for the segment.
The infrared market segment is expected to grow steadily during the forecast period attributing to the growing popularity of infrared technology and durability. Interactive whiteboards equipped with infrared functionality are widely used in the corporate and education sector for their features. Therefore, the interactive whiteboard market segment will witness a huge adoption in the education sector going forward in the forecast period.
Insight by Application
The interactive whiteboards are widely used in the education segment for their features. In addition to this, whiteboards allow the teachers to custom create the content for students and enhance the visual experience during knowledge-sharing sessions. Also, it proves encouraging for students and results in active participation during the learning sessions.
The corporate segment accounted for a significant share in 2020 and is projected to witness substantial growth by 2028. Business segments are adopting digitization on a large scale and leveraging technological competitiveness for educational products, which is likely to complement demand for interactive whiteboards.
The use of remote technology for sharing digital content and documents has gained a huge trend in the few years contributing to the popularity. Moreover, corporate professionals are also incorporating the practice of virtual presentations wherein interactive whiteboards are highly effectiveness.
Geographic Overview
Based on geography, the global market for interactive whiteboard is geographically segmented as North America, Latin America, Europe, Asia Pacific, Middle East & Africa. Europe is one of the dominating markets and accounts for over 30% share in the global market. The UK is one of the major markets in Europe wherein the education segment dominated the application segment.
Simultaneously, the use of innovation in visual techniques has been at the forefront to contribute towards the growing demand for whiteboards in Europe. European countries are now including interactive whiteboards as a part of the curriculum for teaching a foreign language. The rise in the number of educational institutions has propelled the trend of blended learning across Europe.
North America is one of the significant markets in terms of innovative learning. Moreover, the regional markets are likely to witness constant growth owing to high adoption, growing competition among key players, and the use of integrated technologies to stimulate learning environments.
Asia Pacific interactive whiteboard demand is likely to witness constant growth with a CAGR of 8.9% owing to the shift of learners towards digital experience. An increase in disposable income and e-learning initiatives are likely to encourage significant growth in the coming period.
The regional markets have huge potential in terms of opportunities with a focus on the market expansion. The presence of key players and growing investment are expected to turn in more opportunities for interactive whiteboards demand.
Competitive Insight
The key players operating in the interactive whiteboard market are emphasizing on mergers and acquisitions and collaborations to expand their business and enhance their market position with an objective to offer novel solutions to the users thereby leveraging competitive advantage.
Some of the major players operating in the global market for interactive whiteboard include Panasonic Corporation, LG Display Co., Ltd, BenQ Corporation; Cisco Systems, Inc.; Google Inc.; and Microsoft Corporation, Boxlight Corporation; Samsung Electronics Co. Ltd, and Sharp Corporation.