The global lactation support supplements market was valued at USD 560.39 million in 2022 and is expected to grow at a CAGR of 6.4% during the forecast period. Rising child-birth rate coupled with the growing prevalence of in-sufficient milk flow among lactating women contributing to the market growth. For example, the demand for breast milk substitutes such as infant formula could increase in such circumstances. Lactation support supplements are a type of galactagogue that is used to improve or increase the milk supply in lactating mothers. Galactagogues are substances that can help increase milk production in lactating women, and lactation support supplements are one type of galactagogue. As per the estimates of the UN's World Population Prospects in 2022, there were around 45.4 Mn child-births, in Africa.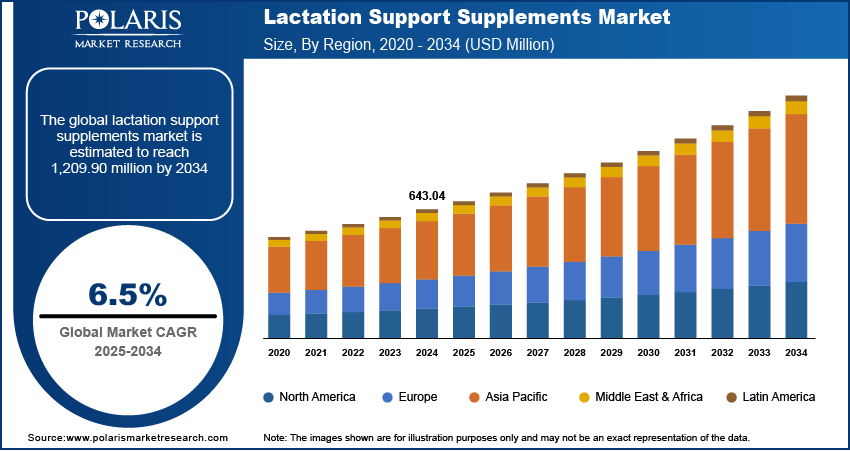 To Understand More About this Research: Request a Free Sample Report
Optimal breastfeeding can improve the well-being of children and reduce infant mortality rates, it is important to note that the causes of infant mortality are multifactorial and cannot be attributed solely to insufficient breastfeeding. Other factors that contribute to infant mortality include infections, birth complications, and congenital anomalies, among others. Lactation support supplements can be helpful in improving milk supply and promoting optimal breastfeeding practices, which can have significant health benefits for both mothers and infants. According to the World Health Organization (WHO), optimal breast-feeding practices can save the lives of around 820,000 children aged five years or below across the globe. It is also been recorded that, nearly 44 per cent of the infants aged around 0-6 months were breast-feeded exclusively.
Human milk insufficiency is a major concern globally, particularly in low- and middle-income countries (LMICs), where rates of exclusive breastfeeding are lower and access to lactation support and resources may be limited. The consequences of human milk insufficiency can be serious and may include hypernatremia, hypoglycemia, and nutritional deficiencies in infants, which can lead to infant death. In February, 2022 article published in the International Breastfeeding Journal reported that human milk insufficiency is prevalent in around 60-90% of women in LMICs. This underscores the need for interventions that can help improve breastfeeding rates and milk supply in these populations.
Lactation support supplements may be one tool that can help address human milk insufficiency in these settings. These supplements are designed to improve milk supply in lactating mothers and may be particularly helpful in settings where access to other lactation support resources is limited.
COVID-19 pandemic has had a negative impact on the market. One of the main concerns associated with the pandemic has been the potential transmission of the virus through human milk. This has led to some lactating mothers opting for human milk substitutes instead of breastfeeding or using lactation support supplements.
In addition, the closure of offline retail stores during the initial phase of the pandemic led to a decrease in demand for lactation support supplements, as consumers were not able to access these products through traditional retail channels. However, with the launch of these products on e-commerce platforms and the increasing trend towards online shopping, the demand for lactation support supplements through online sales channels is expected to increase post-pandemic.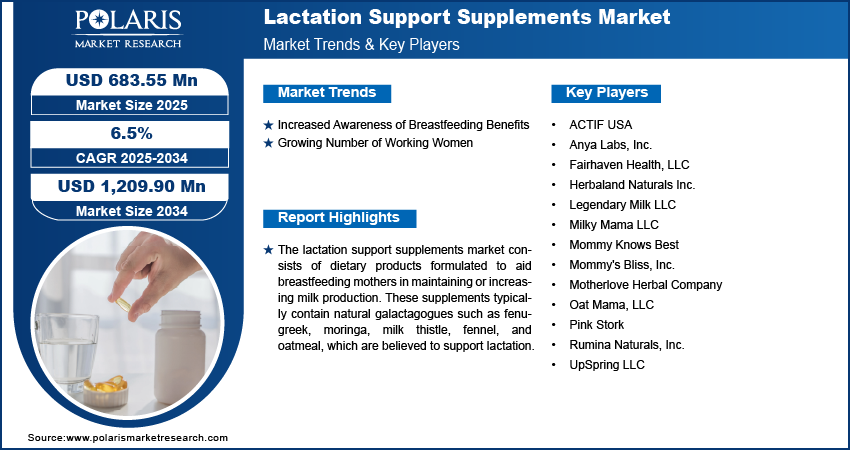 For Specific Research Requirements, Request for a Customized Report
Industry Dynamics
Growth Drivers
Many government, non-profit, and social development organizations are promoting awareness about the benefits of breastfeeding and supporting lactating mothers through various campaigns and programs. These efforts are aimed at increasing rates of exclusive breastfeeding, which can have significant health benefits for both mothers and infants. Smile Foundation's Swabhiman program in India is one such initiative that seeks to promote awareness about health and nutrition among lactating mothers and children and educate mothers about the benefits of breastfeeding. Other organizations and initiatives around the world are also working to promote breastfeeding and provide support for lactating mothers.
These efforts can help reduce the demand for human milk substitutes, such as infant formula, which may be less beneficial for infant health compared to breast milk. By promoting awareness and providing support for lactating mothers, these organizations are helping to improve health outcomes for both mothers and infants.
Report Segmentation
The market is primarily segmented based on ingredient type, formulation, sales channel, and region.
By Ingredient Type

By Formulation

By Sales Channel

By Region

Fenugreek

Moringa

Milk thistle

Fennel

Oatmeal

Others

Capsules/Tablets

Powder

Liquid

Others

Online Sales Channel

Direct Sales Channel

Pharmacies/Drug Stores

Other Offline Channels

North America (U.S., Canada)

Europe (France, Germany, UK, Italy, Netherlands, Spain, Russia)

Asia Pacific (Japan, China, India, Malaysia, Indonesia. South Korea)

Latin America (Brazil, Mexico, Argentina)

Middle East & Africa (Saudi Arabia, UAE, Israel, South Africa)
To Understand the Scope of this Report: Speak to Analyst
Fenugreek segment accounted for the largest market share in 2022
Fenugreek is a popular ingredient in lactation support supplements and is traditionally used in many cultures to enhance milk supply in lactating women. Fenugreek seeds contain compounds such as saponins and flavonoids that are believed to stimulate milk production. In addition, fenugreek has other potential health benefits, such as lowering blood sugar levels, reducing inflammation, and improving digestive health.
One of the advantages of fenugreek as an ingredient in lactation support supplements is that it is generally considered safe and well-tolerated with no or minimal side effects. However, some women may experience mild gastrointestinal side effects such as bloating, gas, or diarrhea. The availability of a variety of lactation support products containing fenugreek as an ingredient has also contributed to its popularity. Fenugreek can be found in various forms, such as capsules, teas, powders, and even cookies, making it easy for lactating mothers to incorporate it into their daily routine.
Oatmeal segment is anticipated to gain significant growth rate over the next coming years. Oatmeal products in lactation support supplements, such as oatmeal cookies, have gained popularity due to their mild taste and easy incorporation into the daily diet of lactating mothers. These products provide a convenient and tasty option for lactating mothers who may not prefer the taste and smell of other herbal lactating supplements.
Furthermore, oatmeal is recommended as a whole grain for breastfeeding women by the U.S. Department of Health and Human Services due to its potential health benefits, such as lowering cholesterol levels, improving digestion, and providing sustained energy throughout the day. This recommendation has contributed to the growing demand for oatmeal-based lactation support products.
Capsules segment held the significant market revenue share in 2022
Capsules segment held the maximum market share in terms of revenue in 2022. Many galactagogues are available in the form of capsules or tablets. This is because these formulations offer several advantages over other forms, such as teas or tinctures, which may have a strong taste or odor that is not palatable to all users. Capsules and tablets are a convenient and easy-to-use option for lactating mothers, as they can be easily incorporated into their daily routine and do not require any special preparation. Additionally, these formulations provide a precise and consistent dose of the active ingredients, which is important for achieving optimal results and reducing the risk of overdose or adverse effects.
Liquid segment expected to grow at steady rate. Increase in the availability of liquid formulations of galactagogues, which offer a convenient and easy-to-administer option for lactating mothers. Liquid formulations may be preferred by some users who have difficulty swallowing capsules or tablets, or who prefer a faster onset of action. Additionally, flavored products are increasingly being offered to mask the taste and smell of the herbal ingredients in galactagogue formulations. These flavored products may help improve the palatability of the supplements, which could lead to increased compliance and better outcomes for lactating mothers.
Asia Pacific region dominated the global market in 2022
Asia Pacific region dominated the global market with considerable market share in 2022, and is expected to maintain its dominance throughout the projected period. Region has a significant share of the lactation support supplements market due to the high adoption of these supplements traditionally and the availability of these products in the region. Furthermore, the growing population, the increasing prevalence of insufficient milk supply, and the rising number of working women opting for breastfeeding are expected to drive the market growth in the region.
Competitive Insight
Some of the major players operating in the global market include Mother Love, Pink Stork, Mama's Select, ACTIF, Anya, New Chapter, Mommy's Bliss, Nestle, Mommy Knows Best, and Rumina Naturals.
Recent Developments
In January 2022, Motfi Medical has expanded its lactation support supplements product range, with the introduction of gluten & fenugreek-based supplements.
Lactation Support Supplements Market Report Scope
| | |
| --- | --- |
| Report Attributes | Details |
| Market size value in 2023 | USD 595.25 million |
| Revenue forecast in 2032 | USD 1,042.09 million |
| CAGR | 6.4% from 2023 – 2032 |
| Base year | 2022 |
| Historical data | 2019 – 2021 |
| Forecast period | 2023 – 2032 |
| Quantitative units | Revenue in USD million/billion and CAGR from 2023 to 2032 |
| Segments covered | By Ingredient Type, By Formulation, By Sales Channel, By Region |
| Regional scope | North America, Europe, Asia Pacific, Latin America; Middle East & Africa |
| Key companies | Mother Love, Pink Stork, Mama's Select, ACTIF, Anya, New Chapter, Mommy's Bliss, Nestle, Mommy Knows Best, and Rumina Naturals. |