The global lactic and poly lactic acid market is valued at US$ 3.51 billion in 2021 and is projected to grow at a CAGR of 9.7% over the forecast period. The strengthened consumption of biodegradable polymers, growth in composting infrastructure, surging in production capacity, a significant boost in investment in R & D activities, and rise in end-user consciousness of the need for sustainability, recyclability, and environmentally friendly packaging, environmentally-safe properties will drive the growth of the market.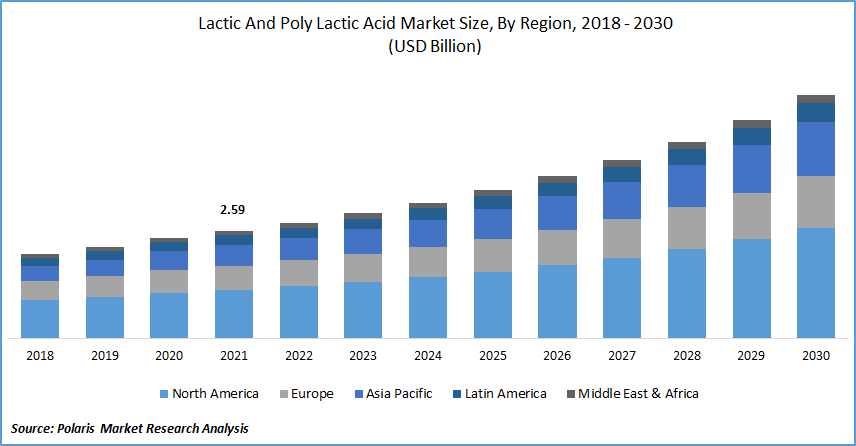 Know more about this report: Request for sample pages
According to a survey report distributed by the European Bioplastics (an affiliation speaking to the interface of the flourishing bioplastics industry in Europe) in collaboration with the nova-Institute (Germany), the worldwide bioplastics generation capacity is assessed to extend from about 2.11 million tons in 2018 to around 2.62 million tons in 2023.
Increasing demand for bioplastics due to growing environmental concerns creates even more profitable and profitable growth opportunities in the poly lactic acid (PLA) market. Advances in industrialization and increasing demand for products from personal care and cosmetics will further increase the demand for lactic and poly lactic acid (PLA). Increasing government initiatives to raise awareness of the use of bioplastics will also serve as a major growth driver for the market.
Nevertheless, the government is working to address such issues and encourage the production of PLA. One of the key trends driving the growth momentum of the PLA market is the growing demand for environmentally friendly plastics in commercial applications across a wide range of sectors.
A biodegradable, industrially compostable polymer, poly lactic acid is one of the first reproducible polymers to compete with current polymers by combining functional properties such as transparency, luster, and stiffness. Food packaging, disposable tableware, textiles, oil and gas, electronics, automobiles, and 3D printing are just a few industries where poly lactic acid is used. The diverse and adaptive use of polylactic acid in all sectors, as well as the versatility of lactic and poly lactic acid, promises significant growth opportunities for the polylactic acid market during the forecast period.
The COVID-19 pandemic has positively impacted the lactic and polylactic acid industry due to its increasing acceptance in the packaging segment. Increased social distancing and increased contactless activities have significantly increased demand from the packaging industry. To ensure maximum hygiene and safety, packaged goods are being used more often. Food and beverages are in high demand if all necessary precautions are taken. All these reasons contribute to the expansion of the market.
With increasing social distance and contactless activity, the demand in the packaging industry is increasing exponentially. Today, people are devoted to packaged foods for proper hygiene and safety. Food and beverages are also in high demand at the time of packaging, with all necessary measures taken. The COVID 19 pandemic has had a positive impact on the global lactic and poly lactic acid market share. PLA's market share is also projected to continue to grow during the forecast period.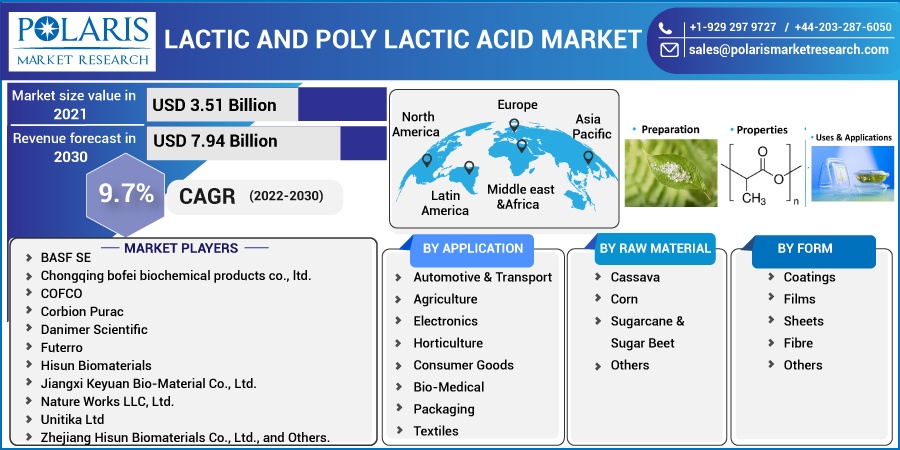 Know more about this report: Request for sample pages
Industry Dynamics
Growth Drivers
Growing demand for natural substances due to growing consumer awareness of sustainability and source conservation sustain the improvement of lactic and poly lactic acid market stats. PLA manufacturers are increasingly looking to expand production capacity and build new production facilities to meet growing product demand. In December 2018, Total Corbion, and Total and food company, expanded its production capacity to meet growing demand in the packaging, and 3D printing. It plans to increase capacity by 75,000 tons per year.
In December 2020, Greenpeace East Asia Magazine states that 164,000 tonnes of biodegradable food and beverage packaging and food products were processed, in 2017. By 2022, this number is expected to increase by about 10%. The use of plastics in many countries, including the United Kingdom, United States, New Zealand, Zimbabwe, and Taiwan has significantly increased the demand for PLA for end-use packages.
Report Segmentation
The market is primarily segmented based on By Application, By Raw Material, By Form, and Regions.
By Application

By Raw Material

By Form

By Region

Automotive & Transport
Agriculture
Electronics
Horticulture
Consumer Goods
Bio-Medical
Packaging
Textiles
Others

Cassava
Corn
Sugarcane & Sugar Beet
Others

Coatings
Films
Sheets
Fibre
Others

North America (U.S., Canada)
Europe (France, Germany, UK, Italy, Netherlands, Spain, Russia)
Asia Pacific (Japan, China, India, Malaysia, Indonesia. South Korea)
Latin America (Brazil, Mexico, Argentina)
Middle East & Africa (Saudi Arabia, UAE, Israel, South Africa)
Know more about this report: Request for sample pages
The packaging segment is expected to dominate the application segment of revenue in the market
The global market for packaging applications is expected to exceed USD XX million. Compared to traditional plastics, PLA consumes less energy, emits fewer greenhouse gases, and is fully recyclable, making it a more suitable packaging material that can be used to protect products from the elements and chemicals. Encouraging government incentives to encourage the adoption of biodegradable packaging and major innovations in the packaging sector should help to stimulate the segment's growth.
The automotive and transportation segment will grow at a significant CAGR over the study period. In China alone, demand for biodegradable plastics will increase by more than 700,000 tonnes if the online industry meets policy requirements by switching 50% of online shipping packages and 20% of food shipping packages to biodegradable products. In addition, from January 2020 to 2025, the Directive will ban the use of non-degradable plastics in online shipping. China's online retail industry will generate an around 5,000 tonnes of bio-degradable plastic waste annually, by 2025.
North America holds the largest greatest share in 2021
North America accounted for the largest regional share of over XX% in 2021. Region's growth is primarily due to presence of alternative options, consumer awareness regarding depleting natural resources, and the presence of innovative companies with robust distribution network and supplier chain network. The companies in the region are dedicatedly focusing on increasing their presence in the emerging economies with partnering with the local partners.
The Asia-Pacific region is expected to grow rapidly due to key factors such as a shortage of fossil fuel resources, increased demand for PLA from developing countries. China is a major market in the Asia-Pacific region due to the growing demand for food due to population growth. This demand is met by readily available, low-cost convenience foods.
China is the world's largest producer of packaging materials, increasing domestic food packaging production and consumption. The growing demand for canned food with ease of use and long shelf life is driving the demand for eco-friendly packaging in the Middle East and Africa. Demand for packaged products is also driven by local brands that offer a wide variety of canned products.
Competitive Insight
Some of the major key players operating in the global market include BASF SE, Chongqing bofei biochemical products co., ltd., COFCO, Corbion Purac, Danimer Scientific, Futerro, Hisun Biomaterials, Ingeo PLA bioplastics, Jiangxi Keyuan Bio-Material Co., Ltd., Nantong Jiuding Biological Engineering Co. Ltd, Nature Works LLC, Shanghai Tong-Jie-Liang Biomaterials Co., Ltd., Synbra Technology bv, Total Corbion PLA, Unitika Ltd, Zhejiang Hisun Biomaterials Co., Ltd., and Others.
Recent Developments
In November 2020, China's established new integrated polylactic acid from sugar with support from Sulzer Chemtech. The manufacturing plant will have a annual capacity of 30,000 tons.
In July 2020, IMCD (Netherlands) signed a contract with Corbion (Netherlands) to produce non-food products and bio-based foods such as seasonings, dressings, sauces, bakeries, beverages, and confectionery in New Zealand and Australia. I distributed the ingredients.
NatureWorks LLC, a leader in the polylactic acid industry, launched a new product, ingeo3D450, in 2019. This product was introduced for double extrusion 3D printers and printing purposes.
Lactic and Poly Lactic Acid Market Report Scope
| | |
| --- | --- |
| Report Attributes | Details |
| Market size value in 2021 | USD 3.51 billion |
| Revenue forecast in 2030 | USD 7.94 billion |
| CAGR | 9.7% from 2022 - 2030 |
| Base year | 2021 |
| Historical data | 2018 - 2020 |
| Forecast period | 2022 - 2030 |
| Quantitative units | Revenue in USD billion and CAGR from 2022 to 2030 |
| Segments covered | By Application, By Raw Material, By Form, and Regions |
| Regional scope | North America, Europe, Asia Pacific, Latin America; Middle East & Africa |
| Key companies | BASF SE, Chongqing bofei biochemical products co., ltd., COFCO, Corbion Purac, Danimer Scientific, Futerro, Hisun Biomaterials, Jiangxi Keyuan Bio-Material Co., Ltd., Nantong Jiuding Biological Engineering Co. Ltd, Nature Works LLC, Ltd., Unitika Ltd, Zhejiang Hisun Biomaterials Co., Ltd., and Others. |